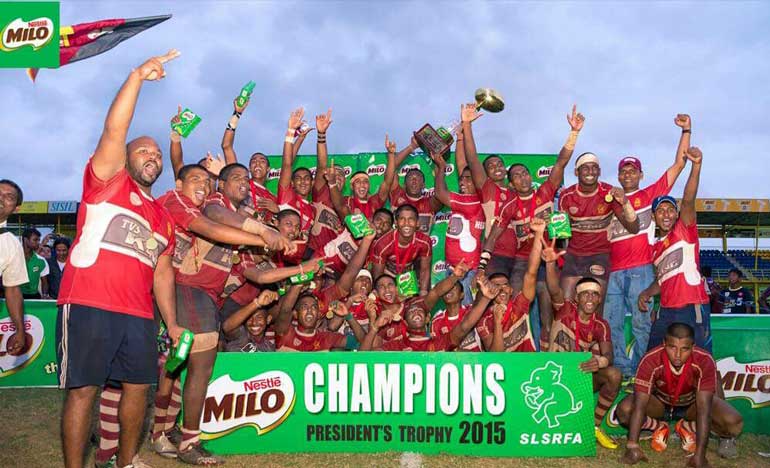 Science College finally showed their true potential
Schools rugby

The school rugby season has finally come to an end with the completion of the knockouts. Despite all predictions to the contrary, Science finally showed us their true potential and the strenuous training sessions finally paid off as they held aloft the trophy for the first time.

For the new coach who had been unceremoniously dumped by his Alma Materat the start of the season, it was a greater triumph as he proved that he had the skill and knowledge to get the best out of the young team.

A lot of hullabaloo was made that RC fielded a development squad and hence the half century of points scored against them. Take nothing away from the clinical performance of SC as they went about their business with a sense of flair and professionalism.

Pathana to my mind suddenly went off the boil and maybe they had peaked too soon. After their loss to RC they appeared to be a spent force and SC capitalised on this well. For a team that does not appear in many finals often, they handled the pressure of the game and the expectations heaped on their shoulders with aplomb. Hence they deserved their victory and this will boost their morale and spur them on to greater heights in the seasons to follow.

The Petes had their fair share of problems both on and off the field culminating with the coach bearing the brunt of the wrath of the supporters, old boys and the Rector. The Peterite rugby set up has many cooks with all of them obviously not on the same page and eventually the dish that is placed in front of you was simply unpalatable.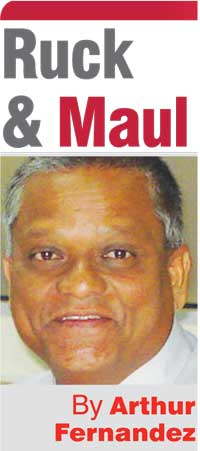 TCK had a reasonable outing this year but lost key games at critical stages of play. After their first round Bradby game, they wilted and the second leg was an embarrassment to all the hill country rugby enthusiast being outclassed in Colombo.

The Joes and the Thoras were impressive in their own right and did give some of the much fancied opponents a fright of their life, although they faltered in being inconsistent, throughout the season. Having witnessed the Thoras, I believe that they will be a force to be reckoned with in the coming years, if they are able to retain the nucleus of the squad.


International rugby

The Rugby Championship got underway last week as a precursor to the Rugby World Cup. Hence we will see the various coaching staff mix and match as they strive to get the best squad and team for the plum of rugby titles, the 2015 RWC.

The All Blacks were in super form as they overcame a spirited Pumas outfit. The Pumas are a very physical outfit with the bulk of their players plying their trade for European clubs. They are renowned for their aggressive scrummaging and gave the All Blacks food for thought at scrum time despite a 40 kg handicap. The All Blacks were rattled for a few minutes as the Pumas scored two quick tries by using the driving maul. The question on everyone's mind is then, the driving maul such a potent weapon and once a team employs the same, is it unstoppable?

Interestingly, the AB's coach has called for a change in the laws and make it illegal as he believes that there is no fair contest for the ball. He has even argued that collapsing the maul should be legalised. If these comments had come from any other team, it would been deemed as a case of sour grapes. It is unlikely though that the rules would be changed just before the RWC.

In the second game the Wallabies took on the Springboks, and as the hooter sounded for the end of the game, the Wallabies were trailing and another loss was imminent. The need and importance to keep the ball in play, cannot be overemphasised, as the Wallabies in one last ditch effort crossed the try line. For a good portion of the game, the Boks were well ahead with the forwards quick to the breakdown point and resulting in numerous occasions of winning turnover ball.

The Wallabies look very much a team that is in a rebuilding stage both in terms of skill and confidence and whether they will be ready for the RWC as serious contenders is doubtful. Taking crucial decisions during different phases of play is important and a wrong decisions could haunt you. With the Boks leading by three points, and about two minutes to go the Wallabies are awarded a penalty from a kickable distance.

The immediate instinct would be to get the three points and draw the game. The Wallabies skipper thinks otherwise and opts for a line out and the rest is history. It epitomises the fact that "if you fear to lose, you cannot win".

(The writer can be reached via [email protected])