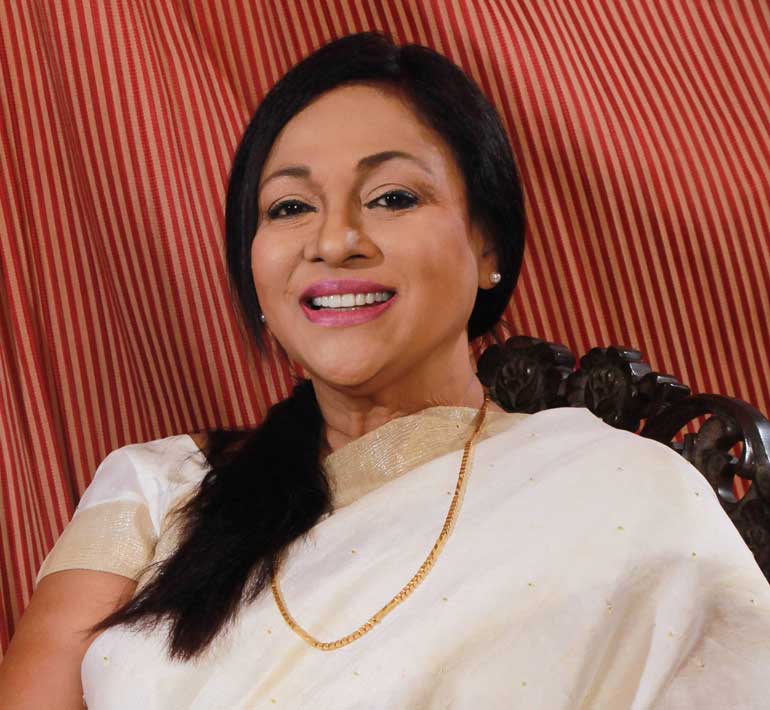 Geetha Kumarasinghe
​

Elections are over and a new Parliament has been elected. The political excitement however is yet to subside. 'Spotlight' returns after a brief interval to focus on films, film personalities and film-related matters. The focus this time would be on an alluring beauty who made a successful name for herself on the cinema screen and then entered the political stage. I am of course referring to the gorgeous actress Geetha Kumarasinghe who was elected as a Member of Parliament from the Galle District on the United People's Freedom Alliance (UPFA) at the recent poll.


Controversy surrounded her election as Geetha, having married a Swiss national, was at one time a citizen of both Sri Lanka and Switzerland. Geetha who got married to Chris Fuhrer Ferdinand many years ago has a daughter, Tharika Fiona. Having dual citizenship apparently debars one from contesting elections in Sri Lanka and some of her political opponents opined that she was disqualified from being a Member of Parliament.


Geetha herself said she had renounced her Swiss citizenship by writing to the Swiss Embassy. It was however hazy as to whether a citizen could renounce Swiss citizenship by merely writing a letter. On the other hand it is also doubtful as to whether the election contesting taboo imposed on dual citizens by way of the 19th Constitutional amendment has legal effect without enabling legislation.

Prior to the 19th Constitutional Amendment being enacted it was possible for people with dual citizenship to contest elections in Sri Lanka. When the Sirisena-Wickremesinghe Govt. replaced the Rajapaksa regime in January this year, many of the bottlenecks surrounding the obtaining of dual citizenship by Sri Lankan expatriates were removed. Despite these "dual citizenship friendly" actions, the new regime introduced a problematic provision in the 19th Constitutional Amendment debarring dual citizens from contesting elections in Sri Lanka. It is widely believed that this was a pre-emptive move to prevent an ex-President Rajapaksa sibling from seeking electoral office.


The 19th Amendment to the Constitution expressly prohibits a "Citizen of Sri Lanka who is also a citizen of any other country" from contesting the elections. The 19th Constitutional Amendment came into effect on 15 May this year. Nominations for the Parliamentary elections closed on 13 July. As such it was theoretically possible for Elections Department officials to reject nomination papers with a candidate or candidates rendered ineligible on account of holding dual citizenship.


It is learnt that when the UPFA Galle District list was challenged by interested parties during the time of nomination, the Returning Officer had reportedly said that he could not reject the UPFA list due to one of the candidates, Geetha Kumarasinghe, being a dual citizen. This was because though the 19th Amendment debarred a dual citizen from contesting, enabling legislation was not introduced by way of an amendment to the Parliamentary Elections Law to give effect to that provision.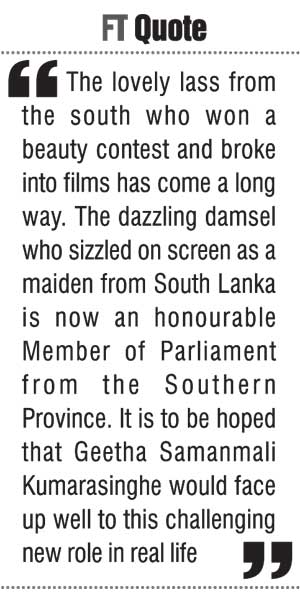 When the Sunday Times posed a specific question about the exact position to Additional Elections Commissioner M.M. Mohamed, who also deals with legal matters, He reportedly answered: "There is no provision (in the law) where we could have rejected a nomination on the grounds that a candidate was holding dual citizenship. We also have no powers to investigate whether a candidate had dual citizenship. Even after the elections there is no provision to refrain from gazetting the names of those who were elected. However, the matter could be brought up in court and it will give a ruling. Or the Secretary General of Parliament can decide whether such a person could sit or not."


This being the practical situation after the 19th Constitutional Amendment there was no hitch when Geetha Kumarasinghe was nominated as a UPFA candidate or when she actively campaigned in Galle district. Geetha was the Sri Lanka Freedom Party (SLFP) organiser for the Bentara-Elpitiya Electoral division. She won the electorate for the UPFA with 34,275 (52.7%) as opposed to the United National Party (UNP) getting 26, 559 (40.83%).


In terms of overall preference votes for Galle District it was Chandima Weerakkody who topped the UPFA list with 114,851 votes. Geetha Kumarasinghe came fifth with 63,955 preferences. She was elected. Geetha's name was duly gazetted as Galle District MP and she took her oaths on 1 September when the new Parliament convened. Her name has also been included in the Sri Lanka Parliament directory of MPs. It appears that she has become an MP despite the legality of her election being under scrutiny.


Confusing position on dual citizenship status

Geetha Kumarasinghe's position on the question of her dual citizenship status has been somewhat confusing. While contesting the Southern provincial poll last year Geetha made it known that she was eying the chief ministership. When she was interviewed by the Sunday Observer, Geetha was asked the following question: "You are campaigning to become the Chief Minister in the Southern Province. Do you think that you have the capacity to become Chief Minister"?


Her answer was: "I would like to ask, what are the things I am lacking to become the Chief Minister? What are the qualifications I am lacking, compared to those who have become Chief Ministers in the Provincial Council? I am a person who has seen the world. I am capable of addressing any international forum and get assistance to improve our health sector. I can do many more things than those who have served as Chief Ministers. I have seen what is happening in developed countries such as Switzerland because I am a citizen of Switzerland."


After Geetha won the Parliamentary elections there was much speculation that her election was null and void because of her alleged ineligibility as a dual citizen. In an interview to the Daily Mirror, Geetha said as follows: "Losers are in a futile attempt to sling mud at me saying I am a Switzerland citizen. According to the 19th Amendment Sri Lankan politicians with a citizenship in another country are prevented from holding high posts. I obtained the Switzerland citizenship through my husband. But, I cancelled it a long time ago. I do not need to talk about it now."


Though Geetha told the Daily Mirror that she had cancelled her Swiss citizenship a long time ago, a columnist in the Sunday Times had a different take on the issue. Here are the relevant excerpts:

"Ms. Kumarasinghe told the Sunday Times this week she had written to the Swiss Embassy in Colombo seeking to withdraw her dual citizenship, when the elections were declared in view of the 19th Amendment. However, she did not say whether the Embassy had responded to her request."


"Diplomatic sources said there was a 'lengthy procedure' involved when one wished to renounce Swiss citizenship and that 'cannot be done by simply writing a letter'. These sources said the procedure was spelt out in the Swiss Government website. For example, if the citizenship was obtained after marriage, the consent of the spouse would have to be obtained."

"Ms. Kumarasinghe declined to say whether there was confirmation of her renouncement of Swiss citizenship and whether there was a response to her claimed letter to the Embassy in Colombo. She was unable to say if merely writing a letter to the Embassy in fact meant renouncing her citizenship."


It is against this uncertain backdrop that the political future of Geetha Kumarasinghe has to be determined. The basic question that arises is whether Geetha remains a Swiss citizen or not. If she was not a citizen of Switzerland also at the time of her election, there is no problem. If however she still remains a Swiss citizen, then her status as an MP could be revoked if enabling legislation for the 19th Constitutional Amendment is passed with retrospective effect. If that happens she could be disqualified.


Again the situation is dicey because the entire UPFA list of candidates could be disqualified as a result. This could result in a protracted legal wrangle and cause much confusion. The chances are that enabling laws giving effect to the 19th Amendment would relate to the future and not the recently-concluded poll. In any case the Sirisena-Wickremesinghe Government has nothing to fear as both dual citizen siblings of Mahinda Rajapaksa did not contest in the 17 August election. Thus Geetha Kumarasinghe seems set to continue as Galle District MP without fear of the Damoclean sword of disqualification hanging over her unless her political loyalty towards Mahinda Rajapaksa irks the powers that be.


Family and film career

Geetha Kumarasinghe hails from a middle class politically conscious family. Despite this background she never engaged in active politics preferring to concentrate on her film career. Her entry into politics was due to Mahinda Rajapaksa who enlisted her services on his behalf in the 2010 presidential election campaign. Canvassing for Mahinda at the polls was an exhilarating experience for the popular actress. Thereafter she was appointed UPFA Organiser for Bentara-Elpitiya electoral division in Galle District.


Geetha contested the 2010 elections on the UPFA ticket from Galle. She lost. In 2014 she contested the Southern Provincial Council poll and was elected as Councillor. Now she has entered Parliament as an MP fiercely loyal to Mahinda Rajapaksa. Much of her future political prospects depend upon how firm or fickle this loyalty would prove to be.


Geetha Samanmali Kumarasinghe was born on 5 July 1955 in Badulla. Her father Wijaya Kumarasinghe was from Hamburugala in Bentara. Her mother Udulawathi Siriwardena was from Kotmale. Though Geetha, the eldest, was born in Badulla, she and her seven younger siblings grew up in southern Bentara. Her father Wijaya was a journalist who worked as the Deputy Editor of the journal Sinhala Bauddaya (Sinhala Buddhist). The children had a strict upbringing and were not even permitted to see movies.


Geetha's interest in films was sparked off by an interesting incident. As a young kid she spent her holidays once with her aunt Aruna Wickramapala in Colombo. Wickramapala was a friend of the famous Film Director Lester James Peries. It was at her house in Kollupitiya that many scenes of Lester's film 'Ran Salu' were filmed. Young Geetha got a chance to see a movie being shot at first-hand. She was infatuated by the leading lady Punya Heendeniya. Geetha used to imitate Punya in front of a mirror. She also took home several slides of scenes in the film and would look at them lovingly over and over again without the knowledge of her parents.


Geetha's tryst with glamorous fame came in the form of a beauty competition. The Davasa newspaper organised a beauty competition at Bentota in 1973. Geetha then in her teens wanted to compete. The mother was amenable but her father refused to give permission. Well-known cartoonist and journalist Amita Abeysekera who wrote the popular humour column 'This is my Island' in The Island newspaper in later years was a family friend. Geetha appealed to Amita who somehow persuaded Wijaya to allow his daughter to enter the beauty contest. Over 100 dainty damsels participated but Geetha was crowned as the fairest of them all.


One of the judges Ronald Fernando felt that Geetha should act in films. He was a friend of matinee idol Gamini Fonseka. He told Gamini about the Bentota beauty queen and suggested that she be given a chance to act in films. Gamini agreed to meet Geetha. Fonseka too was impressed by Geetha and arranged for a screen test at cinemas. Wijaya Kumarasinghe objected strongly. Again Amita Abeysekera came to the rescue. Reluctantly Geetha's father consented.


Sinhala version of Brigitte Bardot

Word got around in movie circles that a Sinhala version of Brigitte Bardot had been discovered at a beauty pageant in Bentota. Filmmakers flocked southwards to the Kumarasinghe household in Bentara. Even without a single film of hers being released Geetha had offers for 21 films. Apart from the movie offers, there was a marriage offer too. An expatriate engineer based in the UK wanted to marry Geetha and fly off with her into the British sunset. Though her parents wanted their eldest daughter to accept the offer, Geetha declined. She wanted to pursue a career in films.


Her first film contract was signed for K.A.W. Perera's 'Wasana'. Though Wasana was Geetha's first film, it was not fated to be her screen debut. Geetha Kumarasinghe's first film to be released in theatres was Neil Rupasinghe's 'Lassana Kella'. It was released on 20 June 1975. A few later came 'Damayanthi'. March 1976 saw 'Wasana' hitting the screen. Then followed Manik Sandrasagara's 'Kolomba Sanniya'. A star was born!

Geetha took the Sinhala film world by storm. A remarkable facet of Geetha's vivacious personality was her readiness to interact closely with her male co-stars on screen. She was not prepared to play the coy maiden if and when a scene warranted close encounters of the physical kind. This was indeed a refreshing boon to directors. Film fans of all ethnicities invaded cinemas in large numbers to see this bombshell of scintillating beauty acting in sensual scenes. Movies featuring Geetha Kumarasinghe seldom bombed at the box office. Incidentally Playboy magazine once offered her a huge amount of money to pose topless for its cover.
Geetha refused the lucrative offer.

It was around this time that Vijaya Kumaratunga was making his mark in movies. Geetha's first film that was released as her third was 'Wasana' in which she acted opposite him. Vijaya was often paired with Geetha and together the duo proved to be a winning combination. Vijaya-Geetha starrers like 'Anjana,' 'Jayasikuru,' 'Jaya Apitai' and 'Raja Wedakarayo' were critically-acclaimed commercial successes.


The first film which showcased Geetha's thespian skills was Titus Thotawatte's 'Maruwa Samage Wase'. In this the male lead role was played by Vijaya. Another film in which Geetha made her mark was Tissa Abeysekara's 'Karumakkarayo,' which too starred Vijaya. Geetha in a media interview has opined that the turning point in her life was Sunil Ariyaratne's 'Siribo Ayya' in which she acted with Joe Abeywickrema.


Weighty roles and top awards

Geetha however could never be stereotyped as a bimbo playing eye-candy roles alone. She began acting in weighty roles that demonstrated her acting abilities from the beginning of her film career and continued to do so over the years. Films such as 'Pembara Madhu,' 'Podi malli,' 'Siribo Ayya,' 'Sathara Diganthaya,' 'Karumakkarayo,' 'Mahagedara,' 'Anuragaye Ananthaya,' 'Palama Yata,' 'Rajya Sevaya Pinisai,' 'Loku Duwa' and 'Ran Diya Dahara' testify to her acting prowess. Who can forget the characters Dulcie in 'Pembara Madhu,' Dotty in 'Palama Yata,' Punna in 'Lokuduwa' and Amali in 'Ran Diya Dahara'?


Acting in roles of oppressed women fighting against the overwhelming odds of life is a Geetha Kumarasinghe hallmark. She has won the National Award for Best Supporting Actress twice and National Award for Best Actress thrice. Geetha also obtained the prestigious Sarasaviya award for Best Actress four times and the Most Popular Actress award once. Geetha also got the Swarna Sanka award for Best Actress twice.


In a film career spanning more than three decades Geetha has acted in over 80 films. Most of them are Sinhala movies. Yet she has also acted in non-Sinhala movies made by Indian, Pakistani, Japanese and French filmmakers. As far as I know Geetha has acted in two Tamil films. One was 'Rathathin Rathamae' (Blood of my blood) produced by Sri Lankan Tamil hotelier "Brighton" Ariyaratnam and directed by Joe Dev Anand. The film was shot entirely in Sri Lanka but featured some Tamil Nadu actors like Jaishanker, Radhika and Asokan. Geetha played the sister of hero Jaishanker.


The other film was 'Moahanap Punnahai' (charming smile). This was directed by veteran filmmaker, C. V. Sridhar. Many scenes in the film were shot in Sri Lanka. When Director Sridhar arrived in Sri Lanka to scout for potential locations, he happened to see a Sinhala magazine hanging in a news stand. The director was enchanted by the 'cover girl,' who was Geetha. He made inquiries and soon signed a contract with her.


Geetha acted opposite the doyen of Tamil actors Sivaji Ganesan in the film. She played a true-to-life role in the film as a damsel from southern Sri Lanka. Geetha's introductory sequence was a sizzler. She bathes in a mountain stream with a picturesque waterfall in the background. A haunting song for which M.S. Viswanathan composed the melody is picturised on Geetha who frolics seductively in the water. The opening lines of the song sung by S. Janaki were 'Thennilangai Mangai – Vennilavin Thangai' (Maiden from South Lanka – Sister of the Silvery Moon). The description fitted Geetha well.


An interesting experience in Tamil Nadu brought home to me the impact made by Geetha through that song. Many years after its original release I once saw 'Moahanap Punnahai' in a Chennai theatre screening old films. When the 'Maiden from South Lanka' song sequence came on screen, the enraptured audience erupted in applause, cheers, cat calls and wolf whistles. When the movie was over, I overheard bits of conversation from the people praising the "Sri Lankan Ponnu Geetha" (Sri Lankan woman Geetha). This was at a time when anti-Sri Lanka feelings were running high in the state.


'Moahanap Punnahai' was first released in 1981 and became a smashing success in Tamil Nadu. Geetha was inundated with offers from Tamil movie producers but unfortunately she could not accept them because she was about to get married. She later told a Tamil journalist, "I like to act in Tamil films because I love Tamil culture. The Tamils too like me," and explained that her reason to refuse the offers was due to her marriage.


Geetha Kumarasinghe also blossomed into a producer of popular films of great quality. Some of the films produced by her were 'Palama Yata,' 'Salambak Handai,' 'Loku Duwa,' 'Anuragaye Ananthaya,' 'Wasuli' and 'Geetha'. She won two Best Film awards at the Sarasaviya festival in her capacity as producer for 'Palama Yata' and 'Loku Duwa'. In later years Geetha also became a successful business entrepreneur, running several garment factories.


The lovely lass from the south who won a beauty contest and broke into films has come a long way. The dazzling damsel who sizzled on screen as a maiden from South Lanka is now an honourable Member of Parliament from the Southern Province. It is to be hoped that Geetha Samanmali Kumarasinghe would face up well to this challenging new role in real life.