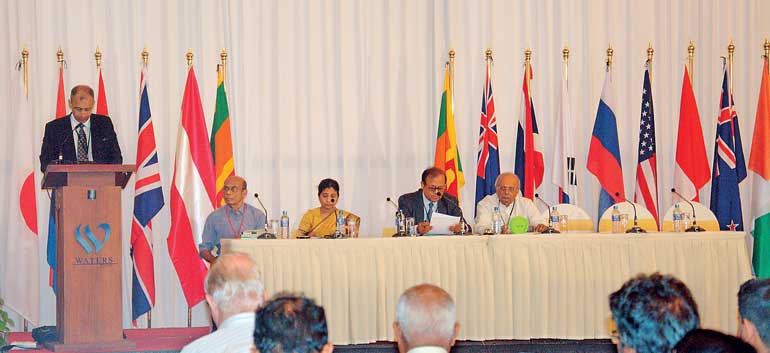 Former Sri Lankan Ambassador to South Africa and Singapore Shehan Rathnavale of COSTI/Ministry of Science, Technology and Research presenting the Colombo Resolution at STS Forum Sri Lanka 2016
An important event on a scale that has never been seen before came to a close on Saturday, 10 September at Waters Edge. The event – the Science and Technology for Society Forum Sri Lanka 2016 – which was championed and organised by the Ministry of Science, Technology and Research under the direct leadership of Minister Susil Premajayantha, became an important gathering for the science and technology community of this country.

The size of the gathering at Waters Edge was impressive on all three days. Our usual observation of events is that from the opening ceremony it is a dwindling numbers game but on this occasion it was not to be with participants showing their interest and commitment until the final hour. Nearly 500 participants were present on the final day, when the event had been planned with 650 in mind and in procurement.

The gathering in Colombo was one of significance and I hope we will pay heed to the messages communicated at it. With five plenary sessions, four dialogue sessions and 21 breakout sessions, the technical program was quite rich to provide a varied menu to all those who were present. Discussions ranged from hardcore sciences to communications on the net – social media.

'Terrific new

Sri Lanka'

To quote a response from one of the participants, Subhra Priyadarshini, the Editor of Nature India: "What a terrific new Sri Lanka I saw this time - questioning, bubbling with teenage-like zeal and blasting irrationality in its face. Thanks for having me there to witness this renaissance. I am overwhelmed." During the event she was also able to interview the Prime Minister about Sri Lanka's future.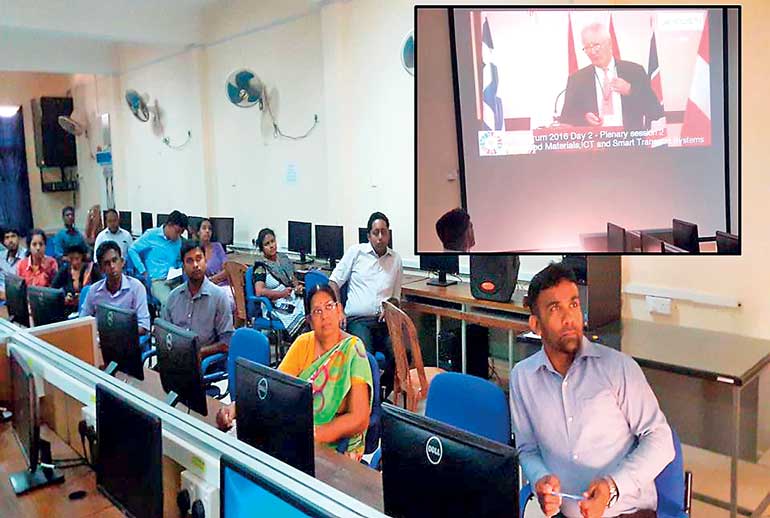 At the beginning itself there was the plan to issue a communiqué considering the deliberations of the conference when the technical program was drawn up. What should it be – a statement, a declaration? This was the question and finally the choice fell on having a resolution. Resolutions need commitment subsequently as statements and declarations can be idle bystanders to a natural process. The presence of a resolution cannot be ignored and one can request response and seek clarity. Thus with a resolution an action element on the side of the receiver is expected.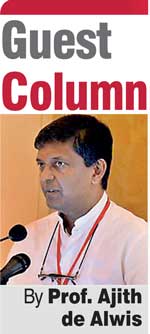 Therein lies the need to be resolute in action. A zero draft was tuned with input from the sessions, discussions and notes to be the final resolution for the event. It was broadly developed to encompass the overall trends and desires identified over time.

That science is not factored in planning and decision-making is not news. That scientists do have problems in performing their tasks in serving society too has always been articulated. The brain drain and the depletion of our human capital is an everyday experience though it is not talked about specifically other than in a generic manner.

We speak of high technology without even having a national definition for statistical assessments. It is true that the National Nanotechnology Initiative has given rise to some spectacular developments but there is still a feeling that there is more functional visibility needed from these investments.

Sri Lanka has signed the Paris Agreement on pushing for sustainability-driven planning and execution in confronting climate change. However, how determined are we in bringing about change and in addressing these issues to break the system free from its constraints thus enabling take-off?

Colombo event
The gathering in Colombo showcased some interesting developments taking place in other countries, demonstrated how favourable ecosystems drive growth, indicated the importance of finance in some healthy doses not the anaemic feeds that we have, illustrated the importance of supporting creativity, etc.

The event was shown live at five universities – Moratuwa, Jaffna, Eastern, Peradeniya and Ruhuna - and was accessible on Facebook and YouTube. Thus the event was not limited to those who were present at Waters Edge.

Quite a few visiting scientists participated in media and TV programs, further expanding the forum's reach and creating excitement as there is no science coverage usually in our media and prime time slots are usually out of reach. One may ask for the balance sheet of the event. The contributions made by individuals and the private sector are to be acknowledged thus lessening the burden on the Government.

There was direct participation from the Government as well. With three ministers chairing plenary sessions, scientists had a good chance to express views and ensure that strong messages were directed.

Multifaceted and innovative event

Two keynote speeches were delivered by Deputy Ministers Dr. Harsha de Silva, who spoke on Science Diplomacy, and Eran Wickramaratne, who talked about Funding and Investment. Going beyond a conventional conference, an industry association – the National Biotechnology Industry Association (NBIA) - was launched; the ongoing work of CERA (Centre of Excellence for Robotic Applications) was discussed; and the Sakura Science exchange program was introduced where Sri Lankan students will have a chance to participate in Japanese science fairs with the opportunity to meet Nobel laureates. These were all part of STS Forum Sri Lanka 2016. Thus the event was multifaceted and had innovative elements with a future orientation.

All resource personnel will be linked virtually following the event to ensure networking for the country's gain. It is at this stage a difficult balance sheet to be immediately produced – tangible expenditure with intangible opportunities generated. We are living in a country where intangible assets are hardly recognised and commodities and labour exports rule the space. Stressing the need for change, the participants were briefed on both the global innovation scene – the 2016 Global Innovation Report was showcased by Thomson Reuters - and intellectual property by WIPO (World Intellectual Property Organisation) which were two technical content sponsors of STS Forum Sri Lanka.

In the end we have a Colombo resolution. As you may see it covers a broad range of issues. The exciting scientific advances are changing societies. Are we to merely enjoy PowerPoint slides or movie clips and stare with awe at someone else's technological prowess while our society slides down a slippery slope and expect someone else to rescue us?

To be resolute in action is in the final clarion call in the resolution – "With the above in mind, we therefore call upon all policymakers, scientific practitioners and legislators to foster STI through a supportive innovation-led ecosystem that includes advocacy, appropriate policies, adequate resourcing, international partnerships and investing in people and institutional capacities in order to facilitate and achieve sustainable national development."
---
The Colombo Resolution on Science, Technology and Innovation (STI) for Sustainable National Development
Science and Technology for Society Forum Sri Lanka 2016

We, the participants of the Science and Technology for Society Forum Sri Lanka 2016, recognising the holistic approach adopted in the formulation of the UN's Sustainable Development Goals (SDGs) and that the importance of innovation is highlighted in goal number 9 of the SDGs, agree that STI whether it be scientific or social innovation is a key driver of sustainable national development.

We believe that economic development should go hand-in-hand with social and environmental progress. Hence we appreciate the key role that STI plays in the improvement of industrial processes, industrial output and driving industrial and economic growth, while at the same time recognising that STI plays an important role in ensuring that industrial processes and output conforms to protecting and managing our environment in a sustainable manner.

We recognise that new emerging technologies such as biotechnology, renewable energy, data science, robotics, space technology and nanotechnology may be harnessed for economic progress and poverty alleviation.

We see STI and social innovation as being linked and complementary and may work hand-in-hand to support socially related SDGs such as quality education, gender equality, reducing inequalities and peace, justice and strong institutions.

We recognise that STI may play a significant role to assist the attainment of SDGs including those related to zero hunger, good health and wellbeing, clean water and sanitation, affordable and clean energy and sustainable cities and communities.

We note that in addition to the support provided by STI to enable cleaner processes that mitigate environmental degradation in the context of the SDGs related to climate action, life below water and life on land; new technologies relating to space and satellite communication as well as remote sensing will also assist the attainment of these goals.

We are concerned that there may be a current mismatch between development priorities as stated in national development plans and budgets, and the role of STI and STI practitioners in the development process. We see an urgent need for requisite alignment by developing and sustaining the human capital required to incorporate STI in sustainable national development.

With the above in mind, we therefore call upon all policymakers, scientific practitioners and legislators to foster STI through a supportive innovation-led ecosystem that includes advocacy, appropriate policies, adequate resourcing, international partnerships and investing in people and institutional capacities in order to facilitate and achieve sustainable national development.