Hong Kong and Singapore suffer due to less Asia-Europe volumes and lower bunker prices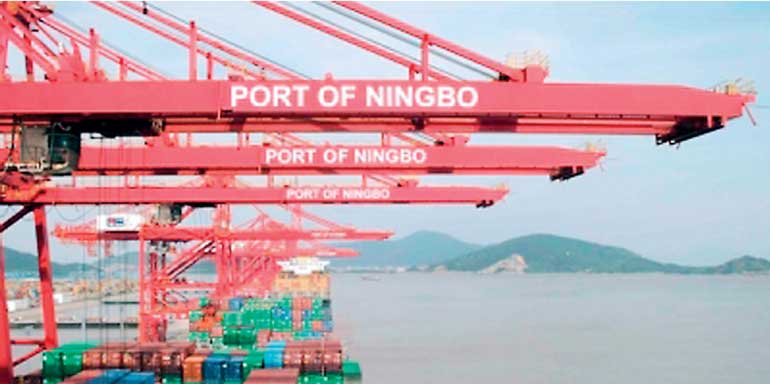 There was always competition between Shanghai, Hong Kong and Singapore port to grab container traffic from Asian counties. This year 2015, too Shanghai maintained the number one position over Singapore, Hong Kong and dominated its place in the region. Out of top 10 container ports in the world nine are from East Asia. Six Chinese ports are within these top 10 ports. This indicates how China and Asia are dominating container traffic in the world.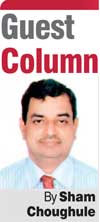 Chinese hidden strategy

Hong Kong is not part of China but it is a Special Administrative Region (SAR) of China. China is trying to suppress Hong Kong in many ways including indirectly control of Hong Kong port traffic. Hong Kong is main gateway port of South China. Chinese cargo comes to Hong Kong from this Guangzhou hinterland. But China has constructed new container terminal (Nansha Container Terminal) above the Hong Kong port in Gangzau region. It has prevented container traffic flows of mainland China to Hong Kong port. This is one of the reason of discriminating cargo throughput of Hong Kong since 2002. The throughput was down 9.5% in 2015. It was also down 14.1% drop in 2009 in the midst of the Global Financial Crisis.

Hong Kong is the main transhipment port of South China which connects to Europe. But weak economies in Europe put Hong Kong into lower position in container traffic. Chinese and some Asian ports are flourishing in container handling but Hong Kong is losing container traffic. Due to the strategy of mainland China Hong Kong dropped its world port ranking from fourth to fifth position in 2015.


Port of Singapore: 10% concession on port dues to attract shipping lines

Singapore's success as a world-leading container port is mainly due to transhipment volumes. About 85% of the containers that arrive in Singapore are transhipped to another feeder port from Philippine, Vietnam, Indonesia, Bangladesh, and India. But Shanghai port mainly serves importers and exporters of China. China is known as factory of the world.

The port of Singapore saw its container throughput contract by in 2015 amid the overall slowdown in the global shipping market, made worse by lower Asia-Europe volumes. Singapore is also hub port of Asian countries. But some of the shipping lines have started direct port to port service (bypassing Singapore) due to lower bunker prices. Further it has compounded by developments such as the rebalancing of volumes across shipping alliances agreements in liner trade.

To arrest the declining trend of container traffic, Singapore has started an additional 10% concession on port dues for containerships calling at the port. The new concession has been started from 15 January of this year. This will be continued for one year.


Port of Ningbo

The Ningbo-Zhoushan port is ranked the world's fourth busiest container port in 2015, after its volumes surpassed Hong Kong's 2015 volumes at 20.11m teu. Over the past five years, investments of over RMB 420 b ($ 64 b) have been made to upgrade and further develop the Chinese port. The Shenzhen, Guangzhou and Qingdao are other two ports of China in top 10 ranking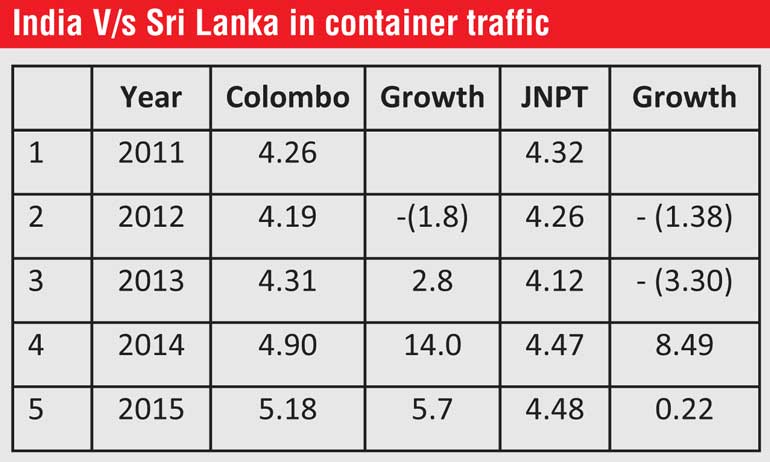 Taiwan: Kaohsiung enhancing capacity for mega ship

Taiwan's main seaport Kaohsiung container volumes were recorded at 10.26m teu, down 2.8% compared to 10.59m teu registered in 2014, The Taiwanese port is currently in the midst of upgrading works to construct deepwater berths capable of accommodating giant container ships of 22,000 teu. Upon completion of the upgrading project in 2019, Kaohsiung port would boost its handling capacity by an additional 4.5m teu. At present, Kaohsiung port can cater to containerships of 14,000 teu. Mega Container ships have been forced to port to enhance its capacity. All above statistic shows that the growth of ports have been shifted from Europe/USA to Asia.

India's 35% container tranship through Colombo-Salalah-Singapore and Jebel Ali port. Colombo mainly handles India's transhipment container traffic. Therefore, India has constructed new world class JNPT container port in 1989 to diversify its container traffic from Colombo port. Accordingly, JNPT handled more traffic than Colombo. But Colombo stopped to JNPT to handle more traffic in 2012 (equal volume 4.19). Now Colombo generates 71% of the Indian transhipment traffic of its total throughput. The Colombo port annual throughput for 2014 was 4.9 million TEUs compared to 5.2 million TEUs last year that accounted for a 5.7% increase

Meanwhile, container traffic of JNPT port diversified to new Hajira port due to frequent labour strike and congestion in JNPT port Hazira is roughly 120 nautical miles north of JNPT. Privately-operated Hajira container terminal offers about 2,150 feet of quay, 14 meters draft and an annual capacity of nearly one million TEUs. It will have a full build-out capacity of 2.2 million TEUs when the second phase is completed. Now, it is difficult to JNPT port to compete with Colombo Port.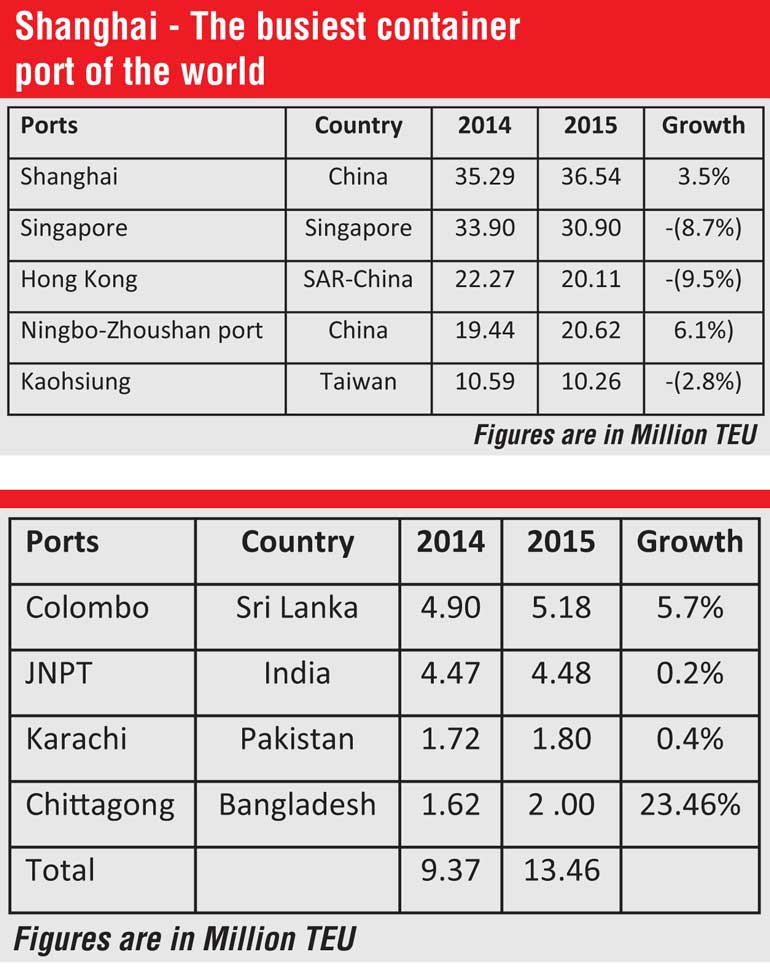 Container traffic in main SAARC countries

South Asian Association of Regional Cooperation is a trading bloc of eight countries. India, Pakistan, Sri Lanka and Bangladesh are main maritime nations in SAARC. But there is no direct shipping service between India-Pakistan and Bangladesh. Mostly they use Colombo as its hub port for intra-SAARC trade.

India had been asking for a direct access to the Chittagong Port for nearly five years. Now Bangladesh is ready to give India to use Chittagong port. This will help Indian import-export trade to save millions of dollars by sending direct shipments to Bangladesh and by using the Chittagong port as a transit hub to access other Southeast Asian destinations. Thus India is trying to bypass Colombo Port.

The Chittagong port made a target of attaining two million TEU container handling by end of 2016, but it has achieved the goal in 2015. Karachi International Container Terminal (KICT) has handled 10 million TEUs since the start of commercial operations in 1998, becoming the first container terminal operator in Pakistan. Now, Pakistan has constructed new container port Gwadar which connects to Jebel Ali in the Middle East.

(The writer is a teacher at International Maritime College, Oman. He has vast experience in the port and shipping industry. He has also visited Singapore, Hong Kong, Guangzhou (China), Colombo, Salalah, Manila, Ferrol (Spain), Jebel Ali and Khalifa ports for study purpose. He can be reached via email [email protected].)