NEW GAME IN TOWN – 'My rally is larger than yours' is the fishy new one-upmanship in the political pond. If only appearances matter, other contenders might do well to be a tad anxious at this sea of red. And even if the JVP challenge turns out to be a red herring or spoiler, it's a poor political shark that didn't get a whiff of something strong from Galle Face Green last weekend – Pic by Lasantha Kumara
---
THE REDS ON THE GREEN HAVE TAKEN THE LIE OF THE LAND – and it is a highly-publicised stand, being the largest political rally of late. It's a red flag planted claiming a space in the electoral pantheon, which is open to a plethora of interpretations. So what does it all mean… and what were these sons of the soil thinking?

On the one hand, it is a signal that the once-outcaste JVP is ready to rejoin the ranks of republicanism, having absented itself from Presidential Polls for some 20 years. Big business, what passes for our military-industrial complex and wary civilians with long memories have never really forgiven the once-Marxist party. But for many, their sins are forgiven; as they seem to have reinvented themselves as the pacifist conscience of the nation. That is, when it suits their agendas and/or their treasuries?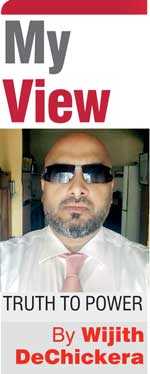 However paper-tiger-ish they may seem in sundry House debates or happy-hour (two for the price of one: high ideals and humbuggery) talk shows, this often means they run with the hare and hunt with the hound. Having chaired a chauvinistic Mahinda to power in 2005 and marshalled Sarath Fonseka in 2010's field, they were part of the liberal-conservative coalition that brought the not-so-good governors we 'enjoyed' for four years into power in the 2015 revolution-that-wasn't.

On the other, it is symptomatic of the insidious nature of realpolitik, with these once most vociferous critics of our executive presidency seemingly succumbing to its lure. No matter how many times they thumped the table with their Bata slippers about the bourgeoisie's folly in supporting the executive, their most recent chest-thumping at Galle Face reveals their fallen humanity if not their perfidy – and their penchant for 'principled opportunism' ("If you can't join 'em, beat 'em!").

So critics will see JVP Leader and now its presidential candidate Anura Kumara Dissanayaka (A.K.A. 'AKD') as yet another politico who's not immune to the corruptibility of power. Cynics will smugly observe that the half-centurion and his neo-Marxist party that's struggling to be taken seriously as a viable third force in local politics settling down to play the long game…

There is a spectrum of other motives and machinations militating in favour of a gamut of ambitions – from 'original authenticity' to 'outright awkwardness'. (Original authenticity militates towards the JVP being a party that has always aimed to represent the people and that this bid for state power is not inimical to its early ambitions to overthrow governments. Outright awkwardness is a crimson-worthy volte face that could leave its politburo blue in the face because when it comes to running a nation state, the red brothers are green at the gills.)

This is an early amateurish attempt to analyse the "third force's" mindset and ramifications for a polity on the thin wedge of a crumbling establishment. The jury is still out as to whether the champions of 20A, especially the executive presidential abolition clause, will be stricken by their collective conscience – some say inveigled by their parliamentary big brothers, the greens – and vote with their feet… closer to the date…
Cracks and chinks

But first, is the establishment crumbling at all as suggested above? On the face of it, no – all's well in both your houses, and with all parties gearing up for a Presidential Poll, it's business as usual. But beneath the surface, the Grand Old Party of Sri Lankan politics (for one) is like a crone's makeup.

For all its cosmetic cosmopolitanism, the UNP is creaking at the seams under an effete oligarchy. Once effective at technocratic governance and a pluralist inclusive ethic, today its decrepitude starts at the top and goes well down into the middle order. A bit like the Sri Lankan cricket team on a bad day under hostile skies on unfamiliar territory! Not knowing whom to send into bat and in which order is the least of the last great democratic party's woes and worries.

Then again, the Grand Old Lady of socialism (for another) has lost its postcolonial charm and austere good looks. Where under the grand old dame and her daughter, we once imagined that "age cannot not wither her nor custom stale her infinite variety", the SLFP is no longer the handmaiden to social democracy and democratic-republicanism it was once under Sirimavo and Chandrika. Post Mahinda's tough-love period in office and Maithripala's rough-time rogering around, the lass is looking a trifle down in the mouth.

And if CBK doesn't step in pronto to rescue her baby, you can bet your bottom dollar the major constituent party in the PA, UPFA and any future alliance will be the bathwater thrown out after MR's none-too-subtle subterfuge and treacherous crossover to the SLPP with an eye on both Presidential and General Elections 2019/2020. As well as possibly 2025 and his role as the returning king of dynastic politics when the Rajapaksa crown prince putatively inherits the mantle…
Tensions and stresses

Second: why is the polity on a thin wedge?

For one, an increasing minority of influential voters are growing weary of the present system and its systemic pitfalls. These include but are not limited to corruption in high places; criminality among the ruling classes; constitutional abuses and the lack of an adequate response by the political opposition; the emergence and establishment of a political monoculture (propped up by diverse contesting businesses, professionals and academics) that stages a managed spectacle where it conflicts in public and on principle, but consoles and covers up for each other in private and in practice! While far from being an irresistible force, this demographic of the public – albeit Western-orientated, English-speaking, Colombo-based – is burgeoning in appetite for civil society activism and bite as far as meaningful critical engagement that can't be ignored goes.

There is also the immoveable object that lurks in the suburban and rural peripheries. It is the typical block voter who customarily, traditionally, substantively, delivers the presidency or Parliament to one major party or another. This beast slouches towards the House or President's House once in five or six years, driven by its guts and fed by its bellyful of grist like bread, circuses, ethnic chauvinism, religious bigotry and social apathy – and then slumbers for the next half a decade or so – blissfully unconscious of the bigger picture of civics, governance, or globalism. It's like a mangy street dog at whom you whistle every once in a while or a tattered roof-dwelling cat that not even visionaries will bell or a sacred cow that no politico worth his salt will slaughter by subjecting it to radical ideas like constitutionalism or countering regional threats to Sri Lanka's sovereignty by free trade agreements rather than free-for-alls.

Then again, bits and bobs may swing the big vote one way or another. One stream of flotsam are the Tamil and Muslim minorities not affiliated to any ethnic-identity parties, who will be pushed by Gotabaya Rajapaksa's nomination to consider the SLFP if they're non-traditional voters or pulled by President Maithripala's Sirisena's furious signalling by appointing a controversy-ridden soldier as Army Commander, into the arms of the UNP. And the former party is a stream of jetsam looking for safe harbour from pacts of the past that's acting like it has no future.

Let's not even mention the youth who are hard-pressed into a Hobson's choice between a putative Sajith at present and a future Namal who's put past acrimony behind him to shoulder a dynastic reinvigoration of Rajapaksa fortunes. As for the youth vote, powerful yet underestimated as it is, it may be the key with the greatest grip and grind to swing the presidency into a future lockdown. Don't let the losers say they weren't warned that our young people are no longer a lost generation!
Stratagems and treasons

Last but not least, and as asked upfront, what is the JVP thinking? Well, it depends on whether you're a critic, cynic or someone who subscribes to conventional wisdom.

The critics will charge the JVP of hypocrisy and either dismiss them as small fry or persuade themselves as well as convince others that this is a legitimate bid for socio-political authority backed by a principled leader on a platform of albeit progressive values, subversively planning. The cynics will make snide remarks in their cocktail circuits and coffee klatches about the Ethiop being unable to change its colour or good enough to throw its weight behind a UNP government after the General Elections while being ostensibly bankrolled by it at the Presidential Polls. The conventional wisdom about third – or fourth – forces is that all independents and non-big-three political parties are simply fielding spoilers or pacemakers for their respective banker parties.

Once upon a time, I would have played devil's advocate and seen the emergence of a genuinely national-minded grassroots apparatus that could issue a serious challenge to the established parties. But while far from being a joke, the JVP has become too vital a cog in the machinations of mainstream players to be independent of the monoculture that is the bane of coalition politics.

I am not holding my breath that the revolution will be televised. Because AKD for all his steam at Galle Face Green is like a chugging Landmaster that will swerve from a side-road into Gotabaya Rajapaksa's Land Rover and leave a minor accident along the expressway of the three major parties' rush to get over an inconvenient toll booth.

If only their principled opportunism could have been converted into an opportune principled stand to abolish the presidency through the very 20A which they once championed, we would all have been the richer for it. Still – there's probably the most interesting and unpredictable election in two decades to look forward to!

(Journalist | Editor-at-large of LMD | Writer #SpeakingTruthToPower)