---
China last month signed a $1.3 billion contract for Myanmar's Kyaukpyu port project. The figures doing rounds in media in the run up to this port deal were as high as $7.9 billion which had ignited enormous curiosities.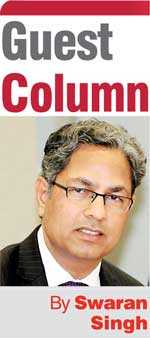 The Chinese had been negotiating this deal for a few years and had considered building Myanmar's ports from as early as early 1990s. Even Chinese media had talked of original proposal being $7 billion. Prima facie, commentaries found this figure denying logic: in view of China's earlier big port projects like Gwadar or Hambantota, it appeared too ambitious to build a single project of $7 billion in this $70 billion economy that too mired in serious ethnic conflicts and developmental challenges. Even now, Chinese side has explained this downsizing of the final figure to $1.3 billion as result of Myanmar's concerns implying issues of commercial viability or debt traps.

What is well-known is that in spite of China's enduring interest in exploring building of rail, road, internal waterways and ports of Myanmar to connect its landlocked least developed Yunnan region to Bay of Bengal, Kyaukpyu was no longer seen most viable or most critical port to catalyse regional entrepreneurship. Japan-Thailand-Myanmar special economic zone in southwest Dawei has been struggling to become fully operational. Plus Japan has been building another $3.28 billion economic zone at Thilawa port, south of Yangon.

India has already built the Sittwe port in Myanmar's Rakhine province and is currently nearing completion of Kaladan Multi-Model Transit Transport project as also bus services between Imphal to Moreh and Tamu to Mandalay. Answer to this Chinese audacity of hope in building another $7 billion port at Kyaukpyu perhaps lies in deconstructing the inordinate scale and speed of China's most ambitious Belt and Road Initiative.

To begin with, China's earlier two port project – Gwadar (Pakistan) and Hambantota (Sri Lanka) -- were also seen equally ambitious. In many ways they continue to be seen lacking economic viability. They have become examples of lack of commercial viability pushing recipient nations to allow Chinese companies to not just run these mega-projects but also grant them lease of these projects.

In case of Gwadar and Hambantota China today has obtained lease for 43 and 99 years respectively. Some other projects are also seeing such follow-up management-and-lease arrangement becoming a standard progression in China's investments. No doubt reports attributing to unnamed officials in New Delhi are talking of Kyaukpyu, compared to Gwadar and Hambantota, potentially triggering far bigger anxieties for New Delhi.

As Global Times wrote last month, signing of this contract "marks a significant step for the port project" for which the original bid involved "estimated investment of $7 billion but further development was halted due to disagreement between the two sides". Such insinuations appear credible given China's financially capabilities and its political commitment to making BRI a game changing project for the twenty-first century.

Let see few of Kyaukpyu's salient features to appreciate what make it such a strong proposition compared to Gwadar or Hambantota. First, it has already earned some prestige for being the terminus of China's 770 kilometre oil and gas pipeline that connects southwestern regions of Yunnan province. Unlike Gwadar or Hambantota that continue to lack customers to make them economically viable, this pipeline has already been serving over 300 million people in China for last five years and there is strong demand to expand it as also connect it to more places.

No doubt, Gwadar was originally was proposed as hub to provide relief to President Hu Jintao's 'Malacca dilemma' thesis. Gwadar was projected become a terminal for similar pipelines taking China's gas and oil from Middle East to its least developed western regions. But this remains still in the making. Second, China has also failed to lure big neighbouring economies into using Gwadar and Hambantota.

For instance Japan, India or Vietnam remain not just reluctant but sceptical about BRI and its port projects. Kyaukpyu, on the other hand, has millions of consumers exclusive to using Chinese connectivity. These include not just China's poorer southwestern regions but also physically closest and fastest growing Bangladesh as also China's highly dependent benefactors like Cambodia, Laos and so on where Belt and Road Initiative has already sinicised their urban economies.

This means that compared to both Gwadar and Hambantota, Kyaukpyu port of Myanmar has assured advantage of dedicated demand which is bound to expand. It also has solid political frame of China-Myanmar Economic Corridor agreement of 2017. Together these can make it the next flagship project for China paralleling if not outdoing much bigger CPEC i.e. China-China-Pakistan Economic Corridor.

China proposes to build Kyaukpyu as 10-berths at the 25-meter deep sea port that can accommodate bigger oil tankers though their current agreement only talks of initial two berths. Potentially, Kyaukpyu can join China's network of ports from Qingdao, Shanghai, Hong Kong, Hainan, and further with Hambantota and Gwadar to materialise China's twenty-first century Maritime Silk Road.

China is already nearing negotiation with Thai Prime Minister for cutting the Kra isthmus to create another alternate route with close proximity to Kyaukpyu. As for India, the concerns will not be just limited to Chinese naval ships or submarines visits but enormity of commerce that could one day link all these neighbouring nations to Beijing as also provide serious competition to India's own port facilities.
[The writer is Professor, Jawaharlal Nehru University (New Delhi) and Senior Fellow, Institute of National Security Studies Sri Lanka (Think Tank of the Ministry of Defence) The views expressed do not reflect that of the Government of Sri Lanka nor INSSSL. Views are

his own.[