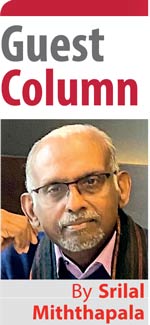 Wildlife tourism is a fast growing segment of world tourism, more so after the pandemic as many tourists now seek the outdoors and the natural environment. Sri Lanka has much to offer in this space but we are still 'treading the same old cow path' promoting the same offering.

Current day tourists are looking for a more immersive experience and understanding of wildlife. We have to therefore respond by changing our approach and message. A different narrative is needed urgently to reach out to this important segment.


1. Wildlife tourism

According to United Nations World Tourism Organization (UNWTO), world wildlife tourism accounts for 7% of the world tourism industry and is growing at an annual growth about 3%, wildlife tourism currently employs 22 million people worldwide directly or indirectly, and contributes more than $ 120 billion to global GDP. Hence it is obvious that it forms a main component of world tourism in the future. This could be larger in the immediate future, since post-pandemic travellers are seeking out more outdoor and nature related, immersive experiences during their travels.

In Sri Lanka also this is a rapidly growing segment, where close to 50% of all tourists visiting the country made at least one visit to a wildlife park in 2018 (by far the best year for tourism in Sri Lanka). This was a marked increase from some 20% in 2015.

In addition park entrance fees, enhanced revenues from tourists staying in hotels in the vicinity, and peripheral earnings by safari jeep drivers bring in a very large revenue for the state, private sector and small scale operators (SMEs).

In 2018 the earnings from just three of the most popular wildlife parks was a staggering Rs. 11 billion ($ 72 m) at 2018 exchange rates.

So there is no question that wildlife tourism has to be an integral segment of Sri Lanka's tourism offering.


2. Marketing Sri Lanka wildlife to the world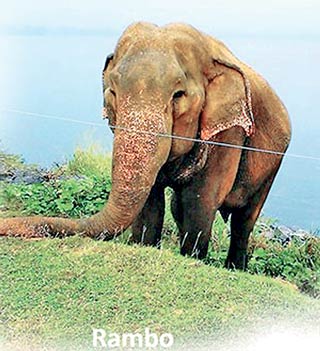 In spite of the importance of this segment for tourism as shown in the forgoing, tourism marketers still continue their old ways of marketing wildlife tourism. We still tread the familiar cow path, offering the tourist standardised safari excursions, perhaps just for them to be able to see a few charismatic species in the wild. When a potential tourist calls a hotel or a travel agency to inquire about the wildlife attractions in Sri Lanka, most often the sales staff just give an itinerary and mention the animals that could be observed there.

In today's context what is needed is colourful stories about wildlife in Sri Lanka, with a humane experiential touch. Stories must be woven around the many charismatic wildlife animals and the intimate wildlife experiences in Sri Lanka.

In short a totally different narrative is required to enhance our wildlife tourism offering.

Over the years I have been presenting many stories about wild animal individuals and incidents and few are given below…


Charismatic individuals

Rambo the Elephant at Uda Walawe Wildlife Park

This mature male elephant has been patrolling the Uda Walawe reservoir bund for more than a decade, inside the protective electric fence barrier, attracting passers-by. He has become a quite a celebrity and is perhaps one of the most photographed wild elephants in this part of the world.

I have interacted with this animal during my work at Uda Walawe Park and written extensively about his antics.

A Google search for 'Rambo elephant' returned about 2,750,000 results (0.41 seconds) (of course just 'Rambo alone will not work because Sylvester Stallone will dominate the space!)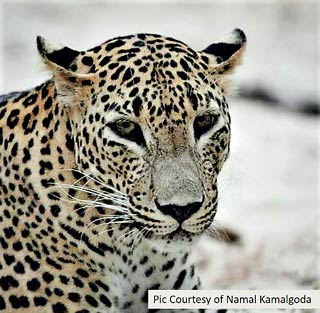 Natta the leopard 'king' of Wilpattu

Natta is a good healthy mature, but somewhat elusive specimen of a male leopard who is the resident 'king' at Wilpattu Nation Park. Most sought-after for photo opportunities, which he gladly obliges if he is in the mood. He derives his name 'natta' which means a 'tail' in Singhalese since his tail is slightly broken at the tip. Possible due to a fight with another leopard during his young days in establishing his dominance. A Google search for 'Natta leopard' resulted in 707,000 results (0.36 seconds).
Sumedha the 'king' of Uda Walawe


A mature tusked elephant who frequents the park periodically during the months of June to October usually. He is undisputedly at the top of the hierarchy in the park, after the demise of the former dominant male 'Walawe Raja'. Other males in the park males are wary of him and give him a wide berth. He has a very distinguishing and prominent tennis ball-sized hole in his right ear and a broken tail. A Google search for 'Sumedha elephant' gave 376,000 results (0.56 seconds).

I have extracted their 'antics' and built characters around them. And I do not apologise for 'humanising' them. That's what makes it all the more interesting to people.

While stories can be built around animal characters, unusual wildlife encounters can also be publicised in an attractive manner.

You need to 'spin the story' and give it that little 'salt and pepper' to make it more interesting. Again here are some of my examples.


Wildlife stories

Rambo goes on a 'walk about'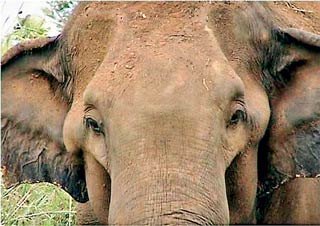 Some years ago there was concern when Rambo (whom I referred to earlier) suddenly went missing for several months from his usual haunt of the bund of the reservoir. After a search he was found quite contentedly cohabiting with female elephants inside the park. He was in musth, a periodic manifestation in male elephants where their testosterone levels rocket to high levels, indicated by a thick viscous discharge from its temporal glands. And it leads to heighten sexual activity. I gave the story a twist by writing 'Rambo disappears, found going for an amorous walk-about'.


Wild elephant visits hotel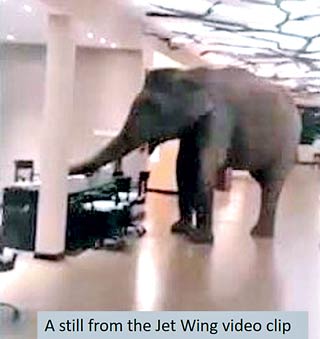 Another incident was when a video went viral of the very docile elephant 'Natta Kota' of Yala came inside the Jetwing Yala hotel late one night. He calmly walked across the reception, checked out the counter and then went on his way. I 'spun' the headline to 'Wild Elephant checks into hotel. Turned away for lack of a king's size bed'! My article with the video link and a few 'still' pics went viral soon after.


Villy the Crocodile

One year ago the resident crocodile at Jetwing Vil Uyana laid a clutch of eggs and carefully guarded the hatchlings until they were big enough to fend for their own. The nest was just close to the reception and resident guests had a grand view of the incident. The naturalist at Jetwing, Chaminda, carefully photo-documented the proceedings. There were many news reports re this. But I christened the crocodile 'Villy' and presented the story as 'Baby Boom at Vil Uyana on Anniversary!' since it happened on the 15th anniversary of the hotel.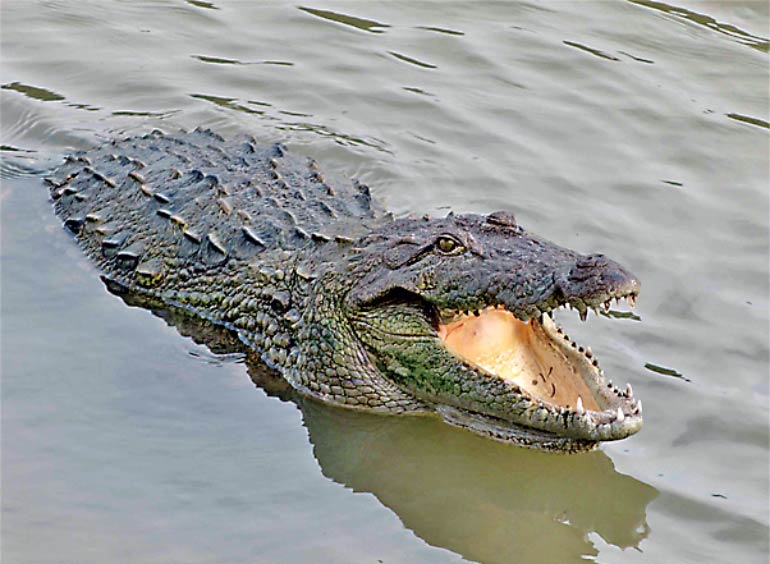 Couch Safari

This was a story of a different kind, during the height of the pandemic shut down in 2020. The industry was completely shut down with no tourists, and the attraction of Sri Lanka was fast receding in the minds of foreigners. An idea was mooted by the private sector to publicise a series of video clips from the popular wildlife parks of Sri Lanka online, real time. This would showcase Sri Lanka's rich biodiversity, and remind foreign visitors that nature and wildlife is still thriving in Sri Lanka, amidst these challenging times. Tourists would be able to view these 'Couch Safaris' from their own country. It was as if they were going on the safari themselves, even though they could not be physically present.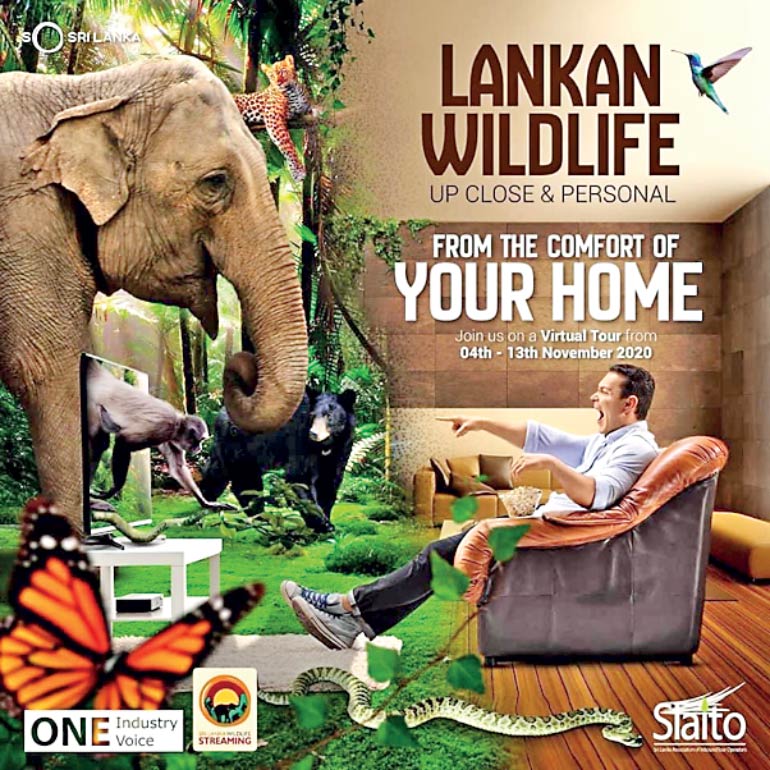 The then Sri Lanka Tourism Chairperson did take up the idea, and gave leadership for the project to go ahead circumventing several obstacles such as obtaining travel permits and gaining access to the then closed wildlife parks. I was happy to be part of the team which also included Dr. Preethiviraj Fernando, Chitral Jayatilake and Vimukthi Weeratunge.

According to Sri Lanka Tourism, the Couch Safari series was an "unprecedented success, creating 22 million impressions, over 1.7 million video views and over 40,000 clicks attracting rave reviews and widespread coverage by international media."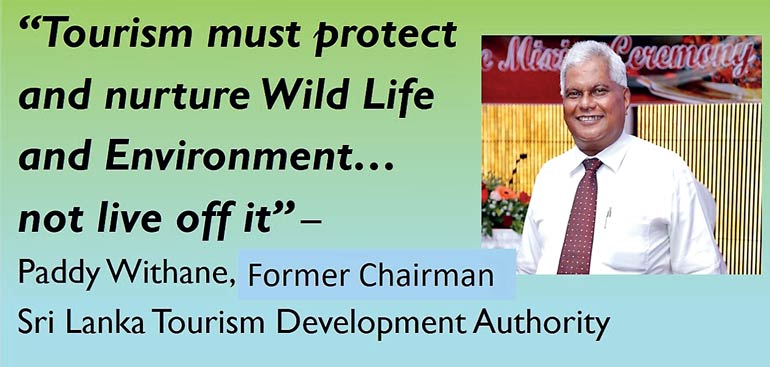 3. Conclusion

So this is what our industry must do on a consistent basis to popularise wildlife. It needs to be somewhat structured if we are serious about promoting wildlife tourism.

This can be easily done in today's digitised world, by setting up, on an informal basis, a team of knowledgeable and trained youngsters who can work online as a group to gather and collate all such events. They can work under the Sri Lanka Tourism Promotion Bureau (SLTPB) and/or The Hotels Association (THASL) and Tour Operators Association (SLAITO). Then in the hands of a good content writer, the story can be 'spruced' up and circulated in the social media network.

However one word of caution. All such efforts need to be on an environmentally sound platform. In no way must wildlife be disturbed or over-promoted. This is what has happened at Yala with too much focus on the leopard, resulting in gross overcrowding and over-visitation. There should be careful 'checks and balances' in place, with wildlife, and not tourism having the priority.


References:

https://www.ft.lk/FT-Lite/rambo-goes-on-an-amorous-walk/6-314212

https://www.academia.edu/57025623/Rambo_article

https://island.lk/baby-boom-at-vil-uyana-on-anniversary/

https://www.academia.edu/35322223/Yala_Over_visitation_the_problem_or_Overcrowding_and_other_issues_Srilal_Miththapala

https://www.academia.edu/33786237/Yala_worth_more_than_Rs_7_B_for_Sri_Lanka

https://www.wnpssl.org/news/IS_WILDLIFE_TOURISM_A_MAGNET_FOR_HIGH_SPENDERS.html
---
(The writer is available for speaking engagements on wildlife and elephants, tourism and sustainability. He is contactable on [email protected])
Pix and charts by Srilal Miththapala – except for 'Natta the leopard king' – pic courtesy of Namal Kamalgoda