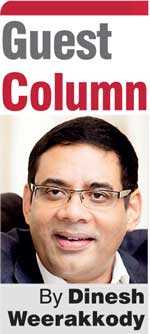 The current Higher Education Minister Dr. Wijeyadasa Rajapakshe when he was Justice Minister very boldly stated at the Sri Lanka Economic Summit in 2017 that the Board of Investment should be shut down. The BOI is the current PM's brainchild and an offshoot of the GCEC.

Wijeyadasa went on to say the one stop shop has now become a one more stop and is destroying the economy. It may sound very harsh, but that is very much the reality. It has outlived its true purpose and no longer connects with the economic needs of our country, other than putting more barriers for FDI and costing the tax payer more and more money. For example Vietnam and Bangladesh attract more FDI than Sri Lanka, despite Sri Lanka opening its economy more than 40 years ago.

The proposed Agency for Development (nonstarter now) should have hopefully paved the way to radicalise the way we attract FDI into the country and also paved the way for the BOI to be absorbed into the Agency. Sri Lanka no longer looks more attractive than some of the other FDI destinations in the region because they have now all caught up with Sri Lanka.

The Board of Investment of Sri Lanka was set up in 1992 to showcase our comparative advantages over the other countries and to attract significant amounts of FDI, increase employment opportunity for our youth and to drive up our exports. Today to successfully promote our skill sets and national resources in exchange for FDI, requires significant investment from government in knowledge management, building skills and also leadership to develop new industries and exploit our current or potential comparative advantages. We have so far hardly addressed any of these issues.

The BOI to be effective needs to have well-established links to education and industry skills, policy making and technology development to make a meaningful contribution to the progress of the country . The lack of genuine measurable success is highlighted by the limited amount of real growth in FDI in the last three years.

Significant driver

For a cash-strapped economy like Sri Lanka, foreign investment is a significant driver of economic development. FDI fills the savings-investment gap and enhances investment and economic growth. FDI contributes to improving work ethics, discipline, skills and knowledge of workers.

It is an important means of technology transfer and transmission of best practices in management and often brings with them international markets. It is the realisation of these economic benefits that has made the former communist countries like China and Vietnam, and the formerly inward looking Indian economy to actively seek foreign investment.

Private sector development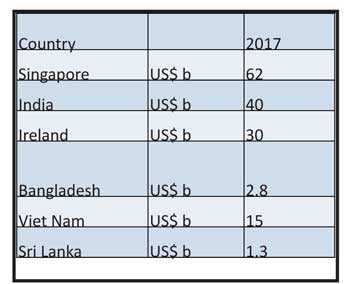 Despite the policy reforms introduced to facilitate private sector development, the private sector investment is constrained by several factors, which need urgent corrective action, especially the institutional set up. If Sri Lanka is to achieve 6% +growth, foreign investment has to increase to around 20% of GDP.

In Sri Lanka, during periods of relative economic and political stability, Foreign Direct Investment inflows have responded positively. Sri Lanka expects Foreign Direct Investment to quadruple to $4 billion by 2020. To achieve this we need new thinking, a new institution which has no baggage of the past and new leadership to position Sri Lanka for the future.

Sri Lanka is strategically placed to benefit from a fast changing global marketplace and trade routes. We are between Europe and Far East on the major East-West shipping lanes. We have easy access to lucrative Middle Eastern markets and rising African markets, while the growth engine that is India lies just 20 miles away.

However, if Sri Lanka is to attract any significant amounts of FDI, the investment promotion efforts need to have a person like Dhammika Perera – a former BOI Chief – or Harry Jayawardena - a former CPC and SriLankan Airlines Chief, both who have turned around State institutions to bring about the appropriate policy changes and provide leadership for this effort.
(The writer is a thought leader.)