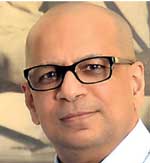 THE excessive focus on KPIs tends to mask management productivity, which is rarely measured. Consequently, managers have mastered the art of:
Indulging in non-value adding tasks and pretending to be busy
Hiding behind revenues and achievements – which would have happened anyways
Managing, sometime manipulating, perceptions to look good
A simple system of measuring management productivity can be a very revealing exercise. You may be 'sitting' on a profit pool – in need of an 'explosive' to be uncovered.