According to the statistics, 1,100,435 international visitors who visited Sri Lanka in 2018, visited Sri Lanka's many wildlife and national parks. Sri Lanka earned Rs. 2,138,450,422.38 in entrance fees alone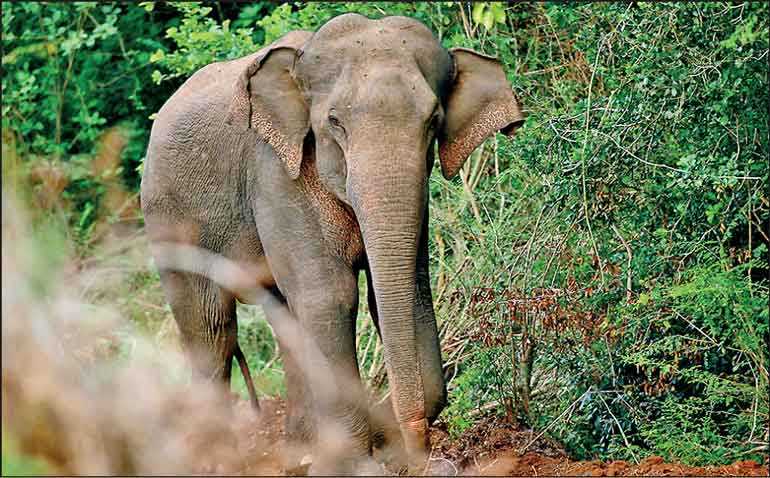 Elephant related tourism is worth over Rs. 1 billion or $ 5.8 million per year to Sri Lanka – over four times as much as tea!
---
Year 2019 saw the highest number of elephant deaths in Sri Lanka – 405 – almost double the pre-2018 annual average, the majority as a direct result of the Human Elephant Conflict (HEC) – the greatest threat faced by elephants in Sri Lanka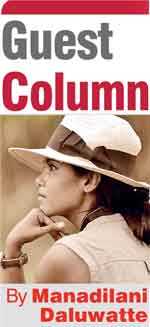 As always the conservationists and environmentalists are demanding better control measures and better strategies to manage the HEC, while the villagers who are backed into a corner and forced to cultivate land in elephant habitats, struggle to protect their crops from the elephants who have been driven out of their home ranges due to habitat loss resulting in food shortage.

The Department of Wildlife Conservation (DWC) continue to do what they can with the strategies they use for HEC mitigation, which are all in favour of protecting the wellbeing of the humans and none scratch the surface of what's needed for the elephants.
The importance of tourism to Sri Lanka
Sri Lanka earned $ 4.4 b from tourism in 2018 and outpaced the region in percentage growth of arrivals in 2018, with the number of tourists coming to the island increasing by 10% to 2.3 m. The World Travel and Tourism Council (WTTC) estimates the direct contribution of travel and tourism to the country's GDP to grow by 5.7% per year between 2018 and 2028 to Rs. 1.26 t ($ 7.9 b), 5.7% of GDP in 2028.

In addition to this, tourism creates many jobs in Sri Lanka. In 2017, according to the WTTC, travel and tourism generated 404,000 direct jobs, equal to 5.1% of national employment. In 2018, there were 3,926 guest establishments servicing tourists. The total number of employees in these establishments amounted to 169,003 as compared to 156,369 in 2017 (an increase of 8.07%).

In 2018, the number of international tourists to Sri Lanka were 2,333,796, bringing in foreign exchange (FX) earnings of Rs. 712,027.3 million ($ 4,380.6 million), equalling a total contribution of 4.9% of GDP.
What are the main contributors to the net earnings from tourism?
Evidence suggests that 'wildlife parks' are some of the key contributors to the FX income generated through foreign travellers. In 2018 the earnings from wildlife parks alone equalled Rs. 2,138,000,000 (~$ 1,187,800) and accounted for 17% of the total revenue earned from tourism.
What are they coming to see?
According to the statistics, 1,100,435 international visitors who visited Sri Lanka in 2018, visited

Sri Lanka's many wildlife and national parks. Sri Lanka earned Rs. 2,138,450,422.38 in entrance

fees alone.

In 2018, those who visited the national parks famous for elephants – Uda Walawe, Minneriya, Kaudulla, Hurulu, Kala Weva, etc. – generated an income of Rs. 1,050,298, 321.42 (~$ 590,000) for the country, almost half of the total revenue generated by all of the National Parks.

Out of the major wildlife parks, the Uda Walawe National Park, where a wild elephant may be seen at any time of the day, on any day of the year, ranks as the #2 park visited by foreign tourists – over 210,000 international tourists visited the park in 2018. This number is ever increasing with the ongoing negative publicity, due to jeep congestion, deterring visitation to the neighbouring Yala National Park.

The Minneriya National Park – famous for the largest seasonal gathering of Asian elephants in the world – is estimated to be worth $ 7 million just for the few months of 'The Gathering' – when you combine the ticket sales plus all other direct and indirect benefits such as job creation, restaurants, hotels, etc. There are over 1,100 registered jeep drivers in Minneriya alone, whose main source of income is the Minneriya National Park. Foreigners come to watch the hundreds of elephants that feed on the fringes of this giant tank during the dry season. One can be certain that if the elephants go, so will the tourists.
Asia's best destination for wildlife tourism
In November 2019, Sri Lanka was recognised as Asia's Best Destination for Wildlife Tourism. Many international magazines and travel websites have sung the praises of Sri Lanka's rich biodiversity and its amazing wildlife. In 2019, Forbes magazine named Sri Lanka the best destination for safari outside of Africa – pretty high praise for a very small island!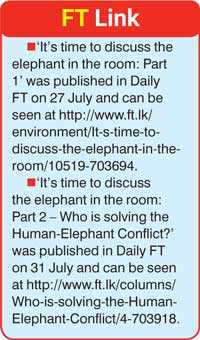 Sri Lanka was named the '#1 must visit destination for 2019' by the travel book juggernaut Lonely Planet. Lonely Planet lists the Uda Walawe National Park as a 'Top Choice' and included it in the 'Top things you can't miss in Sri Lanka' and called it 'the closest Sri Lanka gets to East Africa'.
Of economics and elephants
Tourism related industries generate roughly Rs. 712,027.3 million or $ 4,380.6 million in revenue to Sri Lanka and equates to ~5% of the GDP. As per the evidence above, most of the foreign tourists coming to Sri Lanka make it a point to visit our wildlife in Sri Lanka's many national parks and elephants account for at least 50% of that. Therefore, we can conservatively assume that elephant related tourism is worth over Rs. 1 billion or $ 5.8 million per year to Sri Lanka.

Just to put that into perspective the total revenue that Sri Lanka earned through the tea industry was Rs. 231,750 million. Elephants are worth over four times as much as tea!
What are we really doing about this?
Wild elephants are an obvious cash cow for Sri Lanka. Clearly we must come up with short-term and long-term strategies that will help us capitalise on this:

Short-term:

1.Market Sri Lanka's wild elephants – Sri Lanka makes headlines consistently as being the best destination to view and photograph leopard in the wild. We are also the best destination to view and photograph large herds of elephants in the wild – yet we don't do much to capitalise on this.

2.Protect Sri Lanka's wild elephants

a) 2019 saw a record number of elephant deaths. The main threat faced by elephants in Sri Lanka and the leading cause of elephant deaths is the Human - Elephant Conflict (HEC). Currently not a single mitigation strategy is put in place in favour of protecting the wild elephant – this needs to be addressed very quickly before more elephants fall victim to this issue.

b) Like all wildlife, elephants too need a suitable habitat in which to survive. We must safeguard existing policies and laws which protect this habitat – be it inside Protected Areas (PAs) or outside of them. This has long been recognised and has been encapsulated in the National Policy for the Protection of the Wild Elephant in Sri Lanka as Managed Elephant Reserves (MERs) which understand the need to protect as much wildlife habitat as possible in an ever-fragmenting natural landscape. Elephants do not operate within our administrative boundaries; therefore, we must prioritise the protection of not only existing national parks, but also buffer-zone areas, proposed forest reserves, 'other' forest reserves and any other wildlife habitats. Elephants have large ranges within which they roam in search of food and water. They require the safety of forested pathways which connect national parks, and which may not necessarily be considered a protected area. However these, too, need protection if we are to conserve our wild elephant populations. In addition, national parks must be habitat-managed, so that the elephants have access to sufficient nourishment. Human development in or alongside elephant movement ranges must be made illegal.

Long term:

1. Sustainable tourism and agriculture – elephant tourism can be a viable source of income for farmers in areas here the HEC is prevalent. Foreign tourists will pay good money to view elephants – even from the relative comforts of a 'pela', a simple platform on a tree above a paddy field (commonly used by farmers to watch over their crops and to drive away elephants). Elephant tourism must be presented as an alternative income source, during the fallow season when elephants and other wild herbivores come to feed off the stubble in the fields, and this in turn would provide further incentive for the farmer to see the wild elephant as an animal that must be protected, instead of feared.

2. Training – Tour guides, jeep drivers and others working with foreign guests must be trained so that they are able to enhance the experience of the foreigners coming to see Sri Lanka's wild animals. Imagine where your tour guide is able to interpret and explain the elephant's behaviour to you, their fascinating habits and tendencies – imagine how much more value that can add to the tourist experience rather than to simply go out into a park and point at an elephant and say "that's an elephant!"?

3. Quality over quantity – With proper training and strategic action by the governing bodies and departments, Sri Lanka's wildlife category has the potential to be the #1 contributor in terms of FX revenue. We must aim for quality over quantity and take countries such as Borneo, Burma, Costa Rica and Australia as an example, where they offer high quality service and superior standards to those coming to see their wildlife and therefore are able to charge a premium for the experience.

One does not need to be an economist to understand the laws of demand and supply as well as investment and return. If Sri Lanka does more to invest in our wild elephants, the returns could be well worth the effort.
(This is part 3 in a 3-part series on the Human-Elephant Conflict)
(FEO is a non-political, non-partisan organisation that provides a platform for connecting interest groups with a patriotic interest in safeguarding Sri Lanka's natural heritage through conservation and advocacy. See www.feosrilanka.org)