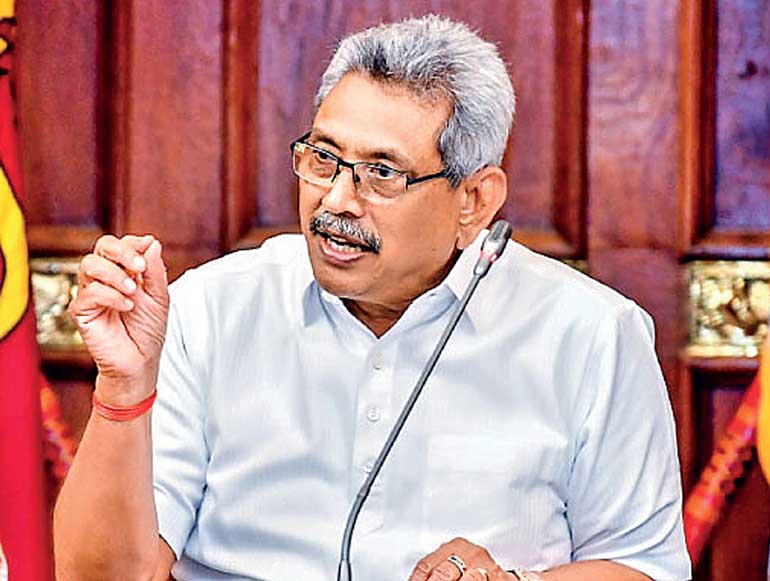 The vistas document is President Gotabaya's book of hundreds of promises
---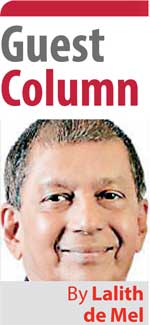 Two years ago, President Rajapaksa, in his document, Vistas of Prosperity said, "The people of this country are now living in despair and fear. They have seen their country which was once growing rapidly as Asia's new miracle sliding back towards negative growth rates. The incumbent government has turned the country into a failed state, riddled with corruption and characterised by inefficiency."
The Opposition can now say the same thing: "The people of this country are now living in despair" in "a failed state riddled with corruption and characterised by inefficiency." But can it go further and quote the President's words at the time and say, "We can end this hopeless state of affairs." Unfortunately for the nation there is no opposition in sight that has any credibility to be able to say, "We can end this hopeless state of affairs."

For democracy to thrive there must always be an opposition that does two things. It must sniff out and expose corruption and inefficiency, but in addition, it is essential to have well-defined plans and policies, and ready to take over if the Government stutters and falls. We ordinary citizens must hope that such an opposition will emerge.


Vistas of prosperity and splendour

I was impressed with the way the President compiled his vistas. He says that it was after widespread consultations. "We appointed specialist committees consisting of 540 persons covering 28 subject areas to consider proposals." In addition to these 27 advisory committees set up by Viyathmaga have been involved in the process of preparing our proposals and action plans. The end result is the document, Vistas of Prosperity and Splendour.

It is well-written, lucid, clear in what it says, and contains his mission. It lists hundreds of 'We Will', do this and that. The vistas document is President Gotabaya's book of hundreds of promises.

No previous leader/party has done anything like this and produced a document that lists hundreds of things they would promise to do.


What went wrong

Vistas did not deliver its mission. Why did it fail? It comes across as a document compiled by intelligent but immature people living in a dream world, who had ignored the all-important link between good ideas and the process of getting them implemented. His vistas contain hundreds of good things to be done. But anyone with experience of managing anything of complexity would have said, "This is crazy, they will not implement even a small fraction of what is in the vistas of prosperity document!" That is exactly what has happened, leading now to vistas of despair.

The problem is that all these plans have to be implemented with the large, slow, lazy, meandering elephant called the public sector. Private sector individuals recruited to deliver the Vistas soon found out that they can get nowhere in a hurry through the quagmire called the public sector. The President appointed some of his stars at the outset. The former Chairman of John Keells, Susantha Ratnayake was appointed Chairman of the Board of Investment. He was out in a year without scoring any runs so it was 0 for 1.

Then the man who succeeded him Mohottala also was out for 0 without putting any runs on the board so it was 0 for 2. The Professor of agriculture, also a Viyathmaga man, was not bowled or caught but the umpire gave him out on a signal from the pavilion so it was 0 for 3. There were many other new appointees who retired hurt for various reasons unable to score any runs. This creates grave doubts about what if any vistas will be delivered.


The problem is implementation

President Kumaratunga saw clearly the problems of implementing good ideas. During her tenure she put in place some sensible practical processes to facilitate the implementation of good ideas. Her National Council for Economic Development provided the inputs of experts to formulate and support the implementation of the activities of key ministries. A holding company concept was created for managing the major public sector institutions. It got off to a great start with an early win transforming the People's Bank. A dedicated unit was established for implementing major projects and this worked well (those who want more details can find them in my book 'Lalith'). Sadly, these initiatives did not last long and petered out as President Kumaratunga's successor President Rajapaksa was not enthused by them.

The President if he wants to know more about these initiatives can ask Dr. P.B. Jayasundera as he was an important part of the team implementing these concepts.


Vistas of prosperity in disarray

The President's hundreds of "we will do" things in Vistas have not been done. And, nothing in the air to leave us in hope that something will happen in the future. We now know that his vistas are in disarray.

But did he succeed in creating a new ambience and culture in the country? He said people expected him to create an enabling environment for a citizen to be prosperous and content. To achieve this, he said we must ensure that all communities are able to live together harmoniously and therefore the principle that 'No one is above the law' will have to be implemented with rigour so that all citizens are treated as equals before the law. He then demonstrated that all these pious sentiments are a joke when he pardoned a friend convicted of murder and sentenced by the highest court in the land, the Supreme Court. He never provided any explanation of why he did so.

The other leg of his creating a new vision for the country was corruption. To create an administration where "all government officials and politicians to be of high moral standing and to provide a public service free from corruption and graft."


Corruption

The whole of chapter 2 is devoted to corruption. There are many themes under the heading Defeating Corruption, such as, "It is our intention to mould not only a corruption-free politician but also a citizen who will not tolerate corruption."

We certainly have citizens who abhor corruption and shout, until they are hoarse, but sadly their voices are voices in the wilderness. But the Government's grand statements about eliminating corruption are still only a lot of noise but no action. This is well-illustrated by this sentence in Vistas. "We pledge to bring to justice all those involved in the central bank bond scam and 20 other major financial crimes."

So far no one has been brought to justice. Like he ignored his own statement that "No one is above the law" and pardoned a friend convicted for murder, will his friends also escape from the intention to "to bring to justice all those involved in the central bank bond scam and 20 major financial crimes."


Vistas of despair

Many of the plans for the economy in Vistas have not worked out. But that is not a cause for despair. This is basically a private sector economy. The big businesses, the big and small exporters, the tourism industry, and the huge private sector which includes the farmer, the fisherman, the artisans and retail and service sector are all private sectors. It will revive.

People to be contented and happy and to feel secure must know that the rule of law will prevail, and that no one will be above the law, and that corruption in both the private and state sector will be eliminated, that freedoms will not be threatened by the police, etc. Sadly, all the actions that relate to creating a good society in the vistas have also failed to deliver. It is this failure of the vistas that gives rise to the feeling of despair.