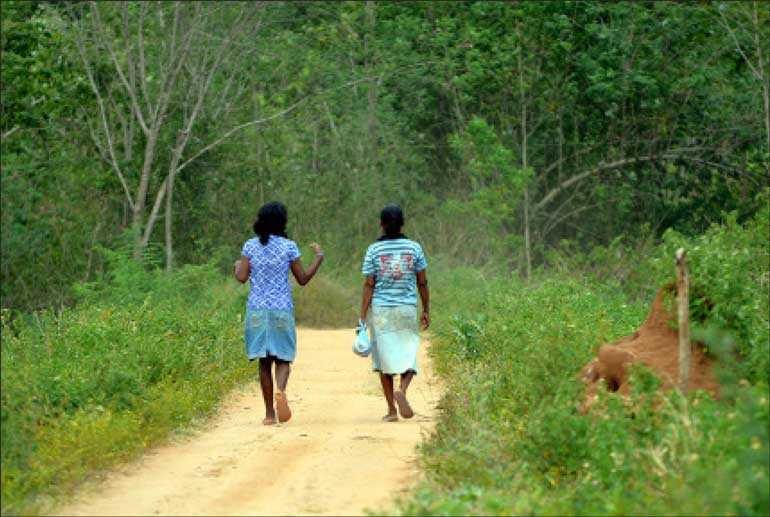 While Sri Lanka's law and systems have so far failed to protect and safeguard women from facing violence – often in their own homes – it can no longer continue to brush the problem under the carpet. It is 2020 and all evidence shows that this issue is getting worse, not better – Pic by Shehan Gunasekara
---
Findings from Women's Wellbeing Survey 2019 is only the tip of the iceberg
---
By Shihara Maduwage
---
Despite being the first country in the world to elect a female Prime Minister 60 years ago, Sri Lanka's current track record in women's rights and welfare is quite dreary. While over half the country's population is female and their contributions are significant, women are still treated as second-class citizens.

For instance, Sri Lanka's economy is heavily reliant on remittances from migrant workers (one of the country's top sources of foreign exchange) and a large portion of these remittances are sent by female domestic workers employed in the Middle-East; unfortunately, little has been done to ensure the rights and safety of these migrant workers. At the same time, the female labour force participation (FLFP) rate has been stagnating at less than 35% for many years (33.6% of the total population in 2018).



On the political front, the participation of women in the decision-making process is abysmally low. In the current 225-member Parliament, there are only 12 female MPs; this means that women's representation in the parliament is just around 5%. In the 26-member Cabinet, there is only female Cabinet Minister. Due to the deep-rooted sexism and the patriarchy governing its sociocultural practices, Sri Lanka has a long way to go in terms of achieving gender equality and women's welfare.

In this regard, one of the severe issues that has received scant attention is the prevalence of Gender-based Violence (GBV) and violence against women in Sri Lanka. Recently, the Department of Census and Statistics (DCS) of Sri Lanka released the findings of its Women's Wellbeing Survey (2019), the country's first dedicated national survey on violence against women and girls.

The survey covered all 25 districts of the country and interviewed 2,264 women aged 15 years and older. It rightly recognises that violence against women is "one of the most pervasive human rights violations that impacts the progression and wellbeing of women and girls."


Prevalence of violence against women in Sri Lanka

The report reveals that, overall, one in four (24.9%) women in Sri Lanka has experienced physical and/or sexual violence by a partner or a non-partner. Meanwhile, two in every five women (39.8%) have suffered physical, sexual, emotional, and/or economic violence and/or controlling behaviours by a partner. Instances of physical violence was highest in the estate sector. More than one-third (37.9%) of women living on estates have experienced physical violence during their lifetime.

The survey findings also indicated that there is an overlap between sexual and physical violence, which means that women who were subject to sexual violence by their partners were also physically abused. Furthermore, violence was rarely a one-time occurrence. For instance, the survey reveals that, among women and girls who reported to have had sexual intercourse "because they were afraid," over 65% reported it happened two to five times and nearly 32% said it happened more than five times. This shows that violence is a constant and long-term presence in the lives of women who are victims.
Disturbingly, women were more than twice as likely to have experienced physical violence by an intimate partner than a non-partner. They were also more likely to experience sexual violence by a partner than a non-partner. One in five women (20.4%) who have had a partner in their lifetime (referred to as "ever-partnered women" in the report), have experienced physical and/or sexual violence by an intimate partner. Even when it comes to non-partners, most often, the perpetrators are family members or those known to the victims, rather than strangers. For instance, more than 42% of women who experienced violence by a non-partner reported that male family members were responsible for the physical violence against them.

The implications of these statistics are grave; while Sri Lankan culture dictates that motherhood has a revered place in the family, these findings indicate that for a large number of women in Sri Lanka, home is not a safe environment.



Violence against LBTQ women

The Women's Wellbeing Survey (2019) does not specifically look at instances of violence against women who are in same-sex relationships or who identify as a part of the Lesbian, Bisexual, Transgender, and Queer/Questioning (LBTQ) community. Since Sri Lanka criminalises same-sex sexual relations among consenting adults in its Penal Code, government authorities remain indifferent to the issues faced by the queer community. There is also a prevalent myth that domestic abuse and violence cannot occur among partners of the same sex.

However, anecdotal evidence gathered by Equal Ground shows that there is a high prevalence of violence committed against the LGBTIQ community, particularly LBTQ women. They are doubly marginalised – both due to their gender and their sexual orientation. This means that when it comes to violence and domestic abuse, they are worse off than cis-gender, heterosexual women.

Apart from violence from partners and non-partners, LBTQ women also face the challenge of being forced into heterosexual marriages by their families to "cure" them of what is seen as deviant/impure desires. While there are no research findings on this issue, it is clear that LBTQ women suffer greatly due to the prevalence of violence against women.


Far-reaching consequences

The most obvious consequence of violence against women is the negative impact on the victims' physical health. According to the survey, more than a quarter (28.9%) of women who were victims of physical or sexual violence by a partner had sustained an injury as a result of the violence, and 18.7% reported being hurt enough to need medical care.

For most of these victims, being injured was not a one-time occurrence, showing that most abusers do not back off or stop/reduce the violence, even when they have caused grave bodily harm to their victims. Apart from the immediate injuries, violence also caused other health issues to victims. For instance, most women who suffered sexual violence by a partner said that it had impacted their health, with 29.6% reporting the impact as "a little", while nearly half of them (44.5%) rated the impact as being "a lot."

Impact on the mental health of those who experience violence is also severe, with many of the respondents reporting emotional distress as a result of their experiences. The report noted that more than one in three (35.7%) women who experienced physical and/or sexual violence by a partner have thought about committing suicide; comparatively, only 6.8% of women who never experienced violence reported suicidal thoughts. A higher number of those who have been victims of violence (14.6%) also reported to have attempted suicide compared to those who had no experiences of violence (1.4%).

In addition, nearly one in 10 women (9.2%) said they were unable to concentrate at work, while 6.9% reported they were unable to work at all due the violence. Furthermore, the report noted that medical treatment cost, on average, over Rs. 3,300 – a significant cost. Women who had to take time off due to their injuries said they had to take an average of 18 days off. These findings indicate that violence against women causes a drop in their productivity and has a direct impact on their economic security.

While these consequences are quite serious, violence against women does not only have an impact on the victims; it also has a significantly negative impact on children who live in households where the violence takes place. Even just witnessing the violence (as most children do) can emotionally and psychologically scar children – sometimes for life. For instance, the report shows that women who suffered violence by their partners were also more likely to have a child drop out of school (4.5%) compared to women who never experienced violence (1.7%).

Meanwhile, another important finding is that more women with violent partners, compared to those who did not have violent partners, reported that their partner grew up in a violent home as a child. This points to the intergenerational aspect of violence against women; in other words, children who grow up in violent households grow up to be abusers themselves, continuing the cycle of violence.


A culture of tolerance of violence against women

One of the main reasons that not much has been done to curtail the prevalence of violence against women is Sri Lankan society's attitudes and perceptions towards the issue. Many do not see violence against women as a problem.

The above-mentioned report reveals that nearly half the respondents (47.5%) agreed with the statement that "a man should show he is the boss", while 46.5% agreed that "a good wife obeys her husband even if she disagrees." Moreover, two in five (39.5%) women felt that women were "obliged to have sex with their husbands when [they do] not feel like it" and over one third (35.3%) felt "men can have a good reason to hit their wife."

These results point to the deeply ingrained sexism, internalised misogyny, and patriarchal views that govern Sri Lankan society. Girls and women are taught from a young age that men are superior to them and the role of a good wife is to be subservient to her husband; therefore, they grow up believing that violence against women by intimate partners or male family members are acceptable and a natural part of family life.

As they do not see it as a problem, they do not take action against such violence, whether committed against themselves or women around them. This has led to a culture of tolerance and acceptance of violence against women, with dire consequences. Due to this, most women who experience or have experienced violence suffer in silence, rather than seeking help.

In exploring Sri Lankan society's attitude towards violence against women, the report highlights an important point. It finds that women who have higher levels of education are less likely to tolerate violence, when compared to those who have had no or low levels of education.

For instance, only 18.5% of women with higher education agreed men could be justified in hitting their wife, when compared to the 44.1% of women with no education and the 42.4% of those with just primary education who agreed with the above statements. It is possible that those with higher levels of education have more knowledge about the issue of violence against women; it could also be that they are more economically-secure and are less likely to depend on their husbands/partners for financial support. In any case, these findings show that education plays an important role in eliminating violence against women.


A much larger and rapidly-worsening problem

While the Women's Wellbeing Survey (2019) is a commendable first step in exposing the prevalence of violence against women in Sri Lanka, it only shows the tip of the iceberg – a fact acknowledged in the report. In Sri Lanka, most women do not report violence, especially if it is committed by a partner or a family member. The attitudes of society is partly to blame for this issue. However, there are other factors at play as well.

The report touches on some of these reasons. It notes that one in five (21.4%) women who experience sexual violence by a partner told no one about it before being interviewed in the survey. Even among those who did speak to others about their experiences, most spoke to other family members, but only 25.3% reported it to the police. Those who did not seek help gave many reasons for not doing so, including not knowing their options, being embarrassed, ashamed or afraid they would not be believed or would be blamed, and/or thinking the violence was normal or not serious enough to seek help. This highlights how heavily Sri Lanka's culture of tolerance and tacit acceptance of violence against women and victim-shaming contributes to women being forced to endure their suffering in silence, with little to no help.

In addition, historically, Sri Lanka has a terrible track record when it comes to serving justice to victims of Gender-based Violence. Sri Lanka Police's Grave Crime Abstract for the Year 2015 reveals that the police have recorded 379 rape cases of women over 16 years of age, but 365 cases were pending, while zero convictions have taken place. When it comes to statutory rape (women under 16 years of age), while 1,654 cases have been recorded in 2015, 1,632 of them were still pending, and only one case has ended in a conviction. The same report for 2019 reveals that, unfortunately, the situation has not improved.

While the police have recorded 289 rape cases of women over 16 years of age, 278 cases were still pending, with investigations pending for 223 of them. Again, no convictions have taken place. The report also shows that 1,490 statutory rape cases have been recorded, of which 1,472 are pending, and only one conviction has been made. Unsurprisingly, due to this situation, victims are hesitant to report instances of violence, as they have no faith in the justice system of protecting them and punishing the perpetrators. Anecdotal evidence shows that more often than not, reporting cases of violence only invites more violence from the abusers.
Tragically, the COVID-19 pandemic has made the situation grimmer. In a social media post, the World Food Program (WFP) highlighted that, since the COVID-19 related lockdowns in Sri Lanka started in March, the number of reported cases of violence against women increased four-fold in just one month from 123 to 460. Once again, anecdotal evidence shows that the number of cases being reported is much smaller than the number of actual cases of violence. This is commonly referred to as the 'shadow pandemic' and is one of the most serious side-effects of the pandemic.

According to the World Bank, "forced coexistence, job loss, escalating stress and anxiety about the future has led to increased household tension, which turned many partners into abusers and exacerbated existing abuse." As they are unable to leave home, victims are cannot access their safe spaces and seek legal or medical help, leaving them trapped with their abusers.

While Sri Lanka's law and systems have so far failed to protect and safeguard women from facing violence – often in their own homes – it can no longer continue to brush the problem under the carpet. It is 2020 and all evidence shows that this issue is getting worse, not better. Therefore, it is high time that authorities took decisive steps to bring perpetrators to justice and empower women to recognise their right to a life free of violence – thereby eliminating violence against women.
---
(This article is written as a part of Equal Ground's 16 Days of Activism campaign.)
---
(The writer is Media and Communications Officer, Equal Ground.)
---