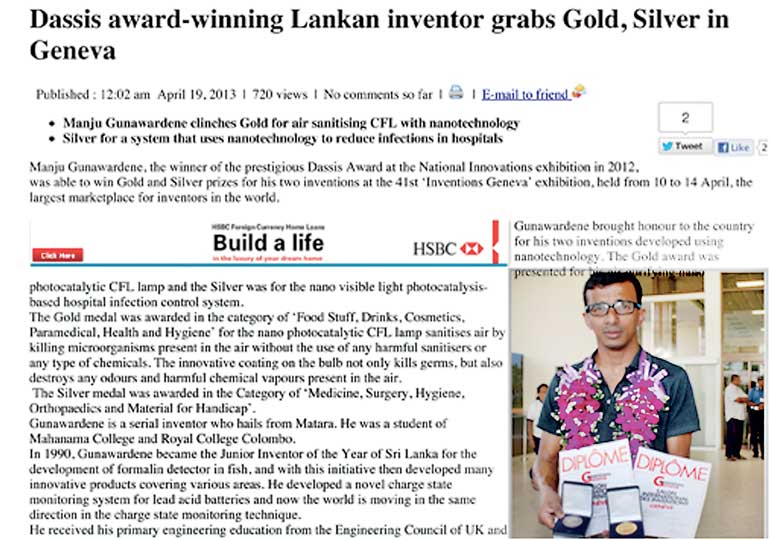 I woke up to a call from a good friend and a classmate who was really happy about his daughter Thivinya – currently a student in a Colombo school (Museaus) – winning a Gold medal for her invention in a competition in Taiwan (Kaohsiung International Invention and Design Expo 2017). He has also heard that in addition to the Gold medal she has won another medal – Best Leading Innovation Award!

She has been a member of the contingent of national award winners from Sri Lanka who had been supported by the Sri Lanka Inventors Commission (SLIC) to attend a global competition – 13 in all. As per my friend from the information that he had, Sri Lanka has won five Gold medals and eight others (six Silvers and two Bronze). Twenty-six countries had participated in this event.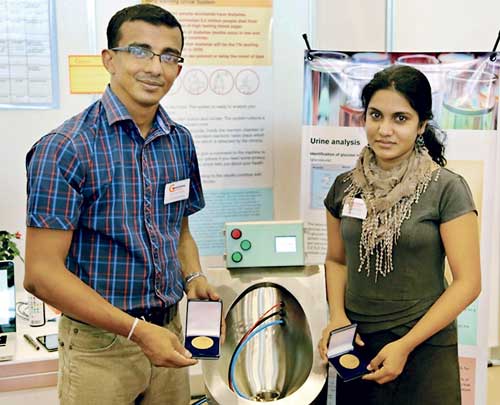 SLIC, which drives the Sahasak Nimavum event after multiple inventor competitions across all provinces, supports the local inventors to gain experience and to pit themselves against global competitors in overseas events. Another high-end event that SLIC supports is supporting local inventors to participate in the International Exhibition of Inventions of Geneva perhaps the most important for inventors globally.

The usual scenario is that many Sri Lankan participants realise medals and accolades. These are not easy competitions and inventors truly had to be outstanding to receive awards. After such events, usually there is a small news story and at times even felicitation at Katunayake for returning inventors and the story usually ends there.

Are we to think that inventors' sole objective is to seek wins and accolades and the purpose of a nation is to celebrate success and then wait for the next story to materialise? Whatever the answer may be, Sri Lanka has witnessed this sort of behaviour many a time and that has been our reality.

The Sri Lanka Inventors Commission had over the past years had significantly increased their activities in supporting and promoting inventors. Today Sri Lanka has a National Inventors Day (26 October) and this falls on the birthday of Deshabandu Dr. A.N.S. Kulasinghe, one of our famed civil engineers, an inventor and the first commissioner of SLIC.

In addition to this initiative SLIC has also introduced an identity card for National Inventors (those who have been awarded patents for their inventions), which carry certain benefits (see www.slic.gov.lk for details) too. Dasis Award is the most coveted award for a Sri Lankan inventor.


Treasure inventors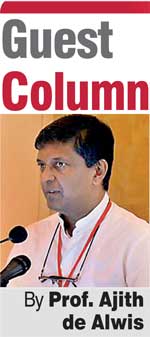 Inventors are certainly to be treasured in a society. In United States students at junior level if they succeed in this type of endeavour, are even given scholarships to special universities. Going back into history we can see how inventors led the transformation of many an economy. Inventors of global fame are Thomas Alva Edison, James Watt, Michael Faraday, Rudolf Diesel, Nikola Tesla, Tim Bernes Lee, Steve Jobs, Hedy Lamarr, James Dyson, Alexander Graham Bell, etc. You can fill many a space with such names and with each name there is at least one major invention that made the world a difference place from the day before!

However, coming to Sri Lanka we are pressed to find names and perhaps the very absence indicates our position in the global ladder of economies. It was with such conviction that the late Sri Lankan poet Munidasa Kumaratunga stated that country's that does not create new things will not rise. Introducing new things are a staple for inventors. Today the possibilities for individuals may have given way to teams but nevertheless the creative spirit of individuals and teams once unleashed has the power of transformation.


Device to clean up air in hospitals

Another news item that caught my eye recently was the fact that heart surgeries in the Colombo National Hospital is facing a stoppage due to surgeons opting to stop surgeries over unacceptable conditions leading to above the normal fatalities. They attribute this situation to hospital-acquired infections and the increased risks due to very bad conditions.

Reading this my memory took me back to a couple of our inventors winning in Geneva in 2015. They have invented a device to clean up the air and this device had become quite successful after demonstrations in few challenging hospital conditions.

Cleaning up air in hospitals would require attacking bugs such as MRSA, which are highly-resistant strains, which can prove fatal on infection. The process of cleaning is by way of oxidation using free radicals, which are generated by nano materials acting with UV light and the inventor had come up with a simple design based on CFL lamps coated with a specific nanomaterial.

The idea had been excellent and the prototype had passed tests very well. The local inventor had found India quite receptive to his ideas. In India the product had been packaged into an appealing design and a company had been launched with the product endorsed by the Indian Medical Association. The invention has then entered the market and the society reaps dividends along with the inventors. Our hospitals are quite oblivious to such developments and this is not an isolated incident.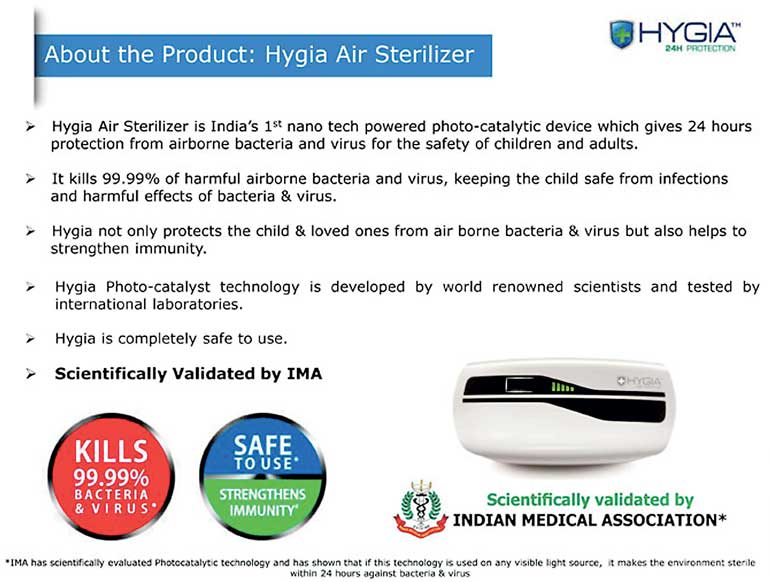 Urinal which warns

about extra sugar

Another invention that had received a Gold medal in Geneva at the same time had been one where the development of a urinal with an ability to inform the user to warn about the presence of little extra sugar in urine and advising to meet the doctor. Imagine urinals serving as medical sentinels and the population benefitting from the knowledge of an impending condition well in advance. This has developed from a project at University of Peradeniya.

The earlier device also had the built in function of mandatorily forcing the personnel to sanitise their hands as otherwise the door to the specific operational space would not open! These are additional inventive nuances introduced and improve the usefulness many times. Actually these simple combinations really are quite useful.

The fact is while Edison thrived and his introductions had the transformative effects, our own gold medals are confined only to be admired as such. Or another country may realise the benefit as inventors may find internal applications frustrating and seek solace for their findings elsewhere. The Indian use of the nano-enabled device for hospitals and other similar uses is a clear example. Our way out of the problem had been to close up the wards and find ways to pay for operations in private hospitals. Now can we call that progress?!


Need to address efficiency and innovation

As per SLIC in the last few years Sri Lanka has won around 11 Golds in Geneva. Our societal knowledge of Geneva is unfortunately not tied to these achievements and that is quite sad. We broadcast word by word certain other meetings and then go at each other's throats following the meeting. Little of our own inventions brought into the economy can do Sri Lanka a world of good and we may actually see that this trade deficit is not an issue at all.

After all many a nation has shown the power of innovation whereas we have continuously ignored this area while constantly seeking salvation through tourists, FDIs (with full of concessions which at the end of the day may mean not much at all!). If Sri Lanka addresses efficiency aspects and on top of that innovation, the resurrection of the Sri Lankan economy is by no means difficult at all!

We are aware of a nanotechnology invention from Sri Lankan scientists that brought in more than $ 1 million. We are equally aware of a travel app such as WAZE from Israel, which had yielded more than 3.1 billion dollars to the development team of a young start-up.

We know that our ICT startups, which are hugely successful, are basing themselves outside Sri Lanka thus depriving this country of major benefits. The opportunity space when an idea is converted to an invention is very high when one is in a proper innovation eco system. Nurture ideation and ensure a fertile eco-system are two essential ingredients for success.

The invention that had realised Gold in Taiwan has stemmed from an idea generated when the daughter had observed her mother's way of cooking – making use of waste heat from a gas cooker to dry Maldive fish! The interesting aspect of that invention is that it can really increase our society's energy efficiency. It is almost a story of modern day 'Anagi Uduna'. Hope that these successes in Taiwan would not get lost in Colombo similarly to those of Geneva.


Turn victories into commercial successes

We cannot afford to have victories in Geneva turning into losses in Colombo. There is the need for private sector investor interest in pursuing such developments and turning them into commercial successes.

History always has shown the potential of this approach from early days – an excellent example is Bolton of Birmingham and James Watt. Yes, all may not find equally useful though they are inventions. However, patents are granted when there is the chance of commercial viability.

Our support for inventors should be extended till we realise success and if the private sector is not up to the task, the State may well have to take the responsibility. A mechanism is awaited where commercialisation of inventions or research is identified early and moved forward with vigour.