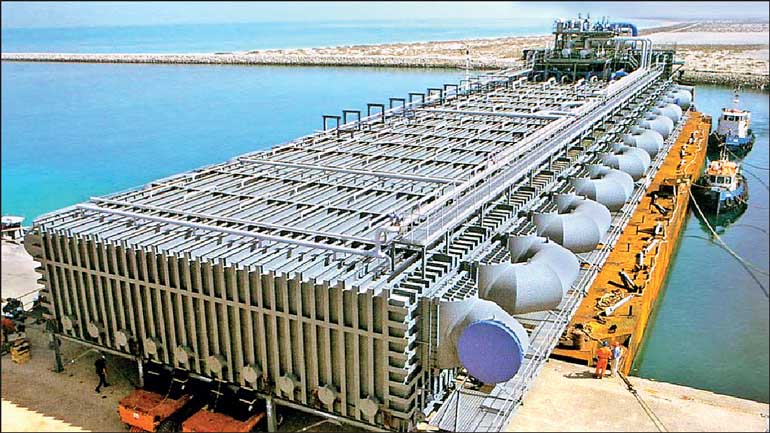 Seawater desalination would be a potential solution for drinking water, especially for areas that are deprived of other sources
---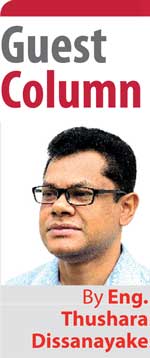 Many countries in the world celebrated World Water Day on 23 March as usual. This year's theme was 'A relief to the water crisis through a rapid change'. Given the fact that two-thirds of our earth is covered with oceans, how come there can be a water crisis? In fact, we are able to consume only freshwater, and almost all our industries and agriculture too, depend on the same while the world's freshwater availability is just under 1%. On top of that, the impacts of climate change and population growth are adding more pressure on fresh water.

However, with the advancement of technologies, many countries have turned to seawater desalination to meet their freshwater requirements. Desalination is a water purification process where the salt contained in the sea water is removed. Some countries in the Middle East meet 90% of their freshwater requirements through freshwater desalination. These countries including Saudi Arabia, Kuwait, UAE, Qatar, and Bahrain are responsible for 40% of the world's desalination capacity.

Sri Lanka also has initiated desalination projects especially to meet the water requirements in the Northern Province, an area facing a drinking water shortage owing to the over-extraction of groundwater over time. As the northern peninsula is surrounded by seawater desalination, it could be an appropriate solution to meet the drinking water requirement of the inhabitants. Being an island nation most of the coastal cities in the country have the potential of meeting drinking water demands with desalinated water if other means of water supply are not feasible. Albeit, seawater desalination has its own merits and demerits to a significant level and some key points are discussed here.
The history
Purifying sea water to obtain drinking water has a long history. After many inventions, it is reported that in 1851 steamships performed evaporation-condensation using the heat from boilers to produce drinking water for the crew during long voyages. This method has first been used on the land by the forces during the American civil war in the 1860s. This is a thermal system that uses heat to evaporate water and then condensate it so that salt is separated. Later, another technique with a higher efficiency known as reverse osmosis was developed where salt water is sent through a membrane under high pressure that leaves the salt behind. Both these techniques are energy-intensive and hence desalination is a costly process. Further, it entails some significant negative environmental impacts as well.
Energy requirement for reverse osmosis
Reverse osmosis consumes a considerable amount of energy where the cost of energy is equal to half the total cost of the process. In a modern desalination plant, the energy consumption for one cubic meter of water is about 3 kilowatt-hours. If fossil fuels are used for energy production that will contribute to greenhouse gas emissions and air pollution as well. In the meantime, sophisticated technologies are being developed to reduce energy consumption to 1.5 kilowatt-hours per cubic meter of water. However, the volume of desalinated water produced would be half of the volume of seawater processed. Therefore, using brackish or less salty water for desalination is cost-effective. According to current estimates, the average cost for desalination is about $ 0.7 for 1 cubic meter of water.
Dealing with brine
Brine is the salt left behind after the desalination process which is of high environmental concern as this is dumped again into the sea. Brine is twice as dense as seawater and needs safe disposal. Brine contains not only sodium chloride but also many other elements like calcium, iodine, lithium, magnesium, etc., in high concentrations. Together these elements can create a contaminated dead zone in the disposal area of the sea due to lack of oxygen. When it is released into the sea it has the tendency of sinking to the ocean floor endangering marine life at the ocean floor. Hence, brine has to be mixed with fresh water to dilute the salt concentration before releasing to the sea. For that treated wastewater or cooling water from power plants is used.
Remarks
Sea water desalination is often subject to controversy due to its merits and demerits. A high investment is required to build a plant and hence the method is popular in wealthy countries at the moment. Due to the increasing demands many rivers and groundwater resources are over-exploited throughout the world and Sri Lanka is without exception, whereas sea water is an inexhaustible resource. Hence, seawater desalination would be a potential solution for drinking water, especially for areas that are deprived of other sources. However, the sustainability of such projects has to be evaluated carefully taking all the advantages and disadvantages into account.

The water-scarce coastal dry zones in Sri Lanka have a very good potential for renewable energy sources like wind, solar, and ocean wave energy. Hence, any investor who wishes to establish a desalination plant can harness these sources without depending on fossil fuels. The good news is that sustainable, low-energy, revolutionary technologies are also being developed in the world for seawater desalination. One such invention is the usage of microbial desalination cells (MDC) that contain electro-active bacteria to remove iron from salt water as a pre-treatment for reverse osmosis. As this does not require an external energy input the overall treatment process becomes cost-effective.
(The writer is a Chartered Engineer specialising in water resources engineering with over 20 years of experience.)