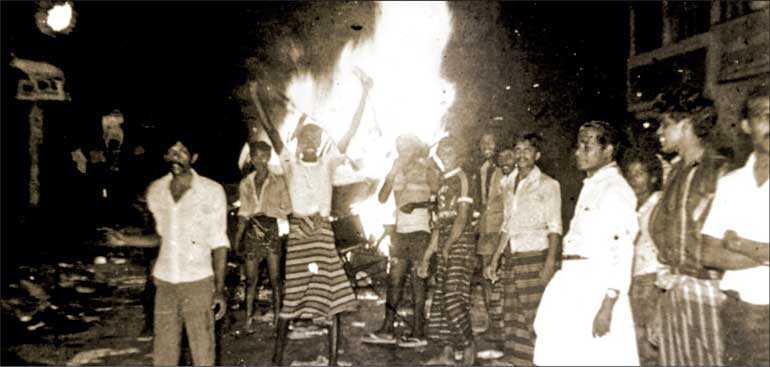 What happened in July 1983 was not a spontaneous riot but a planned pogrom. Pictured are rioters celebrating after torching a Tamil shop
---
The fourth week of July revives bad memories among most Tamils who lived in Sri Lanka during the month of July in 1983. It was in that week in July that large-scale violence was let loose upon Tamils
living in various parts of Sri Lanka including Colombo and suburbs.

The week long spree of anti-Tamil violence saw over 4,000 Tamils and some Muslims – mistaken for Tamils – being killed. Thousands were injured. Some of the injured were killed in hospitals. There were close upon 300,000 displaced persons as a result. Around 130,000 of these were housed in makeshift refugee camps.

More than 2,500 business enterprises ranging from factories to petty boutiques were damaged or destroyed. The number of houses and dwellings and vehicles damaged or destroyed has not been fully estimated yet.

The anti-Tamil violence of July 1983 was not a spontaneous mass uprising against Tamils. Prior to the outbreak of violence, there existed a pre-planned conspiracy to launch a widespread attack against Tamil life, limb and property on a massive scale. All it required was a powerful incident to be the provocative pretext to justify such an attack.

The ambush of an Army patrol in the north in the night of Saturday 23 July by the Liberation Tigers of Tamil Eelam (LTTE) resulting in the killing of 13 soldiers by the Tigers, triggered off the violence beginning from Sunday 24 July. The LTTE's attack itself had been in the pipeline and was expedited due to a successful Army attack on 15 July that resulted in the death of a key Tiger operative. The violence in July 1983 was a tale of two attacks and a pogrom.
Seelan's death
In early July the Sri Lankan security forces stationed in the north received a tip- off that some Tigers were staying in a house within a coconut plantation at Allaarai, Meesaalai in the Thenmaratchy sector of the Jaffna peninsula. After verifying the information received, the Army launched an ambush. This was at a time when the LTTE had only 32 members. Four of these namely Seelan, Aruna, Ganesh and Ananth were in the Meesalai house and taken by surprise when the Army attacked. After an exchange of fire, the Tigers began fleeing with their arms.

The soldiers gave chase and opened fire. Two of the four Tigers were hit. However they managed to take cover in a palmyrah grove. Ananth lost consciousness while Seelan who was then the Military Commander of the LTTE kept bleeding profusely. Seelan then ordered Aruna and Ganesh to shoot and kill him and Ananth and escape with the arms. At that point of time the LTTE had a limited arsenal and regarded their fire-arms as very valuable assets. Aruna and Ganesh obeyed orders and shot dead both Seelan and Ananth. They fled from the spot and eventually evaded capture by hijacking a vehicle and escaping.

The Army retrieved the two bodies and left. Subsequently the two Tigers were identified as Lucas Charles Anthony alias Seelan a.k.a. Aaseer of Trincomalee and Ramanathan Arulnathan alias Ananth of Myliddy. The security forces were jubilant over the death of Charles Anthony alias Seelan who was responsible for several attacks including the killing of two soldiers on Stanley Road in Jaffna town. He also led the successful Tiger assault on the Chavakachcheri Police station. Seelan had been appointed LTTE Military Commander by the Leader Veluppillai Prabhakaran.

The death of Seelan saddened and angered Prabhakaran very much. Not only was Seelan a comrade at arms but also a trusted confidante and friend of the Tiger supremo. Prabhakaran's affection and regard for Seelan could be fathomed by two acts. Though a Hindu, Prabhakaran named his firstborn son Charles Anthony in honour of his friend. Also when the LTTE expanded and formed its first Infantry Division, it was named by Prabhakaran as the Charles Anthony Infantry Division.



It could be seen therefore that the death of Seelan hurt an infuriated Prabhakaran. The LTTE had been planning to stage a guerrilla ambush on an Army patrol for a long time. So when Seelan died, Prabhakaran ordered the Tigers to expedite the envisaged Army ambush. When Prabhakaran heard of Charles Anthony's death on 16 July he told his men that an attack on the Army must be launched within a week to avenge Seelan. Exactly a week later on 23 July the LTTE struck.
Army ambush
After doing "recce" (reconnaissance) the LTTE had discovered some routine movements of the Army night patrols. It was decided to launch the attack in Thirunelvely called Thinnavely about two miles away from Jaffna town. The spot picked was about 150 metres south of the Post Box junction along the Jaffna-Palaly Road. The road had been already dug up for telecommunications wire laying. This made it convenient for the Tigers to bury land mines.

After Seelan's death LTTE supremo Prabhakaran appointed Sathasivam Selvanayagam alias Sellakkili of Kalviyankaadu as the Tiger Military Commander. The Thinnavely ambush was planned and supervised by Sellakkili with the support of Prabhakaran.

After Seelan and Ananth died the LTTE had only 30 full-time members including Prabhakaran. Of these 19 were involved in the T'vely attack. They were Prabhakaran, Sellakkili, Pulendran, Ponnammaan, Reggie, Ranjan Lala, Kittu, Santhosham, Victor, Appiah, Ganesh, Lingam, Albert, Basheer, Rajesh, Suppanna, Ramu, Gnanam and Raghu (Kundappa).

The four landmines were laid and the wires linked to the exploder were concealed on the back of the roof of a boutique facing the road. Sellakkili perched himself on the roof to explode the mines at the right time. The other Tiger cadres hid themselves behind brick walls in two groups on either side of the road.

The 'Four Four Bravo' patrol that had proceeded from the Mathagal military base consisted of 15 men travelling in a jeep and a TATA Benz half truck. The men were all from the 1st battalion of the Sri Lanka Light Infantry (SLLI). They were commanded by an old Anandian, 2nd Lt. Vass Gunawardane who had a sub-machine gun. The others had elf -loading rifles and grenades.

When the two vehicles approached the landmines were set off. They exploded on the right side of the jeep and in between the jeep and truck. Thereafter the Tigers started firing and lobbing grenades. The soldiers also retaliated. At the end of it all, 13 soldiers including Lt. Vass Gunawardane were dead. The only two Army survivors were Cpl. Perera and Lance Cpl. Sumathipala. From the Tiger side the sole casualty was Sellakkili, the newly-appointed Military Commander. Once the news of the ambush became known soldiers of the SLLI went on the rampage. The then SLLI Commanding Officer Lt. Col Upali Dharmaratne was either unwilling or unable to control them. The overall Jaffna Commander Brig. Lyle Balthazar too was unable to exert his authority and instil discipline.

The enraged soldiers went on a violent spree killing 51 civilians in Thinnavely and surrounding areas. This included a university lecturer Kala Parameswaran who was known to me. A mini-van carrying seven passengers was stopped and all eight including the driver were lined up and shot dead in cold blood. Among these was my friend Wimalathasan, a human rights activist and Editor of the journal 'Manithan'. Later on the then Army Commander Gen. Tissa "Bull" Weeratunga transferred the SLLI 1st battalion out of Jaffna. Lt. Col. Dharmaratne was replaced by Lt. Col. A.M.U. Seneviratne.
Developments in Colombo
Meanwhile what was happening in the corridors of power in Colombo? I shall answer the question by reproducing an electronic mail sent to me by former DIG of Police Ramachandra Sundaralingam. Sunda, as he was known, was a very good friend to journalists of my generation in Sri Lanka. If we wanted a good law and order story, all we needed to do was to contact him.

Sundaralingam was serving as Senior DIG in charge of ranges at the time of the 1983 July anti-Tamil violence. Sunda later took up a post at the INTERPOL in Paris and became known as an expert in combatting the narcotics trade. After retirement he took up residence in Chennai, Tamil Nadu. Sunda and I were in regular contact via e-mail and telephone until his demise in December 2018.



While researching for this article I came across an e-mail sent by Sunda in July 2017. What happened then was that he wanted to talk to me about the 1983 July violence and telephoned. I was away and did not respond promptly. An impatient Sunda then sent an e-mail summarising his thoughts. However, we did converse on the phone subsequently and discussed in detail the points mentioned in the e-mail. However, I feel it is worthwhile reproducing that e-mail as it sheds much light on what had happened then. Here it is:
"Dear DBS,
In case we miss each other's call. Briefly the facts on the Darkest Chapter of the History of Sri Lanka July 1983;

Thinnavely LTTE ambush killed 13 soldiers 23 July 1983. Army Hq informed, Pres JR via Gen Attygalle ordered Army Com Weeratunge get to Jaffna immediately.

DIG Rajaguru in charge of NP called Rudra Rajasingham IGP and myself stating Army running berserk, Police were helpless.

3) Security Council meeting with all Service Chiefs, Air Force, Naval Commander except Army Chief already in Jaffna to monitor the happenings in Jaffna and elsewhere. IGP Rudra requested my presence at the meeting as Senior DIG Ranges overseeing NP DIG Rajaguru

4) Gen Attygalle hourly discussion (3pm/7pm) with Army Chief Gen W in Jaffna situation deteriorating with Army revolt in Jaffna, damage to property and injury to several persons, Commander W unable to exercise any control .Gen Atty informs Pres JR on the ground situation, JR who in turn informs Gen Attygalle that Army soldiers be buried in Jaffna, as it happens in a war situation. When this message was conveyed to Gen W, his prompt reply, "Sir I will also be buried here, make arrangements to shift the bodies to their native places early."

5) Security Council decides the bodies be flown to Katunayake Air Force base, after embalming be despatched to the 13 villages of the 13 soldiers. Police were instructed to organise 13 air conditioned Ambulances be in readiness at Katunayake on arrival of bodies from Jaffna. This arrangement was approved by Pres JR in his conversation with Gen Attygalle, I am an eye-witness to all these arrangements.

6) Direction received at Police HQ ambulance plan has been cancelled, the bodies will be brought to Ratmalana by air for common burial at Kanatte. In the meantime tension mounting in Colombo with large crowds heading for Kanatte.

7) IGP Rudra, DIG Ernest Perera and myself visited Kanatte, everything looked tensed up. I was able to sense the situation as serious. DIG Ernie P and I strongly advised IGP Rudra R to meet Pres JR immediately to impose curfew time around 9 p.m., otherwise the situation will get out of control. IGP left Kanatte to meet Pres JR at Ward Place. Curfew never declared until next evening by which time serious damage to Tamil persons and their property. Worst in the history of country. JR could have averted this situation but he failed to declare curfew. The big question is, who made the decision to bring the bodies to Kanatte for a common burial???? Minister Thondaman told me it was Mr Cyril Mathew who insisted on Kanatte funeral. All this is history."
Anti-Tamil violence
DIG (retd) Sundaralingam's e-mail provides an insight into what happened then. The UNP Government headed by J.R. Jayewardene conducted a mass funeral at Kanatte for the 13 soldiers killed by the LTTE. Large crowds gathered at Kanatte on Sunday 24 July. Many were brought there in Government vehicles.

The situation took a violent turn around dusk. Mobs began moving in the direction of Borella and Thimbirigasaya from Kanatte. Tamil homes and businesses were attacked and set on fire. As the Esala full moon shone brightly from a not-so-cloudy sky, clouds of smoke from burning Tamil establishments spiralled upwards.

The following Monday 25 July saw anti-Tamil violence spreading like wildfire. The plantation Tamil patriarch Saumiyamoorthy Thondaman known for his pithy comments later described the violence that followed Poya on Sunday as – "Sunday Sil, Monday Kill."

Despite repeated entreaties by the then IGP Rudra Rajasingham to declare a curfew, President Jayewardene delayed imposing one until the following Monday evening. Even after a curfew was supposedly in force, the violence went on for three days peaking on Wednesday 27 July and ebbing on Thursday 28 July, the day that Indian Prime Minister Indira Gandhi sent then Indian Foreign Minister P. Narasimha Rao as her Special Emissary to Colombo.

Friday 29 July saw Colombo and suburbs being terrified by the rumour that the Tigers had come to town. The afternoon of that fateful 'Koti Dawasa' (Tiger Day) saw the goon squads massacring Tamils again after being 'sure' that no Tigers were in town. Finally 30 and 31 July saw the violence diminish gradually. By August the violence had ceased as international opinion and pressure compelled the J.R. Jayewardene regime to "normalise" the situation.
Not a 'spontaneous reaction'
President Jayewardene and other members of the ruling United National Party (UNP) sought to explain the Black July violence as the 'spontaneous reaction' of the Sinhala people to the LTTE attack in Jaffna. The Sinhala people were collectively blamed for the violence by the President and his Government. This was done to deflect blame falling on the Government.

An important point to note is that the July 1983 violence was basically an organised act. Several persons may have engaged in the violence on their own but there were core groups at different locations that planned and executed it. As is the case in mob violence these core groups were joined by others. These groups had absolute impunity and had the protection of important members of the UNP Government then in power.

The mobs had lists of Tamil owned houses and businesses. They also knew the details of ownership. Wherever premises were owned by Sinhalese, only furniture and goods belonging to Tamil tenants were destroyed and set on fire. The buildings were not burnt or damaged.

Many of the mobs were led by functionaries of the UNP trade union Jathika Sevaka Sangamaya (JSS). Several UNP Municipal and Urban councillors were involved. Many prominent supporters and strong-arm men of cabinet ministers were involved. The Police were ordered by UNP politicians not to arrest the violent elements.

In most instances, the large groups of thugs and goondas were transported in Government-owned Transport Board vehicles or in vehicles owned by semi-Government corporations. Even food parcels and liquor were distributed systematically to these elements.

When some decent UNP leaders like Shelton Ranarajah and Renuka Herath Ranasinghe got goons locked up by the Police in Kandy and Nuwara Eliya respectively, their release was secured by Cyril Mathew and Gamini Dissanayake. The roles of Cyril Mathew and his political lackeys in the violence are well-known. Some of those involved are still in politics and holding high office.
A planned pogrom
What happened in July 1983 was not a spontaneous riot but a planned pogrom. A 'pogrom' is defined as a form of violent riot, a mob attack, either approved or condoned by Government or military authorities, directed against a particular group, whether ethnic, religious, or other, and characterised by killings and destruction of their homes, businesses, property and religious centres. The word pogrom is of Russian origin and means "to destroy, to wreak havoc, to demolish violently" in the language. One of the lamentable features of the July 1983 pogrom was the abominable response of J.R. Jayewardene and senior ministers on television. Not even one word was uttered in sympathy for the victims of the violence. JR indirectly blamed the Sinhala people and said it was a natural reaction. Instead of reaching out to the victimised Tamil people, the President announced that legislation would be brought to forbid secessionism.

State Minister Anandatissa de Alwis spoke about a hidden hand, a foreign hand, being responsible. He said there was a conspiracy to provoke clashes between the Sinhalese and Tamils, the Sinhalese and Muslims and Buddhists and Christians. Lands and Mahaweli Development Minister Gamini Dissanayake warned Tamils that it would require 14 hours for Indian troops to come and rescue them but the Sinhalese could destroy them in 14 minutes if they wanted to. Trade and Shipping Minister Lalith Athulathmudali was sorry that people had to queue up again for essentials as a result of the violence. Finance Minister Ronnie de Mel gave a lecture in history about Sena and Guttiga. Cyril Mathew, the Industries and Scientific Affairs Minister, raised the Indian bogey and saw an alien hand behind the conspiracy that led to the July '83 violence. His cabinet colleague Rural Industrial Development Minister Saumiyamoorthy Thondaman refuted it and said elements inside or close to the Government were responsible.

Notwithstanding the efforts of then President Jayewardene to tarnish the Sinhala people as being collectively responsible for this carnage, respected observers such as Paul Sieghart of the International Commission of Jurists exposed the real state of affairs.

As Sieghart himself pointed out in his report ('Sri Lanka: A Mounting Tragedy of Errors'): "Clearly this (July 1983 attack) was no spontaneous upsurge of communal hatred among the Sinhala people – nor was it as has been suggested in some quarters, a popular response to the killing of 13 soldiers in an ambush the previous day by Tamil Tigers, which was not even reported in the newspapers until the riots began. It was a series of deliberate acts, executed in accordance with a concerted plan, conceived and organised well in advance."
(D.B.S. Jeyaraj can be reached at dbsjeyaraj@yahoo.com)