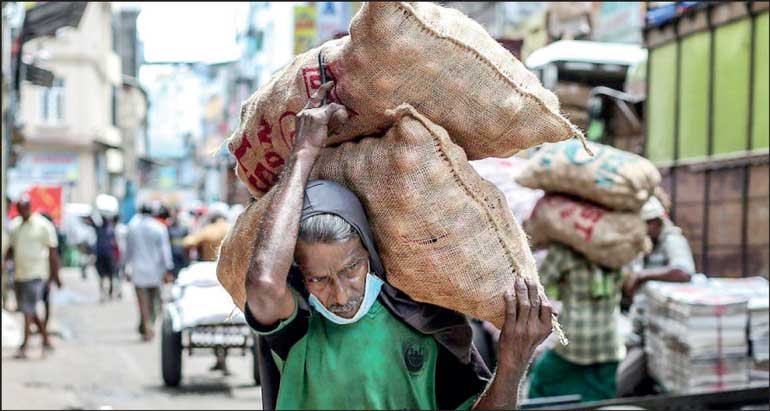 All wage earners public and private, believe an addition to their pay sheet is the only answer in making ends meet. Any sensible reading would tell wage increases have not answered the actual issue of continuously increasing cost of living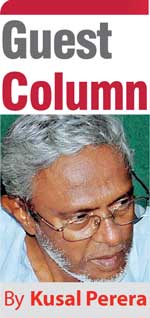 I wonder whether the present trade union leaderships that demand a monthly wage increase of Rs. 20,000 know their thinking on wage increases are as ancient as 100 years. The demand for wage increases was first mooted by Sri Lanka's, more accurately said as Ceylon's pioneer trade unionist A.E. Gunasinghe over 100 years ago in February 1923 when he led the first general strike with the Government Railway trade union joined by few other unions too. The demand was a wage increase of 50% on the daily average wage of Rs. 1 with workers toiling for about 12 hours a day. This first general strike is on record as successful, with the Special Commission appointed by Governor Sir Henry Manning recommending a 20% increase in daily wages to meet the increased cost of living and approving sick leave grants.

Apparently, the cost of living was not an economic factor even the British colonial government could keep under control. Four years later the next worker strike was launched in February 1927, demanding a wage increase of Cts.50 when the daily average wage was Rs. 1.50 then. That strike won a wage increase of Cts.25 and a 15 minute recess for lunch.

Next public sector strike for higher pay in 1957 kept the whole country in the dark for one whole night for the first time and perhaps the only time. Demand was not for a wage increase, but for a Special Living Allowance (SLA) of Rs. 17.50, popularly called the "Seventeen Fifty" strike. Led by the Government Workers' TU Federation, its General Secretary Pelis Serasinghe was a fierce negotiator, who sat with PM S.W.R.D. Bandaranaike and his Finance Minister Stanley de Soyza at Temple Trees under candle lights (TT probably had no generator then) was in no way prepared to compromise on their demand. His main argument was the Rs. 17.50 they demand is the minimum needed and not the maximum, to meet the increased cost of living since independence. He walked away with the 17.50 SLA conceded by PM Bandaranaike.

We have since had two unsuccessful strikes, one in 1967 and the other in July 1980. The '67 strike was called the "Parallel Grades" strike that brought together government and local government services unions. They had a long list of demands related to their service anomalies and also included a wage increase as well. Thereafter the '80 July strike that demanded a wage increase of Rs. 300 also asked for an increase of Rs. 5 on every increase in the Colombo Consumers' cost of living index from 1977 applicable to the future too. This strike during President Jayewardene's rule was a disaster with over 43,000 public sector employees ruled as having vacated posts under emergency regulations. They were later reinstated in batches over a period of about four years.

The demand for monthly wage increases to meet increasing cost of living kept TUs continuously demanding increased wages that in 2014 was Rs. 2,000 per month demanded by the private sector TUs. By then the public sector had substantial increases from the Rajapaksa regime. Between 2015 and 2019 the wage increase demand was Rs. 5,000 that today is Rs. 20,000 per month.

Leaving no space for negotiations President Wickremesinghe has said, as quoted in media, the 2024 Budget would propose an increase for the public sector and would make a request for a private sector wage increase too. Even if half the demanded increase is given, it is anyone's guess, 2024 will have TUs demanding more wage increases yet again with no indications of the economy showing some decent gains for the majority poor.

What does a Cts.50 wage increase demand a hundred years ago swelling to a glistening bubble at bursting level of Rs. 20,000 in a hundred years mean? It means TUs have not learnt any lesson from this 100-year mismatch between wage and price increases of mainly essential goods. It means they opt for the easiest and the more popular demand that can be raised, whatever the consequences are. All wage earners public and private, believe an addition to their pay sheet is the only answer in making ends meet. Any sensible reading would tell wage increases have not answered the actual issue of continuously increasing cost of living. It also says, they do accept wage increases result in cost of living going up, and therefore in '80 July demanded a Rs. 5 increase on every increase in cost of living index.

They should also know there is a growing hostility towards TUs in society, more within the non-wage earning larger majority. TUs are held responsible for increasing cost of living the ordinary citizen is pushed into regularly, with no means for increased incomes. They therefore accuse TUs for their plight on the argument wage increases result in price increases. While there are other factors that contribute to inflation, Governments should be held responsible for, this accusation against wage increases by the non-wage earner majority also holds much water.

Can the TUs therefore go for any other option, instead of sticking to the 100-year-old demand of increasing wages? Will the Government accept alternate solutions that would also have a cost? On an alternate proposal TUs can request to negotiate with the Government, while a demand for the Rs. 20,000 wage increase has already been rejected with the President's undeclared offer for an increase through the 2024 Budget.

While wage increases are being still demanded, what the public sector TUs do not pay attention to is, their demand for wage increases creates a clear disparity and a serious anomaly between the private sector employees who are in the production sector, and the Government employees whose contribution to the economy is heavily devalued at present than it was three decades ago. Worst is wage demands in the public sector have often been across all grades from the minimum to the maximum wage earner. First time the Government intervened in providing the private sector a wage increase was when President Chandrika Kumaratunga under pressure used a budget proposal to increase private sector wages by Rs. 1,000 on a bill adopted in Parliament for a monthly "budgetary relief allowance". This parliament bill made it mandatory for private sector employers to provide the Rs. 1,000 wage increase. Again in 2016 the same procedure was adopted by the Wickremesinghe Government to provide another Rs. 1,000 monthly wage increase for the private sector. On both occasions, not to the liking of the private sector employers.

Most importantly these increases did not bring the private sector in par with the public sector wage increases. The minimum monthly wage in the private sector still remains a measly Rs. 16,500. An income survey by the Census & Statistics Dept. (C&SD) in 2022 reveals the poorest 40% in Sri Lanka earn a beggarly Rs. 26,931 only. But on C&SD data, even a household with 3.7 persons in the estate sector need a minimum income of Rs. 46,865 to meet their most essential monthly necessities. Adding the Rs. 20,000 wage increase asked for to an income of Rs. 26,931 would only make them survive in the margins for a few months to come.

In months to come, these low wage earners and thousands of workers in the private export manufacturing sector living with threats to their jobs, will not be sustained with few thousand Rupees added to their starving wages. The socio-economic crisis has left far more numbers than in official records, semi starved and in need of State assistance to sustain themselves with minimum essentials. That definitely demands a new approach by TUs with focus on ever increasing low wage and daily income earners and on loss of employment already on the cards.

It is therefore necessary to think in terms of wage and income brackets that would need immediate subsidised welfare assistance, instead of the old wage increase demand across the board. On principle, TUs should now restrict themselves to speak about State assistance to all in formal and informal economies with a monthly wage or income less than Rs.75,000, taking the C&SD calculation of Rs. 74,270 needed to meet the basics in life for a household of five. They can demand for two packages as fully subsidised assistance to those below Rs. 40,000 per month wage or income and 50% subsidised assistance to those above Rs. 40,000 and up to Rs. 75,000 per month. What essentials should be included in these subsidised packages can be negotiated with the Government if the TUs can propose a formula that would enable the Government to completely scrap both Samurdhi and Aswesuma welfare programs. What they nevertheless should insist upon is a "Welfare Authority" constituted by Parliament with TUs and professional associations represented and legislated to provide performance reports half yearly to Parliament.

With TUs that exhibit inability to think outside Gunasinghe's 100-year-old solution to the uncontrollable swelling in cost of living, I doubt they could serve their new generation membership who demand quick fixes to their starving lives. We may thus see conflicts evolving in 2024 between a Government refusing TU demands and TUs compelled to provide some relief to agitated employees.