At the recently concluded Colombo university Tourism research symposium 2017, one of the key insights shared by a World Bank speaker was that 'you have a wonderful product but the world does not know about this'. We have heard this comment many times in the recent past and it has been the echo of the industry too.

An MBA student from the Colombo University threw more light to this with a detailed study on a focused area, North Dakota, that revealed that tourism marketing has not only an impact to the visitor arrivals in a country but also has a positive impact to the other areas like exports, FDI and brand imagery parameters. Let me throw more light on the data presented. But first the status quo of Sri Lanka.


Sri Lanka – report card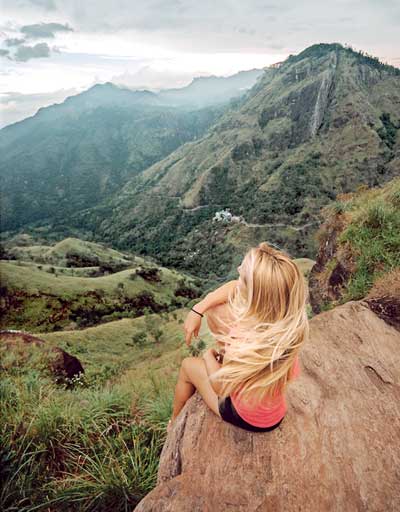 If one takes a look at the report card of Sri Lanka in the last three years the data reveals the following. FDIs are at 2013 – $ 1.3 b, 2014 – $ 1.5 b, 2015 – $ 0.9 b, 2016 – $ 0.8 b. The global pool on FDI is increasing but Sri Lanka has failed to attract the numbers even though the Government was more connected with the world in the last three years, namely the US, India, UK and Japan.

On the export front the data is 2014 – $ 11.3 b, 2015 – $ 10.5 b and in 2016 – $ 10.3 b. The decline in the numbers is strange given that Sri Lanka was able secure the all-important GSP+ facility. In the case of the number one export, apparel, the decision makers say that companies continue to invest outside the country than invest in Sri Lanka to spread the risk even though temporarily the Sri Lankan situation looks attractive.

Whilst Sri Lanka continues to drive the global maker with road shows and delegations, the reserves position registers 2014 – $ 8.2 b, 2015 – $ 7.3 b and 2016 – $ 6 b, which means that there is an issue to solve. This is in the backdrop of the GDP growth in the last three years being 7.4% in 2014, 4.8% in 2015, 4.4% in 2016, which means that a typical Sri Lanka in the deep rural area will not feel the difference as research reveals that island nations which are below $ 100 billion must grow by a minimum 6-7% for a housewife to feel the difference.


Tourism marketing and impact to economy

As per the work presented by the MBA students of Colombo, the documented research on how North Dakota used a focused tourism marketing campaign not only on the tourism front but also on many other areas of the economy was an eye opener to many of us in the audience.

As per the Forbes study 2016 the campaign themed 'Legendary' was unleashed by North Dakota, a state in the US which has now been termed as one of the most successful marketing initiatives in 'place branding'. The ROI recorded that North Dakota's campaign generated over $ 100 in visitor spending for every dollar spent on advertising which means that Share of Voice( SOV) = Share of mind (SOM) = Share of Market (SOMkt).

North Dakota's 'Legendary' campaign was a multimedia strategy linked to a below-the-line campaign and social media thrust that lasted two years. The key results achieved as per the Forbes study were as follows:
A place to live? Yes, up 41%.
A place to start a career? Yes, up 100%.
A place to start a business? Yes, up 75%.
Further research revealed the following from the Forbes study:
A place to attend college? Yes, up 87%.
A place to purchase a second home? Yes, up 113%
A place to retire? Yes, up 75%.
Hence, it is clear how tourism advertising can helps boost a state's image on many dimensions whilst having benefits to the economy, which I guess is a pick up for Sri Lanka given the data we see on Sri Lanka on the export front, FDI and reserves, not forgetting that tourist arrivals have tapered down 2.89% as at end August.

The North Dakota case study also explains the effectiveness of tourism advertising and the improvement of consumer perceptions of the state. Whilst tourism marketing has been shown to generate significant economic impact by driving visitation, these results demonstrate the potential long-term benefits for broader economic development which I guess justifies the importance of a fully-fledged destination marketing campaign that Sri Lanka sure needs.


Research on nation brand building

There is much debate currently stemming out of USA on this area of nation brand building vs destination marketing due to the negative media associated with President Donald Trump.

If one tracks to clinical research done on this subject, one piece attracted me. It was the works of early educational psychologist Edward Thorndike, who coined the term "The Halo Effect" in a 1920 article titled 'A Constant Error in Psychological Ratings'.

Thorndike asked two commanding officers to evaluate their soldiers in terms of physical qualities (neatness, voice, physique, bearing, and energy) and personal qualities (including dependability, loyalty, responsibility, selflessness, and cooperation). He found that if an officer liked one aspect of the soldier, he tended to have a positive predisposition toward everything about him.

On this clinical study specialists now advise to first launch a destination marketing campaign in a country and then focus on a nation branding strategy that is more complex and political in nature, especially due to the ongoing Central Bank bond scam that is getting attention front page news not only in Sri Lankan media but globally.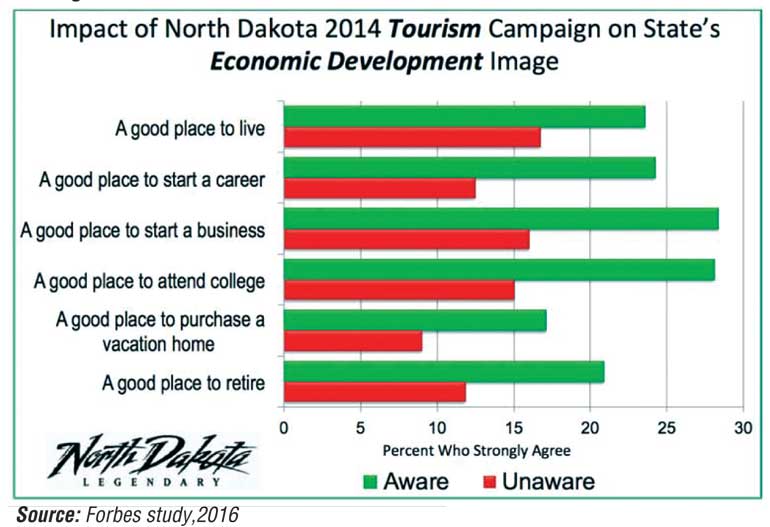 Tourism challenged at 2.9%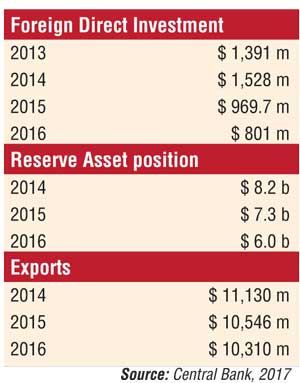 While the private sector has been driving brand-related demand generation activities for Sri Lanka tourism, which has mainly been below-the-line activation. Given the adage 'Sri Lanka is not only the girl on beach', we see strong marketing by competitors taking away the quality guests that we should attract. With forward bookings being challenged from November onwards, I guess Sri Lanka has no option but to at least now launch a strong destination marketing campaign. Research now proves it will have a positive correlation to economic variables too.

Next steps – Do basics

What Sri Lanka requires now is to do the basics which has been the cry for the last three years. Have the services of a global advertising agency, a PR agency in the key market, and a strong digital partner who has a creative fair. It is only then that we can develop destination marketing campaigns. But we are so far away as at now.
(The author was the former Chairman of Sri Lanka Export Development and Chairman, Sri Lanka Tourism Promotion Bureau. Dr. Athukorala is a visiting faculty member of Colombo University and acknowledges the work done by the MBA students.)