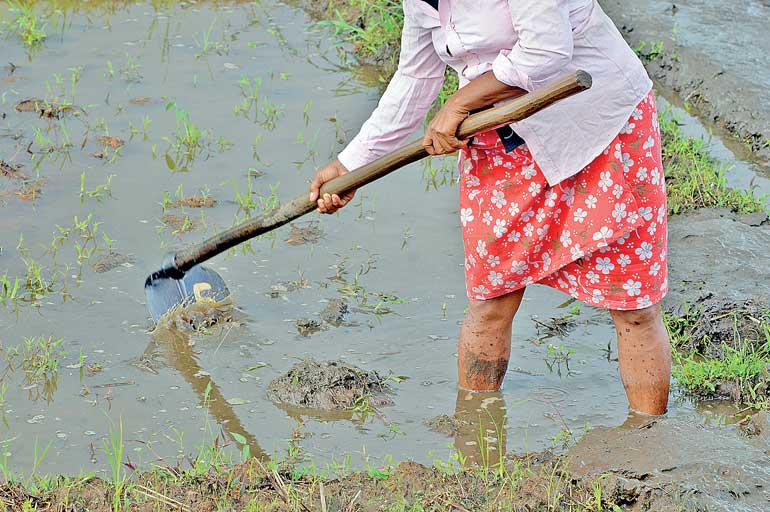 Agriculture, which employs 26% of the country's workforce, is also poised to be impacted by automation technologies. As in most other markets, agriculture in Sri Lanka has been slow to adopt new technologies, but systems that automatically monitor and even respond to soil conditions, disease, and other yield factors have been deployed by some frontrunners – Pic by Shehan Gunasekara
---

After the economic speedbumps laid by the COVID-19 pandemic, Sri Lanka and many other countries are crafting strategies to rekindle growth and deliver increased prosperity. Harnessing powerful technology trends that were already apparent before the pandemic will be crucial to success, and our latest research has revealed three trends in particular that will be especially potent in Sri Lanka over the next decade.

Historically, significant advancements in technology have triggered spurts of economic growth for those ready to take advantage of these developments. Before the pandemic, the fourth industrial revolution – marked by digital innovation – was spurring much economic disruption globally. As countries have begun reopening, these technological advancements are returning to the center stage, and Sri Lankan companies need to act fast to seize their benefits.

McKinsey has analysed technology trends globally, looking at 40 individual technologies that were assessed based on technical maturity, industry impact, and momentum. The study distilled ten trends that will have a deep impact globally, and from here we isolated three that would be particularly pertinent in Sri Lanka: next-level automation, near-universal connectivity, and applied artificial intelligence (AI).


Next-level automation

Process automation will reach new levels as manufacturers and others work to regain momentum. Globally, our analysis suggested that about half of today's work activities could be automated in the next few decades, which would spur changes to the nature of work, labour costs, and public policy. National industries and individual companies will have to stay ahead of these developments to remain competitive and grow, while at the same time, countries must prepare for workforce disruptions triggered by automation.

In Sri Lanka, the apparel manufacturing sector could face disruptions with increased adoption of automation. The sector employs about 350,000 people, generates about 40% of the country's exports, and contributes 6-7% of GDP. Much of the early success of the industry was built-off lower labor costs, but more recently, domestic leaders have moved quickly to adopt automation, especially in contract manufacturing.

This progress in the apparel manufacturing sector is moving into new areas such as analytics for demand and inventory, forecasting, and 3D and 4D printing (additive manufacturing), which could drastically shorten development cycles for fashion, as well as materials and manufacturing processes.

Agriculture, which employs 26% of the country's workforce, is also poised to be impacted by automation technologies. As in most other markets, agriculture in Sri Lanka has been slow to adopt new technologies, but systems that automatically monitor and even respond to soil conditions, disease, and other yield factors have been deployed by some frontrunners.

Transportation and logistics, education, retail, and a broad range of other sectors will also be affected by greater automation. And while some companies in these industries have deployed rudimentary automation, most commonly that of business-process-management platforms and robotic process automation, companies need to look beyond to other technologies such as digital twins and the industrial Internet of Things (IoT).

As industries embrace new levels of automation, there will be big shifts to employment, the nature of some work will change, some jobs will be displaced and new 'jobs of the future' will be created. Our scenarios show that by 2030, incited by economic growth, we will see an 18% increase of new jobs created by automation and higher productivity, offsetting the numbers of jobs possibly lost. The future with automation and new technologies will be challenging—government and corporate leaders should be ready to mitigate the social and economic impact of these changes through investing in human capital, training and retraining both workers and new generations alike.


Near-universal connectivity

By our estimates, 5G mobile technology will reach about 80% of the world's population by 2030. Combined with IoT, this unprecedented connectivity will have broad implications across all industries, affecting how people work, shop, learn, bank, and enjoy their leisure time.

Sri Lanka has long been a regional leader in deploying new mobile technologies. In 1995, for example, Dialog introduced the first 2G mobile network in South Asia, and more recently, in 2019, Sri Lanka became the first South Asian country to successfully test 5G mobile technology – these examples are not exhaustive.

While the lower latencies and higher speeds promised by 5G systems will touch a wide range of activities, three areas in particular will be important to Sri Lanka. The first is education, where it could provide children and even adults in the most remote areas of the country with access to the highest quality teachers and trainers through remote, virtual learning programs.

Secondly, in line with the country's first National Financial Inclusion Strategy launched by the Central Bank of Sri Lanka and the International Financial Corporation earlier this year, increased connectivity could support the opening of formal financial services to be more accessible to all, particularly those in rural areas. Formal bank accounts offer a secure repository for saving and better access to other financial products, such as insurance and lending.

And finally, with the pandemic overwhelming healthcare facilities, health services and outcomes could be improved using virtual doctor consultations, online prescription processing, and even remote robotic surgery for routine procedures, where a faraway doctor controls on-site robotic implements. Currently, there are already platforms like oDoc in place that offers virtual doctor channeling and a mobile pharmacy. With the right support and levers, growth can be accelerated for these platforms.


Applied Artificial Intelligence

AI has rapidly become more commonplace through applications such as chat bots that provide almost human-like responses to typed or spoken questions. By 2030, our analysis suggests that applied AI could provide enhanced useability, enriched interactions, and increased customer conversion for about 75% of all digital service touch points, such as voice assistants.

Continued progress in developing AI will bring applications to almost every industry, leading to, for example, faster development cycles and more detailed customer insights. Repetitive tasks such as document preparation and indexing can be left to machines, and remote work for specialists – from telemedicine to oil rig management – would be eased.

In 2018, the Sri Lankan Government announced "AI Nation" as the next major push to develop the country's IT sector – the plan was to train about 5,000 data scientists over the next five years to put Sri Lanka at the forefront of this growing industry. Companies such as Hayleys and John Keells Holdings (JKH) have moved forward in adopting and implementing AI into their core businesses, with the former having implemented AI-initiatives such as smart sales forecasting, route optimisation and business intelligence and analysis, amongst others.

Moving ahead quickly with applied AI has proven business value, whether in creating a platform with suppliers to make better market predictions, as with JKH's efforts, or Vallibel One's initiative to make more informed corporate decisions. It also provides broader benefits for the country by training a new cadre of data scientists, data engineers, and other technical specialists whose skills are in increasing demand both locally and globally.

However, implementing AI and achieving impact at scale remains elusive for many companies. A global McKinsey survey in 2020 found that less than one-quarter of respondents from across industries reported significant bottom-line impact. The adoption of AI has been daunting to organisations not only because of the technical challenges, but also because of the necessary operational and organisational changes.


How companies should embrace and respond to the trends

While each of these technology trends have the potential of lifting Sri Lanka's overall economic growth, corporate leaders should consider them carefully to assess which present the most potential value for their individual companies. Three crucial points should be considered:
The expected scale of the impact for a particular industry or business, with specific technologies expected to have a greater impact being harder to ignore.
The maturity of the technology, with new technologies offering greater risk but also first-mover benefits.
Potential risks in the adoption of these technologies and if the individual organisation is prepared to mitigate these risks. Leaders need to shift their posture from hindsight to foresight to better understand the types of risks raised, their interdependencies, and their underlying causes.
Sri Lanka's journey to recovery, like that of many other nations, may have been interrupted by the global pandemic and the onset of the delta-variant, but with vaccination rates on the rise coupled with fast-moving technology trends, they may be able to provide the tailwind needed to regain momentum. Public and corporate leaders will need to set their sails appropriately to capture maximum value.
---
(Ganaka Herath is the Managing Partner of McKinsey & Company's Colombo office, where Vidhya Ganesan is also a Partner.)
---