One of the world's oldest travel companies, Thomas Cook, in business since 1841, failed last week, stranding more than 150,000 passengers worldwide.

The Thomas Cook brand was famous, as one of the pioneering travel agencies deserved to be. It was started 178 years ago by Mr. Thomas Cook, a staunch Baptist, who famously organised a group of fellow Temperance supporters (teetotallers) to travel by train from Leicester to nearby Loughborough (both in England) for a meeting.

From these humble beginnings, the company grew into a worldwide brand running its own hotels, local transport and even an airline. Thomas Cook-branded 'traveller's cheques' would be familiar to Sri Lankans of a certain age who travelled overseas some years ago. Credit cards have killed off that business since then.

Operating through a series of high street storefronts, Thomas Cook's mainstay was the 'package holiday', a product whereby the agency took care of all the details; the customer only had to select dates, a destination, and make payment. "Don't book it, Thomas Cook it" was their slogan.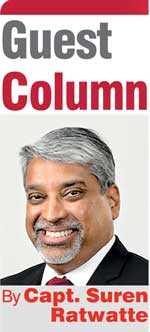 What happened?

The unravelling of Thomas Cook's business is a complex matter, which in many ways is symptomatic of the travel industry's recent woes. A combination of factors has come together to disrupt existing business models and force many players, who cannot adapt, to perish.

Just this year alone 18 airlines have gone bankrupt, a list that includes Jet Airways of India, Germania, Flybmi of the UK, WOW of Iceland, Avianca (in both Brazil and Argentina), Aigle Azur and Excel Airways of France, Tajik Air (which was founded in 1924), Thomas Cook, and most recently Adria Airways of Slovenia (which stopped flying on 24 September). The year still has three months to run, a traditional low period in the industry leading up to the December peak, which could see more pain.

This is in addition to the 18 airlines that ceased flying in calendar year 2018. The industry is definitely entering an unsettling period of consolidation.
Why did Thomas Cook go down?
1: The internet

The internet, that medium to which the entire world is addicted, is the greatest disruptor of all. Thomas Cook relied on 'bricks-and-mortar' shops on streets and malls, staffed by real people, which was always an expensive proposition. This meant that the customer had to go to one of these places during opening hours to meet and discuss their holiday. It might even require waiting for an agent to be free!

The internet allows consumers to browse options anywhere, anytime, with no delays, and costs almost nothing. As consumers became increasingly comfortable with the internet and smart-phones proliferated, Thomas Cook failed to introduce a digital platform to the market.
2: Personalisation of holidays

Thomas Cook relied on the 'package holiday' whereby the customer entrusted the details to the travel agent. This allowed economies of scale, large buses to transport the group, discounted block-bookings in hotels and on airlines, etc., but left the individual traveller with little choice. As the industry in Sri Lanka is learning slowly, today's traveller prefers a personalised experience. Not adapting to that change is a recipe for disaster.

The Western tourist, that mainstay of the Lankan trade, is fast abandoning the package holiday. For the moment Chinese travellers seem to still in favour of them, but no doubt will adapt to the new fashion sooner rather than later.
3: Operating an airline

Beginning in 2000 Thomas Cook began to operate its own aircraft. This was part of the industry-wide consolidation that seemed logical at the time.

But as Cook found out, operating an airline is very different to running a travel agency, requiring specialised skillsets. Both are complex businesses, with overlap, but must be managed differently to run successfully. Successful travel agencies abound. Profitable airlines operate all over the world. Combining the two is very difficult.

Cook's main rival in Europe was TUI, a German-based tour operator that also runs an airline. When the traditional inclusive-tour business started to decline, TUI sought even greater complexity, acquiring cruise ships and hotels to further vertically-integrate their business. This model seems to have worked better, for the moment at least.
4: Currency volatility

The airline business does most its transactions in US Dollars. Aircraft, pricing and fuel purchases are effected almost exclusively in this currency.

Thomas Cook's business income was primarily in British Pounds. Many factors, including Brexit, have meant that the Pound has been steadily eroded in value compared to the Dollar. With the income stream declining and expenses (in USD) rising, the writing was on the wall.
5: Debt

At the time of failure, Thomas Cook had over $ 2 billion in debt. The need to bridge the loans with a $ 250 million line of credit, which they were unable to secure, was the final nail in the coffin. As the world's economy slowly enters a low growth, or even recessional phase, industries such as travel, which are largely elective (not essential) must learn to adapt. Otherwise, like the dinosaurs, they will face extinction.