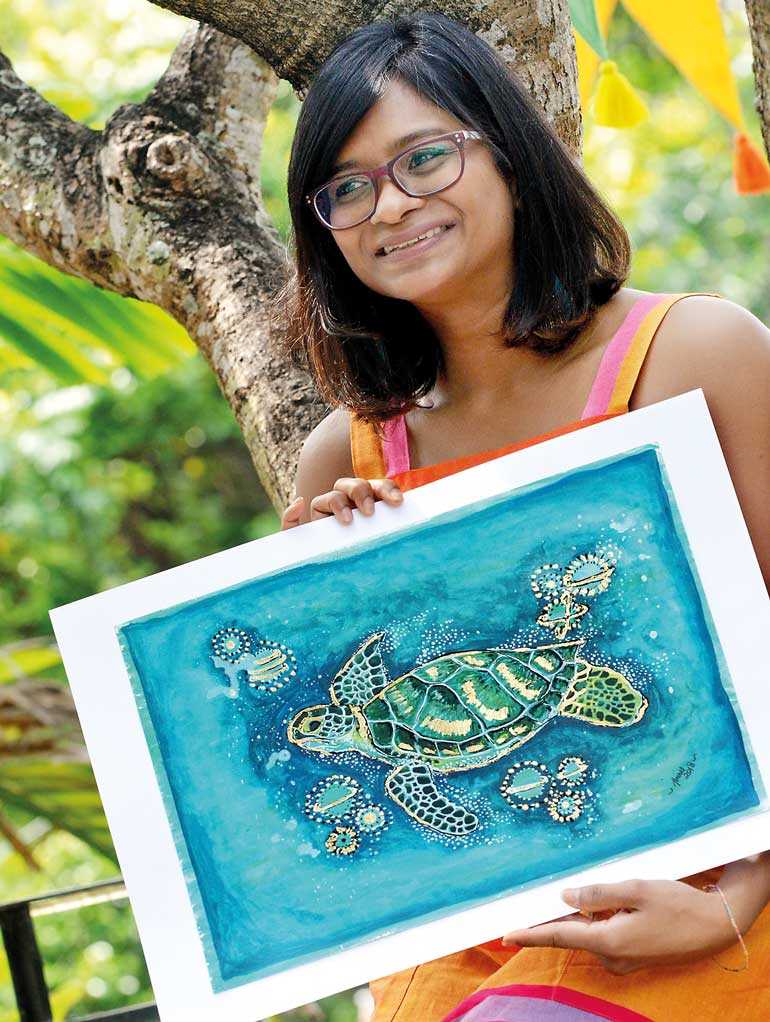 Thirusha Abeyewardene's art is quick to catch the eye and hold one's attention. Beautifully executed in her inimitable style, her creations feature a heavy emphasis on fantasy and the environment. A parent, a poet and a painter, Thirusha is deeply passionate about the environment and its care. Her recent pieces 'Blue Whale Universe' and 'Green Sea Turtle Space' grabbed my attention and led me to her. As I soon discovered, Thirusha is donating 25% of the proceeds from her captivating marine life series to Oceanswell, which is dedicated to marine conservation research and education – walking the talk as a lover of the earth. Here, she traces her journey as an artist:
Q: You're an artist, a writer and a poet. Could you trace the beginnings of your creative journey?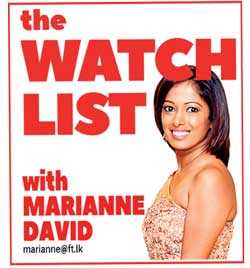 A: I feel like I have been creative for as long as I remember. Always drawing, painting and chopping things up. In my teenage years, I was constantly doodling and my school notebooks were always full of designs and weird creatures. I always volunteered to make school charts and time tables. When I was around 14, in year 9, one of my teachers looked at the sign I made for the class (9J) and simply said, "This is what you should do." It has always been there at the back of my mind.

In the next few years I started painting on my bedroom walls, weird things, freaking out my parents and also myself at times. One was a giant red eye with tentacle type lashes – I think it was inspired by the 'Eye of Sauron' from The Lord of the Rings. I have always loved fantasy – I think it shows in almost everything I draw! I was also involved in writing and graphics for the school magazine – writing poetry, articles, etc. Studying English for my A/L also aided in my creative thinking and writing.

I also suddenly remembered that at some point in middle school I think, there was an islandwide 'Peace Poster Competition' and we were all encouraged to draw something during regular school art class. I drew a stick man with a peace sign head, walking around the earth, and got a merit award for that!


Q: How do you juggle it with parenting?

A: When my kids – who are 21 months apart – were very small, I couldn't really focus on creativity. I wrote a couple of poems when I felt overwhelmed, and on the drawing/painting side, the only artistic thing I managed was to paint a big colourful mural on their bedroom wall, which still remains today, years later. It sort of became a business after people who visited our place asked if I could do similar for them, and I only managed a few murals when the both of them were at preschool. Now that they're older – six and eight – I find some time while they are in school, but most of all, I do creative stuff in the middle of the night.

Quite apart from parenting and managing children plus mundane household things, etc., I have always been more a night owl, with much of my inspiration striking at all odd hours of the night. I can do this for a few nights at a stretch and then crash… like a ton of bricks! But also, there are times when I'm able to work alongside my kids too. They have been drawing and painting for as long as they could pick stuff up, because they had access to it, and I gave them the freedom to draw, paint and make a mess. When we are all calm, we can spend a few hours on a weekend just painting and drawing.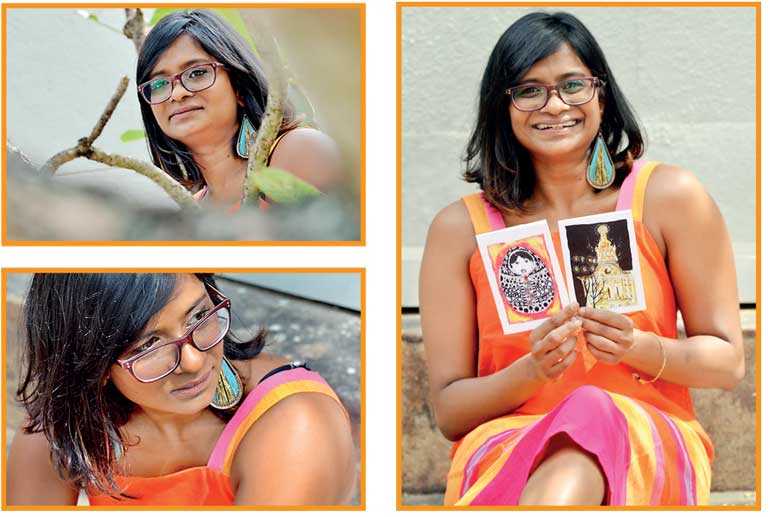 Q: When did your decision to be earth and environment focused come about and how did you go about it?

A: I have always been environmentally conscious, but this consciousness increased when I was in my early teens. I had a few teachers who were very vocal about environmental and social issues – particularly my Social Studies teacher Kanthi Rupasinghe and the Principal and Vice Principal at Ladies' College at the time, Dr. Sriyani Miththapala and Dr. Janaki Galappatti, all of whom encouraged me to think creatively. And I believe, more importantly, didn't stifle my weird attempts and often unorthodox behaviour towards thinking differently and also attempting to be 'environmentally friendly' – like when I decided to wrap my school books with newspaper instead of brown paper and polythene covers! I had a mission to 'Save the World' – clearly that mission has not been accomplished!

Many of my drawings and paintings accompany writing about social issues, but I have always wanted to do something more towards environmental issues in particular. The most I have managed is to try and reduce my overall consumption and try and pass this on to my kids as well, while trying to explain the plight of the animals on earth today – possibly too vehemently and too intensely!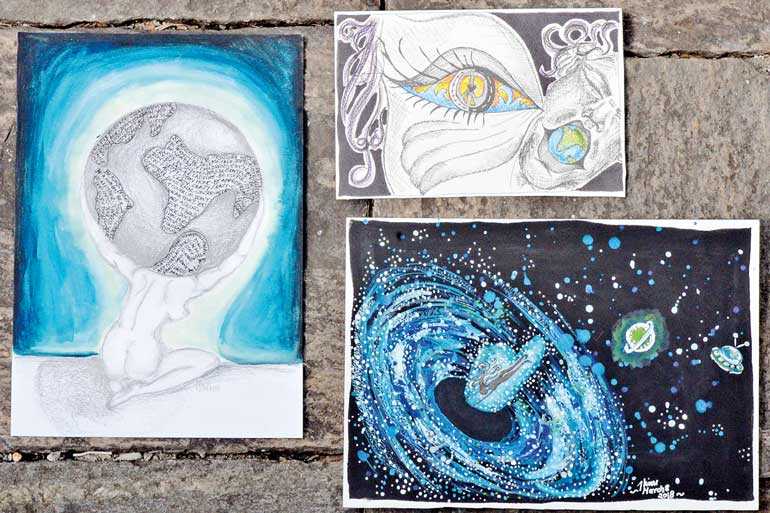 Q: Did you obtain any professional qualification in art?

A: After leaving school and until university started (University of Colombo), I did a graphic design diploma and took some art classes with Nadine David – the only art classes I've ever taken. Even in that short time (around four months altogether) what she imparted on me still remains – she's the one who taught me how to draw a face and how not to be afraid of painting (yes, that's a thing) and not to find fault with each and everything I draw (though that didn't quite work as I'm always my biggest critic).


Q: Soon after university you started working with a UN agency in the north. What did your work entail?

A: I was a Project Reporting Associate, working with a shelter and water and sanitation project in the north, during the escalation, end and aftermath of the conflict. I was responsible for reporting on the progress of the project, but also worked with the communications team and wrote some human-interest stories as well. This period of my life was an eye-opener, and I saw many horrific and difficult things that people had to face, first-hand. There are no boundaries to the repercussions of war, and certainly, there are no winners.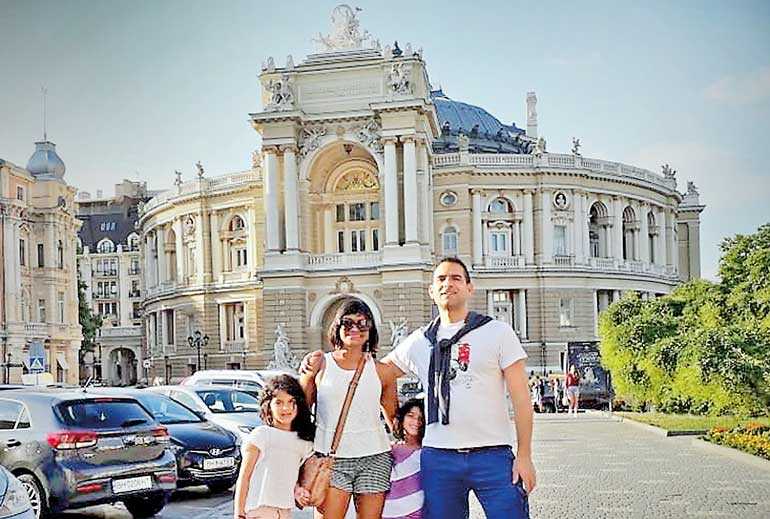 Thirusha with her family at Odessa Opera House


Q: Could you tell us about your work with the Kavithe Collective?

A: The Kavithe Collective was calling for Sri Lankan writers when I was living overseas, in Kyiv. I already had some poems which I had written in Colombo, and also some that I was working on while in Kyiv, and I sent them over. They liked them, and I proceeded to make contributions towards Women's Day, 16 days of awareness of GBV, conflict and reconciliation, etc. I also illustrated the poems I wrote. Some of these were featured in Daily FT.


Q: How did the Kyiv paintings come about?

A: When we were living there, I started making paintings of the beautiful churches and buildings in Kyiv – with their golden or star-studded domes, this was the stuff of fairytales to me – to gift friends there who were leaving. They became quite popular, particularly amongst the expats, as my style was different – light and fantasy-like – and so I subsequently started making prints and cards of them and selling online and at arts and crafts fairs, etc. I also placed them at a favourite hipster cafe. I loved this as I could do it on my own time and it didn't feel like work at all. I met a variety of people from all walks of life hailing from various places and was thrilled to see my work travel the world, back to their homes or loved ones.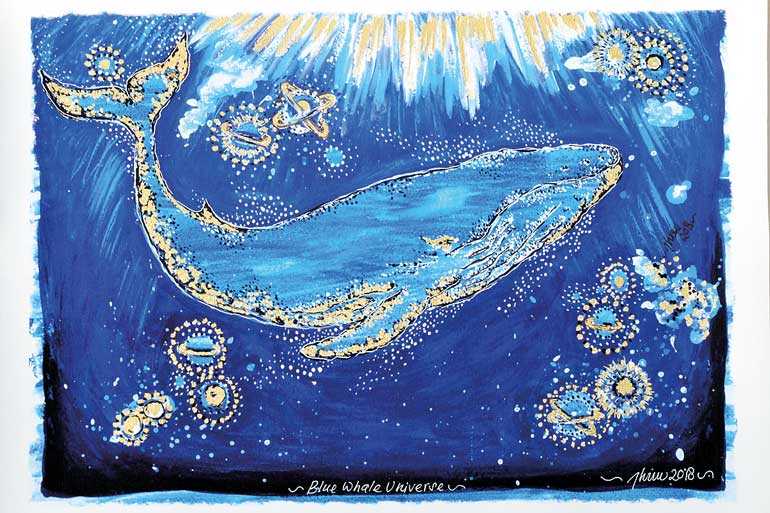 Q: Tell us about the paintings you were commissioned to do relating to healthcare, conflict and the situation in Ukraine?

A: Having seen my work and liking my style, a friend from WHO commissioned me to do 10 paintings in my style related to healthcare, conflict, and the conflict situation in Ukraine. This struck a chord with me, and gave me a space to express my feelings about the conflict in Sri Lanka as well. The overall theme incorporates a transition from darkness to light, signifying hope. More specifically, they were related to cardiovascular care, respiratory care, trauma care, mental health, vaccinations, mobility, access, etc. This was the first time I experimented with the use of metal leaf – it was a success! These pieces will be used for aspects of their communications work.


Q: What's the story behind your inspiration to paint sea creatures and your decision to donate some of your proceeds to Oceanswell headed by Dr. Asha de Vos?

A: Well, this has been something that has been floating – excuse the pun – in my head for a long time. The idea of deep sea creatures and space, and the universe; the ocean to me is as vast and unknown as the universe itself. So I finally created it; 'Blue Whale Universe' and 'Green Sea Turtle Space,' using watercolour, acrylics and metal leaf.

I decided that since I never managed to get round to saving the world myself, I may as well try and help, at least in a small way, someone who actually IS saving the world – Asha de Vos. She was my senior in school, always full of energy and humour, inspirational and kind. She's someone I know who can be trusted, and her non-profit organisation Oceanswell is dedicated to something relatively new in Sri Lanka – marine conservation research and education. So I've decided to donate 25% of my proceeds to her, from this marine life series – prints are available at Barefoot bookshop and cards are coming soon!


Q: Are there any artists who inspire you?

A: Of course my best friend Shaanea Mendis who just finished her latest solo exhibition 'Regeneration' at Barefoot and is featured on the current cover of 'ARTRA'. Her work is amazing and intricate to the point of disbelief. She also attended those art classes with me with aunty Nadine back then, and even now remains my constant mentor, advisor and cheerleader. I also deeply admire Pala Pothupitiye's work – no words to describe it – such talent. And my favourite of the grand masters is Leonardo Da Vinci…maybe because he is also a left hander…and I particularly like his series of 'Grotesque Faces'.


Q: What can we expect from you next?

A: Sadly we're leaving Sri Lanka again before Christmas but my eventual aim is to make a series of buildings of Colombo similar to what I did in Kyiv, and exhibit!

Pix by Shehan Gunasekara
FT Link
Facebook page 'Thiru's Whimsical Works' – https://www.facebook.com/ThirusPersonalArt/

Website Thiru's Art – http://thiru.me/