---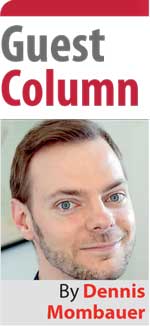 Across the world, cities have seen unprecedented growth in both size and number. According to the UN's World Urbanization Prospects report, two out of three humans are likely to be living in cities or other urban centres by 2050. However, if current trends continue, it is estimated that urban growth could threaten almost 300,000 square kilometres of natural habitat within the next decade.


Colombo as a biodiversity hotspot

Nature and cities are often seen as opposing ends of a spectrum: the more urbanised an area, the less room remains for nature. But cities are more than just human habitats, they are ecosystems with significant biodiversity. Large urban agglomerations like Colombo can greatly benefit from thriving ecosystems and wildlife, particularly in the face of climate change and environmental pollution.

Even in the most urbanised parts of Colombo, flora and non-human fauna have long found their homes. There is a vast list of species colonising the city, such as rats, squirrels, water and land monitors, monkeys, polecats and fishing cats, porcupines, mongooses, flying foxes, bats, large numbers of stray dogs, snakes, butterflies, and various species of birds. Accordingly, the 'Atlas for the End of the World' published out of the University of Pennsylvania has identified Colombo as one of 33 Biodiversity Hotspot Cities, which have "a particular responsibility and role to play as both the custodians and beneficiaries of the world's most valuable biodiversity".

Animals and plants offer tangible benefits for the humans they co-exist with. For example, bats can catch up to 150 mosquitoes per night and thereby reduce threats of dengue and other vector-borne diseases. Furthermore, habitats such as urban wetlands or lakes serve as green infrastructure and fulfil critical functions, such as flood protection, cleaning the air, evaporative cooling, providing food, and offering recreational space.


The evolution of urban wildlife

Some species of animals are not just surviving but thriving in cities. Due to the foreign and volatile environment of the human landscape, animals often face greater evolutionary pressures, and there is evidence to suggest that many of them adapt over time. Urban animals are often smarter, form more complex social groups, and have a greater number of offspring. They can solve more complicated problems and increase their behavioural plasticity, a sub-set of intelligence.

In many cases, species change on a genetic level to deal with different diets, diseases, pollution, lights, noise, traffic, and human predation. For example, mosquitoes in the London subway are now a genetically distinct subspecies that can no longer interbreed with surface mosquitoes. In other places, snails have developed lighter shells in urban heat islands, city lizards have grown longer legs, and birds have evolved with shorter wings to take off in front of traffic.


A symbiotic relationship

Cities are key to climate change mitigation and adaptation, but at the same time, they are vulnerable to the impacts of climate change. The farther wetlands and mangrove belts are pushed back and rivers paved over, the more intense and devastating the impacts of rising sea levels, floods, and storm surges can become, especially for coastal agglomerations such as Colombo.

To adapt to these impacts and shield cities, urban biodiversity and ecosystems can contribute their services and benefits while also protecting endangered species and providing new habitats. As a Ramsar Wetland City and Biodiversity Hotspot City, Colombo is in a unique position to highlight the challenges of conserving urban ecosystems as well as the opportunities of a mutually beneficial relationship between cities and nature.
---
(The writer works as Director – Research & Knowledge Management at SLYCAN Trust, a non-profit think tank based in Sri Lanka. His work focuses on climate change, adaptation, resilience, ecosystem conservation, just transition, human mobility, and a range of related issues. He holds a Master's degree in Education from the University of Cologne, Germany and is a regular writer to several international and local media outlets.)