By Shevantha Rodrigo
---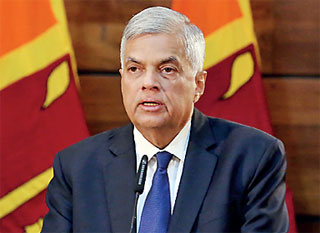 Prime Minister Ranil Wickremesinghe
---
Firstly I must state that I am no fan of RW.

However, if we clear our heads of all the rhetoric and analyse the appointment of RW, maybe a clearer more positive picture will emerge.

We have a country in crisis.

We have shortages of nearly all essential items.

We have a currency in a freefall.

We have an economic crisis!

What we need immediately is a financial fixer upper.

To do this we need the Rajapaksas out of the way, as if left to govern, past actions have shown that they would loot the little that we have left.

The departure of the PM/Cabinet has resulted in the Rajapaksas moving out of the picture.

The last of the Rajapaksas, the President, is a defeated, weary old man. Watch the last video which was telecast. Gone was the bravado, the arrogance, the aggression. He knows now who Lasantha is... Lasantha is every one of us who participated in #GotaGoHome2022.

The multitude of Sri Lankans, calling him a fool, a rogue, and incompetent, has had its effect.

Enter into this scenario a motley bunch of opposition political leaders, all of whom are beholden to various interest groups. All of whom are afraid and hesitant to take the wheel of our battered Sri Lankan bus, which is heading towards a precipice. In their own words "Aasai, Bayai" (we like it, but we are scared.)

While this indecisiveness is persisting, one man emerges to drive us out of this mess.

He singlehandedly destroyed his party.

Hardly anybody voted for him.

He has hardly any political support.

Nearly everybody takes the mickey out of him. Mr Bean being one of the more complimentary references, the others too profane to mention.

He's old, can confidently speak in any forum, constantly quotes from history, does not have a firm handshake (because of an old accident to his hand,) but he is as cunning as a fox.

He identified the root cause.

It's the economy stupid!

He comes in with the backing of at least three superpowers and the EU and IMF.

He has hardly any media backing, most of his friends and supporters have written him off as a spent force.

He has a trump card – Indrajit Coomaraswamy – who I know, will honestly use every resource and iota of knowledge that he possesses, to get us out of this financial mess.

He can't turn around the finances of this country singlehandedly.

He needs an honest guy heading the Central Bank – Check

He needs a President who will not interfere – Check

He needs the IMF and the international community to back him – Check

He needs a good Finance Minister – Harsha de Silva comes to mind – Harsha should put the country before himself, in this instance and put politics on hold.

He needs to be seen as a good listener to the young people who are screaming their lungs out at GotaGoGama and across the island – Check – One of RW's conditions of acceptance, was that no action should be taken against GotaGoGama or the protestors.

Once the queues stop, once the shortages of essentials are addressed, once the power crisis is temporarily addressed, the need to protest largely diminishes. The people are then free to go back to working and contributing to the GDP.

Abolish the Presidency or make it largely ceremonial.

Abolish the 20th Amendment.

Amend the 19th Amendment.

Leave the Rajapaksas to the Attorney General and Karma – they will get what they deserve, if not in this life, then the next.

Try to get our money, the money they stole, back via STAR.

If you think my thoughts are Utopian, just call up your friendly money changer and ask him what the black market rate for USD is today. That should give you an indication of the immediate positive impact of RW's appointment.

Difficult though it may seem, after what has transpired recently, we need to support the new administration.

The old fox has one last chance to redeem himself and try to leave a decent legacy, before he rides off into the sunset.

I pray he doesn't disappoint us.