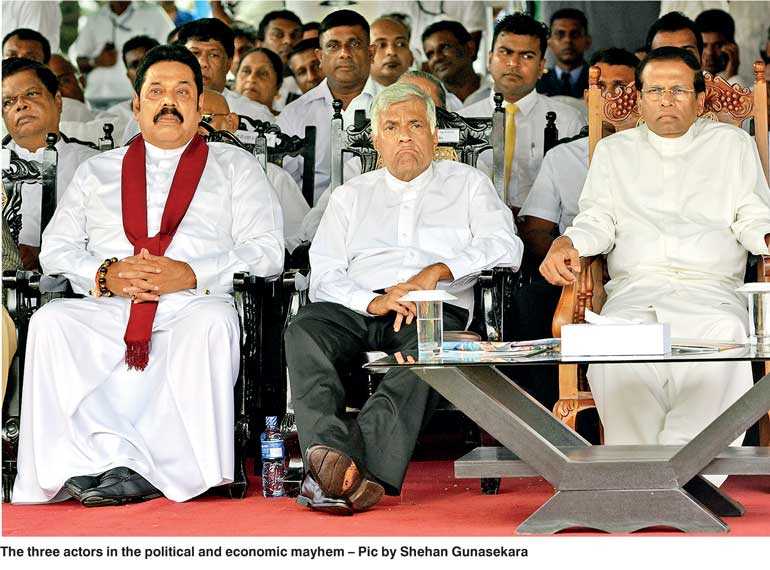 By Our Special Political Correspondent

The sprawling official residence of the Prime Minister of Sri Lanka despite the incumbent Ranil Wickremesinghe getting sacked continues to be occupied by him. However the Navy guards, the maintenance staff, the drivers, the cooks and gardeners and cleaners have all been removed on a directive of the President.

The normal complement of 1,000 dedicated security personnel – police, watchmen, bodyguards – had all been withdrawn from Temple Trees. The incumbent had in the past had made sure the former President and his brother had all been given the vehicles and the security way beyond the required number to protect them.

The 69-year-old, a four-time Prime Minister, has said repeatedly he will only leave when it is clear that he is no longer constitutionally the Prime Minister of Sri Lanka. This would mean that he is no longer able to command a majority in the 225-seat House.

Reasons for the fallout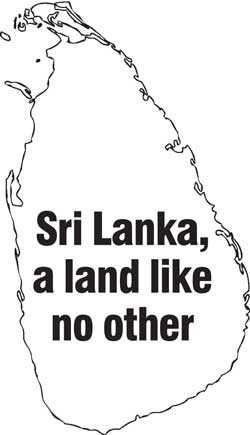 There are many reasons for this sudden fallout. While they were together running the Government, Wickremesinghe and his sidekicks Malik Samarawickrama and Sagala Rathnayake acted as if though they owned the Government. Samarawickrama interfered in every contract and antagonised many ministers. He ensured his favourites got the best deals in town.

Moreover, Wickremesinghe had very little time for Sirisena. All his requests fell on deaf ears and they treated him as a political novice. Something very similar to what Wickremesinghe did with Chandrika Kumaratunga and got booted out in 2004.

His two friends Charitha Ratwatte and R. Paskaralingam who were responsible for his downfall in 2004 were brought back. Now they move around as though they had nothing to do with the current impasse. This was the sum of Sirisena's complaints about Wickremesinghe.

However, to be fair by Wickremesinghe, Sirisena's charge-sheet against Wickremesinghe lacks seriousness and specifics. Where there are specifics, there is enough material to read between the lines to understand the personal problems they had between them.

Sirisena had said to his close allies many times that in desperation when Wickremesinghe had chosen to take the high road, he had offered the premiership to Karu Jayasuriya thrice, to Sajith Premadasa twice and even once to Ranjit Maddumabandara. The relationship had thereafter got so bad that it had come to a stage where he was prepared to even sleep with the devil to get rid of Wickremesinghe.

For Rajapaksa, it was an unbelievable dream come true to get back and clean his stables. His resilience and heartburn watching his favourite son going to prison and wife being prosecuted had finally ended. For Sirisena he had got rid of his biggest thorn and secured his political future to become the next presidential candidate for the SLFP and JO.

While it seems as of Friday Wickremesinghe had collected the numbers to defeat Rajapaksa, Sirisena has said publicly he would move out if Wickremesinghe won a Parliamentary vote, so this battle is still far from over and whether Wickremesinghe will ever learn and has the will to get rid of his disgraced entourage remains to be seen.

At the end of the day, the nation needs one prime minister, not two. The more honourable way for the Speaker is to reconvene Parliament, acting like a true statesman. He should know by now that Parliament is more superior, therefore he has the power to act within the four walls of the Constitution and resolve this crisis gracefully. Unfortunately the Speaker has demonstrated sometimes an unwillingness to take issues head on.

Time to show the numbers

Today, Rajapaksa has the power, but has not shown the numbers. Buying people up does not augur well for democracy. Wickremesinghe keeps saying he has the numbers. Social media rumours claim that he has 103 of them all signed up and ready and the TNA and JVP would support an anti-Rajapaksa motion. A public display would do wonders for the nation.

The Speaker should know this and act like man and close this impasse and let the nation go back to its own ways, having achieved nothing but the wrath of the international community and a possible downgrade of world rankings. Especially now that a resolution has been signed by 119 MPs against the appointment of former President Mahinda Rajapaksa as the Prime Minister.

The former President has been advised to move out gracefully without tarnishing his name. The public are very disgusted with Wickremesinghe, Sirisena and Rajapaksa for this political and economic mayhem and happy to welcome a Jean Macron to run Sri Lanka.