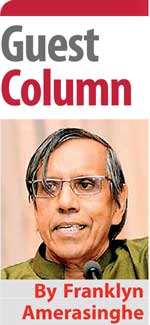 I was shocked and rather ashamed to listen to the outburst of His Eminence the Cardinal on Ada Derana where he comments on all Sri Lankans saying that we belong to a corrupt society from top to bottom! Lest I am misunderstood I am myself a Catholic and come from a family which has done our bit for the religion and its institutions.

I must acknowledge that His Eminence had a point in criticising the extravagance associated with the anniversary celebrations to mark Independence. He is right in saying that we have become beggars but some of those people who brought us to this state were once smiled upon by him if I remember right?

However, we have not had as abysmal a performance since independence as he makes it out to be. Let us not forget that as a small country we have a lot to be proud of. We have produced some outstanding people who have been acclaimed internationally. I am not going into a roll call of those who achieved greatness but there have been persons such as Lakshman Kadirgamar, Jayantha Dhanapala, Shirley Amerasinghe, Raju and Indrajit Coomarasamy, Ray Wijewardene, Justice Weeramantry, Desmond de Silva QC, ANS Kulasinghe, Mohan Moonesinghe, Chandra Wickramasinghe, Muttiah Muralitheran, Susanthika Jayasinghe, Kumar Sangakkara, and Professor Paranavitharane, to name a few from a cross section of outstanding international figures who captured the attention of the world.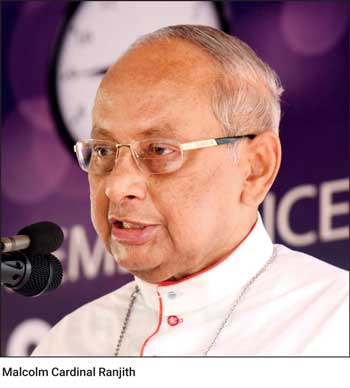 We have had Bishops too who were held in the highest esteem such as Cardinal Thomas Cooray, Bishop Edmund Peiris and Bishop Leo Nanayakkara. I am told that the university accorded a lying in state at its Arts Faculty, to the late Emeritus Archbishop Gomis, a former Chancellor. He was a scholar who had national recognition.

Yes we have had a vacuum in leadership of quality as His Eminence proclaims which has led to our current economic malaise, but have our religious leaders also contributed to our economic plight, and loss of spiritual values which he bemoans? Let's not look for the mote in our neighbour's eye, but look at the Catholic Church. School ethics have been under the microscope for many years now. There has been much discussion about the unconscionable sums of money changing hands for school admissions to access Catholic education!

In relation to sports, Catholic schools in the Archdiocese are guilty of enticing good players from lesser known schools to cross over for a 'consideration' (he calls it a something!). It was justifiably suspected that there was more than the offer to play for a good school which prevailed on parents to move their children to these schools. Recently there was a message going round that parents had been given several hundred thousand rupees to move their 'ruggerite' son to a school which prides itself on its premier position in the sport. What is the Church doing about such corrupt or at least unethical conduct? Spiritual conscience that his Eminence speaks of is present in these institutions managed by him?

In another sermon recently His Eminence also blamed the State for neglecting the poor. He categorically blamed the Open Economy and seemed to be pining for the era prior to 1977, forgetting that the best years for the economy were as a result of our ability to access markets abroad. We need to look at the opportunities created for the female community in factories which are monitored by developed countries in terms of international standards. He also ignores the huge losses which are being revealed in the State run institutions and the horrendous corruption there. Some of this corruption in fact can be blamed on Catholic officials.

The Catholic Church and of course the Buddhist Temples have vast extents of land and other assets. I think the Catholic Church can do much more for the poor by using its own wealth rather than making statements which places the onus on others. It can perhaps be asked how much interest the parishes take in their flock and what they can do to alleviate poverty. I think one obstacle to individual priests being proactive is the stifling hierarchical management which has always existed in the Church.

The Cardinal said that we have lost our 'spiritual conscience'. I would say that it is not a mere issue of 'conscience' but a lack of adherence to social responsibility by all leaders be they religious, policymakers or officials. Further, I feel that it is an admission that the leadership of the religious sects has failed to carry out its primary mission if spirituality is lacking! Why do we have a clergy at all if the flock is spiritually bankrupt? There was no message of hope that his Eminence was doing something to rectify the position or that he had answers. In fact in Belgium I read that there is a debate that clerics are now being seen as an unnecessary impediment in what should be an individual search for spirituality?

Reading history, we see that Luther had his rivalry with the Catholic Church on issues which also included the right of Christians to read and formulate their own thoughts from the Bible, which they were not allowed to read! The Church should look inwards and give proper leadership to change the spiritual direction as Jesus did when confronted with Priests and Pharisees who were more concerned about safeguarding their own wellbeing. The attitude of Pope Francis must be commended as he is always conscious of the need to embrace all those in need of spiritual help rather than passing judgment on them.