Srinivasan Kamal Haasan is one of India's foremost film actors. Known popularly as Kamal, the talented and versatile thespian has not only excelled as an actor onscreen, but has successfully engaged in other cinematic spheres too. The multi-faceted artiste is a film director, producer, sceenwriter, film lyricist, poet, dancer, choreographer and playback singer. Kamal Haasan who acted in ten different roles in the film Dasaavathaaram (Ten Incarnations or Avatars) adopted a new, political 'avatar' on 21 February, 2018, when he launched a new political party and became a political leader in his own right.

Kamal was born in Paramakkudi in the Ramanathapuram district of Tamil Nadu, India, on 7 November, 1954. His father Srinivasan was a lawyer and mother Rajalakshmi a housewife. Kamal acted first as a six-year-old in the film Kalaathoor Kannammaa in 1960.He won the Indian President's gold medal for a child artiste then. After a few more films as a child actor Kamal went off-screen for some years. But he was involved in theatre and also learnt dancing. His enlightened parents allowed him to pursue a career in the arts instead of forcing him to follow conventional courses of study. Kamal became a jack of all trades in film trying his hand at different things by assisting directors, script writers, cinematographers and choreographers.

Kamal re-entered cinema as an actor at the age of 16 in 1970. He acted in a dance sequence in the film Maanavan. This was followed by other smaller roles in films like Kurathi Magan and Arangetram. He even acted as the villain in films like Sollathaan Ninaikkirean and Vellikkizhamai Viratham. He got his first break as lead actor in 1975 in the film Pattaampoochi followed by Cinema Paithiyam. These were followed by three superb roles in films by maestro K. Balachander. They were Abhoorva Raagangal, Manmatha Leelai and Moodru Mudichchu. Then came another great director, Bharathirajah, who cast Kamal Haasan in path-breaking films like Pathinaaru Vayathiniley and Sigappu Rojakkal.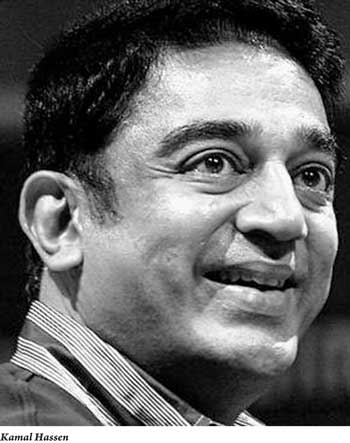 Fine and famous actor

While the above mentioned films helped Kamal establish himself as a great actor, he also acted in roles which helped him click at the box office. Films like Sahala Kalaa Vallavan, Guru, Kalyana Raman, Thoongathe Thambi Thoongathe were all commercial successes. Having made a reputation as an artistic and commercial actor, Kamal Haasan started making and/or acting in films with a difference, ranging from rib-tickling comedies to suspenseful thrillers. He also experimented at times by playing a woman in one film and making a silent movie without dialogue.Some of them performed well at the box office while others did not. But Kamal Haasan was acknowledged as one of the finest and most popular actors in India.

He did not act in Tamil films alone but also in films made in other languages like Hindi, Malayalam, Telugu and Kannada. But it was as a Tamil film hero that he made his mark. While some prominent playback singers lip synched for him in many films, Kamal Haasan sang in his own voice in several films. He also choreographed many of his dances in addition to trying his hand at directing, producing, screenwriting, composing film songs, etc. Kamal Haasan has been associated with nearly 300 films in various capacities such as actor, director, producer, script writer, singer and choreographer.

Kamal Haasan first married actress-dancer VaniGanapathy in 1978. They divorced in 1982. Thereafter, he had a live-in relationship with actress Sarika for some years during which his elder daughter Shruti was born in 1986. He formally married Sarika in 1990. Their second daughter Akshara was born in 1991. Both Shruti and Akshara are actresses now. Kamal split with Sarika in 2002 and divorced in 2004. Later in 2005, he entered another live-in relationship, this time with actress Gautami who had a daughter from an annulled marriage. Kamal and Gautami broke up last year. Currently "film world gossip" links him with two actresses but there is nothing concrete. Kamal's elder brothers Charuhasan and Chandrahasan who is no more also acted in films though they were lawyers by profession. Their daughters Suhasini and Anu (Anuradha) were also actresses. Incidently, Suhasini is married to the acclaimed film director G. Maniratnam.

Ulaga aayagan (Global Hero)

The 63 year old actor, in a career spannig more than five decades, has won many awards and laurels. Chief among them are the Indian National Award for best actor in three films, namely Moondraam Pirai directed by Balu Mahendra, Naayagan directed by Maniratnam and Indian directed by Shankar. He is the only actor to have won the Indian National Award for best actor thrice. Among his numerous awards are those bestowed by the prestigious cinema journal Filmfare. Kamal Haasan has won 19 Filmfare awards and has been nominated for 12 more. He has also been given the Kalaimaamani Award by the Tamil Nadu State Government and received the Padma Shri and Padma Bhushan awards from the Government of India. The French Government honoured him with the Ordre des Arts et des Lettres (Chevalier) award. Having earned fame, wealth, the affection of fans and heaps of laurels as an actor, the man hailed as Ulaga Naayagan (global hero) by his adulatory fans now faces a formidable real life role as a politician.

Kamal Haasan selected the Southern city of Madurai in Tamil Nadu state as the launchpad of his new party. Madurai is of great historical and literary significance. It was the capital of the Pandyan dynasty. More importantly, the ancient city was the seat of Tamil language and culture where Muthamizh(Triple Tamil) was fostered through the Thamizh Sangam (Tamil literary academy). Kamal Haasan launched his party officially at the Tamukkam (Ottakkattai)grounds in Madurai, in the presence of a huge, wildly cheering crowd. Associated with him was Chief Minister of New Delhi Arvind Kejriwal who is the leader of India's Aam Aadmi Party (Common Man's Party).

The name of the actor turned politician's political party is Makkal Needhi Maiam a rough translation of which would mean in English 'Centre for People's Justice'. Explaining his political leanings according to the left-right political spectrum, Kamal Haasan said, "People ask me what is this 'Maiam?', and if I am on the left or the right. That is why I kept the name 'Maiam', which means centre." He added that he will incorporate the best from all sides.

Makkal Needhi Maiyam

Kamal Haasan also hoisted his party flag with its embossed logo for the first time in Madurai. The flag in red, white and black serves as the logo and symbol of the new born Makkal Needhi Maiam party. The logo has six hands holding onto one other. Three of the hands are in red and the other three in white. At the centre of the flag is a six pointed star in black, forming a white core.

Speaking at the party launch event in Madurai, Kamal said in Tamil, "If you look closely, you will find the new map of south India. The six hands stand for the six states. The six pointed star represents you and people's justice." It is surmised that the actor-politico is including the union territory of Puducherry to the list of five southern states - Tamil Nadu, Kerala, Karnataka, Andhra Pradesh and Telangana. For decades, the former French colony of Pondicherry now known as Puducherry has demanded full statehood within the Indian union. The former Portugese colony of Goa was elevated to statehood from union territory status many years ago, but Ex-French Puducherry has been receiving step-motherly treatment so far. Incidently, Telengana too is a newly created state carved out of the greater Andhra Pradesh state.

The South Indian states are non-Hindi speaking. The predominant languages used in the Indian south are Tamil, Telugu, Kannada, Malayalam and Tulu, apart from of course English. The southern are classified as belonging to the Dravidian group of languages while Hindi and other Sanskrit derived languages widely prevalent in North India are classified as Aryan. The Aryan-Dravidian divide has been exploited by politicians for many years. The new kid on the block Kamal seems to be no exception to this rule. For many months prior to the launching of his party, Kamal Haasan had been speaking out about Tamil Nadu as well as the other southern states being discriminated against and getting a raw deal from the Indian Central Government. With topics of Hindi language imposition and interference in state government by the Narendra Modi-led Bharatiya Janata Party (BJP) Government figuring prominently in public discourse over the past year, Kamal Haasan's flag depicting the southern states assumes great political significance in Tamil Nadu in particular and South India in general.

Agnostic and rationalist

Prior to the launch of his political party, Kamal Haasan undertook a 'journey of learning' wherein he met many leaders including Kerala Chief Minister Pinarayi Vijayan and Delhi Chief Minister Arvind Kejriwal. Both have spoken out against the "Hindu supremacist saffron politics" of the BJP and its aligned outfits, and have also criticised the communal forces in India. Kamal Haasan, though a Brahmin by birth, describes himself as an agnostic and rationalist. He has espoused strong anti-right views and criticised the "Hindutva" ideology vehemently. Against this backdrop, the new party too is likely to be secular and opposed to Hindu ultra-right extremism. This has resulted in the Tamil Nadu BJP coming out strongly against Kamal Haasan and his party. This is in contrast to the BJP welcoming the advent of Tamil Nadu cinema super star Rajinikanth's political party. Rajinikanth's brand of "spiritual politics" is palatable to the BJP but not Kamal Haasan's secular anti-religious chauvinist politics.



Many Tamil filmgoers have for long been polarised as competing "Rasikas" of two famous lead actors or heroes. Enthusiastic fans divided themselves into supporting one or the other of two contemporary popular actors. Thiyagaraja Bhagavathar - PU Chinnappa , Sivaji Ganesan - MG Ramachandran, Jaishanker - Ravichandran , Rajinikanth - Kamal Haasan, Ajith -Vijay etc. Rajini and Kamal are very close friends on a personal level but their fans are grouped into rival film camps. Interestingly enough both Rajinikanth and Kamal Haasan have formed their own political parties within months of each other. Rajini's party was in December last year and now Kamal has followed suit this February.

The chief reason for Rajinikanth and Kamal Haasan forming their own political parties at this time is because the political climate seems ripe for their entry into active politics in Tamil Nadu. The state which is home to nearly seventy million Tamil speaking people has been ruled since 1967 by either the Dravida Munnetra Kazhagham (DMK) and/or the All-India Anna –Dravida Munnetra Kazhagham (AIADMK). Currently there seems to be a political vacuum in the state.

Fractured into four factions

AIADMK supremo Jayalalithaa Jayaram passed away and her party, though still ruling the state, has fractured into four factions led by ex-Chief Minister O. S. Panneerselvam, present CM Edappaadi Palaniswamy, Jayalalithaa's "UyirThozhi" (life friend) Sasikala Natarajan (currently in jail) who was also appointed AIADMK interim General Secretary and Jayalalithaa's niece Deepa Jayakumar. The BJP Central Government has "unified" the Panneerselvam-Palaniswamy factions temporarily and is manipulating the AIADMK State Government like a puppet on a string.

The recent by-election at RK Nagar saw Sashikala's nephew T. T. V. Dhinakaran contesting as an independent defeating both the AIADMK and DMK candidates. It's a fragile situation for the AIADMK administration in Tamil Nadu. CM Palaniswamy's days are numbered.

The DMK is not doing well either. Party leader and former Chief Minister Muttuvel Karunanidhi, who is 94 years of age, ailing and is confined to a wheel chair. The one-time powerful orator who has led the DMK from 1969 has lost his powers of speech. Karunanidhi's son M. K. Stalin has donned the leadership mantle but there are strong doubts whether he can deliver. The recent RK Nagar by-election was a shock to the DMK. It was expected that the DMK would win because the AIADMK votes were split among the official candidate and the dissident independent candidate. In spite of split votes, the independent candidate came first and AIADMK candidate second. DMK finished a poor third. Of course the "cash for votes" syndrome was rampant.

Attempts by smaller parties including the leftists to form a common front as a third alternative failed miserably at the 2016 polls. Casteist and parochial parties have a community vote bank but are unable to transcend those barriers. The BJP and Congress have again and again demonstrated that their national appeal does not work in Tamil land. Against that backdrop it is felt that a political leadership vacuum exists in the state. There is a need for change from 50 years of Dravidian politics. Kamal Haasan and/or Rajinikanth with their millions of fans may very well step in and become political forces to be reckoned with in the state.

Tamil Nadu political environment

It is a well -established fact that the political environment of Tamil Nadu state has in the past been conducive for film stars to do well as political leaders. In Tamil Nadu, politics and cinema have been inextricably intertwined in a big way. The larger-than-life image of actors like N. S. Krishnan, K. R. Ramaswamy, T. V. Narayanaswamy, M. G. Ramachandran, Sivaji Ganesan, S. S. Rajendran and later MGR's wife Janaki and ex-leading lady Jayalalithaa dominated the political scene. Political leaders like former Tamil Nadu Chief Minister M. Karunanidhi and his mentor and predecessor C. N. Annadurai also came in from careers in cinema, as screenplay and dialogue writers. Other actors like Vijayakanth, Sarathkumar, Thiruchi Soundarajan, Isari Vaelan, S. S. Chandran, "Norukkupaandy" Karunas and some other actors have also done reasonably well in politics though not spectacularly successful. Kamal Haasan is only the latest in a long list of Tamil cinema actors dabbling in active politics or turning into politicians.

With a population of 70 million, Tamil Nadu has the third highest literacy rate among the states of India. The state is also home to India's original rationalist movement, started by E. V. Ramaswamy Naicker (Periyar). Known as the Suyamariyaathailyakkam, or self-respect movement, it promoted healthy political protest against caste oppression, the imposition of Hindi as sole official language and superstition in religion. Periyar also founded the Dravida Kazhagham or Dravidian Party in 1943, to which both today's ruling party AIADMK and chief opposition DMK trace their lineage.

Maruthoor Gopalamenon Ramachandran(MGR)

In spite of this "Dravidian" heritage of rationalism and self-respect, it is Tamil Nadu that has allowed film stars to exercise political hegemony like no other. In 1977, Maruthoor Gopalamenon Ramachandran (MGR) became the first film star to become Chief Minister of an Indian state. N. T. Rama Rao followed suit in adjoining Andhra Pradesh in 1982. In Tamil Nadu, MGR after his death was succeeded briefly by his wife Janaki Ramachandran who was herself a former film heroine. Then came Jayalalitha Jayaram, MGR's 'leading' lady with whom he had starred in 28 films. She was elected four times as Chief Minister. As a Tamil wag put it, "MGR is the only actor Chief Minister who ensured that his actress wife as well as actress paramour succeed him as CM."

In addition to the MGR-Janaki-Jayalalithaa trio of the AIADMK , the first family in the rival DMK camp too has film connections. DMK chief Karunanidhi is a well-known stage actor and film script writer. He is known as "Kalaignar" or artiste. His nephew and former Cabinet Minister M. K. Maran - who is no more - was also a former film script writer. Karunanidhi's eldest son M. K. Muthu also had a short lived film career as an actor-singer. Moreover, the DMK chief's "second wife" Rasathi was also a stage actor who got involved with Karunanidhi as his "Thunaivi" by acting in dramas penned by Kalaignar.

Karunanidhi's son and political heir apparent M. K. Stalin too has done some acting, as the hero of a TV serial. Stalin's son Udhayanidhi is a successful film producer who has acted as hero in a many films. His wife Kiruthiga directs films. Karunanidhi's younger son Thamizharasu's son Arulnidhi has made his mark as lead actor in some films. Elder son Azhaghiri's son Dayanidhi is a film producer and distributor. Interestingly enough, after the entry of Rajinikanth and Kamal Haasan into active politics, Stalin's actor-producer son Udayanidhi has also announced his formal entry into politics.

"Star Wars" in Tamil Nadu

The role of cinema in the political history of Tamil Nadu provides interesting insights into present-day developments. Viewed against that backdrop, the entry of Kamal Haasan into politics preceded by that of Rajinikanth demonstrates the element of continuity as well as change. The phenomenon of actors in Tamil Nadu politics continues. However, the nature of "Star Wars" in the Tamil Nadu political firmament is likely to change with the political parties launched by Rajinikanth and Kamal Haasan.


D. B. S. Jeyaraj can be reached at dbsjeyaraj@yahoo.com