Sri Lanka has so far fared well in responding to the virus outbreak from a health perspective, but it is now time for the Government to implement a focussed and practical plan of action for the country to deal with the significant challenge that is now before it, from an economic perspective – Pic by Shehan Gunasekara
---
COVID-19 has battered the world with its viral and deadly impact, with millions of people being affected and hundreds of thousands dying. At the same time, the virus and its aftermath has wrecked the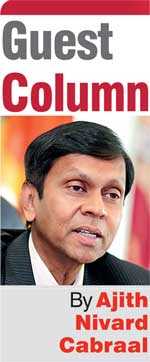 economies of almost all countries and is now leaving a devastating trail of bankruptcies, livelihood losses, evaporation of savings, debt defaults, economic and corporate collapses, and hopelessness.

Sri Lanka has so far fared well in responding to the virus outbreak from a health perspective, but it is now time for the Government to implement a focussed and practical plan of action for the country to deal with the significant challenge that is now before it, from an economic perspective.

This brief 'to-do' list sets out the most critical new initiatives that the writer believes must be implemented (in addition to the normal economic activities that are presently taking place in the country) if the country and the economy is to successfully and decisively deal with the crisis and embark on a growth trajectory once again.

Needless to say, the challenge is massive and time is of the essence in its implementation.

Here's the specific 'to-do' list:

1. Address the impact of the COVID-19 fallout at a macro-level and work towards a 'debt standstill' from the IMF and World Bank for a period of two years: that will stop $ 2.5 billion (Rs. 470 billion) forex outflow which will stabilise the rupee, enable uninterrupted international trade and lead to normal economic activities without restrictions. Already, the IMF, World Bank and many advanced nations have acknowledged the fact that the Post COVID-19 economic revival must essentially be a global effort, since it is a global problem. In that context, Sri Lanka must actively contribute to fashion the global response to its advantage and not take an approach that suggests 'we'll wait and see' or 'we can't do anything about the global response'. Instead, Sri Lanka must approach the recovery and revival from both a global as well as a local perspective, and be seen as an active global contributor to this vital international recovery effort.

2. Establish a business recovery and revival fund and a safety net fund for vulnerable groups which supports those who are daily paid, those who lost livelihoods, and those hitherto vulnerable. These two funds would ideally consist of the rupee savings from the possible IMF and WB debt standstill and would be of a magnitude of around Rs. 500 billion.

3. Source global equity capital of around Rs. 200 billion (about $ 1 billion) to provide equity funds to corporate entities at times of distress. The corporate entities which receive such infusions must be encouraged to use a part of such cash inflows to settle their bank borrowings partially and thereby strengthen their balance sheets and become 'bankable' again. This process will, in turn, help strengthen the balance sheets of the financial institutions, as well.

4.Attract global venture capital funds of about Rs. 200 billion (around $ 1 billion) and provide 'seed capital' to promising new and existing ventures. Such infusion of new funds too will stimulate the economy while creating more entrepreneurs and livelihood opportunities in the country.

5.Re-attract at least $ 3 billion (Rs. 570 billion) of foreign investment into Sri Lankan Rupee Government Securities. Sri Lanka enjoyed foreign investment of about $ 3.4 billion in Government Securities in 2014, but those investments have dwindled to just over $ 0.1 billion now, which suggests that there is sufficient space for investors to return.

6.Attract elderly American, Chinese and European tourists to visit and stay in Sri Lanka for periods of around 100 days during the next Winter season 2020/21 by carrying out a global promotion campaign for this purpose. The Government should also consider providing a COVID-19 insurance cover (similar to an accident cover) of around $ 50,000 to each tourist who visits Sri Lanka in the year commencing 1 July. That will help bring tourists back quickly, and lead to the revival of this very important industry.

7.Implement a focussed 'import substitution' strategy to encourage Sri Lankan enterprises to undertake agriculture, industry, and services which have a proven market in Sri Lanka. It must be noted that an 'import substitution' strategy is the answer, and not a seemingly panic-stricken 'import restriction' reaction. A well-thought-out 'import-substitution' strategy will be a three to five year initiative, and it could possibly yield a steady income stream of around Rs. 1,000 billion ($ 5 billion) per annum for Sri Lankan companies within the next three to five years. In tandem, financial institutions must be specifically encouraged to support such ventures, while the enterprises must be provided with tax incentives by the Government.

8.Release 20% of the EPF member balance to the members themselves, so that approximately 2.6 million EPF members who are currently struggling could pay their debts and make ends meet, thereby giving themselves a new 'lifeline'. That intervention, while being of enormous value to the individual members, will result in an amount of about Rs. 500 billion being released into the economy out of the Rs. 2,500 billion Superannuation Fund. That influx of funds into the economy will also serve as a useful stimulus to the economy as well. After this idea was mooted by this writer in Sri Lanka in late March 2020, it has already been implemented in Australia and India.

Studies in many advanced and developing economies suggest that unless the post COVID-19 related collective interventions are (at least) of a value of around 10% of the GDP of a country, the impact of the interventions may not be sufficiently effective.

That finding therefore suggests that the collective interventions in Sri Lanka should be of a value of (at least) Rs. 1,500 billion in order to have a favourable impact in the country's Rs. 15,000 billion economy. Ad-hoc, knee-jerk and traditional interventions of a much lesser value may be helpful in limited circumstances, but would not be adequate to realise the desired result of an economic revival at this time.

Piling on debt upon debt will not bring permanent relief to hapless borrowers, but be a stop-gap measure only. A well-administered, temporary, but easy-to-implement 'debt moratorium' to enterprises without compromising the health of the banks and finance companies will certainly help, but would not be a long-term solution, unlike those strategies that are contemplated in the above 'to-do' list.

It must be stressed that the above interventions must be carried out together, and not be implemented in a sequence where one intervention follows another. All interventions are of vital importance and must essentially be implemented simultaneously.

Sri Lanka cannot make a mistake at this time. The consequences of such failure will be too disastrous and the very existence of the nation may be at stake. Accordingly, Sri Lanka cannot, and indeed must not, rely on unimaginative and archaic ideas as those are bound to fail in the present highly-challenging circumstances.

Finally, the suggested revival effort must be implemented by a dedicated, talented and hand-picked team led by a strong, knowledgeable and committed person. Such team must be able to think and act out-of-the-box, and must therefore be given the policy space and authority to take decisions within a broad framework. That framework could include the above strategies and other strategies as may be necessary so that the country could proceed towards growth and stability with confidence and clarity.


(The writer is former Governor, Central Bank of Sri Lanka.)