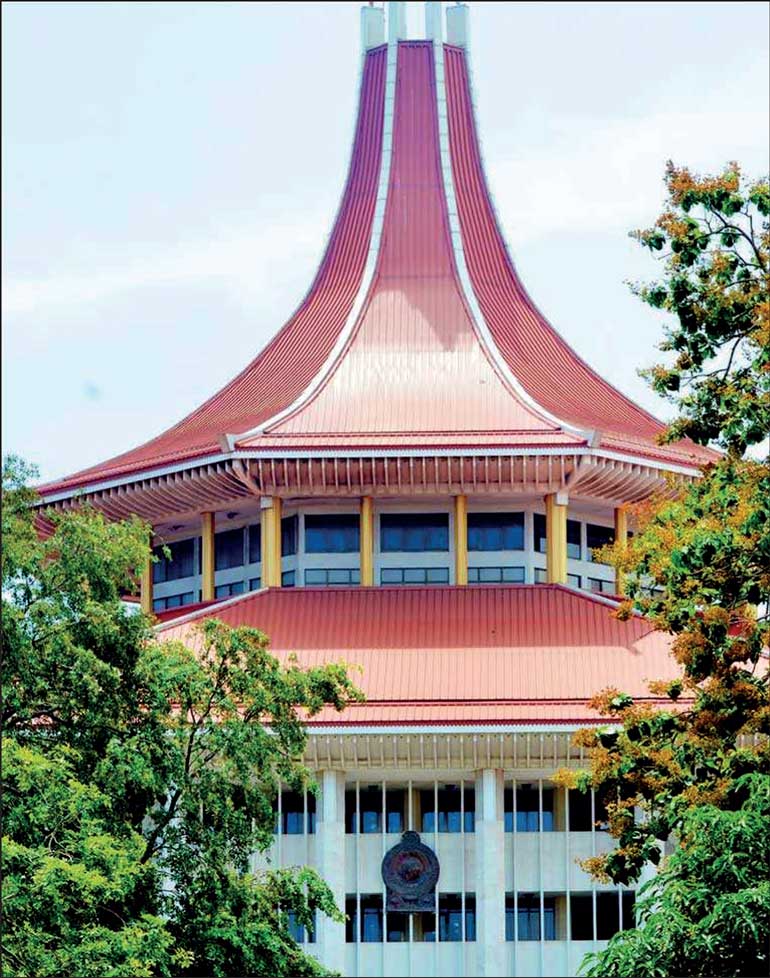 NEW LAWS OR OLD? – as long as there are 'truth' and 'trust' deficits in the socio-political systems, 'economic assassins' among others inimical to the national interest will not be brought to book
---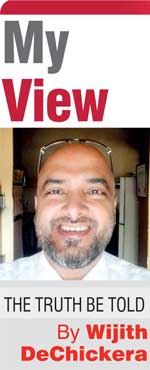 Sri Lanka is on the cusp of a major 'spiritual' transformation.

Not because a lady-soothsayer read her tea-leaves wrong for her gentleman callers or a charismatic charlatan profited – or is it profiteered? – from a spell-binding national cricket win.

But because there's nothing quite like bankruptcy and being reduced to the begging-bowl again to bring about a deeply cleansing soul-dive into self-reflection.

And hopefully we shall all of us come up smelling of wet rain on hot muddy soil, and two leaves and a fragrant bud being secured for our basket once more…

But not before some serious soul-searching has been undertaken in our national and individual interests.

And asking ourselves and others we consider sincere stakeholders in the 'Save Sri Lanka' project some probing questions.

Not before we've abased ourselves for a host of collective lapses.

Not before we've flagellated ourselves over self-deception, invited in to cover a plethora of personal and interpersonal sins.

Not before we've been truly repentant before the native throne of corporate grace of our fellow islanders. Ahead of any other externally imposed penances or penalties coming into effect to our detriment.
ABC
For starters, we would do well to recognise that the United Nations Human Rights Council has talked about our 'economic crimes' for the first time.

Sri Lanka had featured on the roll-call of culprits and scapegoats there before, because of our war in the past and the excesses thereof.

For human rights violations are not the bailiwick of governments alone, but separatists and insurgents also.

For the sake of our late, lamentable nationalism, we must recall and admit that several steps had been taken by our past governments. The Office of Missing Persons was created, as was the Office of Reparations. National structures were put into place the isle over, to create at least a facsimile of reconciliation – if not the elusive ultimate goals of transitional justice.

For the benefit of naysayers, we might graciously recognise that a lot was done including handing back to their owners the lands that were taken over by the state during the 26-year conflict. In truth, the formal stages of a civil and internecine war that spanned more decades than our democracy cares to remember.

For the record, let it show that a lot of these things have been set back in the last few years under the Gotabaya Rajapaksa Government.

And more is the pity for a Presidency that began with such lofty ambitions as bringing about 'One Country, One Rule' and high hopes such as 'A Singapore of South Asia'.

And now, for the first time at the UNHRC, economic crimes have featured.

And we know that the Government has given some indication that the assets and liabilities of politicians and public officials will be monitored so that action can be taken if questions are raised.

And the Government has also given an undertaking that the anti-bribery and corruption commission will be made independent.

And we're expecting those laws to be brought before Parliament next month.

But those laws won't suffice to ensure justice in the case of financial crimes where leaders – presidents, prime ministers, ministers, prominent family members of the ruling party and associates of sundry governments in power – have stolen the assets of the country, and hidden them locally or internationally.
Now
Now, we could be inspired by noting that the United Nations has a program – Stolen Assets Recovery (STAR) – whereby nations so unfortunate as to have been raped by their elected representatives are identified, indicted and incarcerated.

And perhaps more importantly, the proceeds of their rapine and pillage located.

And the plunder restored to its rightful owners: the public of the realm from which they were looted.

Now, the political Opposition has demanded that the present Government of Sri Lanka brings a law to persist with stolen assets recovery. This is absolutely essential, and all right-thinking citizens would agree.

And though we have a new President in Ranil Wickremesinghe – and the attendant if ambivalent hope that the reforms he set about in his previous tenure would ensue – simply making declarations that 'we are going to go behind those who have robbed' won't do.

As an eloquent SJB MP has rightly said: "A law must be brought. A stolen assets recovery law has to be brought. And it has to be brought immediately. Talking about it won't do. That is not acceptable. In addition to that, because we are talking about economic crimes, we have to pursue those who have committed those crimes."
Ask
Well might we ask that champion of justice just who those criminals might be?

Is it only the obvious culprits in the aftermath of the UNHRC's resolution – the ones who drove Sri Lanka to its knees in the guise of making the nation a 'vista of splendour and prosperity'?

Or could or should the ambit of such a law span the gamut of offenders from villains in the Central Bank, CEB/CPC, milk, rice, sugar, garlic, rapid antigen testing kits, etcetera, scams?

And how far back would this new law's remit have to extend to collar those who helped themselves in the guise of 'Helping Hambantota'? A MiG deal? To Thawakkal?

Is the law of the land as it stands today lacking in sufficient teeth to nab at least some of these culprits?

Or must the Criminal Procedure Code be set aside until such time as a sharper national political 'tool' – one might also suggest 'weapon' – is ratified and applied?

Or will the citizen on the street – quite literally these days – be content that the best interests of the nation are being served by constitutional clauses that place the high and mighty beyond the hideously foreshortened arm of the law in the face of (for example) Presidential Immunity from prosecution... as we learned lamentably about the Easter Sunday attacks only this week?
AGD
Of course, be the legal and constitutional realities as they may, the issue in Sri Lanka is that the Attorney General's Dept. – the de jure and de facto public prosecutor – is also an advisor to the Government.

But as innocuous as that relationship may sound, in some countries, the Attorney General – as a formally recognised personage in the Government of the day – sits in the Cabinet.

In Sri Lanka, being an advisor to the Government as well as the Chief Public Prosecutor clearly constitutes a conflict of interest.

This is arguably the reason we haven't seen many public prosecutions of politicians or high public officials in the last several decades.

So, if Sri Lanka is to read the writing on the wall with any degree of native wit or insight, the time has now come when an island-nation struggling to regain its feet – as much as its credibility, international standing and former credit ratings – needs an Independent Public Prosecutor.

If we fail to do this with despatch and alacrity on the way forward, the lapses and lacunae of the past four decades and more could well continue to be the modus operandi of a state that's failing on more fronts than the social, economic and political.

There could be a spiritual Armageddon too. Some bottomless black hole from which, standing at the edge of the abyss now and singularly failing to see and recognise the abyss staring back at us, there is no return.
IPP
Witness the Airbus scandal where those who received bribes from the aeronautical business to procure aircraft were convicted in the British courts – and Sri Lankans inter alia were named.

But what, as that stalwart SJB MP also asked, has the Attorney General's Department done about that, adding: "Where are the prosecutions in this country? What is the progress on the prosecutions?"

The answer, my friend, is blowing in the wind. Together with similar questions we may have had many moons ago when the rug was pulled out from under the righteous feet of your 'Yahapaalanaya'
Government as a result of similar flops, flubs, failures and fiascos!
Remember that other Central Bank imbroglio also... When, under the guidance of its then Governor, the State hired agents in the US to promote the image of Sri Lanka abroad? Those agents were paid millions of dollars and one of their chief players was convicted by a federal court in the US and sentenced to 12 years imprisonment.

"Why hasn't the Attorney General rigorously pursued that case? And punish those who were responsible for approving such payments? Why hasn't the Attorney General's Department done that, and done it very, very quickly?"

No two guesses who's doing the asking, eh.

Of course, we're grateful to such sea-green incorruptible gents who are usually/traditionally/always striving to keep us on the straight and narrow.

But a modicum of humility would go well with the foot-in-mouth syndrome that must eventuate when even such worthies are exposed for being complacent about their former leader's alleged complicity in one of the 'crimes of the century'.

Hope the redoubtable MP understands the sick-at-heart, kicked-in-the-gut feeling we get every time we remember how precious little was done under even 'Good Governance' – and the resultant rot that led us down the low road to eventually declare our insolvency?

Let us end with one more case… where an ambassador of Sri Lanka was convicted in a US court of fraudulently trying to take money, while being Sri Lanka's representative in the United States of America.

The question is – and remains – "Why hasn't the Attorney General rigorously pursued those who committed financial crimes in this country? What is the responsibility? Ultimately, the people who have been played out are Sri Lankan citizens and taxpayers. Where is the justice?"

That is why – with Eran Wickramaratne MP – we say that the time has now come, not only to have a Stolen Assets Recovery Law, but also an Independent Public Prosecutor in this country. So that we can get off that list of countries, which have committed economic crimes!
---
| Editor-at-Large of LMD |
---