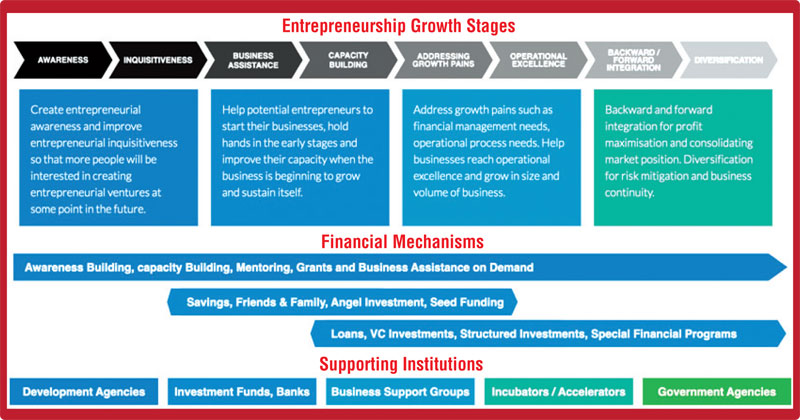 ---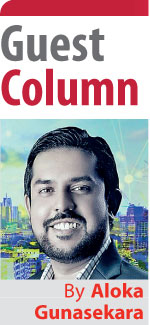 Sri Lanka isn't necessarily the easiest place to do business. Personal experience is that it's actually easier to register a company in the USA and conduct business globally rather than doing the same from Sri Lanka.

This observation is supported by the Doing Business Index by the World Bank. Sri Lanka is ranked 99 among 170 countries. In comparison, countries with similar socio-economic contexts like Rwanda (Ranked 38), Vietnam (Ranked 70), Malaysia (Ranked 12), are overall better.

The thing is entrepreneurship drives an economy (duh!). It does not matter whether it's a solopreneur or 20,000 people strong blue-chip, all businesses help to grow the economy, create more jobs, and generally improve living standards.

Out of all businesses in Sri Lanka, MSMEs account for more than 75% of all enterprises as revealed by the National Policy Framework for SME Development. Importantly, MSMEs are the most susceptible to external forces due to issues with knowledge gaps, access to finance, unclear regulations, and lack of business support services – among other reasons. But still, only about 3% of the Sri Lankan population are entrepreneurs of some form.

The bottom line is we need more people to become entrepreneurs and we need to remove the barriers to starting and running a business. We need to create a cohesive ecosystem where the entrepreneurs are provided the correct guidance, provided with integrated financing instruments, and also provide them with structured way forwards.

These can be as simple as providing a common answer database for frequently asked questions at different levels of enterprises; a regularly updated list of grants, loans, investment tools available to entrepreneurs; a clear breakdown of tasks conducted by Government agencies; and maybe a common document on assistance afforded for exporters.

These steps would help grow exceptional MSMEs to reach operational excellence, backward/forward business integration, and business diversity which usually signals the arrival of a strong business. Local examples that reached these stages include MAS, Brandix, Dilmah, Astron, Perera and Sons, Link Natural Products among many others.

Then there's the problem of entrepreneurship development program effectiveness, or the lack thereof. According to David McKenzie, a Lead Economist at the World Bank, entrepreneurship development programs increased the profitability of supported businesses by only 10-12% and added no new jobs. His research is based on a sample of nearly 8,000 MSMEs in the African Region between 2007 and 2018. While I am certain that the Sri Lankan situation is probably more positive than David's observation, we definitely need a better way forward.

Capping it off, there's a whole other aspect of under-utilisation of credit and other financial facilities, angel investments, impact investment, venture capital, and other financial instruments due to lack of business accountability, lack of knowledge, and lack of trust. Many outside of Colombo have not heard of organisations like the LAN Fund, StartupX Foundry, Good Life X that carry out exceptional entrepreneurship development and assistive work.

The role of regulatory bodies such as the registrar of Companies, the Inland Revenue Department, the Labour Department is also important. No one can run a business without these organisations. But these organisations are not the easiest to work with even on a good day.

Now, how do we bring all these different things together, increase entrepreneurship and also solve all these plethora of problems, all at the same time?

We use a systems approach.

What does a systems approach mean? Put simply, this is a generalisation that everything is interrelated and interdependent. In the case of entrepreneurship development, a systems approach is perhaps what we need to grow local businesses across the board.

Currently, many of these mentioned things are not connected or aligned well. Most of the entrepreneurship-related work that we do is disjointed and unsystematic. I haven't even touched on things like business continuity, risk management, financial planning and even the mental and physical wellbeing of an entrepreneur.

If we continue to do things in this disjointed, haphazard way, it's going to be quite difficult for us to encourage people to take up entrepreneurship as a way of creating wealth and jobs.

So, what now? What should we do?

Addressing this myriad of issues requires new thinking. First of all, there's a need to identify who does what. Ideally, a mapping exercise needs to be done, so that there's clarity and transparency about where different organisations stand.

A good example is an entrepreneurial ecosystem map that Morocco did. The map identifies a majority of the entrepreneurship-related organisations including the Government institutions. Just having this map gives so much transparency and a clear understanding of who does what, making things easy for everyone. The map is found at ​​https://discoveredmarkets.kumu.io/morocco-entrepreneurial-ecosystem. In Sri Lanka too, we can identify how the relevant organisations can collaborate and do baton changes between each other, so everyone's lives are easier.

Second of all, entrepreneurship development cannot be done through a production line approach. This is because entrepreneurs do not get the same result every time, all the time. What's more, according to Forbes, two in three MSMEs fail over a period of 10 years. If failure is inevitable, rather than trying to survive the unsurvivable businesses, we need to create a funnel where businesses are assisted through a stepped program where we help businesses either find their footing or let them fail gracefully like the Chapter 11 proceedings in the USA allowing for a faster bankruptcy process.

Not all businesses can be grown into unicorns. But the net effect of one unicorn can be achieved through let's say 10,000 small businesses. What's more, we can create clusters of complementary businesses where entrepreneurs can help each other through shared knowledge, shared Rolodexes, and better collaboration.

Such an approach would allow for angel investors, impact investors, and entrepreneur support organisations to better assist the MSMEs and the entrepreneurs. Inevitably, there would be opportunities for tech startups with exponential growth possibilities to crop up as well. When any type of ecosystem grows, it's usually the tech startups that fill the gaps and grow faster than the ecosystem itself.

However, this whole thing cannot be done by working in silos. Instead, the Government, business support organisations, development agencies, donors, regulatory bodies, entrepreneurs, wantrepreneurs and so many others need to come together with an understanding that this is a systems approach and everyone needs to work together to achieve a cohesive whole.
---
(The writer is the Director – Startup and Business Ecosystem Innovation at YouLead, a USAID-funded, IESC Project.)
---