The sustainability of our freshwater use has become a challenge and effective demand and supply management policies are a must
---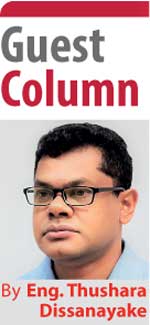 Water stress occurs when the water resources in a region or country are insufficient for human and ecological demands. Although the planet has got 1.386 billion km³ of water only 2.5% is available as fresh water. According to the United Nations 2.3 billion people live in water-stressed countries, of which 733 million live in high and critically water-stressed countries.

The level of water stress is calculated by taking into account all the freshwater withdrawals by all major sectors. The important thing in this regard is that environmental water requirements are also considered. The main sectors include agriculture, fisheries, industries, and services. Total freshwater withdrawal is the volume of freshwater extracted from rivers, reservoirs, and groundwater sources for the aforementioned sectors. These sources are renewable water sources as they are replenished or recharged from rain. If water is used solely for power generation that requirement is also used for the calculation. However, in our country that is not the case, as we use the water for agriculture after power generation.

Sri Lanka is receiving about 2,500 mm average annual rainfall and is blessed with 103 rivers radially flowing to the sea from the central hills. Further, the country has a net surface water storage capacity of about 6 billion cubic metres with the help of all the major dams and minor tanks of varying capacities. Despite all that, according to the Food and Agriculture Organization of the United Nations, Sri Lanka's level of water stress is 90.8%, indicating a high level of water stress. In other words, the country is consuming 90.8% percentage of its total available renewable freshwater resources at present apart from environmental needs, which are estimated to be 52.8 billion cubic metres.

Accordingly, the renewable water withdrawal is equivalent to 12.95 billion cubic metres for all sectors except the environmental requirement. When the water stress level reaches 100% it would be a critical situation as meeting further demands for water from renewable sources would not be possible. However, at the river basin level, there can be significant differences in water stress levels.

In contrast, water stress in Kuwait is 3,850% indicating that the country has got a very little amount of renewable freshwater when compared to its requirement. Hence, the freshwater requirement of Kuwait is met with seawater desalination, treated wastewater, and brackish groundwater. In India, the figure is 66.5%, which is much better than in Sri Lanka. In the meantime, the average water stress in South Asia is 78%.

According to the level of water stress, we are gradually reaching a critical level as far as our available freshwater resources are concerned. Given that only 90% of households have access to safe drinking water and the population is increasing, more and more renewable water resources will be utilised in the near future. If water stress is reached a critical level, it would be a challenge for economic development as water is an essential requirement for many industries.

Like in many other countries agriculture is the main user of water in Sri Lanka, which consumes nearly 85% of freshwater while total consumption for both industrial and domestic sectors is close to 12%. Notably, the contribution to the GDP from the agriculture sector is just 14.6% while that of the service sector is 59.2%. However, climatic and field soil conditions affect water use in agriculture significantly. Being a country located in the tropics crop evapotranspiration is comparatively high in Sri Lanka, especially in the dry zone.

Still, behavioural changes with regard to water use and the availability of sound water infrastructure can play an important role in water demand management. Therefore, we have to considerably improve our water productivity, especially in the agriculture sector by increasing the water use efficiency being the main water user. However, a considerable investment is necessary for such infrastructure improvements in the form of irrigation modernisation to increase water use efficiency.

Another challenge to fresh water is its pollution due to human and natural phenomena. Water pollution due to agrochemicals, sewage runoff, and waste disposal is a high concern at the moment. Natural disasters like floods, droughts, and landslides also lead to water degradation. Floods contaminate freshwater sources with hazardous chemicals and debris. Droughts on the other hand increase the concentration of hazardous constituents in water as the amount of water available in freshwater sources is rapidly abated during droughts. On the other hand, the growing population and economy intensify these negative impacts on water quality.

The garment and textile industry is the country's leading export industry, which is accountable for 40% of total exports. The industry is water-intensive; therefore, it is important to guarantee that it meets the required water supply. Tourism is the third largest foreign exchange earning industry in the county with a GDP share of 4.5%. The industry needs a considerable amount of water for hotel operations. Hence, future water policies should, among other things, consider each sector's contribution to the country's GDP as well. This is more important than ever given that we have to uplift the country again at least to the previous GDP level that prevailed before the recent economic crisis.

Therefore, the sustainability of our freshwater use has become a challenge and effective demand and supply management policies are a must. Unless we succeed in such endeavours, we will have to think of costly solutions like water recycling, seawater desalinisation, and the like before long to meet the essential freshwater demands of the country. If we fail to achieve either of those, freshwater will be extracted at the expense of environmental water demand and it may end up in an ecological disaster.
---
(The writer is a Chartered Engineer specialising in water resources engineering with over 20 years of experience.)