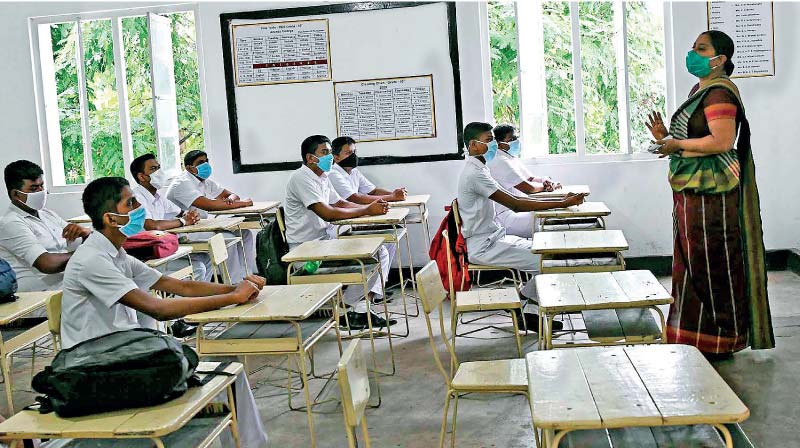 When students are finally back in school with their teachers, why are we taking them away from their teacher to listen to a recording – Pic by Shehan Gunasekara
---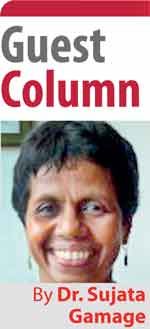 The Ministry of Education in Sri Lanka is reportedly planning to spend Rs. 495 million to provide smart TVs to 7,000 national and provincial schools. The stated objective is to help students follow classes that they missed during school closures due to COVID-19. 

It is encouraging to see the Government prioritising education at this time of extreme financial difficulty. However, is introducing these smart TVs for pupils to passively watch videos the best way to help make up for the education they have missed? 

In June 2021 UNESCO recommended three approaches for catch-up learning. Two of three approaches are pedagogical – (1) Do changes to the curriculum such as condensing the curriculum to focus on core knowledge and skills and (2) provide additional support such as tutoring for struggling students. The third approach is to design additional logistical support such as changes to the timetable, class sizes, or even technology interventions as per the pedagogical objective. 

To our knowledge, the Ministry of Education has not attended to the two pedagogical priorities that UNESCO has identified. 

In fact, the Education Forum Sri Lanka has been advocating for a reduction in examination pressures for Grades 1-9, making diagnostic tests for language and math available online, and supporting teachers to bring students up to standard as they see fit. Unfortunately, our pleas have fallen on deaf ears.

The kind of top-down technological fix proposed by the ministry is the last thing we need at a time of dire financial crisis in the country. 


Smart TV is a misnomer

According to a LIRNEasia survey of households 91% of households in Sri Lanka owned a TV, but the majority would be analog TVs not capable of receiving digital content.  A smart TV is a digital TV that has an internal operating system or is connected to a device to enable the streaming of music, videos, games, and various apps and browsing the internet.  What is envisaged by the Ministry is a more static form where students view content saved on DVDs or flash drives connected to the TV. It is more correct to call this initiative a Digital TV initiative because the novelty it would offer is to provide digital TVs in place of analog TVs which can only receive broadcasted content or content in video cassette recorders which nobody uses now.

Providing digital TV for viewing stored digital content is indeed a realistic approach given that 7,000 schools located in more remote areas targeted will not receive Internet access in the foreseeable future. However, the content on offer and mode that they are to be offered are problematic. 


Content is largely limited to recorded lessons

If the objective is to help students catch up with lost lessons, videos that follow contents in textbooks chapter by chapter are already available on several sites on the Internet. The NIE-Channel which is a repository of lessons broadcasted over the Gurugedara Channel of Rupavahini, and DP Education Channel, a service by private philanthropists are the two main sources. E-thaksalawa is a platform that provides access to textbooks, Gurugedara content, and additional supplementary content on a site provided by the Ministry of Education. Educational videos on demand are also available via cable by PeoTV and via satellite by Dialog TV. 

The question is whether these recorded lessons have a place in a school setting.


With a live teacher in school, why use a device to watch lessons on videos?

The educational videos provided do a good job of clarifying the content in a textbook if a teacher is not available, especially when watching these videos in the comfort of one's home where one can rewind and relearn. However, in a school setting, students will not have the opportunity to rewind or revisit the content. All they can do is passively watch. 

Recorded lessons by Gurugedara, for example, are useful when the country is in lockdown, but they do not come close to replacing a teacher in person who can employ active learning strategies. Besides in many of the disadvantaged schools, teachers literally drag the children through the lessons, because the children are not motivated to learn for various reasons. When students are finally back in school with their teachers, why are we taking them away from their teacher to listen to a recording? 


Could be used to address teacher shortages in targeted school

The proposed program makes the most sense in schools where there is a teacher shortage. In this country, we have 240,000+ teachers for an overall student-to-teacher ratio of 16.5 as reported by MoE in 2020. The problem is not having the right teacher in the right place. With video lessons shown on a TV screen, students can continue to learn even when the teacher is not present, or the teacher is not equipped to teach the subject. How many of these targeted schools have serious teacher shortages and would benefit from digital TV at school should be disclosed by the ministry and funds spent on selected schools as per their requirements.


Right place, right time for educational TV is when schools are closed

As we learned, during the pandemic, some schools and NGOS distributed video lessons saved on flash drives to students without Internet access. Students clustered around neighbouring houses with digital TVs to watch, rewatch, and learn, guided by teachers communicating on analog phones as needed. If digital TVs are to be used for education, the best approach would be to arrange for students to watch lessons after school on the school premises, or at home with the poorest families provided with loans or grants to purchase digital TVs.


Right solution right now is right policy

If children are to catch up with their learning, the priorities identified by UNESCO do not cost money – i.e., focus on the math and language fundamentals, provide diagnostic tests, pay for additional tutoring for children after school in return for bringing them up to standard.