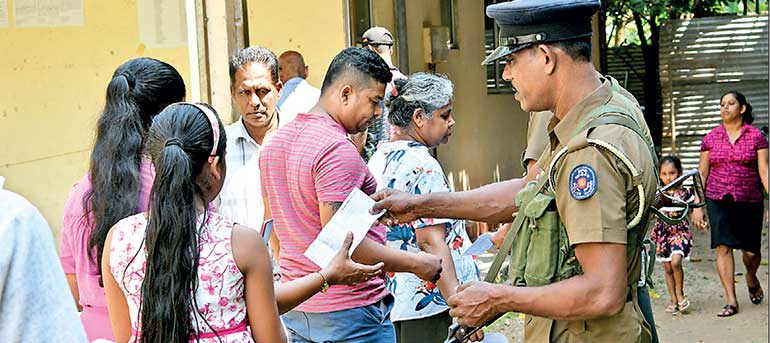 Delaying of election with or without good intentions is not a possibility anymore – Pic by Shehan Gunasekara
---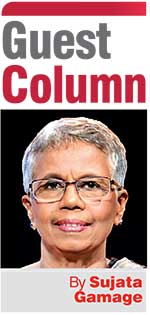 President Ranil Wickremesinghe has proposed a set of important electoral reforms for all elections along with specifics for local government.

The four proposals relevant to local elections are – (1) Reducing the number of councillors from the present 8,700+ to 5,000 (2) Setting up 14,000+ Jana Sabhas at Grama Nildhari Division level in parallel to the existing local councils (3) Reducing autocratic actions by Local Council Chairmen by converting the chairmanship in each council to a chairmanship of an executive committee of the council and (4) Bringing in campaign finance legislation. The proposal for a mixed member proportional (MMP) system does not apply to local government because local government elections Act No. 17 of 2017 has already put an MMP system in place for local bodies.

Electoral reforms do not happen when we want or how we want. We have dilly dallied too long with electoral reforms and the only time it was successful was with the passage of Local Elections Act No. 16 of 2017. It was a chaotic process that delayed local elections for three years and doubled the number of councillors in local government bringing it up to 8,700+. One might argue that delaying elections and increasing number of councillors is collateral damage we have endured under our chaotic political situation.

Government's proposal to reduce the number of councillors would be a popular one but the opposition and civil society are saying it is a ploy to delay local elections. Ploy or not, they are correct about the delay. If local authorities are to continue without interruption, ECSL say they need to call for elections by January 2023 and start preparing now. A new delimitation is an impossibility at this point. A Supreme Court decision of 2017 also reiterated the responsibility of the legislature not to delay elections. Delaying of election with or without good intentions is not a possibility anymore.

Unfortunately, with an undue focus on reducing the number of councillors we are losing sight of critical reforms that we can achieve without delaying the elections. The objective of this column is to layout some of the underlying issues and outline at least six such reforms.


Last minute reforms and delimitations inevitably delay elections

Reducing the number from 8,700+ to 5,000 requires a fresh delimitation to reduce the number of wards which determine the final number of councillors according to the 60:40 formula of MMP. First need to reduce the current 4,719 wards to 3,000, so that 3,000+ members or 60% of desired 5,000 would be elected to represent the wards. Next, another 2,000 or 40% of desired total need to be selected from party lists yielding the desired total of 5,000.

By law, the Election Commission Sri Lanka (ECSL) must hold elections for local councils within six months before their expiration. ECSL plans to complete the electoral register to capture as many youth turning 18 this year by 30 October and call for nominations soon after to hold the election around January of 2023 so that local authorities will continue uninterrupted before their expiration on 19 March 2023.

Can we put our faith in a new delimitation process in a context where reforms and related delimitation issues have already sent the nine provincial councils (PCs) into oblivion and contributed to the delaying of local elections that were due in April 2015 by three years?

To elaborate, the last nine PCs were elected in batches in 2012, 2013 and 2014, respectively. They now stand dissolved for 3, 4 and 5 years, respectively, after completing their five-year terms. The Election Commission of Sri Lanka (ECSL) is not able to conduct election as per Provincial Council Elections Act No. 17 of 2017, because the required approval for the delimitation by the Parliament is in limbo.

Local council elections that were due in April 2015 were held only in April of 2018. The delays were due to delay of the delimitation required as per Local Election Act No. of 2012, then by a review of that delimitation, and further by modifications to the electoral method culminating in Local Election Act No. 16 of 2017.

These delays are symptomatic of the total disregard by the Centre for the provincial and local electoral calendar and the role of these bodies.


Knowingly delaying elections could be a violation of fundamental rights

In fact, the Supreme Court decision SC FR No. 35/2016 reprimands the Parliament for not doing its part for the continuity of local governments without disruption:

"In 1987 by Act No 24 of 1987 Parliament introduced an amendment to section 25 of the Local Authorities Ordinance to hold elections within the period of six months preceding the date on which the term of office of the members who are to be elected will commence. This is to ensure that people will continue to have representatives in the Local Authorities without a break. When terms of the Local Authorities due to expire in 1st of April 2015 it was obvious to the legislature and to the executive that it is not possible soon to hold elections under Act No. 12 of 2012. The Parliament did not take legislative measures to remedy this situation. As a result, for a period of two and a half years the voters were deprived of their right to appoint representatives of their choice and the authorities are managed by Secretaries of the Councils who are public servants." [SC FR No. 35/2016, Decision dated Dec 15, 2017].

I leave it to legal experts to tell us whether any executive or legislative action that inhibits the continuity of local government could be challenged in the Supreme Court based on above.


For the record, there were 683 councils with 8,243 members pre-1991

To put the issue of 8,000+ Councillors into perspective, the system of local government that existed prior to its dismantling by District Development Council Act of 1991 consisted of 12 Municipal Councils, 39 Urban Councils, 83 Town Councils and 559 Village Councils for a total of 683 Councils with 8,243 council members in 1981 (Commission on Local Government Reforms, 1999). Contrast those numbers with the current numbers of the 341 councils consisting of 8,719 members and decide for yourself.

Further, the issue of unbearably high number of councillors may be true only for larger councils and we should not forget that Central government has not done the needful to make these councillors productive.


Reforms that would not delay elections

Unfortunately, protests by newfound friends of local councils drown out critical reforms. As we have seen, over the year parliamentarians irrespective of party politics have put their political interests above any concern for the betterment of local or provincial councils. It is time to rally around the positive proposals that can be enacted without impeding the preparation for elections by the ECSL.


To name six:
1. Increase FPP quota for women
Currently, there is a quota of 10% for women in candidates nominated for FPP contest for the 4719 wards. In practice, political parties do not go above the prescribed minimum. As a result, women may win at the same rate as men, but the winning numbers are low because we are starting with a small number of contestants. As a result, the required 25% representation of women in local councils is fulfilled by the ECSL insisting that the parties that win list seats should return women until the quota is satisfied. Currently, SLPP which won a lion's share of FPP seats did not get enough list seats to return additional women. Almost all the women in local councils are those selected from lists of opposition parties.

To address the problem, the quota for FPPs should be increased to 25%, so that women get a chance fulfil the 25% of the total quota through political contests and be part of a winning party. The 2020 Select committee of the Parliament too has proposed a similar increase in their report.


2. Add a youth quota
A local election will allow youth who were part of the Aragalaya to get their first taste in representative democracy. Further, Demographers have noted an unexplained bulge in births during the 2002-2012 period resulting in an additional 40,000-50,000 or youth entering voting age in starting 2020. Although these youth will not be prepared to contest an election, the election electoral process has represent their aspirations. Therefore, the previous 40% quota for youth for nominations should be brought back on top of the women's quota, but without a stipulation in the percent elected as in case of the women's quota. If women under 35 are nominated that would fulfil both the youth quota and the women's quota.
3. Enact campaign finance limits
The Election Commission has already written to President Ranil Wickremesinghe, submitting an "Election Propaganda Expenditure/Campaign Finance" Reform Bill to Cabinet for approval.

"The Commission has noted that this Bill, which has been drafted by the Legal Draftsman's Department, and approved by the Attorney General's Department and the Special Parliamentary Select Committee on Election Law Reforms, seeks to control the unlimited expenditure incurred by candidates, political parties, and independent groups contesting free and fair elections in order to obtain the people's mandate and preferences.

This recommendation has been on record since interim report of 2003-2007 Select Committee of the Parliament and now by report of the 2020-2022 Select Committee of the Parliament. Unfortunately, when parties cannot agree on formula or electoral boundaries, these critical reforms get thrown out with them.


4. Mandate asset declarations at the time of nominations
This too is a critical change in election laws that gets overshadowed by disagreements on the electoral boundaries and formulae. It is high time to enact laws to mandate the asset declarations and make a summary of the declarations public.


5. Introduce a digital nomination submission process
Having to meet both a women's quota and a youth quota will increase the chance of a nomination paper being rejected for noncompliance or compliance errors. Therefore, it is important to introduce a digital submission system where the computer will alert the submitting party or group if either of the quotas is not met. Further, as proposed by the select committee, there should be a grace a period of 24 hours for resubmission of a nomination in the case of any error in the submission.

Further, taking advantage of the digitalisation, list nominees should be required to attach a short bio of 250 or so words as to why they should be selected, and all submissions along with the bios should be available on the Internet no sooner the submissions are approved by the ECSL.

A digital submission system would also reduce the paperwork burden of filing asset declarations.


6. Strengthen committee system in local government
The proposal by the President to convert the chairmanship of a council to chairmanship of an executive committee needs careful consideration. Will that lead to dysfunction? Have we considered other alternatives to reducing autocratic behaviour by Chairman? This and other proposals that are not relevant to the elections per se should be entrusted to a committee that would consider other viewpoints and present an improved proposal.

The Municipal Council ordinance mandates a finance committee and two other committees but to my knowledge there is not such mandate for Urban Councils or Pradeshiya Sabha. A range of committees should be mandated for all councils and a certain number of places in the committees should be reserved for knowledgeable and committed citizens.

Once the proposed 14,000 or so GND-based Jana Sabhas are established, they can nominate representatives from among community members who are knowledgeable and/or experienced in the subject matter of each committees. The presence of citizen representatives would to make the committee process more transparent.

Secondly, reinforce the provisions in the Right to Information Act in the Local Authorities Act to make available all decision including procurements on the Internet.