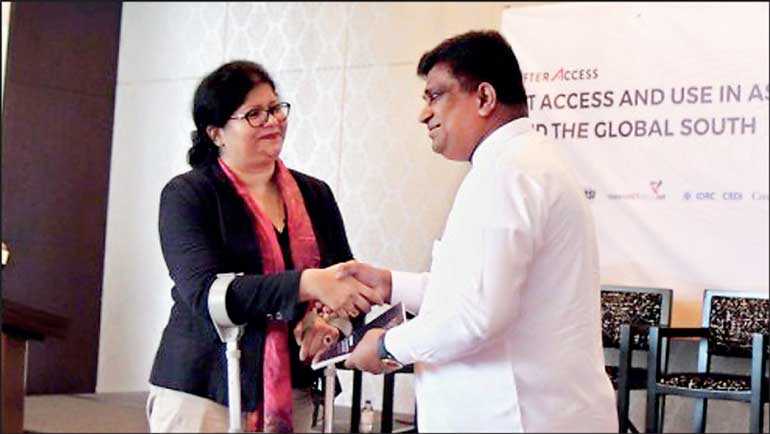 LIRNEasia CEO Helani Galpaya presents the AfterAccess report to Minister of Digital Infrastructure and IT Ajith P. Perera
---
LIRNEasia is a pro-poor, pro-market think tank with researchers scattered across Asia in a virtual network with a prominent ground presence in Colombo. Its mission is catalysing policy change through research to improve people's lives in the emerging Asia Pacific by facilitating their use of hard and soft infrastructures through the use of knowledge, information and technology.

Recently LIRNEasia has launched 'After Access – ICT Access and use in Asia and the Global South', a report based on nationally representative surveys of households and individuals in 23 countries in South America, Africa and Asia. The survey, conducted from April 2017 to January 2019, was based on 46,746 face-to-face interviews each lasting for about 90 minutes. It has covered a wide range of topics related to the use of mobile phones, Internet, social media and other platforms.

What follows is a presentation and review of selected findings significant to Sri Lanka. We find some of these findings are too significant to be left alone in a technical report. They should be brought into the limelight of policy discussions at national level. This could well be a good starting point.


Finding #1: Out of a population of about 21.4 million in Sri Lanka, 13.5 million use mobile phones equipped with 17.9 million active SIM cards. (Number of SIM cards is higher because of multiple SIM use)

It is great now we have a number that we can trust. Telecom Regulatory Commission of Sri Lanka reports only the number of SIM cards issued by five operators. That says nothing about the number of mobile phone users. A user may have multiple SIMs. So number of mobile phone users can only be found from a demand side survey, as this has done.

Now we know 63% of Sri Lankan population own phones. That makes perfect sense. The rest can largely be children who are still too young to own their phones. So now a large section of adult population is connected. Over the years a new marketplace has been created. The challenge for merchants now is to offer right mobile based solutions.


Finding #2: Nearly half of Sri Lanka's mobile phone users own smartphones

Out of the 1,609 mobile phone users in Sri Lanka, the sample used by the survey, 47% use smartphones. The rest use either a feature phone, i.e. a low priced model but with a colour screen, such as Nokia 3310 (7%) or a basic phone (46%). Smartphone ownership is marginally higher in urban areas than rural – probable reason could be the cost issues – and higher among women than men (50% against 42%).

"I think this data is wrong. Don't we have more smartphone users? Everybody I know uses a Smartphone." This could be the first response of a typical FT reader. True, almost everyone you know uses a smartphone. That includes not just the rich and professionals, but university students and three-wheeler drivers as well. Common sense goes against this finding, but as survey results could obviously be more accurate, it is our thinking that we have to correct.

Use of basic handsets by nearly half of population is an important factor in devising national level policies. For example, a disaster warning message should also reach them. All e-government services too, as much as possible, should be available to them. Strictly speaking the state cannot be biased towards one group of handset users over another.

Said that, our long term focus should be to increase the percentage of smartphone users – may be to reach near 100% within the next five years. Basic and feature phones present serious limitation for most applications. It is obviously lot easier to order an Uber cab or a commodity like books using a smartphone. Perhaps you cannot do it with a basic phone. So while leaving the choice for the population to join or not, we should, as a nation, should move forward towards smartphones and tabs in place of basic devices.

Responsibility of the Government is to spearhead that transformation, not by banning basic phone usage, but making smartphones more affordable and worthy using in place of the former.


Finding #3: Sri Lanka's internet users are more urban men, but not fully so

Internet use by different groups of population, the survey finds, is not uniform. Among the urban population 45% use it but at rural level still 35%. This sounds good, but we have to take into account that urban-rural administrative division in Sri Lanka is not perfect. Still our own urban-rural division is not based on infrastructure availability. Thus the internet use in true rural areas must be much lower. More interesting is the gender gap. While 45% of the men use Internet, when it comes to women it is only 30%. This is disturbing for a country like ours. Do our women still consider themselves in their restricted house-wife roles with little exposure to society? We note this as a good topic for our 'Women's Chamber for Digital' forum to further discuss.


Finding #4: Main reason for not using internet is "I don't know what internet is"

This is very disturbing finding. As a country we have been using commercial and unrestricted Internet since 1995. To next year that would be 25 years. The survey finds, after nearly 25 years of its introduction, 61% of the mobile users do not use internet simply because they do not know, no – not how to use internet (that is only 6%) – but what internet is.

The fact that many other countries are worse is not a reason to be self-satisfied. (In Cambodia 97% of mobile users have no idea what internet is, Rwanda 86%, India 82% and Bangladesh 79%) Then we find something more disturbing. The percentage of mobile users who have no idea about internet included 35% of smartphone users too. What went wrong? Why still the Internet awareness so low? These are questions we must ask ourselves.


Finding #5: More mobile users use free public Wi-Fi offered by Government than paid Wi-Fi in Sri Lanka

Free public Wi-Fi was offered first time in Sri Lanka in 2015. The intention was to offer an affordable and easy way for youth to access internet for e-mail and social media use, not necessary to download movie content, as many have mistakenly realised. The project reached a limited success due to multiple reasons. Still it is operational, as the survey finds independently.

Out of the 22% of the mobile users that use Wi-Fi, nearly the half does so with public Wi-Fi, rather than following other options (paid Wi-Fi hotspots or Wi-Fi offered by cafes and shops, etc.) The percentages are higher in India and Pakistan. That is not bad. That makes us rethink about the whole project. We might analyse what worked well and what not. To that end this is an extremely valuable input.

Panel discussion held immediately following the launch of LIRNEasia's AfterAccess report
---


Finding #6: Percentage of internet users harassed online in Sri Lanka is low, compared to India, Pakistan and Bangladesh

Only 9% of the Sri Lanka Internet users have reported being harassed online. This is relatively less compared to the figures for Cambodia (26%), India (19%) Pakistan and Bangladesh (each 12%). If these figures represent the correct picture, well and good.

Still we must not overlook the underreporting nature of such information. There is a high possibility the harassed not admitting the fact. This is a serious concern that gradually tends to move out of our control. It is also one area we must focus on bringing new legislature.

Finding #7: Sri Lanka's key payment method for e-commerce transactions in cash on delivery (31% of internet users). Mobile banking/payments uses are still rare (less than 2% together)

If this survey finding were true, it too is a serious concern. Not that anything wrong with cash on delivery. If that is convenient let users use it. Still that is a sign of our own backwardness. Mobile payment and banking methods seem to be typically more popular in developed societies. How come in a country where 63% of the population use phones and nearly 50% of them smartphones, mobile banking and payment channels take such a back seat? Guess this is one key question for the m-commerce application developers and also telecom operators.

There are also lessons for the Government. We may have to find new ways of receiving payments from citizens. Cash on delivery is not used for two reasons now. Firstly, Government offer services only not tangible goods to be delivered at citizens' doorsteps. Secondly, even if Government were to accept cash on delivery, it will be a cumbersome process under current framework. Still if that is the only solution we may have to explore the new ways of offering it.

Overall, the survey results are important and, as we have already seen, thought provoking. One must be thankful for LIRNEasia for engaging in such activities providing us an extremely useful outcome.
(Ajith P. Perera is the Minister of Digital Infrastructure and Information Technology and Chanuka Wattegama is a business writer.)