President Ranil Wickremesinghe
---

When 75% of the GDP of the country is generated by the SME sector and IMF estimates that the country's economy will contract by -7% one can imagine the impact to this sector. Some speculate that already almost a million SMEs are in trouble, especially the tourism industry, construction and the cottage industry of Sri Lanka.
2022 reality
If one were to capture the reality, SMEs are struggling to service the loans at high interest rates whilst on the other side they cannot pay the capital repayments. This has resulted in the banks that are already stressed resorting to parade action which is sad but it is the reality.

This will lead to the SME operations being severely affected on the working capital and delivery to the bottom line resulting in retrenchment of staff. The banks on the other hand will have to convert themselves into real estate business houses to sell properties acquired. Already we see many construction related entities are being advertised mainly in the suburbs of Sri Lanka like Gampaha, Kaduwela, Maharagama and Ja-Ela geographical pockets. On the other hand if the affected SMEs seek time through court intervention by way of injunctions, etc. the banks will have to face serious consequences due to impairment provisions that will take the balance sheet to the red. The million dollar question is, in which direction does one move when the Government has declared bankruptcy and inflation is touching 90% for food and overall number at 68%.
Going back to basics
Just like Sri Lanka having to go back to basics where the income and expenses need to be balanced before the IMF will consider us for a bailout, the major problem with this sector is that there is no proper definition for an SME. The problem is not unique to Sri Lanka since classifying an SME can depend on a multitude of variables that can change from one country to the next. Furthermore, the absence of data in this uncontrolled sector of the economy adds to its complexity. It's time that we put this analysis right so that once we are secure financially within the next one year we can re-look at the overall strategy.

In Sri Lanka some say that an enterprise which has less than 99 people and an asset base of Rs. 4 million can be termed an SME. Then another definition lists the parameters as less than 50 people with an asset base of Rs. 20 million. The World Bank states that if any enterprise has less than 99 people it can be termed an SME. Hence it is very clear that this is one key decision that Sri Lanka needs to make as a country, given that concessionary financial facilities can be targeted and specific business development services can also be made available if there is a clear classification of an SME. Apart from the fact that over 70% of the country's GDP is generated by SMEs, another important point to note is that from the 4,700 odd exporters that generate almost $ 11 billion, nearly 80% of them are SMEs. If we look at the tea industry, from the 300 kg million of tea that Sri Lanka produces, almost 70% of it is from small holding producers that have just half an acre of land. Hence we see that there are many unsung heroes in the SME business who never get highlighted or identified so that development can be done from a State perspective.

The first key task is for this sector of business to have a single line ministry. This can result in a clear and focused agenda that can be developed, which will be followed by a set of policy guidelines. If this is done, some of the key issues highlighted can be addressed straightaway with a minimum impact to the tax revenue model of the country.
Line ministry for SME?
If I may take you back to how the SME sector evolved in Sri Lanka, way back in 1952, the World Bank had suggested that the Government develop SMEs rather than promote large industries. Then in the 1960s the Sri Lankan Government began focusing on developing cottage industries and SMEs for the sole purpose of saving foreign exchange through import substitution and employment development.

Thereafter in the 1977 post-liberalised economy, SMEs were developed to drive the export market, which is actually when the SME sector became the backbone of the country's economy.With this development came the multitude of Government agencies and private sector banks that were set up to create the policy environment to support this fast-developing business sector. These included the Department of Small Industries, CISIR, EDB, SLSI, IDB, SLECIC, the Textile Department, the National Gem and Jewellery Authority, NEDA, DFCC, NDB, the SME Bank later renamed Lankaputhra and the Regional Development Bank (RDB). In the recent past we have seen many line ministries like the Ministry for Traditional Industries and Small Enterprises coming into the fray, which explains the fast-growing importance of this sector. I would strongly recommend that a dedicated ministry be allocated to this sector so that raising money, supporting documentation, managing P&L, and HR strategy development can be done in a more grounded sense.
Challenges for 2023 beyond
Visiting some of the SMEs in different parts of the country, one of the key issues that was cited was that there was no clear policy for a typical small- and medium-scale entrepreneur. Some SMEs in Ekala said that if one was to register property, it took almost 258 days and 5% of the land value, which is not conducive to fostering entrepreneurship. I guess that is why Sri Lanka's rating in the Ease of Doing Business Index is way below that of a country.

Some went on to say that very few business development services are available, such as research and development facilities, quality certification at the district level and a link to export markets. Most SMEs harp on the difficulty of accessing concessionary finance, this being the key hindrance to business development. Another point highlighted by the SMEs was that almost 60 types of taxes had to be paid to a bank during a year, which is very cumbersome and time-consuming and must be a priority item that must be addressed. Some went on to say that a typical SME being stretched for talent results in these archaic tax systems affecting the productivity of the organisation.
Way forward
Whilst Sri Lanka is grappling to set up an all-party administrative structure, it will be prudent that we start reforms in the public sector where we set a dedicated line ministry for the SME sector.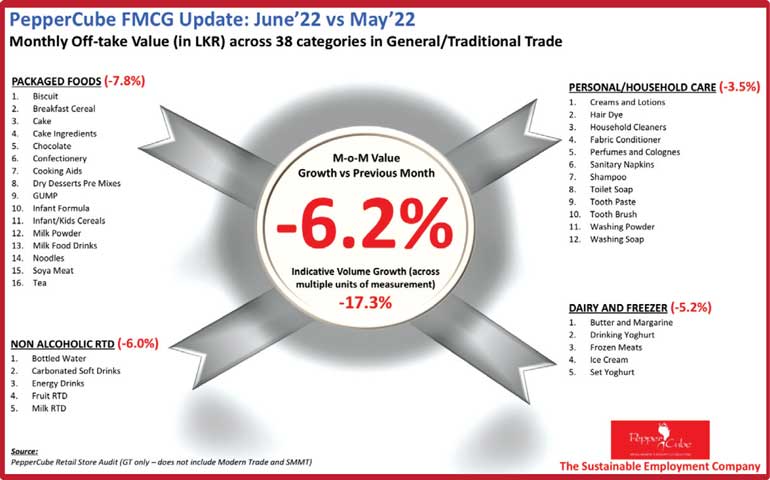 ---
(The writer can be contacted at rohantha.athukorala1@gmail.com.)
---