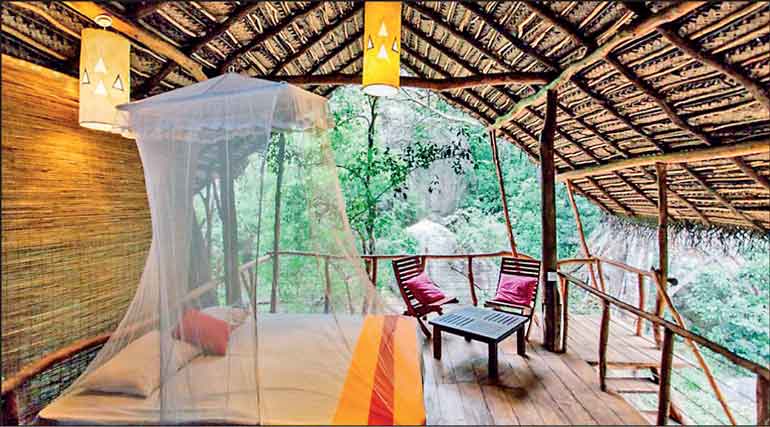 World-class, environmentally conscious hotels are being built in Sri Lanka thanks to a synergy between Government-backed initiatives and the cash infusion and operational skills of private investors
---

Sri Lanka is a beautiful island country in the Indian Ocean, recognised for its rich cultural heritage and stunning natural scenery. The Government of Sri Lanka's adoption of Public-Private Partnerships (PPPs) with the private sector appears as a game-changing strategy for supporting balanced growth, cultural preservation, and environmental stewardship within the tourism industry, particularly in light of the growing interest in responsible tourism around the world.
The tourism industry's role in Sri Lanka's economies and cultures
The sector of tourism in Sri Lanka is now vital to the country's prosperity. Visitors to the country come for a variety of reasons, including to relax and explore the country's rich cultural heritage, clean beaches, verdant highlands, and abundant wildlife. The contributions of tourism to GDP, new jobs, and foreign exchange gains are indisputable. Increasing tourism numbers is important, but so is making sure that new tourism facility construction doesn't destroy local traditions or hurt the environment. Here, public-private partnerships (PPPs) enter as a potent agent of transformation in partnership with innovative ideas from the private sector.
What are Public-Private Partnerships?
PPPs are a way for the public sector and the private sector to work together on initiatives of mutual benefit through formal structured agreements. Public-private partnerships (PPPs) are the means by which public and private entities in Sri Lanka's tourist industry collaborate their efforts to build a robust and sustainable industry through risk sharing, innovation, and alternative financing.
Resort construction on Sri Lanka's coasts shows potential for public-private partnerships
Strategic development of high-end resorts along the country's coastline is a prime example of the efficacy of public-private partnerships. World-class, environmentally conscious hotels are being built in Sri Lanka thanks to a synergy between Government-backed initiatives and the cash infusion and operational skills of private investors. These initiatives go much beyond the superficial, as they foster cultural exchange, enrich local economies, and provide new avenues for employment and sustainable development.
Recipe for success:
Several factors contribute to the effectiveness of PPPs in Sri Lanka's tourism sector:
Clear regulatory framework: Sri Lanka's emerging regulations for PPPs are creating a conducive enabling environment for collaboration, offering stability and predictability to private investors.
Stakeholder engagement: Open communication and consultation with local communities ensure that the projects align with the needs and aspirations of the people and the countries sustainable development goals (SDGs)
Risk sharing: PPPs distribute and share risks between public and private partners, making projects more attractive to investors while safeguarding public interests.
Navigating challenges:
While PPPs hold immense promise, they also face challenges. Balancing private sector profit goals with sustainable and responsible tourism practices requires meticulous planning. Additionally, concerns about potential cultural dilution and environmental impact must be addressed, calling for comprehensive strategies and close monitoring.
Sustainable development catalysts:
Balancing economic, environmental, and social needs. The ability of PPPs to promote comprehensive and long-term sustainable and resilient growth is fundamental to their success. PPPs strengthen local communities and place environmental stewardship at the centre of tourism development by including eco-conscious designs, cultural preservation initiatives, and community participation programmes in efforts promoted by the public and private sectors
Destination Sri Lanka:
The development of public-private partnerships in the tourism industry; the importance of PPPs will grow as Sri Lanka's tourism industry develops. The landscape will be positive; altered by new innovations, shifting consumer tastes, and shifting market conditions. In order to fully realise the benefits of PPPs, all involved parties must work together in harmony, making joint adjustments and coming up with collaborative novel solutions.

Bringing together modernity and the past:

Public-private partnerships (PPPs) have taken centre stage in the dramatic rewrite of Sri Lanka's tourist success story. Sri Lanka is an emerging model for how the public and commercial sectors may work together harmoniously to write a new chapter in the world of global tourism by weaving together economic development, cultural preservation, and ethical tourist practices.
The value of PPP in international medical tourism
Due to rising healthcare expenses in Western countries and simple access to quality healthcare in developing countries, medical tourism has grown rapidly. Medical tourism destinations worldwide have implemented PPP model design, which is making waves in the healthcare business. Using efficient services and innovative delivery strategies, the PPP model improves healthcare in countries. The PPP model also encourages public and private medical tourism players to collaborate to attract more travellers. Lessons learned then flow over to domestic healthcare as well. The main reason for public-private partnerships would be to use the strengths of both groups to reach a long-term goal.

For example, in the past, the public sector oversaw all the services, resources, finances, infrastructure, and growth of a certain industry in order to make life better for the people who lived there. With the PPP model, on the other hand, the public sector can give the private sector certain tasks, like infrastructure, finances, growth, etc., for a certain amount of time. This would let both parts of the business work together to make the whole thing better and to introduce international best practices through collaborative agreements with international partners.
Why can't medical tourism grow without a relationship between the public and private sectors?
In the last few decades, the PPP (Public Private Partnership) business model has become very popular because it has been a key part of sustainable growth in many different fields around the world. This model has been very good at building a strong infrastructure and provision of services which bring together public and private players and makes it easier for businesses to keep going.

The private sector brings together a lot of money and expertise, which is important for any programme for sustainable growth. Increasingly governments often use these models to meet their obligations for public services, utilities, and infrastructure because they are a great way to obtain alternative financing that isn't in the budget. Also, it improves efficiency, brings in new ideas, and encourages long-term spending programs. It also makes risk-sharing possible

PPP business models also have some problems, especially when it comes to perceived higher costs that come with long-term projects. Since there is a lot at stake, not being clear about money and deals can lead to disaster. The medical tourism business includes such a wide range of support systems that private players need to be more involved. So, the only way to keep its strong growth going is with a well-designed PPP plan that is financially and commercially viable

Why public-private partnerships (PPP) are a successful strategy for fostering innovation in the tourist industry

Issue:

The tourism industry must speed up its digitalisation process and adopt creative solutions in order to adapt to a changing world and protect the post-pandemic recovery. The startup and small business community needs assistance in order to improve its technological literacy and attract investment.
Why it matters:
When it comes to global employment, tourism is a major player, and technological advancements present a great chance to boost the industry in terms of quality, accessibility, and effective administration, all of which are essential for the sector's long-term viability and growth.

Solution:

Open innovation networks that aid in mapping, visibility, implementation, and funding innovative solutions can be established through public-private partnerships (PPP).

The health of our economy and, by extension, the standard of living in our neighbourhoods, can be gauged by keeping an eye on the tourism industry's revival. Approximately 10% of the world's labour force is employed in the tourism industry; it is the leading employer of both young adults and women, and small and medium-sized businesses (SMEs) make up the vast majority of the sector (approximately 85%). Consequently, tourism is a crucial industry for the world's emerging economies and a global engine and catalyst of economic growth and change.

Innovation and digitalisation are powerful means to hasten the realisation of the SDGs.

Prioritising investments in creative, digital, and tech solutions has been a top priority for the tourism industry ever since the pandemic's emergence. Even so, innovative startups are not getting the exposure and funding they need to spread their knowledge and expand their business on a global scale, and small and medium-sized enterprises (SMEs) need help adopting digital technologies that can increase the effectiveness of their operations, thereby boosting the creation of jobs and the future resilience of the tourism industry as a whole.
Applying new technology
The tourism industry has a unique opportunity to lead the world in efficiency and environmental sustainability by embracing innovation and digitalisation. These goals are strategic instruments for Government institutions that want to speed up the fulfilment of their mandates in sustainable social and economic development agendas, and they help to fulfil the United Nations' Sustainable Development Goals (SDGs).

Adequate education and capacity building, investment in infrastructure and ecosystems, and legislative reforms that support an ethical, stable, and effective framework are necessary for the widespread adoption of digital technologies and innovative solutions at the local, national, and regional levels. The United Nations has a significant role to play in fostering the development of cooperative frameworks that encourage the sharing of best practices among public and private sector actors around the world.
Efforts of UNWTO to push the tourism industry towards digitalisation
To aid in these pursuits, the United Nations World Tourism Organisation (UNWTO) has devised a number of programs. With the goal of connecting entrepreneurs with funding and Government pilot-project opportunities, it has launched over 23 startup competitions and innovation challenges in over 150 countries since 2018. These competitions and challenges are held in partnership with public and private entities.

As a result, over a hundred of the world's most innovative startups have been identified and invited to join our Innovation Network, which is made up of investors, incubators, accelerators, large corporations, academic institutions, the media, and governmental officials from around the world. In the last five years, our network has helped raise over $ 300,000 for leading businesses. Eleven new startup competitions and innovation challenges will be introduced this year, and eight Innovation Forums will be conducted in collaboration with the governments of different nations. Because they are creative and, in most cases, digital in nature, startups are a vital component to the revitalisation of our economies through the application of problem-solving methodologies. UNWTO places a premium on helping these organisations gain recognition, access, and support as it is crucial to the growth of the tourism industry.
Contributing to the achievement of growth and sustainability goals
In addition to promoting sustainable tourism practices that are beneficial to local communities and the environment, encouraging innovation in the tourism industry can open up new avenues for economic growth. Therefore, innovation and digitalisation are great means to speed up the UN's SDGs (Sustainable Development Goals).

It must be stressed that public-private partnerships (PPPs) are an effective strategy for addressing current and future tourism challenges because they encourage innovation by aligning the interests of various parties and providing a framework for collaboration. The 'disruptive' nature of startups and innovative SMEs makes them important change agents who warrant special attention.
(Amila Bogahawatta is pursuing a PGDip in International Relations and holds a BA (Hons) in Business Management, PPP Awareness Cert and CIMA Cert BA. David Baxter is internationally recognised PPP expert that has collaborated with organisations such as USAID, the World Bank and the ADB.)