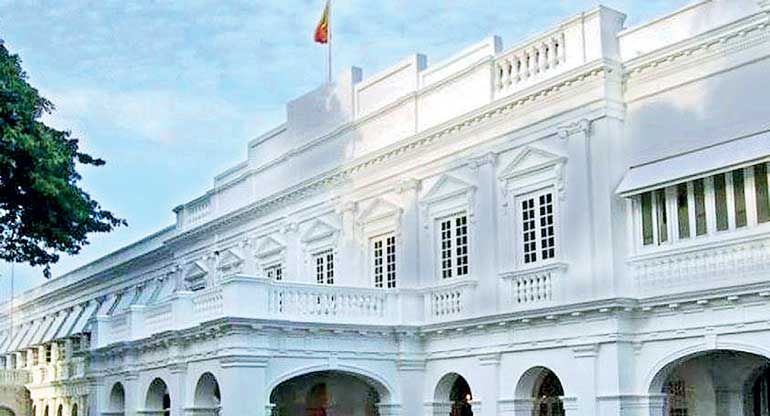 The Sri Lanka Ministry of Foreign Affairs remains characterised by a practice of bureaucratic isolation, disconnected from other organisations and the public at large
---

A diplomatic service's primary mission must be to "service" the country and its citizens according to the country's national interests. A developing country, such as Sri Lanka, can gain enormously in a globalised, competitive world by having an active, mission-oriented diplomatic corps. The primary task, post-civil war, of the Sri Lankan Foreign Service is to grease the wheels for investment and trade and other forms of foreign ties that benefit economic growth, development, technological change, and the growth of foreign markets.

A diplomatic corps thus cannot be guided by particularistic domestic political concerns, but must stand independent, firmly dedicated to promoting the "national" interest, defined by economic imperatives. Indeed, the current crisis demonstrates clearly that the country´s security interests cannot be divorced from economic ones. It goes without saying that our foreign service and its personnel need to be up to the task, comprising professionals chosen from among the best and brightest, who are in fact the frontline in an increasingly competitive world for securing Sri Lanka's economic future. The world has changed, and it seems that the Foreign Service, the institution that is a gatekeeper for the country, might indeed be one of the most backward, parochial, and mismanaged agencies of government.

Recent news items on the large expenditures incurred by Sri Lanka foreign missions amid the country's worst economic crisis, and the increasing number of unqualified political appointees, has given rise to questions about the ability of Sri Lanka's diplomatic service to act as an effective agency through which it can pursue its national interest. The current economic situation in Sri Lanka highlights the need for rethinking the role of its diplomatic service to be used more effectively as a means through which the current crisis and all future ones might be better addressed within a broader multi-actor framework.

In a globalising era of inter-connectedness and interdependence, while maintaining good relations with close allies, it is also important for Sri Lanka to expand its geographical presence and forge new, productive ties. A targeted strategy should be adopted to forge new ties with countries on the trade, investment, and cultural fronts that actively promotes tourism, investment and trade particularly in the face of the present economic crisis. Such a strategy should also serve the development of Sri Lanka's "soft power" in the region and beyond, and help the country collaborate on dealing with the debt crisis, common challenges, such as COVID and the spread of disease, migration, terrorism, organised criminality, environmental protection, and very importantly forge reconciliation and comity among the Sri Lankan diaspora abroad.

Although the country is in the midst of the worst economic crisis since independence, there has been very little debate and discussion initiated by the MoFA or reports and documents explaining the stance of foreign policy and its role in resolving the crisis. It is important that the Ministry of Foreign Affairs promotes a strategy that supports transparency and legitimacy and views itself as part of a broader system that acts in the national interest, rather than acting as a monopoly and hermit kingdom of a minister.

Particularly at a time such as this, the Ministry's statements in Parliament and at bilateral and multilateral meetings, giving the public an insight into the Government's stance on foreign policy and multilateral cooperation is important. Indeed, the ministry must be a conduit for public education and debate on matters of foreign policy so that common understanding of the realities of the wider world are better understood. Today, it is very clear that Sri Lanka's international standing, especially vis-à-vis close allies and multilateral banks, is of paramount importance to the future of the country. One should also not forget that our main foreign exchange earnings come from remittances.

In order to remain effective, the Foreign Service needs to engage with other bodies, both domestic and international. It is important for the Ministry to see itself as part of a multi-actor system that seeks to address international and domestic challenges through consultation and engagement with governmental and non-governmental organisations, such as NGOs, industry, academia, among other civil society groups. Dialogue and engagement can help forge solutions for the current dilemmas and for avoiding future ones.

In an interconnected world, we cannot have one of the most critical domestic actors disconnected from other parts of governance and the public. The Sri Lanka Ministry of Foreign Affairs remains characterised by a practice of bureaucratic isolation, disconnected from other organisations and the public at large. The MoFA should not be a kingdom of its own, monopolised by political cronies with fences ringed, but an open and transparent organ of government serving the people of the country, accountable to the people that pay its salaries.

There seems to be a lack of long-term planning on national goals and targets, with little strategic thinking on how these goals are to be achieved. It is important that the MoFA sets long-term goals regarding bilateral partners and convey and discuss these issues with members of Foreign Missions so that proper planning is followed by action. Sri Lanka's foreign policy has been short-sighted, with the national interest often giving way to particularistic interests on short-term bases.

The constant change of ambassadors and staff in foreign missions when governments change, has led to a lack of consistency and predictability in policy and national goals, which continues to discourage foreign investment and trade, and confuse rather than clarify long-term positions. Under these conditions, there is no planning, nor meaningful action. If goals are long-term and strategic and in the national interest, these can be pursued and achieved despite changes in government. Such strategies hold governments accountable to delivering on them, regardless of which political parties are in power.

Indeed, incentivising diplomatic personnel in ways that hold them accountable for deliverables rather than being promoted based on political pandering will ensure effectiveness and allow proper scrutiny of a public agency for enhancing accountability. A system that evaluates missions and personnel abroad in an open and transparent way should be made public along with budgets, etc.

Most importantly, the Ministry needs to see how it can contribute to and be part of the broader macro economy rather than acting on an insular outdated agenda which undermines its very role. The subject matter of diplomacy has extended, from international relations, politics, and economics, to health, environment, development, science and technology, education, law, sports, culture and the arts among other areas, and the role of diplomats now includes a range of functions. It is therefore important to adapt to and embrace these changes. This means that the hiring processes and the appointment of critical personnel adopt best practices for recruiting the people that get the job done. What you know and demonstrable qualifications must guide how the MoFA is staffed and not who one knows.

Foreign counterparts that host our diplomats really don't care about who the ambassador knows in Colombo and what his family background is. Foreign counterparts wish to work with people that garner respect because of their skills and qualifications. They want to see efficiency, honesty, and integrity in the people they deal with. Thus, whether one is a career diplomat or an appointment from outside, foreign counterparts care about what (not who) they know, which means academic and other demonstrable qualifications impress. The politicisation of the Sri Lanka diplomatic service under the current government has come under scrutiny, with criticism that Foreign Service officers are being deprived of these positions.

While it is important to appoint those in the service to represent Sri Lanka's interests overseas, in certain instances, qualified appointees from outside the service can also play a positive role as these outsiders could bring specialised skills as needed, have different perspectives, specialised knowledge about the host country, and they may not be overly bound by bureaucratic necessities for furthering career prospects. Whether personnel are insiders or outsiders, they should possess the required qualifications and receive the support of the MoFA in pursuing the national interest.

Many countries have their own diplomatic training academies for ironing out these bugs. The provision of training to diplomats would increase the efficiency, skills and capability of those in service and professionalise a critical agency of government, which currently seems to be a large part of the malaise of governance in Sri Lanka rather than the vital part of solutions that it should be.
---
(Arusha Cooray is a Professor of Finance at James Cook University. She served as Sri Lanka's Ambassador to Norway.)

(Indra de Soysa is a Professor of Political Science at the Norwegian University of Science and Technology.)
---