Due to the worsening economic crisis, labour migration has reached unprecedented high levels

The present economic crisis has led to an upsurge of migrant workers from Sri Lanka during the last one and a half years with the relaxation of COVID-19 related travel restrictions. Migrant workers' remittance is the second largest foreign exchange generating sector for Sri Lanka. Remittances perhaps outweigh export earnings as the value addition in certain export industries are relatively low.
Based on the secondary data, the recent trends in the labour migration are enumerated as follows.
a) From the total labour migration, the number of male migrant workers have increased in the recent past
It is evident that male foreign employment placement has increased while female foreign employment placement has decreased over the past two decades as depicted in Table 01. One of the main reasons for decrease is the Government regulations which make it mandatory to obtain family background report for women prior to migration as domestic servants. According to the regulation, women should be older than 21 years to 25 years of age depending on country of destination and younger than 55 years of age. Married women who have children under 5 years of age will not be recommended for migration as domestic servants and those who have children older than 5 years of age should put in place satisfactory plans for the child care. However, one can argue, the aforesaid regulation amounts to gender-based discrimination as there is no regulation on male migrant workers.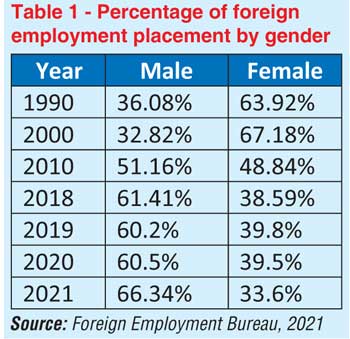 b) Slight decrease in low skilled migrant workers and increase in the professional category
According to Table 02, it is evident that low skilled labour migration has gradually declined from 36.89% in 2017 to 30.77% in 2021. Labour migration in the professional category has increased significantly from 4.26% in 2017 to 9.54% 2021. Although the increase in the professional category is a positive indicator, it is a clear sign of brain drain due to deterioration socio-economic environment which was exacerbated by the outbreak of pandemic.
c) Decline of remittances 2021 and 2022
As illustrated in Table 03, migrant workers' remittance declined drastically in 2021 and 2022 due to artificial control of exchange rate and also repatriation of migrant workers in 2020 with the outbreak of the COVID-19 pandemic. Further, during 2020 and 1H 2021, the number of foreign employment placements were less due to the pandemic.
d)Due to the worsening economic crisis, labour migration has reached unprecedented high levels
It is obvious with long queues for obtaining passports during the past few months, many Sri Lankans are trying to leave the country due to the ongoing economic crisis. Although the Sri Lanka Foreign Employment Bureau has not officially released data on job placement in 2022, media reports (https://economynext.com/crisis-hit-sri-lanka-sees-record-labour-migration-as-rupee-collapse-high-inflation-weigh-108055/) reveal that, 311,269 people have left the country in 2022. Previously the highest was reported in 2014 which is 300,703 as illustrated in Graph 1.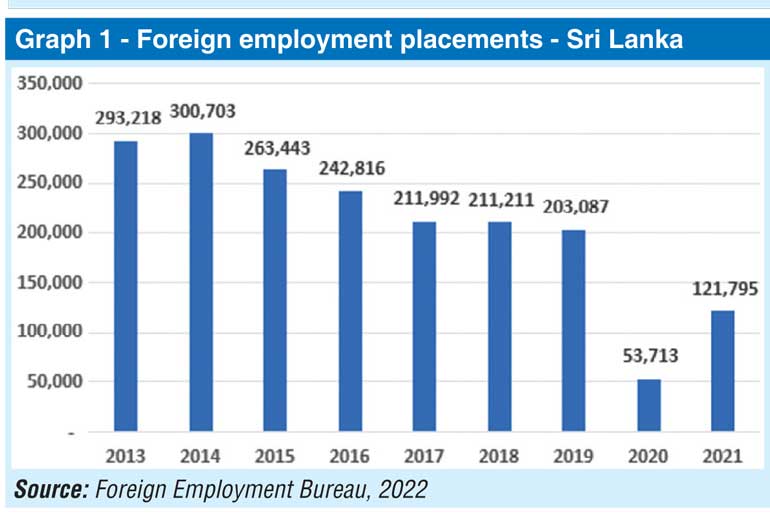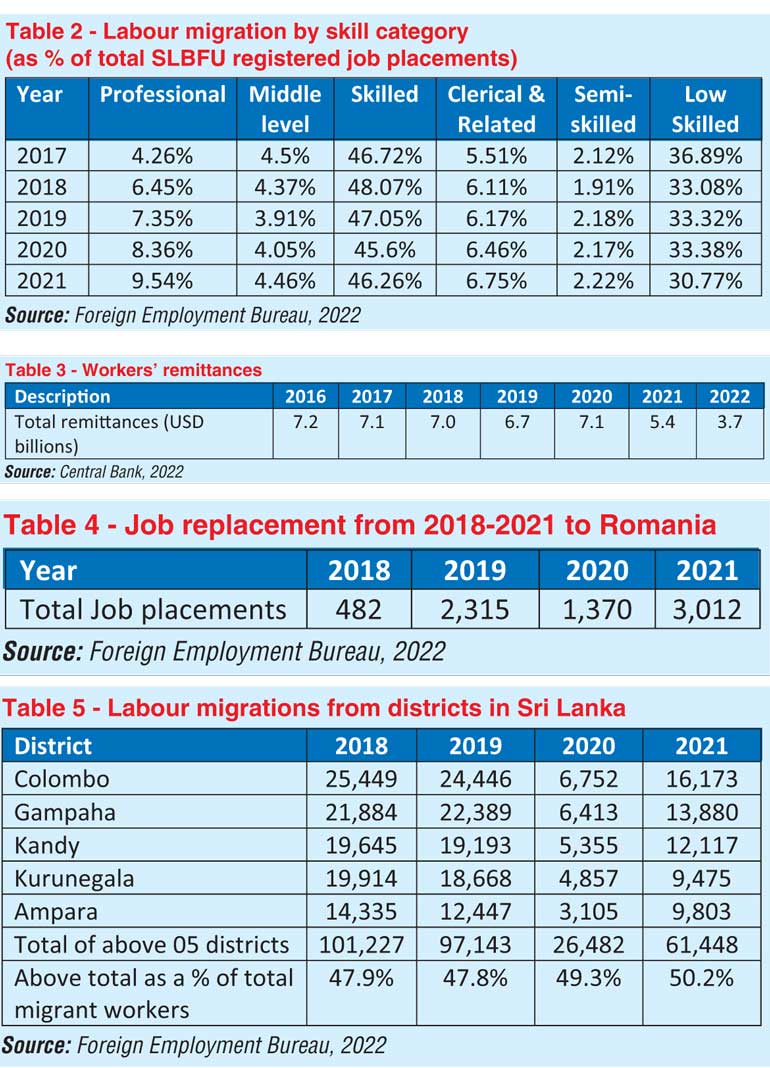 e) Emergence of new destination countries such as Romania and Seychelles
During the recent past, other than the traditional countries such as Saudi Arabia, Kuwait, Qatar, etc. people tend to focus on new countries. Table 04 shows the increase in the job placement for Romania despite the pandemic in 2021.
f) Migrant workers are mainly from districts such as Colombo, Gampaha, Kandy, Kurunegala, Ampara, etc. As illustrated in Table 05, the top 5 migrant worker sending districts account for nearly 50% of the total in each year.
(Prof. Manori Weeratunga is the Head, Department of Demography at University of Colombo. Eranda Roshan Fernando is a Researcher working in the financial service sector of Sri Lanka).