---
---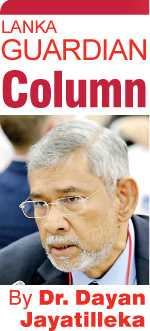 A recent article on Sri Lanka at the UN Human Rights Council this March, in the webzine Just Security out of the New York University (NYU) Law School, cited the new US Secretary of State Anthony Blinken's remarks of over a decade ago, while an official of the Obama administration, on the Sri Lanka war:

"As Blinken said in a 2010 speech at the US Holocaust Memorial Museum, "We have been reminded that there can be no peace without justice…. In Sri Lanka, we know all too well the crimes committed by the Tamil Tigers… but also the thousands and probably tens of thousands of civilians killed in the final months of the war. Holding accountable those responsible is necessary…and it will speed national reconciliation."

(The Human Rights Council Must Establish an Accountability Mechanism for Sri Lanka's Victims - Just Security – https://www.justsecurity.org/74653/the-human-rights-council-must-establish-an-accountability-mechanism-for-sri-lankas-victims/)

His acceptance speech when he was nominated as the new Secretary of State shows just how much the Holocaust is wired into the conscious of Anthony Blinken, and why. His stepfather was one of the youngest survivors of Hitler's death camps.


More than Myanmar-in-the-making

This article in Just Security is one in a series of five, dedicated to the subject of Sri Lanka and the UNHRC. Jake Sullivan, President Biden's National Security Advisor, is a Board member of Just Security. Apart from NYU, Berkeley Law has also produced papers on Sri Lanka/UNHRC. The Sri Lankan issue is in the mainstream of policy discussion in the USA.

Thus, the challenge for GOSL is not merely the UN Human Rights Council session but years of interaction with a US Secretary of State widely respected for his intelligence (just as is US National Security Advisor Jake Sullivan), who has a distinct take on Sri Lanka's war and strong views on accountability.

On 12 February (Friday) 2021, in a webinar on Sri Lanka co-sponsored by Just Security, Stephen Rapp, President Barack Obama's appointee as US Ambassador-at-large for War Crimes, made a serious allegation about then Secretary/Defence Gotabaya Rajapaksa, purportedly quoting from what the latter had told him on his Feb 2012 visit to Sri Lanka.

Rapp headed the US State Department's Office of Global Criminal Justice until 2015. He emphasised that the LLRC and Paranagama Reports listed crimes that were never investigated and prosecuted as recommended; the same persons against whom there are credible allegations of war-crimes are in powerful positions today; permitting them continued impunity would send the wrong signal to other places where such crimes are being committed and/or are likely to be committed, thereby triggering a global pandemic of impunity.

Rapp's implicit logic that open-ended impunity risks proliferation of war crimes goes beyond even the credible 'Myanmar-in-the-making' scenario. It is likely to resonate in the corridors of power occupied once more by a liberal Democrat administration.


Regime reflexes

How is the Sri Lankan foreign policy process gearing up to respond? A public statement of the top defence official indicates the regime's mindset:

"When I talk about the UNHR Commissioner Bachelet's report, it is full of nonsense and I mean it. No other better word than that…As far as I am concerned, the report and statement are very pathetic…I mean the UNHRC and its Commissioner should be respectable people, and when they voice something, they should do it in a respectable manner…"

(Who Cares, I Served My Country, I am Not A War Criminal – Defence Secretary Kamal Gunaratne - Ceylon Today – https://ceylontoday.lk/news/who-cares-i-served-my-country-i-am-not-a-war-criminal-defence-secretary-kamal-gunaratne)

A collector's item of a news story provides further clues:

"Prime Minister Mahinda Rajapaksa called on the Maha Sangha to discuss on the resolution to be presented against Sri Lanka at the next United Nations Human Rights Council (UNHRC) sessions in Geneva in March.

The purpose of this meeting held with the participation of Maha Sangha and several ministers at the Temple Trees on Tuesday evening was to seek the advice of Maha Sangha on the steps that should be taken by Sri Lanka against this resolution, the Prime Minister's Media Division said. Ven. Bengamuwe Nalaka Thera stated that Sri Lanka must protect the freedom which was achieved through a humanitarian operation while taking into consideration the foreign policy followed by PM Sirimavo Bandaranaike and the late Lakshman Kadirgamar.

Ven. Kirinde Assaji Thera also commenting on the matter said this problematic situation is mainly based on two issues, Islamic extremism and the issue of the East Container Terminal of the Colombo Port. "Therefore, Sri Lanka needs to ask for more time from the UNHRC in connection with this resolution," he stressed.

Ven. Dr. Medagoda Abhayatissa Thera said… "It is a crime to say that bringing an end to the war through a humanitarian operation is a crime."

"Sri Lanka has the opportunity to work towards an effective response from the UNHRC with the support of the Mahasangha in the other Buddhist countries too, he said. Ven. Abhayatissa also expressed his appreciation to the Prime Minister for calling a meeting with the Mahasangha at such a decisive moment.

Foreign Relations Minister Dinesh Gunawardena was of the view that the High Commissioner's Resolution against Sri Lanka is aimed at defaming the country which is in the top list of the countries that controlled the global pandemic successfully…"

(PM meets Maha Sangha to discuss UNHRC resolution | Daily News - http://dailynews.lk/2021/02/12/local/241400/pm-meets-maha-sangha-discuss-unhrc-resolution)

This is not the way foreign policy was made and external relations discussed in Sri Lanka, including by wartime President Mahinda Rajapaksa. Even in wartime, the dialogue on policy and diplomacy was rational and secular. Sri Lanka was not yet a militarist quasi-theocracy.

When I had been nominated by MR as ambassador/Permanent Representative to the UN Geneva he sent me along with Daya Perera PC, former Sri Lankan ambassador/PRUN New York, to Geneva to participate at the March 2007 session as a delegate before I took up my appointment. It was the first time I spoke at the UNHRC. Upon return we were de-briefed by the President, with Perera submitting a written note.

MR kept me back after Daya Perera left and asked whether the problematic situation of the sharply critical EU draft resolution in circulation since 2006 could be handled and we could prevail, and what my proposed strategy was. He listened approvingly and concluded "go for a vote", suggesting however that I repair damage done to relations with the OIC by his first (short-lived) Foreign Minister, who had deviated from his assassinated iconic predecessor Lakshman Kadirgamar's policy and antagonised Iran at the UN New York and Pakistan at the Conference on Disarmament in Geneva.

It helped that I was discussing not only with a President determined to prevail in war but also a former human rights lawyer familiar with the corridors of the UNHRC and an ex-Minister of Labour comfortable with the ILO and multilateralist Geneva culture.

I then posed President Rajapaksa the question most often asked of Yasantha Kodagoda, senior official of the AG's Department and regular delegate to Geneva (currently and deservedly a Supreme Court Justice), by other delegations: "What is the political settlement that you are offering the Tamils?" MR immediately replied, "Tell them I will implement the 13th Amendment and create a Senate for power-sharing at the centre. So, 13 Plus!"

When I welcomed Kodagoda and his colleagues in June 2007 as Ambassador/PR, I informed them of President Rajapaksa's reply.


'Homegrown solution': Voodoo diplomacy

Though the UNHRC has an inbuilt majority from the Global South, Sri Lanka went down to crushing defeats in 2012, 2013 and 2014. Our solid support of 2009 from the global South and the BRICS crumbled, with Sri Lanka shrinking to the same number of votes that the West garnered when it lost in 2009.

Despite a 2011 effort by a headless Canadian mission in Geneva to move a resolution (which Sri Lanka fended-off), Washington cannily waited for daylight between India and Sri Lanka to move for a vote. The very next year, 2012, with the same President and government in Colombo, the same Ambassador/PR in Geneva, and the same cross-regional majority from the global South in the Council, the West overran Sri Lanka's defences.

Sri Lanka had opened the gap, showing no sign of delivering, despite repeated signals from Delhi, on the wartime/immediate postwar pledge made by President Rajapaksa on implementing the 13th Amendment (leave alone 13Plus). That enabled the West to move successfully on the other presidential postwar pledge, this time to the UN Secretary-General, to address accountability.

The postwar Sri Lankan state had undergone a tectonic shift in stance and discourse: no more talk of the 13th Amendment and a devolution-based political solution for the Tamils. Colombo's postwar refrain, echoed in Geneva, was "a homegrown solution", a diplomatic precursor of the 'Dhammika paniya'. That shift to a unilateral and open-ended political outcome to the Tamil Question cost us the solid support of the most important 'swing state' in the international system: India. It fissured our global 'Southern bloc' of May 2009.

After the war ended in 2009, the Secretariat for Coordination of the Peace Process (SCOPP), headed by Professor Rajiva Wijesinha, was dismantled. Evidently there was no necessity for a postwar process of peacebuilding. Peace-building was an irrelevant concept; peace had been established through military victory.

When President MR pushed through the Northern Provincial Council election in 2013, it was too late. Even ex-'troika' member Lalith Weeratunga had turned on the 13th Amendment which GR, BR and he had promised Delhi to implement:

"Secretary to President at Ranbima title presentation: 13A was forced on country * Causing disruption to admin process* PCs a stumbling block to progress.

…The time has come for the people to evaluate the pros and cons of the Provincial Council system which was set up under the 13th Amendment to the Constitution without calling for a referendum," he said. The Secretary said it is left to the people to evaluate the benefits received from the Provincial Councils which were established in 1989…" (Chaminda Perera, Daily News, 10 June 2013)

During MR's second term, the Defence Establishment headed by the then Secretary/Defence Gotabaya Rajapaksa held one of its annual international conferences (2011). David Kilcullen, the respected advisor of the famous US Gen David Petraeus, advised the Sri Lankan defence authorities that they had a good case if only they made a truthful exposition about the real battlefield context, conditions and compulsions, instead of attempting to airbrush everything with the 'humanitarian operation/zero-civilian casualties policy' tale, which lacked international credibility. He was met with stony silence.

A similar conference had been held under the same auspices, during the war. One of the speakers was Gerard Chaliand, world-renowned authority and author on guerrilla warfare and national liberation struggles throughout the Third World. Drawing from his comparative studies based on his vast field experience he argued that the Tamil separatist challenge, once militarily defeated, imperatively required an autonomy-based political solution, or else secessionism would inevitably resurface in Hydra-headed form. He got the same freeze-out that Kilcullen did a few years later.


Yes, we have no Putin

As a recent column by Gwynne Dyer, critical of Vladimir Putin, admits:

"…Putin's regime['s] …ideology is a traditional Russian nationalism that is lightweight compared to blood-and-soil religious and racist movements like Trump's in the United States and Modi's in India." (Lenin comes to town (again) – The Island – https://island.lk/lenin-comes-to-town-again/)

Mahinda Rajapaksa's was also a "lightweight nationalism"; a traditional SLFP (not CBK) statist-nationalism, not entirely dissimilar to that of President Premadasa—though considerably less pluralist—and more akin to Putin's than a heavy "blood-and-soil religious and racist movement" like the Gotabaya-ViyathMaga-Eliya bloc.

In 2006-7 Secretary/Defence Gotabaya Rajapaksa was on board with the 13th Amendment as the necessary price to pay for India's support in the war. It was Basil Rajapaksa, influenced by or instrumentalising Chief Justice Sarath N. Silva, who lobbied, including at a working dinner with President MR and key SLFP Ministers, for the reversion to the district as the unit of devolution. If President Rajapaksa had not announced at the public event to celebrate victory in the East, the decision to hold elections to the Provincial Council, we wouldn't have secured India's support as we did during the rest of the war, especially when we came under Western pressure to halt our offensive.

Sri Lanka's last chance for a self-respecting outcome in Geneva (dodging defeat-2014, capitulation-2015 and calamity-2021) came in 2013. Geoff Doidge, the sincerely empathetic South African High Commissioner in Colombo, friend of President Mahinda Rajapaksa, former deputy Minister and ranking ANC office-bearer worked tirelessly to end the deadlock between the Sri Lankan government and the TNA, thereby reopening the political process. At the Commonwealth Summit in Colombo in late 2013 President Jacob Zuma offered MR the facilitation of his special envoy Cyril Ramaphosa. Had it been dramatically embraced at the Commonwealth summit and acted upon, Sri Lanka (and the Rajapaksas) would have been free and clear.

President MR was blocked by Basil and Gotabaya Rajapaksa. GR went on to become President, but so did Cyril Ramaphosa, and only one of them is facing a massive moral indictment in Geneva and beyond.


Elephant vs Dragon

Basil Rajapaksa famously proclaimed that the ruling SLPP views the BJP and the CPC as its models. Not the most prudent choice when they extend their influence and rivalry to Sri Lanka.

The Rajapaksas cultivated relations with the BJP and the RSS on the delusional premise that unlike the secular Congress, an ultranationalist-majoritarian ruling party would be likeminded i.e., unattached to the 13th Amendment and devolution for the Tamils. The RSS was given free rein in the North and East, in the belief that a Hindu-Buddhist nativist bloc would be built to counteract 'Christian-influenced' Tamil nationalism.

There is a backlash against apparently Hindu-expansionist BJP designs on Sri Lanka. While a top BJPer has allegedly said that it intends to form governments in Nepal and Sri Lanka, it is possible that the ruling party of a Great Power further East thinks it already has a government in Sri Lanka.

Given the new Chinese doctrine of Military-Civilian Fusion (MCF) India will be unconvinced that China's power-projects on Sri Lanka's Northern islands aren't usable for 'power-projection'.

After the 2020 Parliamentary Election, Tamil commentators were lamenting political disunity and the retreat of Tamil nationalism. Now the P2P 'Long March' shows that: (1) Basil Rajapaksa's electoral breakthrough has been irretrievably reversed and overturned; (2) Tamil nationalism powerfully re-generated; (3) the Government's Tamil partners politically undermined; (4) a Tamil-speaking (Tamil and Muslim) bloc created; (5) Tamil politicians and civic currents from the North, East and Hill-country coordinated; (6) a mass movement of legitimate resistance generated, which also enables pro-LTTE signs, symbols, and sentiments (pit-stops at the Miller and Thileepan markers) to find organic entry and manifestation by osmosis; (7) credible Tamil and Muslim grievances and fears about State-sponsored Sinhala-Buddhist annexationism and religio-cultural 'ethnic cleansing' globally disseminated; and (8) political ammunition provided to Seeman, the pro-Prabhakaran/pro-Tiger Tamil ultranationalist star in Tamil Nadu.

All this was achieved by the Northeastern policy of President Gotabaya. What a run-up to Geneva.