From traditional premium tea to health and wellness tea – why and how?
The economic implications of COVID-19 are unprecedented. Some initial information suggests that global GDP may have gone down by as much as 5% during the first quarter of 2020.

The Overseas Development Institute (ODI) has identified Sri Lanka as one of the most vulnerable middle-income countries due to the impacts of COVID-19 as resulting Chinese economic slowdown. Sri Lanka is susceptible to delays in accessing raw materials for manufacturing from China, and as a result Sri Lanka's economy could shrink by as much as 3% this year, as to the latest finding of the World Bank.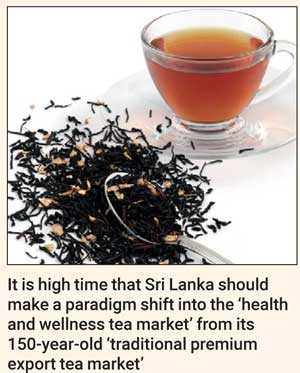 Things, however are not required to be barren in the tea sector. Increasing the export earnings from tea, is definitely one way, which Sri Lanka would be seeming to overcome the current financial crisis. On average, Sri Lanka produces over 300 million kg of tea, and exports nearly 90% of it, bringing an average income of $ 1.5 b annually. The global tea market was assessed at over $ 52 billion in 2018, and is expected to grow to over $ 81 billion by 2026.

If Sri Lanka intends to increase its annual income from tea, can it be achieved only by increasing the export volumes, or bringing down the cost of production? It is high time that Sri Lanka should make a paradigm shift into the 'health and wellness tea market' from its 150-year-old 'traditional premium export tea market'.


Identified health benefits of tea

With the current COVID-19 pandemic, black tea has come to limelight as a potential natural source to fight against the corona virus, due to its theaflavin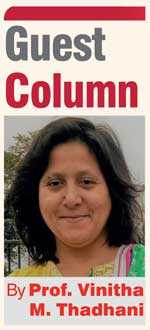 content. However, research in the field of health-related properties of black tea had shown and exponential increase ever since the studies showed a low cardiovascular mortality rate in association with black tea consumption.

Several other potential beneficial properties of tea components have since been ascertained, including, beneficial effect against Type II diabetes, and lipid and glucose metabolism disorders associate therewith. Further, tea extracts have exhibited anti-obesity and hypolipidemic effects and enhanced vasodilatation and blood flow circulation in humans. Tea extracts also have been reported to be a secure and safe candidate for its potential in preventing cancer. These potential health benefits are attributed to presence of tea polyphenols.


Does a cup of brewed tea contain sufficient quantities of tea polyphenols to show its medicinal potential?

Usually 2 g of tea leaves are used to form a cup of tea. Further, 70% of tea leaves comprises of fibrous material such as cellulose, hemicellulose, lignin, etc., which are strained and removed. The organic compounds, which gives the taste, colour, and the health benefits of tea accounts for only 30% of the dry weight of tea leaves.

Further, not all the 30% extractable tea compounds get extracted with hot water during brewing a cup of tea. In other words the concentration of active tea polyphenols is present in low concentration in tea, and thus their extraction in mild tea cup preparation conditions, are very low, for it to show its medicinal potency.


Instant tea: A much richer source of active pharmacophores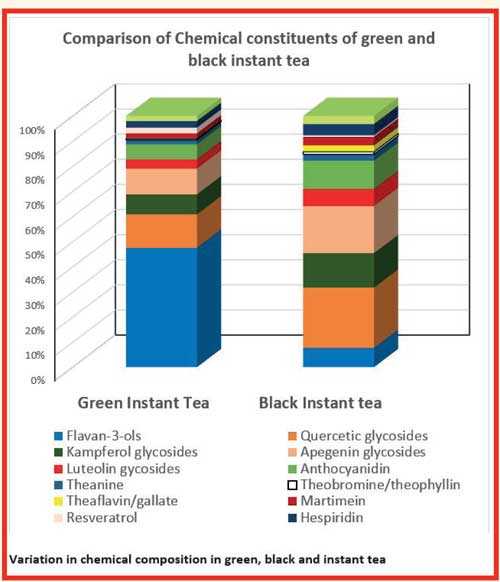 Unlike a cup of tea brewing, vigorous counter flow conditions and automated extractors are used to extract instant tea from tea leaves. During the instant tea manufacturing process, the 30% extractable phenolic compounds are completely extracted and removed from 70% fibrous material (hemicellulose, cellulose, lignin, etc.). Thus, unlike tea, instant tea comprises mainly if not nearly all of phenolic compounds, which accounts for taste, colour, and the numerous health benefits of tea.


Sri Lanka, instant tea export segment

Sri Lanka exports instant tea ever since 1966, however, even up to date, the export volume of instant tea is only 1% of the total quantity of the tea exported. Further, we have just merely been extracting instant tea and exporting it to foreign suppliers for more than five decades, but unfortunately have overlooked in the field of its chemical composition, nor have we exploited the medicinal potency of instant tea.


Chemistry of instant tea and its medicinal attributes

A team headed by myself [Prof. Vinitha M. Thadhani, Senior Research Scientist, Sri Lankan Institute of Nanotechnology (SLINTEC)], and Prof. Gehan Amaratunga, former Chief Research and Innovation, SLINTEC and Senior Prof. at University of Cambridge, along with our international research collaborators, has analysed the chemical composition of various types of instant, formed from different sources at different conditions, such as instant tea formed from green, oolong, and black tea, high grown instant tea, low grown instant tea, hot water soluble instant tea, cold water soluble instant tea, instant tea used as food colourant, etc.

The identification of chemical constituents of tea was carried out using liquid chromatography quadrupole time-of-flight mass spectrometry (LC/QToF/MS). The research enabled the detection of active compounds present in nanogram scales in instant tea, and over 117 different compounds was identified in instant tea samples.

The research revealed instant tea a reservoir full of natural pharmacophores to cater to the health and wellness tea market. Our findings clearly show that instant tea is a reservoir full of natural phamacophores, which can be harnessed for anti-viral (including SAR CoV-2), anti-diabetic, anti-obesity, and anti-cancer activities.

As for the following figure, the chemical composition of instant tea obtained from unfermented green tea leaves and fermented black tea leaves are markedly different, and so are their medicinal potential.

By varying the type of tea and extraction conditions we can form a number of different neutraceutical formulations, which can cater numerous health and wellness sector markets, and increase our export earnings from tea manifold.


Black instant tea a rich resource of theaflavin and flavonoids, potent inhibitors of SAR-COV-2

Molecular docking or computational studies of several thousand of compounds tested by various scientists around the globe have revealed, theaflavin to be one of the three most powerful inhibitor of SAR CoV-2, the virus which forms the COVID -19 disease.

It has been found that theaflavin can bind to the host ACE2 receptor- the entry point for the corona virus, and can prevent it from entering into the host cell. Further theaflavin also has been found to, stops polymerization of viral protein dimerization (part of the virus reproduction process) by inhibiting SAR-CoV-3L protease. Theaflavin has been effective against SAR-COV-1, a virus genetically very similar to SAR-COV-2.

Our studies uncovered that certain instant tea had 10 times higher amount of theaflavins than black tea. In addition to theaflavin, instant tea also contains higher amount of flavonoids such as myricetin, quercetin, apegenin, kaempferols and luteolin, etc., the other active substances against SAR COV-2. These research findings clearly warrant exploiting instant tea extract rich in theaflavin and flavonoids, for its preventive therapy (prophylactic effect) and combinatorial effect (along with other drugs), against COVID-19, a much needed requirement, in the current scenario.

In the post-COVID-19 era, consumer demand for wellness related products would increase, and it is high time, that Sri Lanka plays a dominant role in this direction. Our research findings, clearly shows, the huge pharmocophore potential of instant tea, to be exploited in various health and wellness segments.

Black tea is a popular beverage in the world. Results from this study warrant further investigation to examine the effect of these natural products in inhibition of SARS-CoV replication in cell culture. Clark et al. reported that theaflavins extracted from black tea were able to neutralise.

SLINTEC already has a successful story to share, which is a technology to use waste generated during the instant tea manufacturing process as natural textile dye. The technology is patented and commercialised dye, with numerous international brands under the trade name t-hues.

(The writer is Senior Research Scientist, SLINTEC.)