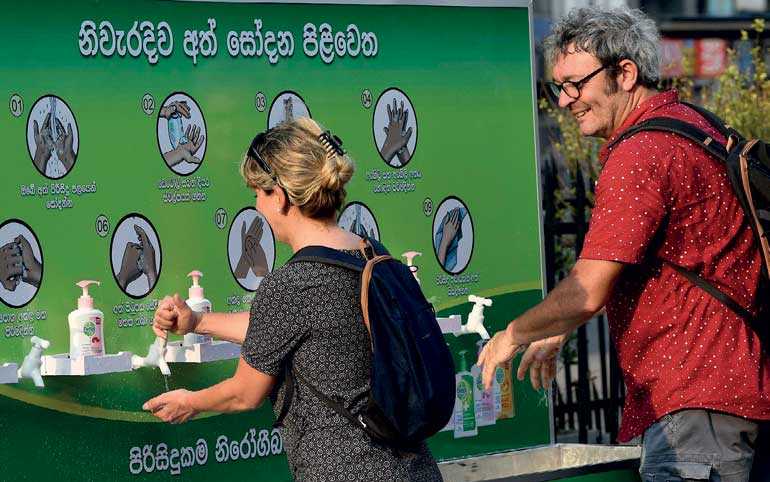 We are stepping into a short era where global travel and tourism will take place with new and different conditions
– Pic by Shehan Gunasekara
Since the end of the war, Sri Lanka tourism continued to record a two-digit growth rate both in international tourist arrivals and tourism revenues. This speedy growth was disrupted last year following the Easter Sunday attacks that made the industry suffer a loss of $1.5 billion of tourism revenue.

However, due to the untiring efforts of the Government, security forces, Sri Lanka Tourism Development Authority (SLTDA), and Sri Lanka Tourism Promotional Bureau (SLTPB) Sri Lanka tourism was quickly able to recover. As a result, Sri Lanka could attract 1.9 million of tourists by the end of 2019 despite of the unfortunate security breach.

The present COVID-19 outbreak again reminded us how vulnerable the tourism and hospitality industry is to external shocks. As of now, thousands of tourism service establishment that range from blue chip companies to souvenir sellers on the beach have entered into an unprecedented period of zero revenue, leaving the stakeholders of the industry at a dilemma on the next steps to be taken. Thus, the purpose of this article is to inform the tourism stakeholders on post-COVID19 challenges and opportunities.


The global scenario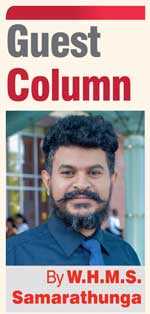 According to the United Nations World Tourism Organization (UNWTO) international tourist arrivals will drop by 20% to 30% in 2020 when compared with 2019, which means a loss of 290 million to 440 million tourists (UNWTO) in a single year. Accordingly, this could be read as a loss of $ 300 to 400 billion of international tourism receipt, or in the worst case scenario this could go as high as $ %1.5 trillion, UNWTO warns.

When reading the global tourist arrival and tourism receipt statistics, this loss will be equal to the industry growth of five to seven years in a row. Table 1 explains the impact of notable global incidents in the recent past to the tourism industry.

Having understood the gravity of the COVID-19 pandemic crisis, many countries have already injected billions of much-needed money into their economies to protect the industries and the fiscal market. Amongst all those government mediation, release of $ 500 billion into the fiscal market by the United States is palpable. However, developing countries like Sri Lanka are not in a position to follow world powers and are instead trying to implement local models to control the impact of the pandemic by any means.


Local scenario

The Sri Lanka tourism industry is the third biggest Foreign Exchange (FE) earner with a total earning of $ 4.4 billion in 2018 and $ 3.7 billion in 2019 (SLTDA, 2020) that has got the worst hit among other top FE earners: foreign remittances, textile and apparel, and tea. The apparel and tea sectors will also continue to record a declined FE earnings due to the impact of COVID-19 on source markets.

Although President Gotabaya Rajapaksa promised to formulate strategies to attract six million tourists by 2025 and earn $ 10 billion income, it is highly unlikely that those goals will turn into realistic figures. Additionally, the target of achieving 3.5-4 million tourists and earning $ 5 billion in 2020 is highly unlikely considering the present spread and growth of the pandemic.

Although the Asian Development Bank estimated at the beginning of March the decline in tourism revenues for Sri Lanka could range from $ 107 million to $ 319 million, the real loss of income could be much higher than the forecast since the situation has escalated over the period of time.

According to SLTDA statistics in 2018, 169,003 and 219,484 people were employed as direct and indirect employees respectively by the tourism industry. As of now, a vast majority of these workers are temporarily unemployed due to the closure of hotels and restaurants, airlines, travel agencies, tourist shops, etc. This has made a significance impact on the families who were totally depending on tourism.

On the other hand, tourism investors are facing a financial crisis without being able to maintain a sufficient cash flow to pay back debts, to pay salaries and for other essential maintenance work at the properties. In this backdrop issuing debt moratoriums for identified vital sectors including tourism can be identified as an attempt to protect the industry.


COVID-19 challenges to Sri Lanka tourism

Impact on source markets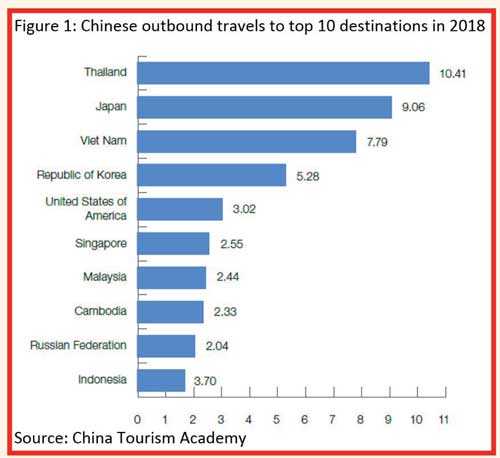 Amongst many factors, tourist arrivals to a destination is largely depending on three factors: destination area variables, generating area variables, and transit area variables. COVID-19 has had a huge impact on all these three factors and brought down international tourist arrivals to a minimum level like never before.

For instance, when we look at the present pandemic situation at our 'Top 10' source markets, most of them have been seriously hit by COVID-19 in terms of spread of the virus and the mortality rate. Although China has been very much successful in pandemic control, it is unlikely that China will allow its citizens to engage in any sort of leisure trips outside its borders in near future.

Although Maldives has recorded a minimum number of infected cases among the top 10 source markets to Sri Lanka, its economic value is relatively lower since many Maldivians are visiting Sri Lanka for education, business and health purposes with tourist visa. It is further important to note that currently there are no bookings for the 2020 winter season and the tour operators are cancelling the bookings made in advance, the hotels and travel agencies complain. Therefore, Sri Lanka tourism source markets will not be sending tourists to Sri Lanka during the course of the year.


Impact on tourism resources

Even if countries can control the COVID-19 threat, we are not sure how fast the airlines, cruise lines, hotels and restaurants, destinations and other tourism-related service establishments can prepare themselves to run their operations due to the post-COVID-19 challenges.

Loss resources including human resource and capital resource will impose huge challenges for tourism stakeholders in the months to come due to zero income and zero revenue conditions. We will have to witness a certain number of qualified tourism and hospitality employees leaving the industry and joining more stable industries in the short-run.

Further, there is also a challenge of retaining the existing investors and attracting new investors to the tourism industry due to these unexpected incidents like the Easter attacks in 2019 and spread of COVID-19 in 2020. Many tourism establishments including airlines, hotels, travel agencies tourist shops, etc. have already started laying off temporary and casual staff, stopped salary increments, and even cut salaries at different percentages according to the salary step of their employees. Further, the hoteliers and destination management companies have warned that they will have to lay off a considerable number of staff if the situation continues.

This is a serious situation to consider since there are 388,487 direct and indirect tourism and hospitality employees in the industry according to SLTDA statistics. Out of that, direct tourism stakeholders like tour guides, that include national tour guides, chauffeur tour guides, area guides, site guides and informal (unlicensed) guides, are totally unemployed, who make a total of 5,424.

The tourism investors who invested in lands, hotels, restaurants, and vehicles are struggling without being able to pay back the loans. However, in this context, issuing of a debt moratorium on capital and interest payments on debt somewhat eases the pain, but it is unsure how long the Government and the financial market could afford moratoriums.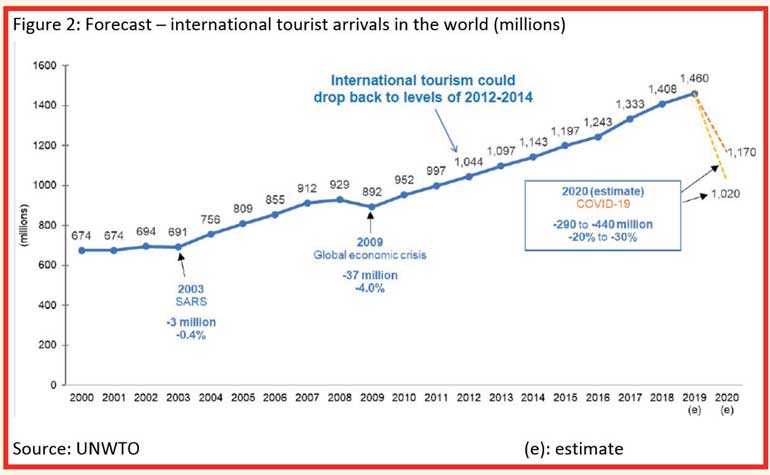 Travel bans, suspension of flights and curfew regulations

Travel bans, suspension of flights and curfew regulations are very much needed to control the spread of the virus. Outbound travel bans were first imposed in Wuhan of China after identifying the spread of virus through airline passengers. USA, Europe and many other countries also took different defensive actions to fight against COVID-19 at a late stage.

The decision of UNWHO regarding international travel bans came after the spread of the virus and airlines, airline passengers, cruise lines and cruise line passengers were identified as COVID-19 carriers. As of now, a vast majority of the countries in the world have imposed both domestic and international travels bans, grounded their flights, anchored their ships and do not welcome foreign tourists for the first time in the history of tourism.

Most of the countries which continue to receive international airline passengers have introduced new regulations to all the passengers to produce a health report that affirms the passenger is not infected with the virus. Further, some countries including China have introduced compulsory nucleic acid tests and 14 days quarantine period to all international passengers. The curfew regulations and other disease prevention rules continue to keep even domestic travellers at home giving much needed time to flashback through their memory lanes of past trips.
As of 15 April, there are 12,512 foreign guests in Sri Lanka, according to the SLTDA reports. Out of them there are 2,629 Indian, 2,076 Chinese, 906 British, 818 Russian, 801 Canadian, 570 Maldivian, 298 Ukrainian and 248 Italian nationals and other citizens in Sri Lanka. Further, 50% of these tourists are reported to be staying at homestay units or unregistered properties in the down south beach front areas. About 30% prefer staying in Sri Lanka until the situation improves and a majority is waiting till airlines resume their operations. It is also our responsibility to look after these guests when they need it most. On the other hand this is a disguised blessing to Sri Lanka to spread the word of Sri Lankan hospitality to the entire world if we can attend to the needs of these guests and make them feel safe and comfortable while adhering to the health guidelines issued by the authorities.


Future of the tourism and hospitality industry

Will China be our hope?

The next million dollar question would be the future of tourism and hospitality industry. According to the information available as of now, China has been very much successful in controlling the spread of the virus. For good long years, Chinese tourists have been continuously visiting Sri Lanka who also spend handsomely at the hotels, tourist shops and for other tourism services.

China has been the largest source market in the world since 2012. In 2018, there were around 150 million outbound trips from China and Chinese tourists spent over $ 277 billion in their travels abroad (UNWTO). On the other hand, in 2018 Sri Lanka received only 265,965 (167,863 in 2019) number of Chinese tourists (0.1% of the total outbound traffic). According to Travel China Guide Vietnam, Thailand, Japan, Indonesia, Singapore, Malaysia, Hong Kong, Philippines, Cambodia and Macau have been the top China outbound destinations. In comparative terms, the effectiveness of Sri Lankan pandemic controlling mechanism is better than most of above countries.

On the contrary, some European and American leaders have made controversial statements regarding COVID-19 to the disappointment of China. Additionally, the West has developed stereotype mentalities towards Chinese people which will affect negatively on Chinese travels in the West. This will open up new avenues for Sri Lanka to attract more high-spending Chinese tourists in the year to come provided we do our homework well. It is also important to highlight the favourable economic and political ties that both countries are sharing together, which will ease any future bottleneck.

Similarly, paying attention to the Russian market is imperative since the spread of COVID-19 in Russia is relatively slow and low compared to the West. India also has done great so far and if it continues to be successful, it will also dominate Sri Lanka tourism as it did during the last decade.

Continuous promotions in other conventional tourism markets that include UK, Germany, Australia, France, United States and Canada should not be forgotten because in near future the world will discover long-waited curative and preventive vaccines to combat with COVID-19. Small elite clusters from those countries will continue to make international travels immediately after lifting the travel bans and Sri Lanka will get their limelight as a 'safe' destination to travel. Therefore, it is our responsibility to handle the existing and emerging markets in efficient ways to get the maximum benefits under the new circumstances.


Asians in Asia, Europeans in Europe, and Americans in America

We are stepping into a short era where global travel and tourism will take place with new and different conditions. As a result, the potential travellers will lose the opportunity of selecting their dream destinations and the hosts won't be allowed to welcome the free walk-in guests from any part of the world.

In the process of getting over the existing hurdles domestic tourism will play a leading role. Then, international travel will take place regionally during the first phase of the recovery period. Thus, the potential travellers will select neighbouring countries to visit instead of flying out of the region. As a result, we can focus on safe and healthy potential tourist generating countries in Asia.

Further, we should not sit back and wait for their arrival, instead we should plan to supply the correct tourism products and services followed by aggressive marketing campaigns to attract the post-COVID-19 travellers. Table 3 produces a brief analysis on potential source markets in Asia we can look at with the relative number of tourists we received in 2018.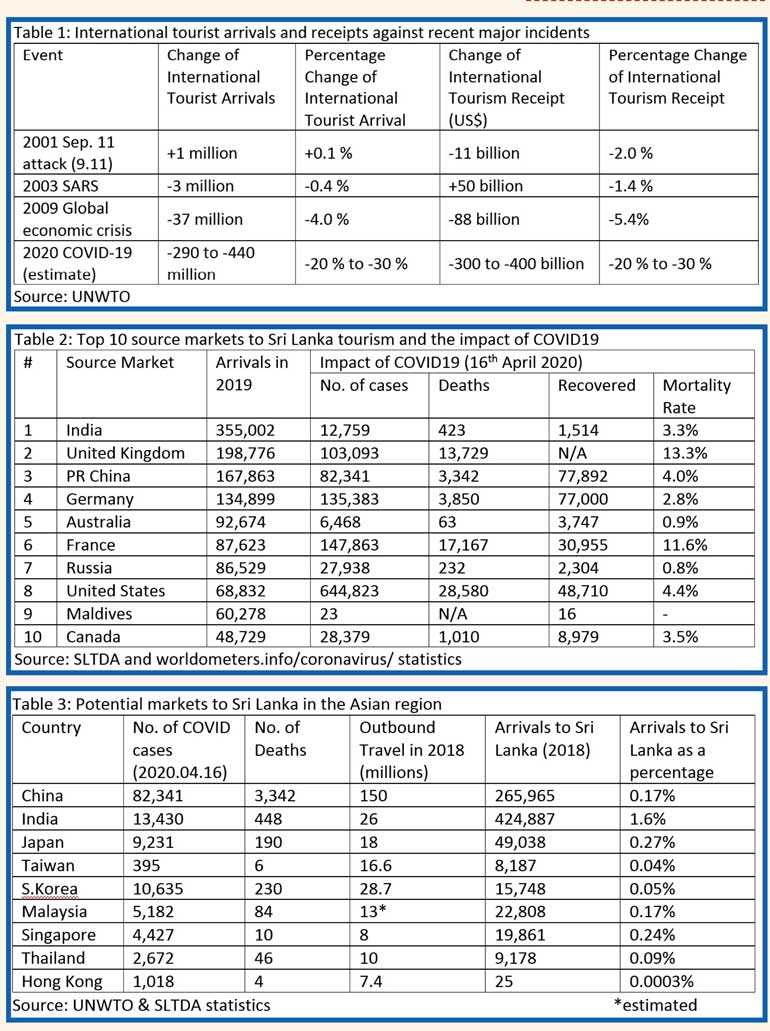 Future tourism products and tourist behaviour

It is envisaged that the future tourism will take some time to bounce back. According to the UNWTO predictions, international tourism could drop back to the level of 2012-2014 period. Simultaneously, we can anticipate drastic changes in the thinking pattern of international tourists centred on their safety and well-being. Therefore we can expect following changes in the behaviour of international tourists:
Increase of domestic tourism
Travelling to local destinations with families in their private vehicles, which will be followed by short-haul destinations (flying hours less than five) and long-haul destinations will be selected thereafter
The tourists will travel in smaller groups (FITs) than being stick to lager groups (GITs)
'Health and wellness' will become a main purpose of travel among Western tourists
Tourists will move away from crowded places
Increase of individual consumerism instead of common consumerism that will make more demands for private tours, yachts, private jets, small villas and bungalows
Increased demand for counselling and recuperating programs with the Eastern way of thinking embedded with Buddhism, Hinduism, ayurveda, meditation and yoga
Increased demand for alternative tourism including eco-tourism, responsible tourism, community based tourism, Ayurveda and yoga, bird watching, agro tourism, etc., instead of conventional mass tourism
Less demand for big hotels and resorts with large number of rooms, more demands for smaller hotels
More demand to island destinations including Sri Lanka, Maldives, Seychelles, Australia, New Zealand, and Caribbean Islands, etc.
Less demand for cruise tourism since 13 passenger ships were affected by COVID-19 (e.g. Diamond Princess in Japan, Ruby Princess in New Zealand)
More demand for business travel and VFR
Increased demand for travel insurance to meet with emergency medical expenses, evacuation charges and cancellations
Less demand for indoor banquets and increased outdoor banquets (still the organisers will try to keep the attendees low)
Increased demand for direct flights than connecting flights
Future operations in the tourism and hospitality

The tourism and hospitality industry will experience strong changes in the months to come. Due to the global and local pressure on improved health standards, all the tourism and hospitality service providers will have to adapt with enhanced disease preventive and controlled methods for the health and safety of both in-house guests and employees.

All the hotels will make it mandatory for the guests to carry updated health reports during the check-in process. Further, tourists will pay more attention to the safety standards of the hotels prior to a reservation and online travel review websites will start allocating some space to rate hotel's safety standards.

Key attention will be paid to health safety in crowded public areas including terminal, restaurants, lobby areas, swimming pools, rest rooms, lounges and bed rooms. The smart hotels will be compelled to introduce contactless room service with robot waiters challenging the conventional outset of the tourism and hospitality industry.

Further, the service establishments will be highly motivated to strictly follow HACCP (Hazard Analysis and Critical Control Point) standards like never before. Finally, the authorities will have to introduce new guidelines on how to run the tourism and hospitality businesses while minimising the health risks and maximising the guests' satisfaction.


Short-term strategies to consider

Post-graduate students of the Masters in Tourism Economics and Hotel Management of Department of Economic, University of Colombo (2011 batch) forwarded the following short-term strategies that the stakeholders can consider for the revival of the industry with standard health protocols (only key suggestions are presented here considering the space limitations):

Attracting rich European millionaires only for beach holidays. The tourists can be airlifted to the hotel directly and other than the hotel staff no contact with anyone.

Reduce the medical burden of the European countries by attracting older tourists to purpose-built retirement homes in Sri Lanka for long stays (minimum three months).

Enjoy now pay later. Longer credit facilities to be given to stable tour operators.

Reduce imported food on the menu. Serve a la carte to minimise leakages and stabilise the Sri Lankan Rupee.

Inviting the Sri Lankan diaspora to pay a visit with their foreign friends.

Getting the support of Sri Lankan diaspora to promote Sri Lanka by word-of-mouth and social media.

Promote online check-in and check-out at hotels to reduce contact points.

Looking at Chinese customers and accepting payment in RMB through WeChat and Ali-Pay.

Preparing for the increased arrival of Chinese tourists with an increased number of Chinese-speaking tour guides and other service personnel.

European medical staff to be sent to Sri Lanka for rest, recuperation and recreation at a later stage.

Promotion of Ceylon Tea with its health benefits.

Promotion of Ayurveda and indigenous medicine to boost immunity.

Sri Lanka to have more direct flights from focused tourist-generating countries.

Promote distress and counselling programs with the Eastern way of thinking embedded with the Buddhist philosophy, Hinduism, and Ayurveda.

Small boutique hotels can be leased out to millionaires on long-term basis.

International tour operators to encourage their credit card companies to offer interest free instalment payments for customers on travel plans.

Looking at small corporate meetings and incentives and paying attention to host online conferences using the webinar concept.

Preparing the local communities to welcome and host tourists.

Invest on alternative tourism product development and promotions.

Introduce virtual tourism with creative videos, sound tracks from iconic destinations embedded with augmented reality.

Plan to welcome more young risk taking back-packers, who will travel to off-beaten destinations and live with the communities.

Tourism authorities to prepare a Tourism Resilience Plan (TRP) to better manage situations like this in the future.

As a final note it should be mentioned that although the tourism and hospitality industry has faced different outside cyclones in its recent history, it has always bounced back faster, harder and stronger. The industry will continue to generate foreign exchange, offer employment opportunities, develop the rural areas, increase cross cultural understanding and will deliver many more opportunities. Thus, it is important to hold our ground as a must-visit and one of the safest destinations in the world even during these turbulent times.


(The writer is a PhD Scholar and a Research Associate attached to the Tourism School, Sichuan University, PR China and an academic at Rajarata University of Sri Lanka. He can be reached via e-mail: [email protected].)