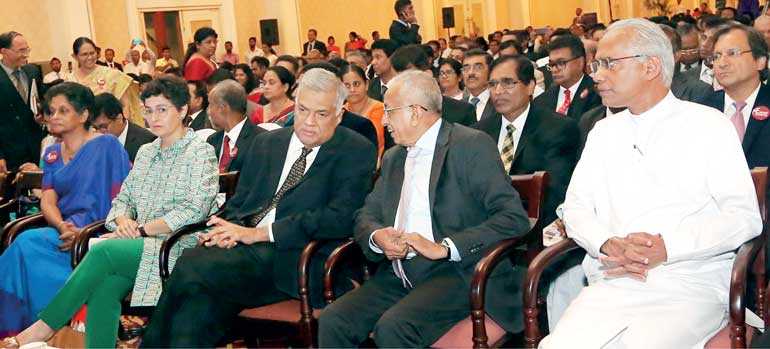 Prime Minister Ranil Wickremesinghe talks to Development Strategies and International Trade Minister Malik Samarawickrama at the launch of the National Export Strategy last month. Others from left are Export Development Board Chairperson Indira Malwatte, Geneva based International Trade Centre Executive Director Arancha Gonzalez and State Minister of Finance Eran Wickramaratne
The story so far

In part I of our analysis of the National Export Strategy or NES (available at: http://www.ft.lk/columns/Part-I--National-Export-Strategy-2018-22--Disrupt-the-economy-fast-if-the-goals-are-to-be-attained/4-659860), we commended the Export Development Board (EDB) for presenting a national export strategy (NES), though it was a belated product. It was pointed out that

since NES had envisaged changing the country's export structure for good, to attain that goal, the whole economy had to be disrupted. That was because Sri Lanka had been into a 'complacent lull' with respect to its mediocre achievements on the economic front in the past. Thus, if it was to change its course now, it was necessary to push it toward a stormy weather governed by an 'economic gale', as argued by the Austrian-American economist Joseph Schumpeter. These gales, known as creative destructions, are a must for an economy if it is to move forward.

However, they may harm some sections in society, which are unable to adapt themselves to the quickly changing environment. The danger in such a scenario is that the opposition coming from them may impede the progress on the achievement of the goals set in the strategy. Hence, it was argued that the new strategy should be carried forward by an effective leader – called a game changer –until the desired results have been achieved. It was, therefore, pointed out that the announced export strategy, which was simply a dream at present, should be converted to policy, policy to programs, programs to projects, and projects to implementing project units. In order to avoid conflicts, the need for making the export policy consistent with the national economic plan being formulated by the National Economic Council was also emphasised.

Trying for self-sufficiency is not a practical reality

Though self-sufficiency has been in a deeper place in the heart of many, it cannot be achieved by a nation to perfection. This is because a nation will have to buy many goods and services produced by other nations to satisfy its own needs.

In the case of Sri Lanka, fuel, machinery, transport equipment, raw materials for industry, and a very low amount of consumer goods have been in this list. Unfortunately, the total of this far exceeds the earnings of Sri Lanka by selling its goods to the rest of the world. As a result, there has always been a deficit between what it buys – called imports – and what it sells – called exports. In economics, this part of a nation's transactions is called 'visible merchandise trade'.

In addition to these visibles, a nation has to buy and sell services – called invisibles – from and to foreigners. Mainly thanks to growing tourism and transport sectors, Sri Lanka earns a net surplus from invisible trade. However, that is insufficient to set off the deficit in the country's merchandise trade.

Sri Lanka's external sector is in a precarious situation

Since Sri Lanka has borrowed a lot from foreign sources, it has to pay interest in foreign exchange. Foreigners have invested in its enterprises. for which they have to take away dividends and government securities and shares. for which they have to take away interest and profits. When these net payments are added, Sri Lanka's foreign exchange deficit is close to its merchandise trade deficit. For instance, in 2017, merchandise deficit amounted to 11.6% of GDP, while the deficit in all the payments mentioned above was as high as 11.0% of GDP.

These are all economic transactions done by Sri Lanka with the rest of the world. Fortunately, it receives a huge amount of money from its citizens working abroad – known in economics as remittances. But that flow is stagnant at around $ 7 billion in the past few years. Further, they are also insufficient to offset the foreign exchange deficit arising from its economic transactions with other nations. The result is, again, a sizable deficit in its foreign exchange earnings – called the current account deficit in the balance of payments – and it has to be financed, either by borrowing, or attracting more foreign investments into its businesses or securities market, or by a combination of both.

Sri Lanka's present choice: export or perish

This is the situation faced by Sri Lanka at the time its EDB came up with NES. Hence, the goal of NES should be to convert this deficit into a surplus. If it could be done, it has two added advantages.

First, when the country generates a surplus on goods, services and other incomes, it uses its resources for productive work, generating a new output of goods and services. It increases its growth rate, GDP, and the real per capita income of the people. It will help a country now struggling to move from a lower middle-income status to higher middle-income status, and eventually, if the growth trend is sustained, to a rich country status.

The second is when there is a surplus in the goods, services and other incomes, that surplus amounts to savings made by Sri Lankans as against foreigners. Right now, with a deficit in these transactions, it is a dissaving that reduces the country's overall savings rate, needing foreign funds to fill the gap between desired investments and available savings. Hence, when a surplus is made in these transactions, that surplus would augment the available savings, enabling it to undertake a higher level of investments. Those investments, if productively made, will generate further economic growth, making it easy for Sri Lanka to join the rich country club, the avowed goal of the country today. Hence, the present choice before Sri Lanka is 'export or perish'.

NES plans to increase selected goods and services

Today, foreign earnings are made not only through visible merchandise goods, but also through invisible services. Hence, a country at a certain stage is required to shift its attention to the promotion of invisible services, to supplement the earnings from visible merchandise goods. This strategy is crucial for Sri Lanka today. That is because with its resource limitations, it will find it difficult to increase its merchandise exports without bringing more imports as inputs. For instance, the garment industry in the country presently uses about 60-70% of imported inputs. Hence, increasing garment exports means increasing the country's import bill as well.

As such, the greater potential for earning foreign exchange is provided by invisible services. Therefore, countries today speak of the exportation of both goods and services. In Sri Lanka's case, in 2017, the export of merchandise goods brought foreign exchange earnings amounting to $ 11 billion. Services brought close to $ 8 billion, placing the total earnings from both sources at $ 19 billion. This amounted to 23% of GDPin 2017.

End of the period targets do not show growth orientation

NES has not come up with any indicative annual goals, or an explicit end-year goal for the export of goods and services. The Prime Minister, in his message, has loosely indicated that by 2022, the total exports will be $ 28 billion, meaning perhaps both the goods and services. The Minister of Development Strategies and International Trade, in his message, has indicated a target export level of $ 27 billion by the same year.

The difference may be due to some editorial oversight. If the higher figure given by the Prime Minister is accepted, the growth in the period 2018 to 2022 should be around 10% per annum on average, a jump from the historical average of 7% experienced by Sri Lanka. It is a seriously ambitious target. However, it scales down the share of export of goods and services in GDP from 23% in 2017 to 20% of the projected GDP of $ 135 billion in 2022.If the two numbers are believed, it is not an export growth that would induce economic growth as planned in NES.

The estimated decline in the share indicates that even in 2022, economic growth will come from the other parts of the national economy, and not from the promised boosting of the external sector of the country. If the export of goods and services is to deliver economic growth, which NES has branded as the next wave of growth, the target figure in 2022 should be more than $31 billion, an ambitious minimum average annual growth of 13% over the next 5-year period.

The challenge to make it growth-oriented will become more critical since the export performance in the first five months of 2018 has not been that impressive. According to the Central Bank data, exports have increased during this period only by 6.7%, requiring Sri Lanka to work harder to catch up the lost amount, if it is to stay on course with the targeted growth in the export of goods and services.

Absence of measurable annual targets is a serious deficiency

A medium-term export strategy has no meaning if it does not have measurable annual quantitative targets. The absence of such targets is a serious deficiency in the current NES. Perhaps the designers of NES would have thought that it is better to allow the market system to come up with physical results, once the facilitating environment is created for exports to take place.

Butthat strategy has a pitfall, because in developing countries where political authorities are revered as divine beings, civil servants break their necks to show that goals set by political leaders – which they sometimes visualise in dreams – are divinely blessed and reachable.

In Sri Lanka, there is a previous case where a senior civil servant announced a high growth rate for the year and the statisticians in the statistical bureau allegedly massaged the number to prove that the senior civil servant was correct (available at: http://www.ft.lk/columns/alleged-massaging-of-growth-numbers-should-a-credibility-restoration-exercise-be-launched-for-sri-la/4-233962). This is a pitfall which should be avoided at all costs.

Avoid pitfall of working backward to prove that leaders are correct

Since the Prime Minister has now indicated an end of the period goal, care should be taken not to work backward and prove that that goal is actually accurate. Therefore, it would have been a transparent exercise if annual quantitative goals are set in NES itself. Since this has not been done, the next available step is to incorporate them into the national export policy that has to be designed to realise NES. Then, the job of the game changer who has to take leadership in implementing NES becomes challenging. His work, which is not pleasant at all, involves monitoring the targets, conducting diagnostic studies when targets have not been achieved, taking appropriate corrective action to set the project on course with targets and continuously post-reviewing the entire policy framework in line with changing global developments.

As argued in the previous article, there are also game changing technologies that are being developed at a rate, and Sri Lanka may need to revise its NES completely to reflect the changing global environment for production and distribution.One has only to visit the website of the World Economic Forum or WEF to find the new list of such game changing technologies which are updated by it every year (available at: https://www.weforum.org/agenda/archive/emerging-technologies/). The list is long and is being added onto practically every day.

Six focus sectors to increase the number of new exports

Sri Lanka's exports in the past had concentrated only in a few selected items. Before 1977, it was tea, rubber and coconut. After 1977, these three tree crops were taken over by garments and apparels. In the last 40-year period, no significant addition has been made to this list. Hence, NES has chosen six focus sectors for development, taking into the country's current potential and global needs. They have some promise with two mature sectors, two emerging sectors, and two visionary sectors. The two mature sectors are the development of the country's information technology plus business process management, and spices and concentrates. the two emerging sectors are the wellness tourism, and processed foods and beverages. the two visionary sectors are building boats, and electrical and electronic components.

In the next part, we will look at these six focus sectors more closely.
(W A Wijewardena, a former Deputy Governor of the Central Bank of Sri Lanka, can be reached at waw1949@gmail.com )