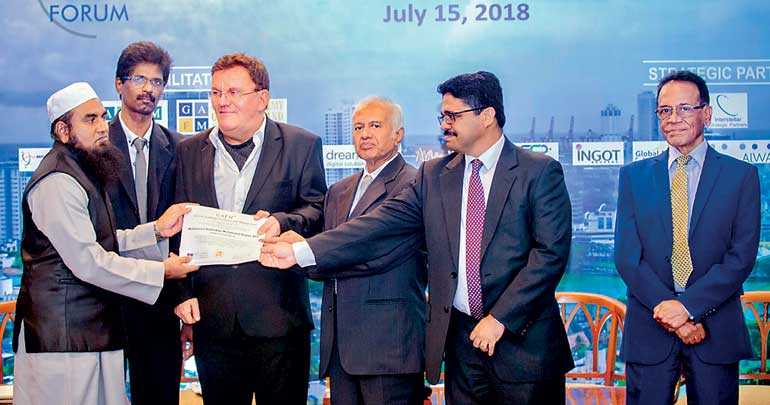 Nawaz Badurdeen receives 'Master Financial Planner' (MFP) and 'Accredited Financial Counsellor' (AFC) certifications from Colorado, USA-based Global Academy of Finance and Management in the presence of (from left): AAPM/GAFM Representative in Sri Lanka and the Maldives Rajkumar Kanagasingam, Sri Lanka based German hotelier Dr. Dietmar Doering, former Federation of Chamber of Commerce and Industry of Sri Lanka and American Chamber of Commerce Sri Lanka President and TJ Associates Managing Partner Dr. Tissa Jayaweera, Central Bank of Sri Lanka Assistant Governor Ananda Jayalath and filmmaker and Asian Aviation Centre Chairman Chandran Rutnam
Muhammed Badurdeen Muhammed Nawaz (Nawaz Badurdeen), an Islamic Finance professional who has more than 15 years' experience in the areas of capital markets, Shari'ah compliant product development and Islamic micro finance, is the first Sri Lankan to receive Master Financial Planner (MFP) and Accredited Financial Counsellor (AFC) certifications from Colorado, USA based Global Academy of Finance and Management (GAFM).

GAFM Certification Standards Board is TUV accredited and ISO 9001:2008 certified for quality and ISO 29990:2010 certified for educational standards. Approved sanctioned by the Arab Academy for over 20 Arab nations.

MFP Certification is listed at the website of US Financial Industry Regulatory Authority (FINRA) which is a regulatory body charged with governing business between brokers, dealers and the investing public in the United States.

Nawaz Badurdeen received the certifications at the Fintech Meetup of Asia-Pacific Executives Forum, jointly organised by the American Academy of Project Management (AAPM) and GAFM, in collaboration with Interstellar Strategic Partners and a number of other institutions, at the Hilton, Colombo recently.

He currently serves as the Manager – Shari'ah Department at Amana Takaful PLC Sri Lanka.

Nawaz has worked at Emirates Aviation Group, Amana Takaful, Amana Global, IGL Lanka, Amana Asset Management, Amana Capital, and Amana Takaful Maldives.

Nawaz has played important roles in structuring Shari'ah compliant products, Venture Capital Funds, Mutual Funds, and Shari'ah based fund mobilisation models for real estate, leasing, finance, manufacturing and service companies and other corporate clients with specialisation into Shari'ah Audit of policies, processes and operations.

He is a visiting lecturer for a number of universities in Sri Lanka and has conducted workshops in Islamic banking and finance in Sri Lanka and overseas.

Nawaz holds an MSc in Islamic Finance from Staffordshire University, UK and a Post Graduate Diploma in Islamic Banking and Insurance from the Institute of Islamic Banking and Insurance (IIBI), UK.