In the 'Political Pulse' column of 10 November titled 'Tiruchelvam QC and Sabry PC: A tale of two resignations,' I had written to some extent about former Local Government Minister Murugeysen Tiruchelvam known as M. Tiru or Tiru. Interestingly much of the feedback I received displayed great interest and curiosity about M. Tiruchelvam. Many youngsters wanted to know greater details about him while some seniors were keen on refreshing their memories more.

November was a significant month as far as Murugeysen Tiruchelvam was concerned. M. Tiru who was born on 19 November 1907 and passed away on 23 November 1976. These days of November therefore mark both his birth and death anniversaries. As such this week's article will focus on Murugeysen Tiruchelvam, the father of Dr. Neelan Tiruchelvam.

Let me begin on a personal note. There were two occasions where I had a chance to interact with Murugeysen Tiruchelvam. These were in the mid-seventies of the 20th Century when I was a member of the Tamil United Liberation Front (TULF) Colombo branch and also the Colombo Thamil Ilaingar Paeravai (Tamil Youth Federation) branch. I was not a journalist then.

On both occasions a small group of us youths was asked by the TULF leader S.J.V. Chelvanayagam to meet with M. Tiruchelvam and clarify certain doubts that we raised with "Thanthai" Chelva. Those were times when several Tamil youths including this writer were becoming greatly enamoured of Tamil Eelam.

M. Tiruchelvam was not in favour of separation but most sympathetic to the reasons leading to such a demand.

Tiruchelvam was charmingly gracious and answered our heated questions with cool detachment and a disarming smile. He also spoke in detail to us about issues like the Palestinian cause, Bangladesh independence and the Dravidian separatist demand, etc. On the second occasion we departed with an invitation from M. Tiruchelvam to visit him again soon. But this was not to be! On 23 November 1976, he was studying a case at home and passed away peacefully late at night.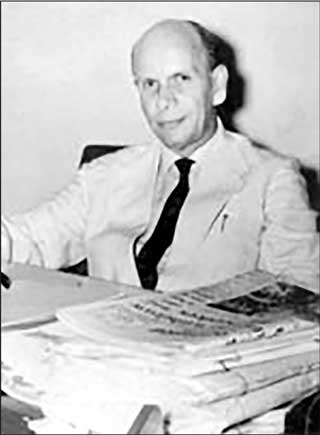 Murugeysen Tiruchelvam
---
Family background and early years
Tiruchelvam's father Murugeysen hailed from Vaddukkoddai in Jaffna District. He got a degree from the Calcutta
University and served as a postmaster and also a station master in Malaya during British colonial rule. Tiruchelvam was the eldest child. The mother came to Jaffna during her early pregnancy. After Tiruchelvam was born in Jaffna on 19 November 1907 she returned to Malaya with her three-month-old son.

Murugeysen sent two of his sons, Tiruchelvam and Rajenda (later to become a top civil servant), to the home country for their secondary education after the end of the 1st World War. They studied at St. Thomas' College that had shifted in 1918 from Mutwal to Mount Lavinia. Ilankai Thamil Arasuk Katchi (ITAK) Co-founder and Leader S.J.V. Chelvanayagam whose father Velupillai was also a Malayan resident was a friend of Murugeysen. As a result Chelvanayagam was made guardian of the two boys. An old boy, he was teaching at STC then. But he left STC because of a dispute with Warden Stone and joined Wesley College. The brothers remained as SJV's wards.

Tiruchelvam remained close to Chelvanayagam. In later life he drew closer to Chelvanayagam politically. He was the most trusted deputy and adviser to Chelvanayagam. As a result Tiruchelvam became the Chief Political Strategist of the ITAK/FP. This affinity with SJV was resented by many within the party.

Alfred Jeyaratnam Wilson, Professor of Political Science and the son-in-law of S.J.V. Chelvanayagam, writes thus about this special relationship:

"Senator M. Tiruchelvam QC was in every way, but in name and blood relationship, the son of my father-in-law, the late S.J.V. Chelvanayakam. I came to know him in 1952 and was his close and admiring friend throughout this phase of his life until his sad and premature demise in 1976."

"My father-in-law regarded him with love and affection, chided him at times as if he were his own child, and had implicit faith in him. Tiruchelvam for his part reciprocated this confidence and trust and never ever uttered a word of criticism against my father-in-law. Such was the bond that held these two men together."

Murugeysen Tiruchelvam entered University College and completed an honours degree in History. He then pursued legal studies and became a lawyer in 1935.After practising for a while at the bar, Tiruchelvam served as the Magistrate in Negombo, Panadura and Galle up to 1945. He was subsequently appointed Assistant Legal Secretary to the then Legal Secretary Sir Alan Rose. Later Tiruchelvam became Deputy Solicitor-General and then Solicitor-General in 1957.
Love at first sight
He was in his early thirties when "Manmathan" or cupid struck. Punithavathy Canagaratnam known as Punitham was an undergraduate when Tiruchelvam first saw her. Her mother was a teacher at Driebergs College Chavakachcheri. Her father was V. Canagaratnam, a Proctor, one of her brothers was former District Judge C. Manohara.

It was apparently love at first sight. They were married soon after and she abandoned her tertiary studies.

Punitham Tiruchelvam was a dynamic personality in her own right. She was involved with the Tamil Refugee Rehabilitation Organisation (TRRO) set up by the lawyer K. Kandasamy after the 1977 anti-Tamil violence. The TRRO is not to be confused with the controversial TRO of later times. I did some "volunteer" work for the TRRO in the early days of its existence.

It was then that I witnessed Punitham's humanitarian commitment and selfless service. She had an amiable disposition but would stand firm on certain issues. She passed away a few years after her husband.

Murugeysen and Punitham Tiruchelvam had four children. They were Hindus but had a secular and liberal outlook towards life. Three of their children got married to spouses from Muslim, Christian and Buddhist families.
Constitution making and minority interests
Tiruchelvam being in the service of the crown did not involve himself directly in politics during the Colonial period. But he did participate in helping formulate the Dominion Constitution known as Soulbury Constitution. Sir Ivor Jennings is credited with the drafting but Sir Alan Rose too contributed extensively. Rose was ably assisted by Tiruchelvam.

Prof. Wilson once told me that Tiruchelvam's role in protecting minority interests in constitution making had gone unrecognised. According to Wilson, Tiru played a significant role through Sir Alan Rose in getting the famous Section 29 of the Soulbury Constitution included as a minority safeguard.

When Independence dawned on 4 February 1948 the Union Jack came down. In a pointer to the future, the flag that went up was the Lion flag identified with the majority community. The minorities resented this.

Tiruchelvam in his own way defied the powers that be. He flew the 'Nandhi' or crouched bull flag in his vehicle. The Nandhi flag was the standard of the Pallava dynasty in India as well as that of the Jaffna kingdom. When the Jaffna Youth Congress demanded 'Poorana Swaraj,' or complete independence from the British, they hauled down the Union Jack and raised the Nandhi instead.
Entry into politics
The Solicitor-General was deeply troubled by events of the fifties. He prematurely retired as S-G in 1960 and reverted to the unofficial bar. He also entered politics in support and by the side of Chelvanayagam. Given his personal relationship with Chelvanayagam and also his politico-legal acumen, it was soon apparent that Tiruchelvam was the new "Saanakkiyan" (Chanakya) in the Ilankai Thamil Arasuk Katchi (ITAK) known as the Federal Party (FP) in English.

Tiru participated in the Satyagraha campaign of 1961 and was detained at Panagoda for six months. The man who had spent most of his life in Kuala Lumpur and Colombo was exposed to what the people of the north east were thinking during this incarceration. Tiruchelvam gained much insight into Tamil political consciousness as a result.

The 1965 elections saw the UNP getting 66 seats and the SLFP-LSSP-CP combination 56. The ITAK/FP with 14 seats held the balance of power. Both sides wooed the FP and Chelvanayagam was content to let Tiruchelvam handle the intense negotiations. It was decided that the FP would throw in its lot with Dudley Senanayake.

An agreement was reached at the house of Dr. M.V.P. Peiris. On the suggestion of J.R. Jayewardene, the agreement reached was documented. It was signed by Senanayake and Chelvanayagam and became known as the Dudley-Chelva pact. Agreement was reached on a number of matters including the use of Tamil Language and the establishment of district councils.

Senanayake also offered three ministerial portfolios to the ITK/FP but the party in condemning GG Ponnambalam for accepting a ministerial post in the D.S. Senanayake Cabinet had declared consistently that no Federal Party MP would join a Cabinet before Tamil rights were restored.

Thus none of the 14 MPs could become ministers. There was however a need for someone to be in Cabinet and help push things through. So the party decided to accept one ministry. The only choice was to appoint a non-MP as minister. He could be made a Senator to be eligible. So Tiruchelvam was made Minister and appointed Senator.
Tamil Language Special Provisions Act
Tiruchelvam became Local Government Minister so that he could help usher in the District Councils. His first task however was to draft the Tamil Language Special Provisions Act known popularly as Reasonable Use of Tamil Act. Using his legal dexterity to the maximum M. Tiru interpreted the provision "specific administrative purposes" as to mean that Tamil "shall" be used "for all administrative purposes" regarding the north-east.

This created a furore in Parliament and J.R. Jayewardene who presented it in the House requested Tiruchelvam to change "shall" to "may," but the Local Government Minister stood firm. The bill was passed. Tiruchelvam was elated.

Chelvanayagam summed up the Tamil mood when he said in Parliament: "The Sinhala Only Act deprived the Tamil-speaking people of their self-respect in this Ccountry. By passing these regulations and implementing the act, this lost respect is restored in some measure."
District Councils
The next objective was the District Councils. The Government dragged its feet. An impatient Tiruchelvam wanted to resign on many occasions over prickly issues, but Chelvanayagam urged patience. A case in point was the nationalisation of Trincomalee harbour. Tiruchelvam found himself unable to prevent it and was prepared to resign as a last resort. But the party did not back him. Even Trinco MP Manickarajah was reluctant.

Finally in 1968 the green light was given by Senanayake for the District Councils. In July 1968 a White Paper drafted by Tiruchelvam on the District Councils scheme was presented. But the DCs were bitterly opposed by the SLFP-LSSP-CP combine and a 'ginger group' of 16 backbench MPs within the UNP led by Festus Perera. Dudley got cold feet and backed out. He offered to resign his Premiership. ITAK Leader Chelvanayagam ruled that out as an option. Meanwhile a disappointed Tiruchelvam wanted to quit the Cabinet in protest. But the party leadership prevailed upon him to desist and continue as a Government Minister.

It is said that Sir Ponnambalam Arunachalam's address on 'Our Political Needs' in 1917 was the "Bible" of the Ceylonese movement for Independence from the British. Likewise I would say that Murugeysen Tiruchelvam's address to court in the Trial-at-Bar provided an intellectual basis for the cause of Tamil freedom in Sri Lanka. M. Tiru argued in depth about the right of self-determination and of Tamil sovereignty. He spoke of the Tamils as a distinctive people with their own language, territory, history and common heritage and consciousness. While arguing that the 1972 Constitution was imposed on the Tamils, M. Tiruchelvam observed that Tamil sovereignty had not been ceded to the Sinhalese on the battlefield
Resignation as Minister
The final break came two months later in 1968 when Fort Frederick in Trincomalee was to be declared a Hindu sacred precinct by the Local Government Minister because the famous Koneshwaram Temple was within. When Buddhist monks protested to Senanayake the Prime Minister intervened and rescinded the order over the head of the LG Minister.

This was a gross insult to Tiruchelvam's self-respect. His friends in the Cabinet like J.R. Jayewardene and V.A. Sugathadasa tried hard to change his mind but Tiruchelvam was unshaken. He resigned as Minister of Local Government on 15 September 1968. (The resignation by M. Tiruchelvam over the Koneshwaram Temple issue has been related in greater detail in the 10 November article.)

A project close to Tiruchelvam's heart was the setting up of a Tamil university in Trincomalee. The Tamil university movement had bought much land in Uppuvely for the purpose. These plans could have succeeded when Tiruchelvam was minister but the stumbling block was G.G. Ponnambalam who demanded a Hindu University in Jaffna. Neither projects were fulfilled as Senanayake was able to "shelve" both by exploiting the rivalry.
Trial-at-Bar case
Tiruchelvam like G.G. Ponnambalam went to Chennai in 1976 to appear for DMK Leader Muttuvel Karunanidhi when the ex-Chief Minister of Tamil Nadu was charged for corruption by the Sarkaria Commission. Likewise both of them were engaged together at the Amirthalingam Trial-at-Bar which was their grand politico-legal swansong.

The High Court Trial-at-Bar case was against Appapillai Amirthalingam and three others (V.N. Navaratnam, K. Thurairatnam and K.P. Ratnam) for sedition. Attorney-General Shiva Pasupathy was prosecuting. The three Judges were JFA Soza, Siva Selliah and Ananda Silva.

A total of 73 Tamil lawyers including Six Queen's Counsels marked their appearances in court for the defence. It was an impressive sight that day when Tamils flocked at the court house to see this impressive turnout. It was also an occasion where Tamils sank political differences and rallied around a common cause.

The scene that captured the mood of the times was that of S.J.V. Chelvanayagam, G.G. Ponnambalam and M. Tiruchelvam posing together for a photograph. They were regarded then as the "Trinity" or "Trimoorthigal" of Sri Lankan Tamil politics. But within a year this triumvirate was no more. Tiruchelvam the youngest of the trio passed way in November 1976. Ponnambalam died in February 1977. Chelvanayagam departed in April 1977. Their deaths marked the end of an era in Tamil politics.

The Trial-at-Bar case where Tamils "fought" the oppressive State legally was as symbolic as it was politically explosive. The protracted Trial-at-Bar proceedings continued at Bullers Road. I was then a law student and used to spend hours watching G.G. Ponnambalam and M. Tiruchelvam in court.

It is said that Sir Ponnambalam Arunachalam's address on 'Our Political Needs' in 1917 was the "Bible" of the Ceylonese movement for Independence from the British. Likewise I would say that Murugeysen Tiruchelvam's address to court in the Trial-at-Bar provided an intellectual basis for the cause of Tamil freedom in Sri Lanka.
Tamil sovereignty
M. Tiru argued in depth about the right of self-determination and of Tamil sovereignty. He spoke of the Tamils as a distinctive people with their own language, territory, history and common heritage and consciousness. He also referred to the Jaffna Kingdom in detail and pointed out with facts that the Tamils had lost their sovereignty on the battlefield to the Portuguese.

This sovereignty had been transferred from the Portuguese to the Dutch and from the Dutch to the British. The British had then transferred it to the "Sinhala" rulers who enacted the 1972 Republican Constitution without the consent of the Tamils.

While arguing that the 1972 Constitution was imposed on the Tamils, M. Tiruchelvam observed that Tamil sovereignty had not been ceded to the Sinhalese on the battlefield. At that point Justice Siva Selliah remarked from the bench, "Yes. We were not a militarily-conquered people."

As a lawyer Tiru went to the aid of both the high and the low. When J.R. Jayewardene was having intra-party differences with Dudley Senanayake, Tiruchelvam was at hand to help him. He defended Jayewardene when threatened with expulsion.

Likewise it was Tiruchelvam who took up the case of a Tamil journalist dismissed by the management for trade union activity. He did not charge a cent and appeared free despite the displeasure of the newspaper owners who were all well-known to him.
Up-close and personal view
Let me conclude with excerpts from an interview given by Neelan Tiruchelvam to well-known journalist Roshan Peiris, where the son also talks about his father. They provide an up-close and personal view of M. Tiruchelvam. Here are some excerpts:

"Growing up in the shadow of such a person whose agility of mind, devotion to duty and capacity for work, was legendary, I wondered could I measure up to his standards."

"For instance, in his law practice he gave of his professional best, but I as a youngster found he was deeply emotional and personally concerned with the welfare of his clients, if they suffered injustice. He used all his legal skills, legal integrity to devise a remedy."

"When he was a Minister, I did accompany him on a few occasions on some of his tours and was deeply impressed by his ability to relate to people. He would switch from his elegantly-tailored suits, to a spotless vershti. He moved with great ease and acceptance amongst ordinary people although he was never a candidate for elective office."

"From 1973 to 1977, I worked as his junior. He was a very severe and demanding senior. He had a substantial amount of appellate and trial work. He specialised on questions of public law, and more specifically administrative remedies. He had a nimble mind and quick grasp of ideas. He was totally absorbed in his cases and in every sense a lawyer's lawyer, one whose judgement and knowledge of the law and legal acumen was valued by his colleagues."

"He had this great capacity to persuade. In Courts his voice was soft and sometimes hardly audible, yet he commanded complete attention by the skill with which he marshalled his facts and presented his case on behalf of his clients. He had the capacity to think on his feet, and would suddenly change his legal strategy, much to the exasperation of his juniors"

"While he was Solicitor-General, his colleagues were Victor Tennekoon, Rajah Wanasundera, H. L. de Silva and V. S. A. Pullenayagam. They worked closely, and formed a formidable team in taking on the best in the unofficial Bar. In many a complex case on constitutional law and administrative law, they outdistanced the unofficial Bar."
---
(D.B.S. Jeyaraj can be reached at [email protected])
---