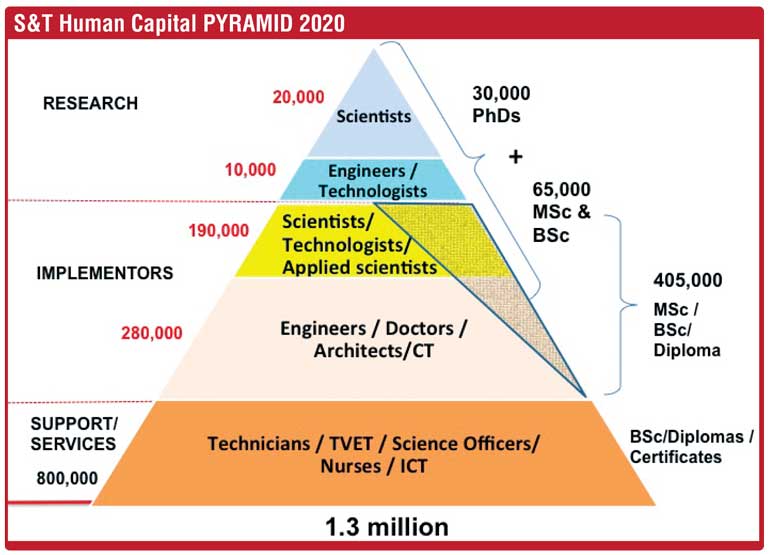 We love history and especially our version of it! Someone said that history is what someone wrote and past is what actually happened. Well then for most of the time we will not have an ability to fathom the past the way it actually unfolded. Yet one can say in Sri Lanka we have a strong predisposition towards the past.

Politicians love the past, of course not all what had happened had been written down and most in politics have not really being registered as there are so much in so many heads. Everybody love going back to school – creating a market for oversized school uniforms in some situations – recreating the famous past batch trip and whenever someone from abroad appears, it is always time to party!

I am not exactly sure if those dear friends visit the country of residence of their beloved friends whether the people in those abodes do have the same time and energy to meet and exchange reminiscences of the past. An aspect that I have observed of course with very limited participation is that we tend to discuss the same old event and in the same old way – at least there is some consistency – in those happy sojourns. We must not forget that we have to live in the future and there is no way of really going back.

Einstein of course spent about 10 years of his life thinking about travelling with light and after a decade of such thought transformed physics and the world. No such thinking from our midst yet and quite unlikely too considering the usual chitchat that dominates! Sorry Lanka I know I have downgraded our system, yet remember only we can change this.


Planning

Moving on to planning we appear to base our decisions mainly on data from the past as well and other than cricket scores and election counts that usually may not be that reliable either. Of course you do not have data from the future yet exercising foresight really appears to be truly an act of bravery if one dares.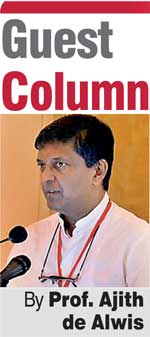 The future as it increasingly appears has to be understood to be one of complete difference to the past and the present that we appear to cling to so passionately. Stating simply, the country appears to come down on its knees simply for the reason of a ship laden with fuel being turned back. Meanwhile, 80kmh wind can wreak havoc simply because we have never factored these possibilities in most situations and fisher-folk will venture out and even lose their lives as the fax has not been received.

Heart surgeries may get stopped in our premier national hospital because of slow construction work – one can always identify the issue of procurements as the basic evil in many of these delays – as well as due to contaminations from multiple ways. For the latter issue we have heard that innovations that originated from Sri Lanka are serving well in India and abroad for overcoming similar situations.

Our hearts should stop or pulse should race reading these but unfortunately neither perhaps materialises and action based on understanding and evidence is still a distant dream.

Now well-to-do nations do face these situations as well. Hurricane Katrina literally slowed the United States and showed the world a darker side of response, resilience and responsibility even in a mighty economy. When Hurricane Sandy appeared in New York, Sri Lankan software was supporting the emergency operations. However Hurricane Harvey and the one followed almost on its heels – Hurricane Irma – indicated how lessons perhaps have been learnt and those winds were more than twice the speed that we experienced.

The issue for the world is that all of us will have to find some extra 50% of energy, 50% more food and 30% more water in order to support humanity as we move on. The framework for delivery of these requirements are sadly not the same as when the times of mass production successes were changing economies in 1960s. Sandy and Irma are examples for learning from events and the lesson for us is just talking about the past will never do.


Education

There is also the process of education becoming much more fluid rather than grounded in archaic practices. Introducing degree programs to a public university in our climate can be quite tricky based on foresight. Use of consolidated funds may mean having to demonstrate the exact number of job opportunities opening up in the future.

It may be quite easy to expand the conventional streams even without job data availability, as we are quite comfortable with the past practices. However it is quite easy to win the requirement if all the well-accepted normal job functions are indicated. This means an introduction of a degree program perhaps devoted to future studies will be an impossibility. University of Houston, which has the world's oldest running program in this area, is quite unequivocal about the need.

There definitely is a need, considering that we need leaders and people equipped differently to serve us well in the future. Many of our graduates today do not have any understanding of the tools, etc. that are available and in use for illuminating the path ahead for one to make better decisions. The importance of these stem from the great uncertainties that we have today in the space that we have to call the future!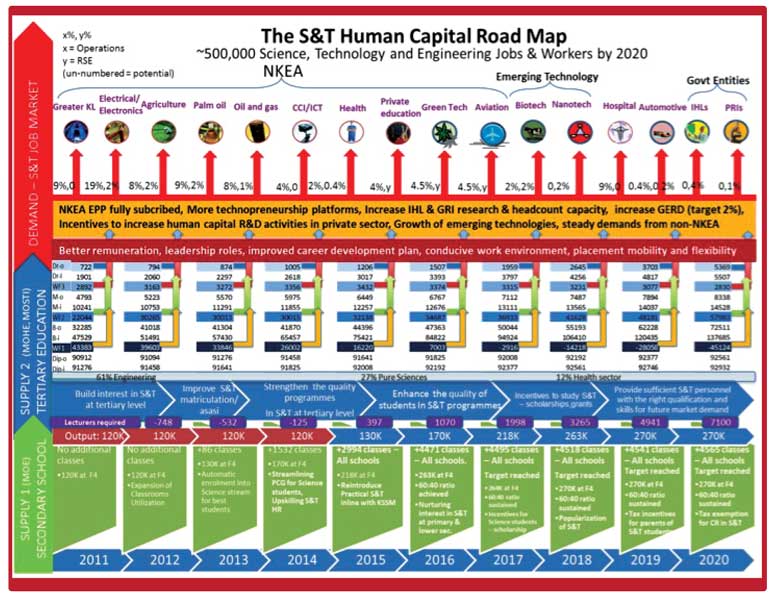 Malaysia's S&T Human Capital Roadmap

I was thrilled and very impressed sometime back when a Malaysian delegate – Prof. Halimaton Hamden – to the Sri Lankan National Academy of Sciences conference demonstrated their S&T Human Capital Roadmap mapped into the Malaysian industry. The industry contained both the old and the new. Palm oil and nanotechnology had been addressed side by side.

A detailed human resource analysis for Sri Lanka is not available but quite a few taskforces have spent time on the topic. We do not have a clear idea of our industry requirements in time to come and with the pace of change incorporated. You ignore human capital development at your peril! Sometimes we may not exactly see that the capital that we create is lost to the outside world in quick time too.

I hope the readers will take some time in trying to decipher the Malaysian Human Capital development roadmap – this may have now seen changes as well as further analysis as time has moved on – presented here. Countries do generate their national requirements thinking into the future.


Way behind on research

From the researcher front we can say we are way behind. Korea has shown how the GDP growth closely followed the patents files and the increase in IP lawyers. Well behind all those figures researcher is the key ingredient. You cannot patent the past.

Recently-launched S&T data for Sri Lanka from National Science Foundation indicates a drop in researchers for the year 2014. Again the most current data that we have also the data for 2014 and I shudder to think what may be the reality considering that so many flights have departed from Katunayake since then!

The number of researchers indicated is 261 per million people. This is a drop from 2013 figure, which is 278. A comparable figure for Singapore is 8,486 (2012) per million people. Now considering the entire population of Sri Lanka we cannot match the number for tiny Singapore, which has per million people. This is indeed sad and demands attention at the highest level.

We may be worrying about gender parity in Parliament and in Legislature but if we ignore these deficiencies, Legislature will only be left with emergency debates or finding solace with overseas calls for help and assistance.

We need some drastic changes in our mindsets and the type of issues that we take as most important. The worry is that it is not that easy to change behaviours but change we must if we are to survive the future.