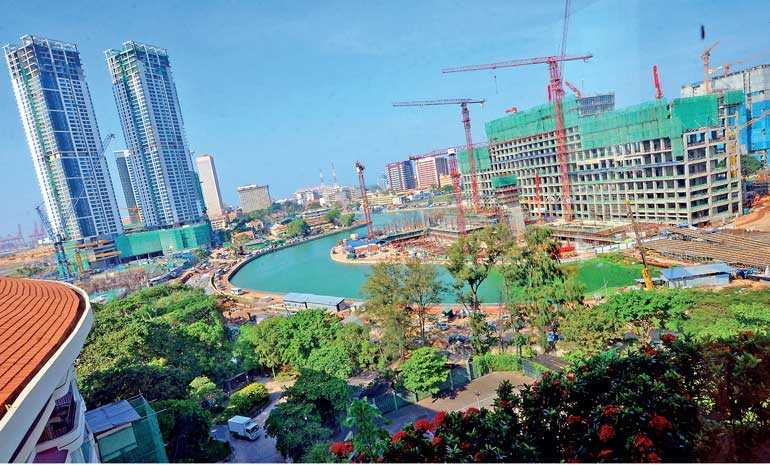 Sri Lanka is in a serious situation, with major foreign powers expecting to enforce their wishes on the country. How can it escape from the pathetic situation? – Pic by Shehan Gunasekara
---
Moody's, the world's economic watch-dog, in late September downgraded Sri Lanka's long-term foreign currency ratings from B2 to Caa1, just one step above being bankrupt, raising concerns on the country's debt payment affordability, high budget deficits and limited room for reforms.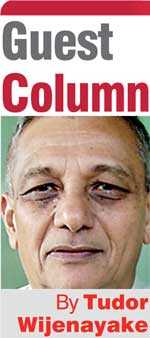 Within two weeks of Moody rating, a high level seven-member Chinese delegation led by Yang Jiechi, arrived in Sri Lanka for discussions and promised a $ 500 m concessionary loan.

Hot on the heels of Chinese visit, United States Secretary of State Mike Pompeo is expected during the latter part of October. The events indicate the serious situation faced by Sri Lanka and reactions of major foreign powers expecting to enforce their wishes on the country. How can the country escape from the pathetic situation?
Moody's concerns
The rating agency Moody highlights persistent debt repayment challenges:

a. Budget deficits estimated to be 8%-9% for 2020

b. Debt as a percentage of GDP would reach 100%

c. Warns of shrinking reserves, slow growth and high debt repayments with little space for genuine reforms.

d. Increased Government borrowings could crowd out private sector

e. Central Bank to be challenged by currency depreciation and high inflation

f. Slow reforms of weak Government institutions

Despite efforts by Government to secure bilateral relief, warns of market instability and absence of IMF help.
Sri Lanka's debt situation
On 2 October, the Government settled $ 1 billion maturing International Sovereign Bond from existing reserves which stood at $ 7 billion at August end, but a further debt of $ 2.8 billion needs to be settled before year end.

The country's foreign debt stands at $ 56 billion or about 86% of GDP, with further payments of $ 4.5 billion due each year until 2023. Until these debts are settled, the country would be in a crucial period.

With foreign exchange earnings less than expenses, repayment of loans would require further foreign borrowing, an unending increasing situation. With the Moody's new rankings interest rates for future loans would be higher.
Response
Despite the existing facts, downgrading of the economy by Moody was challenged by the Treasury and the Central Bank. Ajith Nivard Cabral argued that the country's downgrading is "unwarranted" as the economy is on a path of recovery.

They overlooked that trade deficit narrowed due to reduction of imports. Current foreign reserves of $ 6.4 billion are mostly borrowed rather than earned. Although exports have recovered to some extent since May-June, revival of tourism would be far away. Also workers remittances have reduced and the year's deficit would be around $ 2 billion. Thus foreign reserves could only be supported by foreign borrowings, leading to further downwards.
Additional borrowings
The Government is hopeful of borrowing from friendly countries. Country received $ 1.2 billion syndicated loan from China Development Bank, from which $ 500 million reached in March 2020. The Government expects a SWAP agreement of $ 1 billion with India. But when PM Mahinda Rajapaksa visited India in February, his request received poor response.



The recent telephone conversation between MR and Indian PM Modi too failed to bring positive results. The Government is expecting funds from Japanese Samurai bonds, but relations between the countries have reached a low-level.

Past governments overlooked the fact that assistance from friendly countries would only be possible with good relationships. The country got closer to China while neglecting relations with India and Japan.
Loans from IMF
The country's request for $ 700 billion from International Monetary Fund (IMF) received poor response probably due to the noncompliance of IMF conditions. IMF assistance given at low interest with long repayment would boost international confidence in Sri Lanka.

With additional loans at higher interest to settle current loans, how far can the country continue? Thus it is extremely important our foreign exchange earnings should exceed expenditure, only possible with improving exports, tourist earnings and remittances from abroad. The Budget for 2021 must reduce the fiscal deficit and prioritise expenditure targeting enhancing exports and reduce imports.
Rising US influence in SL neighbourhood
India-US relationship: India considers China as a direct military threat, particularly with two countries' border disputes. Meanwhile anti-China policies of United States has brought India and US closer. For India US is the only power stronger than China and share a common interest in balancing Beijing.

In February 2020, US President Trump visited India for discussions with PM Narendra Modi resulting expanding defence cooperation agreements. They also concluded deals worth over $ 3 billion for purchase of helicopters from US for the Indian Navy and attack helicopters for the Army. By October end US Defence Secretary Mike Pompeo, is expected in Delhi to sign a military cooperation agreement between the two countries.

Meanwhile, an anti-China Alliance already exists between India, Japan and Australia encouraged and supported by US.

Maldives-US defence cooperation: US signed a framework for defence cooperation with Maldives in September, supposed to maintain peace and security in the strategic Indian Ocean. The agreement signed in Philadelphia between Deputy Assistant Secretary of Defence for South and Southeast Asia, Reed Werner and Maldivian Minister of Defence Mariya Didi. But there has been no information as how Maldives would benefit from the cooperation agreement.

Chinese visit: In the middle of corona epidemic, seven member Chinese delegation led by Yang Jiechi, former Foreign Minister of China and a member of the Chinese Communist Party Politburo, made a sudden visit and held discussions with President Gotabaya Rajapaksa and the Prime Minister. Among the discussed items are Port City law expected to be passed before November end and implementation of Hambantota Industrial Scheme. Also President Gotabaya is expected to visit China later this year.

The President wished China to purchase more Sri Lankan goods to reduce trade deficit with China. In addition more Chinese investments, Chinese participation in domestic tea auctions, also Chinese tourists to Sri Lanka. Chinese promised a $ 500 concessionary loan, the agreement to be signed when President visits China.

Yang Jiechi had separate talks with PM Mahinda Rajapaksa. An official statement informed that, in addition to completing current large-scale projects, future areas of bilateral cooperation was discussed. Early commencing of Hambantota Industrial Scheme and the China-Sri Lanka Free Trade Agreement was discussed.

Chinese delegates confirmed that China will firmly stand with Sri Lanka to protect the country's independence, sovereignty and territorial integrity at international fora, including United Nations Human Rights Council.

On the sidelines of Yang's visit an agreement was signed to provide Yuan 600 million (Rs. 16.5 billion) as a grant, between the Chairman of China International Development Cooperation Agency and the Treasury Secretary.

Yang's visit to Sri Lanka came days after the top diplomats of four Indo-Pacific nations US, Japan, India and Australia, met in Tokyo to increase their involvement in a regional initiative called 'Free and Open Indo-Pacific' aimed at countering China's growing influence in the region.

Pompeo to visit Lanka: Almost immediately after Chinese visit to Sri Lanka, the US Embassy informed that the United States Secretary of State Mike Pompeo would visit Sri Lanka on 27 October. The US Secretary is visiting India to sign a military corporation agreement, now diverting himself to SL for discussions, the highest ranking US official to visit SL since John Kerry's visit in 2015.

He is expected to discuss half-stopped negotiations on $ 480 million Millennium Challenge Corporation (MCC) with President and the Prime Minister. Indian newspapers report Pompeo's visit to Sri Lanka would be followed by a visit from Indian Foreign Secretary J. Sankar who wishes to discuss the abolition of the 13th Amendment.

MCC agreement: The MCC grant is expected to be used to develop a traffic management system, modernise the archaic land deed system originally started by the British and to build key roads to improve remote farmer's links to urban and export markets.

But 'Bimsaviya' started over a decade ago with a huge expenditure stopped half-way, but completing most field work. Early this year President called 'Bimsaviya' officials and instructed early completion. Thus modernising the land deed system would be a duplication and a waste of funds. Which could be informed to Mike Pompeo.

Disputes in South China Sea: China, claiming almost all of South China Sea, is building military bases on artificial islands in the area. The region hotly contested by Japan, Vietnam, Philippines, Malaysia, Brunei and Taiwan have overlapping claims on the waterway. Two island chains in the area, although largely uninhabited, with natural resources around them, major fishing grounds and a major shipping route.

In August 2020, the United States blacklisted 24 Chinese companies and targeted individuals involved in construction and military efforts in the South China Sea. The sanctions would prevent them from doing business with US companies.

A company affected by US sanctions is China Communications Construction Company (CCCC), the parent Company of China Harbour Construction Company, developer of Colombo Port City. Although CHEC informed that sanctions have no effect on Port City, effects are yet to be seen.
Relationship with India
In the early 1970s when crude oil prices shot up from $ 25 to $ 60 a barrel, causing serious economic problems, Sirimavo Bandaranaike Government was forced to enforce strict import controls. But hardworking Tamil population in the north-cultivated chillies, red onions and others making them prosperous.

J.R. Jayewardene came into power in 1977 opened the economy, Sri Lanka becoming the first South-Asian country to adopt liberal open economy. The move resulted massive amount of grants from West to complete Mahaweli development project.

With Tamils getting disgusted with change of import policies, LTTE increased their war against the South. When Sri Lankan forces were about to defeat LTTE, in June 1987 Indian Air Force dropped food and medicine parcels. Negotiations held thereafter with India led to Indo-Sri Lanka Peace Accord, and the 13th Amendment to the Constitution.

With change of Indian Government, new Prime Minister ordered the withdrawal of IPKF in 1990. But with the assassination of ex-Prime Minister Rajiv Gandhi in 1991 by a LTTE woman cadre, Indian support to LTTE dropped.

In 2002, PM Ranil Wickremesinghe handed over 99 unused oil storage tanks in Trincomalee built by British during the Second World War, to India on a 99-year lease. When Rajapaksas declared was against LTTE annihilating them, India kept silent, possibly due to assassination of Rajiv Gandhi, also receipt of oil tanks. Showing the importance of trade relations in political decisions.

After the war Mahinda Rajapaksa developed expressways, Mattala Airport, Hambantota Harbour and multiple other projects around Hambantota, almost all with Chinese commercial loans. Throughout the period India was overlooked.
Japan-Sri Lanka relationship
The cordial relationship between Japan and Sri Lanka goes back to a happening 70 years ago. After ending of Second World War, at the San Francisco conference in 1952, some allied nations including Soviet Union wanted Japan to be carved into separate occupation zones. However J.R. Jayewardene, then Finance Minister of Ceylon opposed the proposal quoting the message of Buddha that "hatred ceases not by hatred, but by love". The speech resulted Japan being admitted back into the international community.

The relationship continued even when the world boycotted Sri Lanka after 1983 civil riots, the only country continued to support Sri Lanka.

Mahinda Rajapaksa Government in 2012 requested assistance from Japan for a solution to Colombo's transport problem, resulting the Colombo Metropolitan Transport Master Plan presented in November 2014, prepared under JICA Technical Cooperation.
Urban Transport Master Plan
The report highlighted the critical nature of current road system in and around Colombo and warns of possible transport deadlock, if no timely action be taken. As a solution to envisaged traffic problems the report proposed 20 development projects, among them are:

1. A four-lane Port Access Road, elevated over port premises 5 km long, also a two-lane connection to Fort Station.

2. A mono-rail system (an elevated railway) from Malabe-Fort 15.7 km long.

Construction of 5.3 km long elevated Port Access Road from Kelani Bridge to Galle Face commenced in September 2019 with JICA financing the New Kelani Bridge costing $ 342 million. Asian Development Bank is supporting the road section with $ 300 million. The completion of Port Access Road in three years will reduce the travel time from Galle-Face to Peliyagoda to mere four minutes.
Light Rail Project
On 11 March 2019 JICA signed the loan agreement with SL Government for JPY 30.08 b ($ 270 m) for the establishment of Light Rail Transit System. The loan carry interest rates of 0.1% per annum with a 40-year repayment including a 12-year grace period.

While the project designs were underway with multiple consultants, President Gotabaya in September abruptly and unilaterally cancelled the project. His Secretary claimed the project would be very costly and not the appropriate cost effective transport. Also large number of houses and buildings will have to be destroyed. The penalty payment on cancellation would be around $ 100 million.

Following the cancellation of the LRT project Japan withdrew financial support for a 220 kilo-volt underground cable project from Kerawalapitiya to the Colombo Port.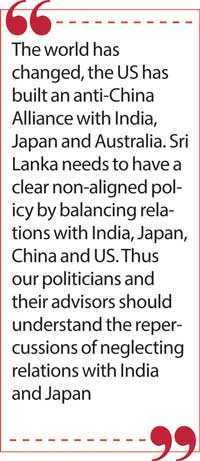 Tax changes for political advantage
At the first Cabinet meeting in November 2019, new President Gotabaya Rajapaksa announced the removal of PAYE tax and the reduction of VAT, NBT was completely removed. Also the tax threshold for VAT was raised from existing Rs. 1 million to Rs.25 million, effective from the first of December.

According to IRD revenue collected in 2018 Rs. 650 billion and in 2019 Rs. 785 billion. IRD estimated the tax loss would be around Rs.143 billion or around 20%. Can the country afford such a loss?

The tax reduction was aimed at the next General Election expected early 2020, but companies who benefited from tax reduction failed to pass over the benefits to customers. The deficit was filled with loans from local banks and Central Bank bonds. In addition coronavirus containment measures messed up revenue but expenses mounted, all leading to severe financial problems.
Causes of financial crash
Understanding the causes and reasons that resulted the current situation would enable finding solutions to address the issues.
Sinhala Only Act
The Sinhala Only Act introduced by S.W.R.D. Bandaranaike in 1956 caused a complete rundown of the country. Education standards crashed and resulted in conflicts among ethnic groups, leading to the 30-year war. The division between communities made India interfere with our internal affairs resulted introducing the 13th Amendment to the Constitution.
---
To be continued tomorrow
---