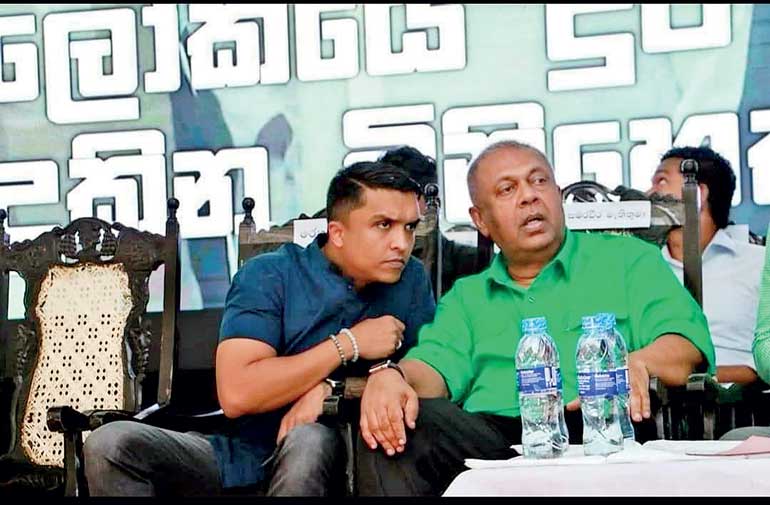 The writer with late Mangala Samaraweera – "Mangala taught me to be the best version of myself. He took a chance on me when the world was against me, nurtured me and protected me, while always telling me to be better"

He was an extraordinary human being and an even better friend. You could trust him with your life and rest assured that he would not let you down… Rest in absolute power, Mangala, one day we will be reunited. What a day that will be!
I think it's time now; after many months of pondering how to go about putting thought to word, I finally came to the realisation that it's time to write about my mentor and friend, Mangala.
It has not been an easy few months. Everywhere I go, memories of Mangala seem to periodically pop in and invade my thought process. Many asked me why I didn't write an article about him, some asked why I don't do a social media video, but the truth is that Mangala's passing has not been easy on me. It has taken a toll on me both mentally and physically. I felt drained for a few weeks after his passing and I couldn't really explain why.

Even though Mangala knew my mother and late father months before I was born, my first real recollection of meeting him was when I visited his Matara residence in the early 1990s. I think it was during his second General Election that I visited him along with my late father Sujith. I still remember being escorted to a room where I was asked to sit down until the adults finished their conversation.

While waiting for them to do their work, I could see people bustling in and out of his house. I was then greeted by Aunty Khema, Mangala's shadow warrior of a mother who was instrumental in her son's political achievements. I can't remember much of the conversation as I was a little boy then but I do remember her glowing smile and lovable personality.

When I reached a stage where I was older I realised that Mangala was like a brother to my mother and two of her sisters. They were not only great friends but they were more like family. I would sometimes visit his official residence for cocktail parties. I wouldn't drink of course because I would accompany my mother and drinking was out of the question for a 15-year-old!

Somewhere in 2007, Mangala made the bold move of leaving the Government. My stepfather had just crossed over from the UNP during the time this happened. The current Prime Minister Mahinda Rajapaksa made a call to my mother and asked her if she could travel to Singapore where Mangala was holidaying and convince him to re-join the Government. My mother, stepfather and I boarded the next available flight to Singapore and then started the mission of getting him back to the Government. I would have been 20 years old at the time and was only an observer but it was fun to be able to witness real live action situations!

After hours of deliberation Mangala told my Mother that under no circumstance would he ever re-join the Government and that he would happily function in the Opposition. He also said that his integrity was worth more than any portfolio the Government would offer him and ended by saying "Bharathi, please give my love to our dear friend and thank him for sending you to meet me!"

The next few years caused a strain on our family friendship. My mother continued her friendship with MR while Mangala was an active member in the UNP. Even though my mother was MR's friend, Mangala would never bring it up with me. I would call him occasionally to inquire into his wellbeing and he would almost always answer his young friend's phone calls.

Then came 2015. I decided owing to many reasons that the time had come for me to join the UNP. My first-ever vote in 2005 was for MR. My second vote in 2010 was also for MR. But in 2015 I decided to actively engage in politics with the UNP as I felt that my liberal mindset was more compatible with the UNP.

I first called our close family friend Karu Jayasuriya and conveyed to him my intention to contest. His immediate response was for me to meet Mangala. I visited him the same day in his office at Sirikotha where he embraced my idea of joining UNP and his parting remark to me was, "You have finally come into your senses, now do your best in Weligama and make your grand uncles proud!"

It was after this meeting that our friendship became more and more interesting. I was not granted nomination by Ranil Wickremesinghe and this somewhat annoyed Mangala even though he never echoed his sentiments publicly. He was a master tactician and only he knew what his next move would be!

I worked alongside him politically over the next few years and then realised that he was fast becoming my mentor. He would be very stern with me each time I would fall in trouble and would constantly tell me to think long and hard before making verbal commitments on the political stage. He would also tell me to be conscious of my behaviour in public and that whatever I do would reflect on my work in the future.

Then came the Local Government Elections. I called Mangala and told him my desire to contest for the Weligama Urban Council. I told him that I wanted to start from scratch and that I needed his support. He wholeheartedly agreed to help me and told me to gear up for the campaign.

The end result was that I won my election and as District Leader, Mangala's choice for Mayor was me! I was elated when he called me and said, "Congratulations, Rehaan. It's now time for you to do your job and my only advice for you is to do it well!"

During my four years as the Mayor of Weligama, I had left on a high note with no allegations of any sort of corruption or misdeeds. Every time I would get emotionally reactive, I would think to myself, "What would Mangala do?" This became one of my most valuable traits and even to this date, I practice it like a religion.

Later on I became very close to his sister Jayanthi and niece Chanchala Gunewardena. I was treated like an extended family member and was one of the few people that could walk into Mangala's bedroom or office without announcing my visit. I would spend most of my time in Colombo at his official residence and in the meantime struck a friendship with one of his closest friends, Sam Manahara. Sameera and I created such a close bond that to this day has survived the roughest of patches!

There is lots more for me to write about Mangala but my heart feels heavy while writing this and each word takes a toll on me. He was an extraordinary human being and an even better friend. You could trust him with your life and rest assured that he would not let you down.

I am a very much a "Mangala product". There have been times where the people of Matara would call me "Podi Mangala" and I would glow with pride when compliments of that nature were passed onto me. The reason being that there will only be one Mangala. I may be similar in a few ways but I would not dare to be compared to the last great liberal of our time. Maybe one day I will but today is definitely not that day!

During my friendship with him for over 30 years I always called him "Uncle Mangala". He hated it and was quite embarrassed each time I said it. He would always tell me that he had a beautiful name and that name was "Mangala".

I was invited to be in a delegation to visit India on a leadership training program. This to my dismay was on the same day when Mangala's ashes were to be interned in Matara, 26 November. The first thing I did was reach out to Aunty Jay and ask her what to do. She sent me a message immediately and said, "Please go, Rehaan, because that's what Malli would have wanted you to do and he would be very proud of you."

Even though I may not see his ashes being interned, my heart will be in Matara that day.

Mangala taught me to be the best version of myself. He took a chance on me when the world was against me, nurtured me and protected me, while always telling me to be better.

I miss you dearly. Each passing day and each passing minute. I will never taint your legacy and will one day lead your people of Matara to greatness. While I do all this, you will always be in my heart and in my prayers.

I hope you are happy wherever you are. I hope you look over me when you get a chance and guide me to my destination. My two boys will grow up without having you in their lives and that's something which I find difficult to bear but your legacy will shine in all our lives.

Rest in absolute power, Mangala, one day we will be reunited.

What a day that will be!

Always and forever,

Your young Padawan.
---
(The writer is Vice Chairman – SJB Youth.)
---