According to the media reports, the President, taking into account the concerns of some professional associations, has appointed a Committee of Experts led by Professor W.D. Lakshman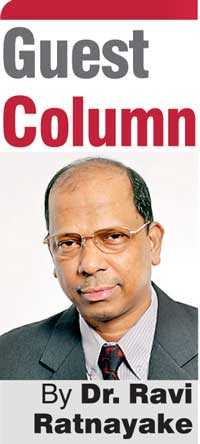 to revisit the Sri Lanka-Singapore FTA and the New Trade Policy (NTP) of Sri Lanka. As there are many explanations by the Ministry of Development Strategies and International Trade (MoDSIT) and other independent experts addressing various negative comments on the FTA with Singapore, the focus here is on the NTP. This paper intends to provide explanations to unfounded and baseless allegations made against the NTP by some groups.

Long-awaited and much-needed New Trade Policy (NTP), the first such policy document in Sri Lanka, came into force when it was approved by the Cabinet in November 2017. The full text of NTP is available on the website of the Ministry of Development Strategies and International Trade (http://modsit.gov.lk/32-uncategorised/125-new-trade-policy-2.html). NTP presents an integrated set of policies to guide Sri Lanka to use trade as a powerful driver of inclusive economic growth that would bring equitable benefits for all segments of the population. It provides objectives, principles, parameters, and conditions within which trade policy instruments and strategies such as tariffs and FTAs are used.

The long-term objective of the policy is to achieve an inclusive and sustained economic growth with shared prosperity and higher standards of living for all citizens of Sri Lanka. The policy would ensure predictability, consistency, and transparency in both policies and regulatory structure. It would also enhance efficiency, competitiveness, institutional coherence, and social equality, and inclusiveness. These objectives are achieved through four channels under which various policy prescriptions are presented (quoted):


a)"Competitiveness through domestic policy reforms – entailing the rationalisation of Sri Lanka's tariffs and para-tariffs and liberalisation of the service sector while putting in place appropriate legal mechanisms, standards, regulations, and safeguards


b)Market access and trade facilitation – the opening of foreign markets for Sri Lanka's exporters through multilateral, regional and bilateral trade agreements and comprehensive economic partnerships as well as faster customs procedures and improved logistics


c)Macroeconomic balance, policy and institutional coherence – macroeconomic policy, trade and investment nexus, trade and development linkages, policies that contain the effect of trade liberalisation on government revenues and the trade balance, and streamlining and coordinating of institutions


d)Adjustment of firms and people – measures designed to help Sri Lankan firms affected by international competition to provide a cushion the impact giving time for adjustment and policies that create equal opportunities for all in participating and benefiting from trade-inclusive trade."


The groups who have been working against the FTA program of the Government, are also attempting to discredit NTP through baseless allegations and lies. They mislead not only the general public but also the parliamentarians with lies as was witnessed at the Parliamentary debate on the Singapore FTA recently.


Lie No. 1: According to the World Trade Organization (WTO), a country must have a national trade policy before entering into FTAs

This is not true at all. This is fabricated by those who are against FTAs driven by their selfish personal agendas. The concern of the WTO is the impact of regional trade agreements (RTAs) and bilateral trade agreements (BTAs) on other members. In this regard, the WTO has a detailed transparency mechanism under which the member countries are required to notify the WTO of BTAs and RTAs. The preparation of national trade policy is the choice of individual member countries, WTO has nothing do with it. In the case of Sri Lanka, NTP was developed not because of WTO, but the government wanted to have a clear policy direction to ensure stability, transparency, and predictability of the policy. The Anti-FTAs groups should realise that it is illegal and highly unethical to give wrong information about functions of an international organisation such as WTO. Economists know very well that there is no theory, no regulation, no rule or no principle to say that entering into FTAs is wrong without a national trade policy. The WTO has 165 member countries, but only a few of them have separate national trade policy document. Some of them only have a statement on trade in their overall economic policies or plans. However, all these countries have already entered into one or more FTAs. Are they violating WTO commitments? Not at all because there is no rule to break.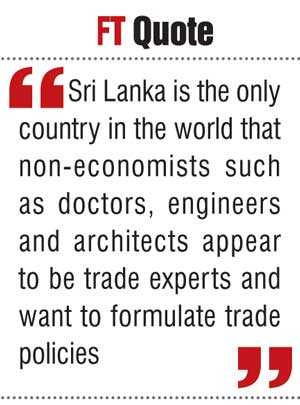 Lie No. 2: A national trade policy should be a large document in terms of pages

This is the major reason why anti-FTAs groups are against NTP. Policy makers know that even one sentence could be a policy and generally, it should be a short and concise document. The current NTP has 25 pages, but at the time of its preparation, some economists proposed to bring it down to 15 pages. Surprisingly, the criticism comes not from economists but from others such as doctors, engineers, and architects. The example that they show is the Indian Foreign Trade Policy (https://dgft.gov.in/policies/foreign-trade-policy) which is a document of trade strategy/manual of trade facilitation and procedures, which cannot be compared with the NTP of Sri Lanka. They are comparing "apples with oranges". India set the policy direction decades ago and since then develops five-year strategies and associated procedures. These are two different documents with different objective and focus. Economists know the difference between a policy and a strategy/procedure. Policy is about the direction of the trade regime, principles and guidelines while a strategy is about programmes, projects, and time schedules and monitoring, which is relatively longer document than a concise policy document. Some countries prepare policy and strategy together, and some do it separately. However, there is no hard and fast rule or accepted model on how to design a national trade policy. Countries use different approaches and models. As a follow-up to NTP, the Government should formulate a trade development strategy with trade procedures which will be equivalent to the Indian foreign trade policy document.


Lie No. 3: NTP was prepared by two or three people, and the views of others were not considered

Again this is false. NTP is the final outcome of extensive discussions over a period of 12 months, from May 2016 to June 2017. It benefited from many constructive reviews, submissions, and representations of a wide range of stakeholders including ministries, business and industry chambers, internal and external experts and international agencies. The drafts were presented at different public consultation forums, workshops and discussions. Web-based public consultation for a period of four months was also conducted. Some milestones of the preparation of the NTP as follows:

lAn inception trade policy workshop was organised in July 2016 by the MODSIT to identify the broader directions of the NTP, attended by various agencies including Department of Commerce, Ministry of Finance, Ministry of Foreign Affairs, Export Development Board, the private sector, Central Bank, Universities and trade experts

lPreparation of the first long version of the NTP in October 2016 by a Committee appointed by the Minister of MODSIT, consisting of heads of trade-related government departments, representatives of relevant ministries and trade experts

lSubmission of the draft to parliamentarians, ministers, secretaries, chambers, professional associations and other internal and external trade experts for final comments on the first draft by MODSIT in November 2016.

lReview of the first draft and the preparation of the second draft based on the first was guided by a committee appointed by the Minister with the approval of the President in December 2016:

lSubmission of the draft to parliamentarians, ministers, secretaries, chambers, professional associations and other internal and external trade experts for final comments by MODSIT on 14 March 2017.

lIncorporation of the comments/reviews submitted by various stakeholders
Approval by the Minister of MODSIT (15 May 2107)
Presentation of the draft for comments to Chambers of commerce and associations (25 July 2016 and 18 August 2018, 25th floor, WTC, MoDSIT
Presentation of the draft to the Sri Lankan Association of Political Economy (19 October 2016), University of Colombo
Presentation of the draft to the Annual Sessions of the Sri Lanka Economists Association (22 October 2016), Taj Samudra Hotel
Presentation of the draft for comments to National Chamber of Exporters (2 November 2017), NCE Auditorium
Inputs to the drafts and reviews were received from many public and private institutions including President's office, Ministry of Finance, Export Development Board, Ministry of Economic Policy, Central Bank, Ceylon Chamber of Commerce and National Chamber of Exporters
Detailed comments were also received from the trade experts of the Harvard University of the USA and the World Bank
The draft was placed on the webpage of the MODSIT for public consultation from 30 September 2016 to 01 December 2016
The revised draft was placed on the webpage of the MODSIT for public consultation from 24.02.2017 to 30.04.2017
The draft was revised numerous times to incorporate the inputs and comments received. For example, after the presentation of the NTP draft, the Political Economy Association led by Professor W.D. Lakshman provided detailed comments on an earlier draft of the NTP which were published in newspapers in December 2016. Amongst others, there were three key comments which were incorporated in the final NTP draft as follows:


a) The need to make national trade policy a part of a development strategy of the country: Accordingly, NTP says "The Government recognises the need to develop a comprehensive NTP as an integral part of the country's overall development program and strategy to support economic development and industrial transformation" (para 24) and "The NTP will be an integral part of a national development strategy of the country" (para 99)


b) The need to prepare a national industrial policy: Accordingly item (p) under para (99) has been added. "Develop a coherent industrial development policy taking into account local resources and capacities as well as development objectives including employment and poverty reduction to benefit from the new trade policy environment stipulated in this document and to capture market access opportunities that will be created under various FTAs negotiated by the government".


c) Importance of efficient import-substituting industries in addition to export-oriented industries: This comment has been incorporated in the final NTP draft as follows: "A concerted and focused effort on the part of the government is required to encourage and promote some specific industries or sectors, both existing and new, with a potential for exports through an array of policy tools and other incentives including support for R&D. Such assistance is time-bound and conditional upon achieving set targets" (para 51) and "While giving due consideration to the potential of transforming efficient import-competing industries into export-orientation, the NTP…." (para 52).


Lie No. 4: The NTP was prepared by a foreigner

Some groups of people mention at some media events and newspapers that a "foreigner named Dr. Ravi Ratnayake" was involved in drafting the NTP. The truth is that Ravi Ratnayake is a real Sri Lankan citizen. It appears that they want to bring the label of "foreigner' to discredit the process of preparing the NTP. Finally, an interesting obervation is that Sri Lanka is the only country in the world that non-economists such as doctors, engineers and architects appear to be trade experts and want to formulate trade policies.

(The writer is a former Director of Trade and Investment and a Chief Economist of the United Nations ESCAP for Asia and the Pacific.)