I am not a political animal. Not enamoured of personages, I have sought out principled politicians who could or should have rescued Sri Lanka from the mire and turned our blessed isle's face towards the sun again – after a bitter and brutal war, a failure to actively engage hurt communities, and no meaningful reconciliation on the ground despite paying lip service to transitional justice in ivory towers.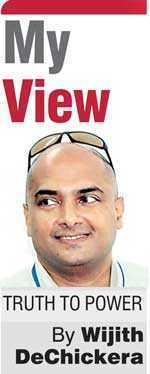 These and other reasons – the self-serving nature of our elected representatives across the board and their despicable penchant for realpolitik – kept me away from the ironically or perhaps aptly named 'Liberty Roundabout Demonstration'. Just to be transparent about it, I wrongly assumed that the movement had been galvanised by the UNP. And after the beleaguered prime minister's rant about all the president's mien from the lawn of Temple Trees, I for one was not keen to get ensnared in a political rally.
However, it transpires that I – and maybe many others of my apolitical ilk – were wrong about the motives of the demonstrators. To go by superficial appearances alone: it was a symbolic gesture of the people, by the people, for the people. The anger at their betrayal by pseudo-democrats turned ambitious would-be usurpers of power was palpable. That said, it was as any peace-loving democratic rights-protesting idealist would have it and love it. Lipton Circus and Lake House mob rampages paled in comparison to the tangible sense of peaceful protest.
Where there was chaos and destruction in the wake of a recent incursion by village idiots into town to cock a snook at the even-then crumbling coalition, this rally was relatively orderly. It was also purposeful in making it apparent to would-be detractors that their presence was not motivated by partisan loyalties. "I'm not here for Ranil," vouched some placards, adding for good measure: "I'm here for democracy." To give our ousted premier his due, the embattled prime minister tweeted back that it was perfectly acceptable by him.

I'm happy to see the morning after as I write this that no ugly incidents connected to the rally have been reported. No garbage litters the streets and certainly no evidence of the detritus that marks alcohol fuelled forages by Goths and Huns led by a grinning Crown Prince of the Vandals. It's clear that civil society can essay its own clean, decent, protest at the political chicanery of a sitting president and his growling low-throated cohorts. And who am I – apolitical as I am, but equally incensed by anti-republican usurpation – to throw cold water on their outrage?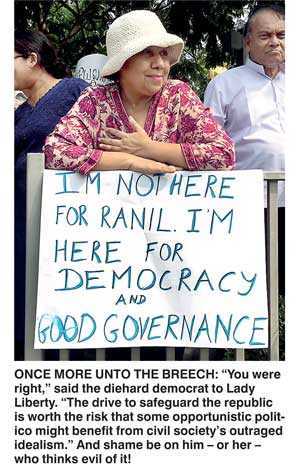 Just before I penned this piece, I had a hardly playful rap over the knuckles at the hands of someone who had been at the barricades. Lady Liberty was keen to assure me that here was a 'civic rights' movement worthy of my affirmation, and strove to assuage any residual doubts I may have entertained about the imprimatur of the protest.
That it was good for most and very good for many to be able to thus assert their civic rights as much as exercise their political conscience at the street level is not in doubt. It was a climax of sorts for certain champions of republican life, democratic liberty and the pursuit of elusive happiness in our precious realm. Some of them are still basking in the post-orgasmic afterglow of being able to get out on the streets to say one's piece and get back home in one piece. Bliss it was that dawn to be alive – to be young was very heaven!

However, I must confess to being a dyspeptic cynic about the people's message and the mandate that it might give opportunistic politicos. As much as my well-meaning Lady Liberty's remonstrations drew me up cold and short, I still harbour (no pun intended) grave (again, no) reservations about the parties and personages that such a protest might benefit.
We have championed the many worthy causes of life and liberty in the republic, only to have the people's champions usurp the mandate we so bravely, naively, foolishly, gave them. Only to have to protest furiously at the barricades when our constitutional trust was arguably abrogated – the jury is still out on that one, I think?
Therefore, while I can confess to being publicly pleased at the ability, readiness and willingness of the fiery republican spirit to take to the streets, I must also admit that the old dear is not quite out of the woods yet. Lady Liberty and her lovers might find themselves pressed up against the barricades by more than the usual suspects.
For while the jackboot of Rathupaswela's regime is well-known to all from Kataragama to Kilinochchi, it is the iron hand in the velvet glove I fear more. It is clear what a Rajapaksa revenge will look like if Court and House agree he has the sanction of constitution and letter of the law, let alone its spirit. But it is the smiling assassin who promises reprisals for those who stand in the way of his beloved prime minster discharging his duties who chills my spine.