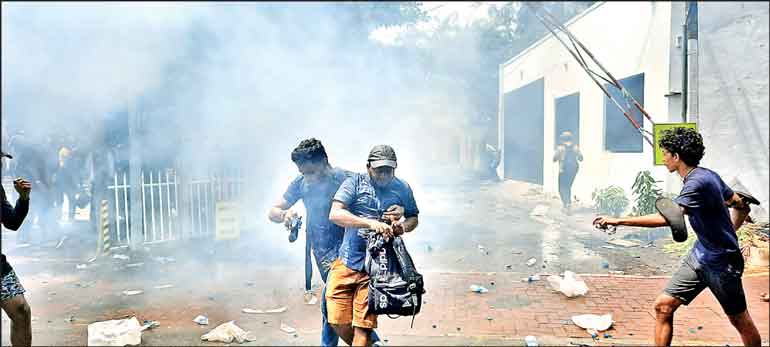 It's simply incomprehensible why the hitherto much respected SF and SJB should side with these despicable, violent desperadoes and call the 'entire country' once again to the roads hoping to topple the Government
---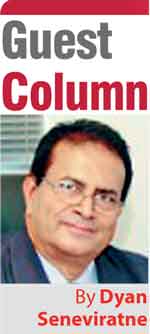 I was shocked beyond words to read about SF (of all people!) encouraging all and sundry ("the entire country") to join the next protest 9 August of 'Aragalaya' a pseudonym for JVP, Frontline Socialist Party and other political rejects only bent on disruption and violence towards overthrowing a sitting government.

Bad enough the SJB came out second best after pinning their hopes on a political nonentity at Presidential stakes. Well that's history, let's move on.

The current mood of ordinary people is how to survive each day, nay, eke out scraps for the next meal; how to muster sufficient mental fortitude and grit to undergo the next ordeal of a full 24 hours or more in a fuel queue, braving the vagaries of the weather; sweltering unbearable heat, rain, pesky mosquitoes that invade cabin of car when shutters are rolled down; how to get that next cylinder of gas and from where; how to procure urgent medicines for aged parents; schools and syllabus disruptions – the list of escalating woes go on!

Ranil Wickremesinghe no doubt has weathered a myriad political storms and being lampooned ceaselessly on all media fronts, even his precious ancestral home being torched – yet, let's give the man his due – he had and has the incredible tact, resolve and courage to wade thru all that muck and is now the President of Sri Lanka!

Regardless of one's political or party affiliations, it is the duty of all sane, balanced citizens of this once paradise island to allow RW and his team to get on with their job towards seeking solutions to help SL raise itself from the unprecedented economic catastrophe it has fallen.

The people are now not interested in talk, theory or indeed protests (the latter the preserve of professional agitators funded and led by those simply rejected by the democratically held elections time and time again)!

All rational, balanced folk, some of whom were enamoured by the Team SJB having in their ranks honest, proven professionals, expect SJB to offer their expertise either as Cabinet Ministers in proposed All Party Government or at least be willing, able members of Executive Councils helping to reshape SL's short-term future to steer itself away from the current mire of abject hopelessness and despair!

Therefore it's simply incomprehensible why the hitherto much respected SF and SJB should side with these despicable, violent desperadoes and call the 'entire country' once again to the roads hoping to topple the Government! Are they daft or just so bankrupt?

To expand, is the SJB that bereft of ideas to join up with political rejects hell bent on disruptive actions that'll further exacerbate the current economic crisis?

Come on SJB! Has plain commonsensical thoughts eluded your planning lot?

In all fairness to RW and present government they are making many positive inroads towards alleviating the gas and fuel issues: Gas is now more or less freely available; the innovative QR System is bound to get better as days go by; the decision to grapple the three-wheeler mafia is laudable by getting them to register at the closest police station and fuel sheds, thus preventing them from roaming around to beef up their newly found fuel blackmarket thereby to cause further obstacles at sheds.

All sane, peaceful citizens yearn for law and order to be restored by all players; let the President and Government do what is expected now! None of us want to tell them 'how' but only say 'what'!

Thus A1 priorities, after sorting fuel issues:
1. Establish meritocracy (no nepotism again, please!)

2. Privatise apt SOEs

3. Taxes for development, not to allocate 88% to pay salaries plus OT of mostly unproductive State sector

4. Fast track restoration of agriculture, commercial plantations – tea, rubber, coconut, cinnamon, spices, oil palm, cut flowers, fruit growing – SL can and must be self sufficient in most food crops, dairy, meat, period!

5. Restore global language English to be medium of instruction to make our youth globally competitive. Technical training for those eligible instead of youth aimlessly drifting to be trishaw drivers and crime.

6. Equal opportunities for all regardless of race, language or religion – a must!

7. Enhance forest cover to at least 30% of landmass.
The above 7 points are some of the main pressing areas of concern that need A1 urgent priority besides a plethora of other major issues that 'can' be tackled 'unitedly' now!

When the next GE comes along in 2024 after the economic recovery, the people will support those who actively and sincerely helped to ensure SL was saved from a possible hell!

Let the grateful voters then decide who their proven leaders ought to be!

May God bless our island to be that paradise it really is!