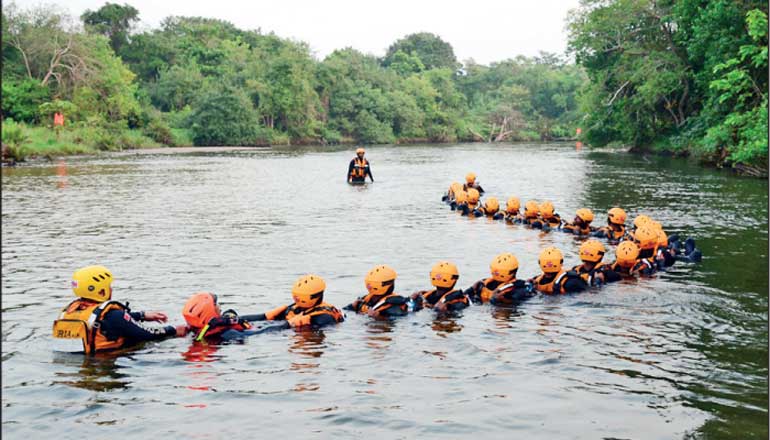 A-PAD SL team conducting search and rescue training for volunteers in partnership with local businesses and the military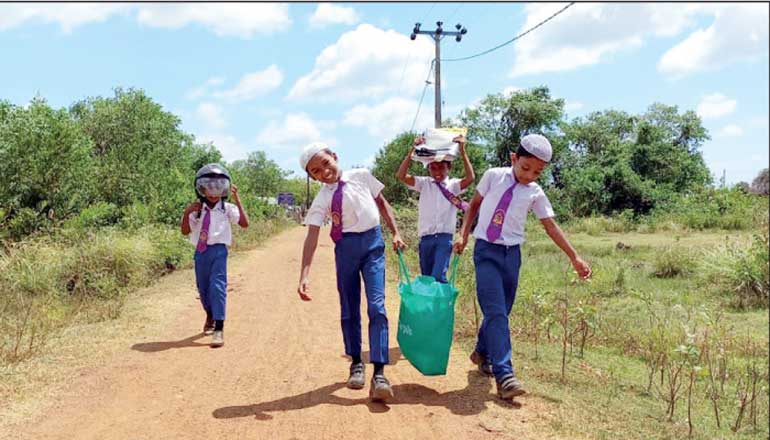 Schoolchildren in Mutur, Trincomalee come back from school with food rations for their families and supplies donated by A-PAD SL in partnership with HSBC
---
Since February, the international community's attention has been focused on the terrible crisis unfolding in Ukraine. Few foreign media outlets paid attention to the turmoil affecting my country, Sri Lanka. Yet, in just a few weeks, the country has been confronted with a multi-layered crisis – social, economic, climatic, triggered by the impact of the COVID-19 pandemic, and the Ukraine crisis, too.

Whilst we immediately recognise disasters caused by natural hazards and conflict, we are slower with, or even tend to ignore, economic emergencies and their consequences. The economic crisis today in Sri Lanka has led to civil unrest, food insecurity, lack of mobility, limited healthcare, and disruption to education.

Not only in Sri Lanka, but in many places around the world, the crises we face are becoming more complex, more frequent, and more severe. Humanitarian needs are reaching record-high levels: 302 million people need assistance and protection around the world, according to the latest update.

United Nations (UN) agencies and traditional humanitarian partners can't handle the response alone anymore. Among the many partners that get involved in humanitarian response, there a key player often overlooked: the private sector.

Businesses have the human resources, the local know-how to deal with challenges, and access to logistics and transportation facilities. Most importantly, the local private sector is on the ground, and an integral part of the communities it aims to serve.

At the Asia-Pacific Alliance for Disaster Management Sri Lanka (A-PAD), we partnered with HSBC and small businesses to provide emergency relief assistance to schoolchildren in some of the most affected districts. The lack of food caused most schools to stop providing meals. The relief packages composed of dry food for students and their families, as well as school supplies, will help over 700 children stay in school, while keeping them and their families healthy. The supplies were procured through locally to support businesses in the communities.

A-PAD SL also responded to the call for vital and essential medicines by the Ministry of Health, as they are in very short supply at national hospitals. The private sector and A-PAD Bangladesh provided medicines which were channelled to hospitals through the Ministry.

Such collaboration with the private sector is essential to a quick and comprehensive response during crises.

Last January, when a volcano erupted in Tonga it destroyed communications infrastructure making it extremely challenging for international organisations to respond fast and effectively.

Here again, collaboration with the private sector made the difference. A-PAD SL collaborated with networks from Fiji and Vanuatu as well as A-PAD Japan to transport masks, hand sanitisers, water filters and tablets to communities affected, arranging contact-less delivery of relief aid.

At the global level, A-PAD SL participates in the Connecting Business initiative (CBi), a partnership of the UN Office for the Coordination of Humanitarian Affairs (OCHA) and the UN Development Program (UNDP), mobilising the private sector before, during, and after emergencies. The partnership with CBi allows A-PAD SL to advocate at the international level, raise awareness on the situation in Sri Lanka, engage in South-South Cooperation with other networks, and strengthen its response capacities.

Since its creation at the World Humanitarian Summit six years ago, CBi and its local business networks have helped respond to over 100 crises and reached more than 18 million people with disaster preparedness, response, and recovery activities.

Despite donors and aid agencies agreeing to channel 25% of humanitarian funding to local and national responders, in 2021 only 1.32% of global humanitarian funding went directly to local organisations. Guess how much went to local private sector networks? Almost zero.

So, while we continue to act local through our business networks in Sri Lanka, Madagascar, Mexico, Haiti, Vietnam, Indonesia or elsewhere and we think global through CBi, the humanitarian community needs to officially acknowledge the role of local businesses in humanitarian response. UN agencies and donors should allow local private sector networks – entities that work with businesses but are themselves often a foundation or non-profit – to benefit from UN Emergency Funding or be UN agencies' implementing partners in times of crisis (or crises), recognising our key role as local responders.

Humanitarian partners should invite private sector networks to be a part of the Humanitarian Country Team. It's already the case in the Philippines and in Haiti for example, where CBi Member Networks are embedded in the national response mechanisms.

The private sector has to be interlinked with the government too. The excellent partnership A-PAD has with the Disaster Management Centre in Sri Lanka has strengthened not only disaster response but extended to National Planning and advocacy in Disaster Management.

Finally, we recognise the imperative to act collectively in the fight against the climate emergency. We come from countries that are the hardest hit by the impacts of the climate crisis: we deal with dry seasons that turn into deadly droughts, monsoon rains that cause catastrophic floods.

Together, we can make the world better in many ways, by forging partnerships for the betterment of humanity. We together will make a difference.
(The writer is the Head of Asia Pacific Alliance for Disaster Management Sri Lanka, a member of the OCHA-UNDP Connecting Business initiative.)