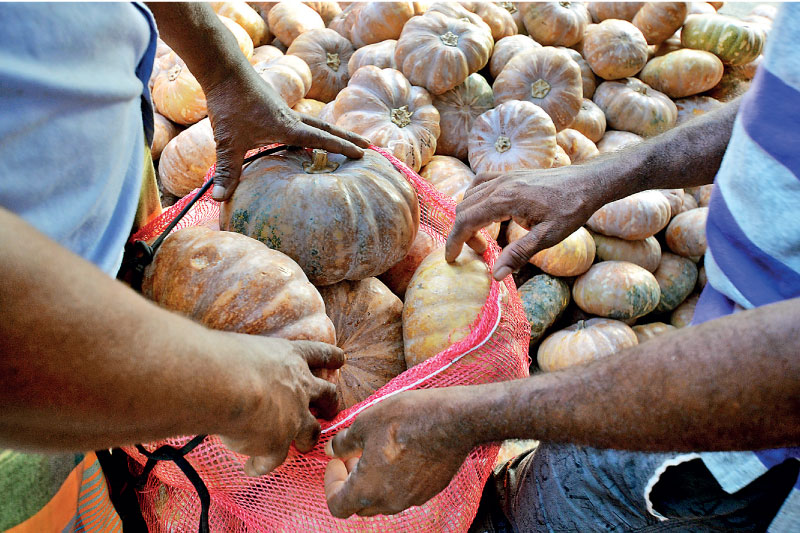 The first lockdown demonstrated the fragile logistics of food produce. The long queues of tractors and lorries loaded with produce, packed roads on the one side and consumers who were not getting any of those or if at all at high costs. What have we done to address this perennial problem? – Pic by Shehan Gunasekara
---

We are on a fourth wave, riding quite high in fact unfortunately, and in another lockdown. Some speak of economic haemorrhage stemming from the lockdown. The State is crying out for revenue. One corporate head has mentioned that the prosperity of corporates and the nation is intertwined and that as the only rote to achieve sustainable growth.

Meanwhile, headlines in the financial press only speak of corporate wellness and those wellness statements have been coming thick and fast. However, the dollars appear to move freely in external acquisitions from these top corporates, the State in its quest for dollars is keen to reward with extra Rs. 2 for every dollar for those who are sending as inward remittances, the blood and sweat revenue.

I am sure the corporates too would indicate that theirs too are just rewards for all the extreme risks they are taking and as such perfectly justifiable. Yet one cannot deny that the sentiments expressed in co-sharing of economic success is just illusory. Rupee free-fall has been arrested with dictums than by the market and presses may have printed more notes than newspapers these days.

Obviously while corporates have beaten the epidemic, the nation appears to have succumbed. The interesting connection is economics and epidemiology but a situation of not learning from one another but what should be heeded first.


Plight of vegetables, fruits and the farmers

Another picture has been firmly planted in our minds through all these waves. A picture that has tormented us for as long as we can imagine. The plight of vegetables, fruits and the farmers.

The first lockdown demonstrated the fragile logistics of food produce. The long queues of tractors and lorries loaded with produce, packed roads on the one side and consumers who were not getting any of those or if at all at high costs. What have we done to address this perennial problem?

Countries that are doing well solved this basic issue a long time back. We have endured losses amounting to billions and have also kept the per capita expenditure on foods high, thus depriving surplus cash to do many other things. It is clearly quite evident that we have an issue with logistics. Why we have failed for so long is not clear. Are we to think that this is seriously a challenging task?

From tomatoes to paddy, we see the failures in movement. An interesting thought crosses our minds. Something as small and invisible as the virus has literally managed to cross all nooks and corners of the mighty planet in double quick time. No novel modes of transport were necessary, as essentially it is we ourselves who supported the virus to travel. Can we learn something from the movement of the virus to solve this perennial problem? Viral logistics is the answer!


Role of logistics in spreading the disease

It is instructive to understand how the virus spread was facilitated by logistics. The virus has a propensity to move and seek places of refuge to invade, grow and prosper. Wuhan was the epicentre of this global pandemic. When SARS happened in 2001, the movements had not been as significant as in 2020. The growth in flights has been in excess of six times.

Wuhan and the Hubei Province in 2020 had become a manufacturing hub not just for China. When China produces, they produce to every nook and corner of the world and products had to move. An additional factor with COVID-19 was the ability of humans to support the virus movement without showing any symptoms.

The increase in air traffic and the situation of asymptotic transfer of the virus enabled express exchange of viral loads from Wuhan to the world. Thereafter the last mile delivery took place silently and without being seen. When ICU capacity is tested, you know the goods in plenty had arrived.

From the understanding of the presence of a novel virus in causing an atypical pneumonia in a cluster of patients in Wuhan, China, it took only about three months to get WHO to declare this as a pandemic.

COVID-19 as the disease was known and the virus having termed as SARS-Cov-2 traversed the world in double, quick time infecting and killing. Also there were plenty of situations where those infected did not show any symptoms nor suffered from any consequences. However they were the main enablers of rapid transmission.

In the first SARS endemic, which was the first such incident under globalised conditions, there was clear demonstration of the role of logistic services in spreading the disease. The first SARS showcased a classic case study of one flight from Beijing to Hong Kong as a super spreader incident.


A logistics system and the virus

Simply, logistics is storage and transport. There are nine elements identified in a well-executed logistics system – right product, right source, right place, right customer, right time, right quantity, right quality, right price, right way. Failure of any one of these elements, can cripple the movement and definitely would lead to disappointment.

There are quite a few elements one can identify for viral transport or viral transmission – fomite transfer, droplet transmission, virus shedding, virus loading, virus inactivation, reproduction number (R0), host plasticity, epid model, tracking, tracing, pandemic speed, Infection (cases), hospitalisations, deaths. Again with the virus, any interruption as an interception would mean stoppage.

When the virus from one person infects another, the intermediate transfer mechanism is logistics. R0 really indicates the effectiveness of spread with multiple pathways – an effective hub and spoke mechanism. If one can identify a logistic strategy to mimic R0, the coverage of a region should be easily understood. Infection represents delivery of a good and the death represents exhaustion of the goods and or the service. Under proper conditions of management we have to understand that represents the end game of the virus.

Logistic model is possible to be compared to an epid model in viewing the spread through the community as the spread of goods and services on real time; both the spatial and the temporal distribution can be mapped. For a planner those are the precise information that is required. One can simulate and work towards an island-wide coverage. There is no need to be limited to an island anyway.

Unlike with the virus, where the expectation is to stop the spread, the logistic service expectation is the sustainability of the acceptable level of service at all times. A multi-modal hub and warehouses are elements that support R0. The spread resembles a hub and spoke model in logistics!


Dambulla Economic Zone

An examination of Dambulla Economic Zone clearly indicates non-value adding yet disruptive steps. Farmers bring their produce and instead of direct exchanges, intermediaries rule the space – the 'nadi' system. The transactions therein seriously affect farmers and in a logistic sense no movement effectively takes place. The monetary transaction is only adding to gross inefficiency and price spikes.

Virus in its infection understands quite well how to take over a cell of a host. Outside the functional pathways, no disease transmission is possible. Unless the appropriate logistic mechanism is created, goods too would perish and from the first wave to the fourth wave this has been well demonstrated.

Stopping virus transmission is not complex; social distancing, hand washing and appropriate protective masks. Sanitising implies disposing goods post write-off or the wastage. In Sri Lanka we lose more than 30% of vegetables and 50% of fruits and a significant amount in other food categories as post-harvest losses.

For the goods to move well for perfect distribution, an effective distribution network should be in place. The transportation network should be planned to ensure the movement and the sustaining quality is equivalent to ensuring duration of infection. In the absence of cold storage facilities, the goods will perish like the virus too. Fomite transfers to be effective – with an infection – one cannot entertain extensive storage times. Quality like the virus dies within.


Many lessons to learn

There are many lessons that one can learn from viral logistics although virus spread is inversely proportional to logistics effectiveness in a positive sense! Tracking and tracing is critical to provide visibility and transparency to logistics as well as to prevent the virus spread and also ensuring quality transfers.

This aspect of information transfer could be actually done with today's technology better than the biological path with viruses. Hence done properly viral logistics could be better than its biological equivalent in the information pathway.

It is interesting to consider the movement of the virus to the movement of a tomato from Matale or paddy from Polonnaruwa. While we calculate viral loads and receives an idea with PCRs, we are quite clueless about the production and the quantity stored and where. The issue is also at the heart of source.

What one needs to understand is the conditions for efficient and effective transmission and relate with transport and delivery. Farm to mouth is akin to cough to lung. A virus going viral indicates excellent spread, though the result is serious and negative. However, the viral nature suggests well-supported transmission.

Thus, when logistics goes viral, it means one no longer needs to worry over the availability of goods and services. It's presence when and where it is needed is only to be expected. Mimicking from an epid model, logistics could be made perfect.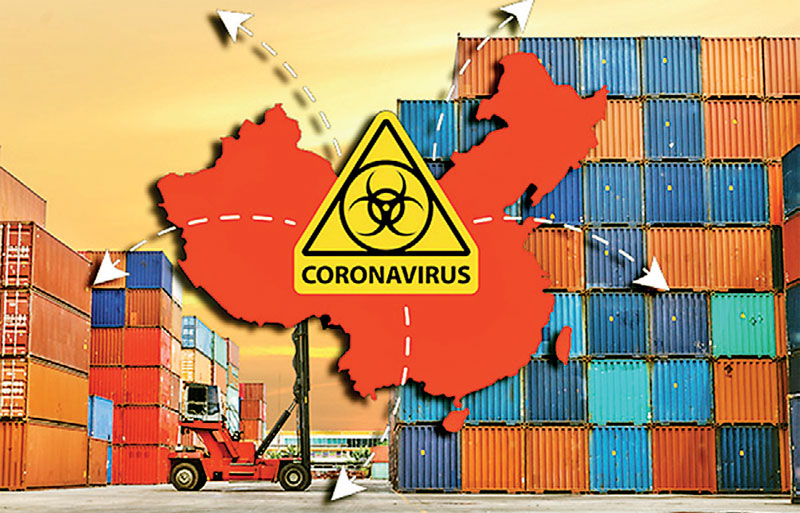 Something as small and invisible as the virus has literally managed to cross all nooks and corners of the mighty planet in double quick time. Can we learn something from the movement of the virus to solve this perennial problem? Viral logistics is the answer!
---